Productivity is the name of the game if you're a business owner, and nothing helps you get tasks done quite like a good business laptop. Featuring powerful processors and plenty of memory and storage, these devices have served business owners well over the years. Whether you need to get through piles of paperwork, create marketing content or manage logistics, business laptops have you covered.
Recently, Intel has shaken up the business laptop market with devices powered by 11th Gen Intel processors, such as HP's Intel Evo laptops. These laptops (and the new generation of CPUs in them) have been marketed as top-of-the-line performers, but do the devices live up to the hype?
Ultimately, they do, and there are several key reasons why. Here's a look at what those reasons are, and why those reasons will matter to you if you're a business owner.
More power, longer battery life
The main reason why 11th Gen Intel processors are such a big deal is because thanks to their advanced 10nm SuperFin design, they are able to handle workloads significantly faster than previous generation CPUs while also drawing considerably less battery power. Effectively, this means that compared to competing laptops that use different chips, 11th Gen Intel-powered devices will perform faster and will have better longevity per charge.
This is huge in the world of business laptops where all-day battery life is crucial. Many business owners need to be able to get work done throughout the day without being tied down to a wall plug, so improvements made to performance power that also cut back on battery power usage are a godsend.
Intel Iris Xe graphics are truly impressive
While graphics performance isn't something every business owner will care about, it matters in situations where you need to create marketing content for your business, create and edit training videos, or complete some other media-oriented task that's more intensive than standard productivity work.
That's where Intel Iris Xe, the integrated graphics available with 11th Gen Intel processors, comes in. Offering power that beats out all other forms of integrated graphics and even some discrete graphics cards, it's a fantastic graphics solution for the business owners out there who need to edit photos, tackle light video editing, or create other types of marketing materials for their business. Unlike other integrated graphics solutions that struggle in these areas, Intel Iris Xe graphics powers through.
Thunderbolt 4 provides ultimate peripheral connectivity
Finally, laptops powered by 11th Gen Intel processors universally support Thunderbolt 4, which is the successor to Thunderbolt 3. This USB-C based port gives users tons of options and flexibility for connecting peripheral devices and accessories. For example, you can transfer 40 Gbps of data or 100W of charging power over cables as long as two meters with Thunderbolt 4.
Additionally, you can use Thunderbolt 4 to connect up to two 4K displays or one 8K display to your laptop. With Thunderbolt 3, you were limited to up to a single 4K monitor. Thunderbolt 4 also supports use with docking stations that have up to four Thunderbolt 4 ports of their own, allowing you to expand your connectivity even further.
Since business owners are no doubt going to be using things like external monitors, docking stations, external hard drives, and more to speed up and improve the efficiency of their workflows, the power and flexibility of Thunderbolt 4 will be invaluable.
What 11th Gen Intel laptop should you choose?
HP offers some of the strongest 11th Gen Intel-powered laptops on the market, including HP Intel Evo devices like the HP Envy x360 and the HP Spectre x360.
The HP Envy x360 is HP's mainstream device, offering mid-range 11th Gen Intel processors, a healthy amount of memory and storage, all-day battery life, and a design everyone will love. It's powerful, affordable, and efficient, making it the best choice if you're looking to get the best overall bang for your buck.
You should choose the HP Spectre x360 if premium quality is what you're after. It has the best 11th Gen Intel processors available, as well as plenty of memory and storage, beautiful 4K displays as an option, and the same all-day battery life that's present on the Envy. It costs a bit more, but the price is more than worth it if you want the best of the best.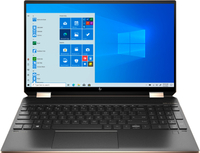 HP Spectre x360
The HP Spectre x360 is the definition of high quality. It delivers even stronger performance than the HP Envy x360 and features an even more attractive and premium chassis, all while still remaining fairly affordable (though it will set you back more than the Envy will). It comes in 13-inch and 14-inch variants.