There's been a saying going around the tech community for a few years: cheap phones are getting good, and the Nord N200 5G from OnePlus is the latest proof of that. In the past, when shopping for a smartphone on a budget, you often had to be willing to make some big compromises to find something you could afford.
Not anymore.
Over the past few years, Samsung, Motorola and LG have been the dominant powers in the world of budget phones but OnePlus threw the hammer down when they entered the ring last year with their Nord line of phones.
The first in the series to hit North America were the N10 5G and the N100. Both phones offered impressive hardware along with OnePlus' powerful, lightweight, highly-rated software at prices that were more affordable than they had ever been.
Now, OnePlus has released a follow-up to the N100 from last year, the N200 5G to go toe-to-toe with the latest from Samsung and Morotola like the A32 and Motorola One 5G.
The first thing you'll notice about the N200 5G is the display. It's a 6.49-inch, 1080p display that has a fast 90 Hz refresh rate, giving you an incredibly smooth experience with everything you do on the phone.
A 90 Hz refresh rate is a big deal because up until quite recently, anything higher than a 60 Hz refresh was reserved exclusively for high end, $1000+ phones. 90 Hz displays are 50% smoother than the traditional 60 Hz and now you can get it on a phone that costs less than $250. While there are other phones like the Samsung Galaxy Note 20 that offer high-refresh rate screens, they are almost all hundreds of dollars more. The Note 20 for example only has a 60 Hz display and starts at $999.
Not only does the display have a higher refresh rate than almost any other phone at this price, the screen is sharper too. Most other phones for under $250 have phones with a resolution of 720p yet the N200 5G has a full 1080p, high-definition display. This means that watching videos, playing games, browsing social media, and everything else you do is all incredibly fast and crystal clear.
Power is the other big thing about the N200 5G. The phone comes with the latest Qualcomm Snapdragon 480 processor specifically designed for more budget-friendly devices. It offers twice the performance of previous models in this series and benchmarks at or above other phones at this price point. At the time of this writing, it ranked higher than the processors in the Galaxy A52 and A32, T-Mobile's REVVL V+5G, the LG Stylo 6, and the Moto G Power 2021.
The 480 is also the first processor in Qualcomm's 400 series to offer 5G connectivity. That means you get fast performance and fast connectivity. Everything you do on your phone, from downloading games to streaming videos, is all much faster with the N200.
With great power comes the need for great battery life. The N200 5G packs a 5000 mAh battery and while others in the market have similar sized batteries, where OnePlus really shines is in the charging speeds. You can charge the N200 at up to 18W speeds which should get you charged up pretty quickly. And OnePlus includes an 18W charger in the box.
For the cameras, OnePlus has included three different lenses to help you get some pretty solid photos. The main 13 megapixel sensor is complemented by a macro and monochrome sensor to capture a lot of data to enhance your photos.
When it comes to the N200 5G, OnePlus has followed their tried-and-true formula of packing powerful hardware into an affordable package. If you're in the market for a 5G phone that's easy on your wallet, for $239, you'd be hard pressed to find a better value than the N200 5G.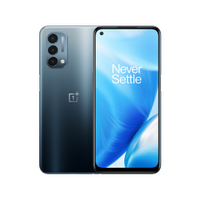 (opens in new tab)
5G is more affordable than ever with OnePlus N200 5G. With a fast, crisp display, powerful process, and all-day battery, it's hard to find a better value.
Get yours today for $239.99 (opens in new tab)