A smartphone is a lot of things, but one of its most important roles is as a camera. And, when it comes to snagging some cinematic footage, the new Nokia 8.3 5G is ready to be your pocket producer with capable cameras and some special tricks.
The Nokia 8.3 5G is a powerful yet affordable new smartphone. It has a massive 6.81-inch PureDisplay with a lengthy 20:9 aspect ratio, making it ready for enjoying cinematic content. But, enjoying content is only half of the equation. With a quad-sensor camera arrangement on the back of the phone, the Nokia 8.3 5G features all the tools you need to get recording.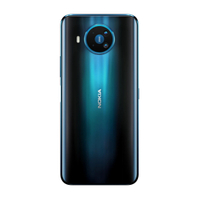 Nokia 8.3 5G
The Nokia 8.3 5G offers a massive screen, extensive 5G support, and great cinematic camera capabilities you'll want to share with your friends.
The primary camera utilizes a powerful 64MP sensor with Quad Pixel technology, letting it capture precise detail. That combines with a 2MP depth camera that will allow you to use Zeiss Bokeh for a stylish, blurred background. When you need to record it all, the 12MP ultra-wide camera can give you an extensive field of view and extra performance in low light. And, if you want to get up close and personal, a 2MP macro lens is ready.
That stack of cameras is complemented by the Nokia 8.3 5G's special camera features and Zeiss cinematic effects. With the option to shoot in a 21:9 aspect ratio, you can give your videos that true cinema style. Though you won't be shooting that video with an anamorphic lens, you can use Zeiss cinematic effects to add in the iconic anamorphic lens flares and blur that you'd see in the movies.
If you're trying to record intense action, you can use the ultra-wide camera for the accelerated sense of motion it provides. The Action Cam mode can help stabilize your video, so if you need to run alongside the action, you can keep your footage smooth. And, with Ozo audio recording, you can capture 360-degree audio.
With support for H-Log HDR with 10-bit colour, you'll also be able to capture beautiful 4K footage in an HDR format that's widely supported by 4K TVs and other high-end displays. You'll also be able to colour grade your HDR footage right on the Nokia 8.3 5G using the phone's Cinema Editor. Here, you can also add your Zeiss lens flares and blur or add on a watermark to highlight your authorship.
All of that camera capability is packed into a robust and stylish smartphone with plenty of power from the Snapdragon 765 chipset inside and extensive support for 5G networking. So, once you've made your cinema masterpieces, you can promptly share them using the fast upload speeds of 5G.
For the holidays, Nokia is offering a £150 discount on the Nokia 8.3 5G, so there's never been a better time to grab one. The deal lasts until New Year's Eve.