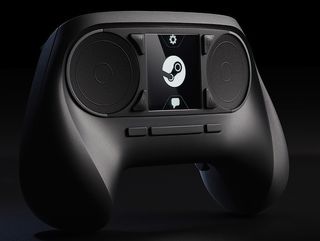 The Steam Controller is an unusual peripheral optimized for use with Valve's upcoming Steam Machine gaming computers. Gamer opinion has been split on the devices, but according to Valve, gamers will have to wait until 2015 to try the controllers for themselves due to testing-related delays.
Eric Hope, a Valve employee, took to the Steam community to make an announcement about the state of both the Steam Controllers and the Steam Machines that will use them.
Prototype testing, he explained, is well underway among both industry professionals and gamers. Valve has received so much feedback about the controllers that, in all likelihood, it will take until 2015 to implement it all.
MORE: Most-Anticipated Games of 2014
"Obviously, we're just as eager as you are to get a Steam Machine in your hands," Hope wrote. "But our number one priority is making sure that when you do, you'll be getting the best gaming experience possible. We hope you'll be patient with us while we get there."
Although Hope only discussed feedback for the controllers specifically, the language of the announcement makes it sound as though the fate of the Steam Machines is wrapped up with that of the Steam Controller. If the peripheral is delayed till 2015, so, too, might be the systems.
For users who have prototype versions of the Steam Controller or Steam Machines, Hope encourages them to continue posting in the Steam Universe forums to share their thoughts. Of course, they should use caution when doing so; if they post too much, the gadgets may get pushed back to 2016.
Follow Marshall Honorof @marshallhonorofand on Google+. Follow us @tomsguide, on Facebook and on Google+.