Look, Ma, no console! We just went hands-on with PlayStation Now, a new cloud-based gaming service coming to the U.S. this summer, and — in a word — it's rad.
We were amazed as we played "Gods of War" with zero lag and gorgeous graphics on a big Sony Bravia TV. The PlayStation Now service is coming to the PS Vita and eventually mobile devices.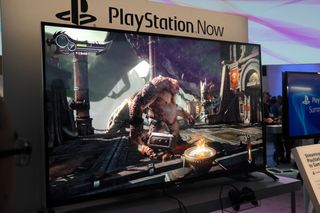 Powered by the cloud-gaming technology Sony scooped up from its acquisition of the game-streaming company Gaikai, PlayStation Now will be a subscription-based service for the PS4 and PS3. It will be great for checking out games before you buy them, and for getting PS3 games on the PS4.
MORE: Most-Anticipated Games of 2014
In our hands-on demonstration, a pair of DualShock controllers were hooked up to a big-screen Bravia via USB. However, you'll be able to use a wireless controller as well. Gameplay was smooth, and while we noticed some pixelation up close, most gamers will be pleased with the visual experience and frame rates.
We also briefly tried out the moody game "The Last of Us" on a PS Vita, which responded instantly to our inputs. Details rendered nicely on the high-resolution screen.
Over time, PlayStation Now will make its way to Sony tablets and phones. It will be a great way to pick up where you left off on another device.
Overall, PlayStation Now could be the sleeper hit of CES 2014. It could literally transform mobile gaming, while at the same time opening up high-quality titles to the masses on all sorts of connected TVs and other devices.
Follow us @tomsguide, on Facebook and on Google+.