Virtual Insanity: A Year In VR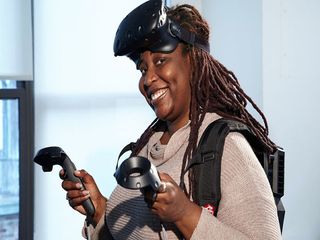 Virtual (Reality) Insanity
With the launch of the Oculus Rift, HTC Vive, PlayStation VR and Google Daydream View, high-end virtual reality experiences are now available to the public and it's a game changer. I've had the honor of testing and reviewing a myriad of mind-blowing apps, movies and games. Even better, I've had the chance to bring this technology to people who otherwise wouldn't be exposed to the awesomeness. Here are some of my favorite moments in VR for 2016.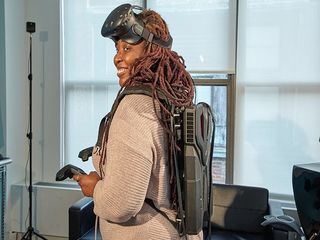 VR Backpacks
From the MSI VR One to concepts from Zotac, Alienware and HP, I've been strapping on full-blown desktops modified into lightweight backpacks for a wire-free VR experience. With the wires out of the way, I explored my virtual experience free from the fear of tripping over the HTC Vive's long wire or accidentally yanking something out of my PC. It's truly liberating.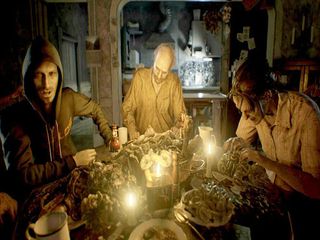 The Horror!
Resident Evil has always made the hairs on the back of my neck stand up, but never like this. Once I put on the PlayStation VR, I was transported to a dilapidated house of horrors, where I was being chased by a murderous woman. Low on ammo and scared witless, I was forced to play an ever--intensifying game of hide and seek for my life. It's not for the faint of heart.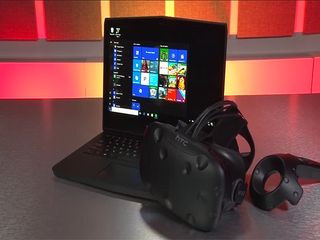 Anything Desktops Can Do…
Thanks to Nvidia's Pascal 10-series chips, even the slimmest laptop is a lean, mean VR-ready machine. The ability to just plug in a Vive or Rift into something as svelte as the MSI Stealth Pro, Razer Blade or Alienware 13 OLED has been a transformative experience. Now gamers and VR aficionados have access to true mobile VR.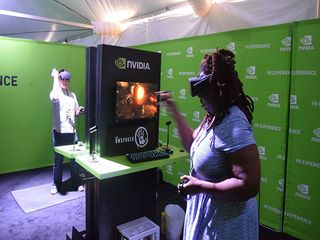 Wizard Wars
Wizards, grab your spellbooks! In one hand, I wielded a fireball and a shield in the other. I stared at my opponent across the arena and tossed the fiery projectile, connecting with my foe and giving me enough time to teleport to a safe place where I summoned a glowing anvil and struck a magical anvil until I was holding a javelin. Insomniac Games' The Unspoken brings fast-paced magical multiplayer duels to VR. Don't have a Vive or Rift? Try Wands on Samsung Gear VR or Google Daydream View.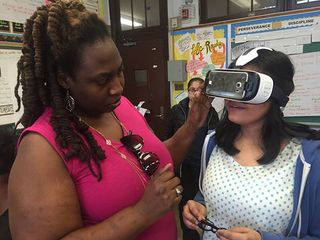 Giving the Gift of VR
One of the best things about virtual reality is sharing it and watching people's reactions. I've been honored to participate in a mentoring program with the New York Video Game Critics Circle, where I mentor a group of talented teens in The Dreamyard School in the Bronx. This summer, I took the Gear VR in to these budding game developers, writers and animators and we had a blast playing Eve: GunJack and a host of VR games. It was both fun and fulfilling on so many levels.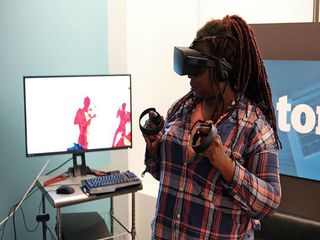 Look Ma, I've Got Hands!
It took awhile, but Oculus finally launched its Touch controllers, which added a new dimension to my VR meanderings. Unlike the Vive's controllers, Oculus' lightweight, smartly-designed controllers actually mimic hand movements such as pointing, giving the thumbs up and waving. It made for a more realistic experience when I went to grab a pistol or let a butterfly land on my outstretched finger. It's the immersion I wanted, but didn't know I needed.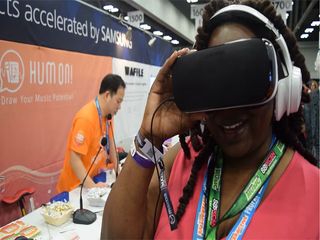 Experimental 3D Audio
How far did I go for the perfect VR experience this year? I let Samsung put an experimental pair of headphones on me and send electricity through my head. The conceptual Entrium 4D headphones feature moist electrodes sat on the skin behind my earlobes. From there, the cans sent a small electrical signal to the nerves inside my ears that control balance, causing me to sway slightly to the left or right in order to simulate movement in an otherwise stationary experience. It's was weird, wonderful and just a bit scary, but a great look into the potential future of VR.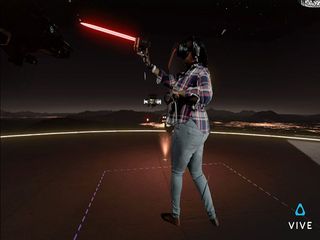 Green Screen Shenanigans
Sure, VR is a blast for the one donning the headset, but what about everyone watching in real-life? HTC took me and a few of my Twitter followers on a fantastic voyage at E3 where I put on a Vive and played a few rounds of Space Pirate Trainer. Thanks to a generous play area covered in green screens, I got some cool stills and videos of my dodging and blasting enemy drones. But instead of showing me in some random room, it looked like I was actually in space in the handling business like a boss.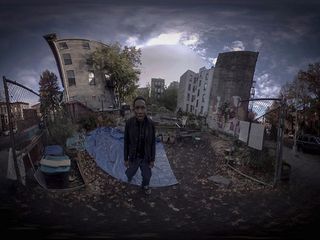 Virtual Activism
While gaming in virtual reality is definitely a have-to-try experience, the technology is being used to create films to combat the social ills in the world. I've had the harrowing experience of walking in the shoes of a young woman as she's being escorted past an angry mob of protesters into an abortion clinic. I've saved a young African-American man from being arrested and tased by my quick response and was only believed because my character was white. I've seen the aftermath of war as a presence that was simultaneously omnipotent and impotent. These shorts might not change the world, but they'll make you think and that's a start.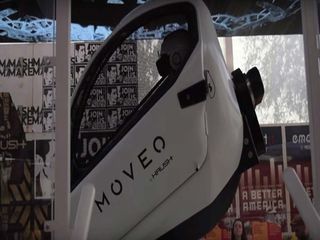 Head Over Heels
I was shaken and stirred and it was awesome! Krush's Moveo Pod took me on one of the best VR rides of the year. Using a modified Oculus Rift, a five-point harness and realistic cockpit I was piloting through space, when a sudden explosion sent me and the pod spinning. As I fought to right the ship, it twisted, bucked and turned in real time, making the experience feel that much more real, eliciting hysterical laughter from me and the crowd waiting their turn. If this is the future of virtual reality in theme parks, then please, sign me up!