11 Tips for Dominating Titanfall 2 Multiplayer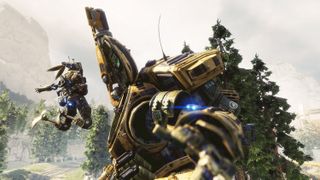 Prepare for Titanfall
Titanfall 2 is finally here, and both zipping around as a nimble Pilot and wreaking havoc as a huge Titan feel as great as ever. But while Respawn Entertainment's latest shooter is a blast to pick up and play, there are a ton of tricks and techniques that let you dominate both on-foot and from the cockpit of a deadly robot. From loadouts and general strategy to advanced movement, here's what you need to know to play Titanfall 2 at the top of your game.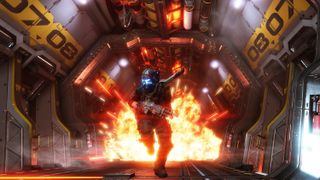 Never Stay Still
In Titanfall 2, you should almost never be stationary when fighting on foot as a pilot. The game lets you sprint, slide, wall-run and double jump with ease, and you'll have to constantly chain these abilities with one another to get a jump on your enemies and avoid being picked off. If you want to get comfortable with moving, jumping and shooting all at once, the game's single-player tutorial mission is a good place to start.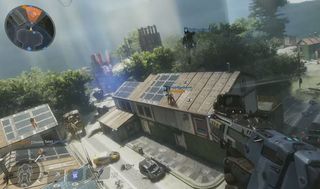 Advanced Movement
Titanfall 2
Once you've got a decent grasp on Pilot movement, you can start performing more advanced techniques. If you're sandwiched between walls, for example, you can quickly bounce between them while wall-running to quickly pick up speed (you'll go slower the longer you run on a single wall). As a rule of thumb, wall running is almost always preferable to staying grounded, since you'll be faster and harder to hit.
By using the new sliding mechanic (performed by hitting crouch while sprinting), you can perform a "bunny hop" to keep your momentum while wall-running and thus move through the map insanely quickly. To bunny-hop, you'll need to jump, hit crouch in mid air, and then immediately hit jump again as soon as you land on the ground sliding. This move is invaluable in modes such as Capture the Flag, in which getting to the objective quickly is your priority.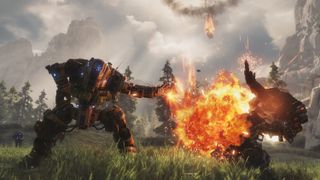 Titan Basics
Titanfall 2
Pilot combat is just one half of Titanfall, and you'll have to get equally comfortable playing as a lumbering Titan robot to truly dominate. For starters, most of your Titan abilities have a cooldown phase, so be sure to save them for when your enemies are vulnerable. Most Titans have a defensive ability — such as Scorch's thermal shield and Ronin's sword block — which are invaluable under pressure. The best time to strike an enemy Titan is when they're reloading or have just exhausted one of their abilities, so get used to dashing in and out of combat and waiting for your opportunity.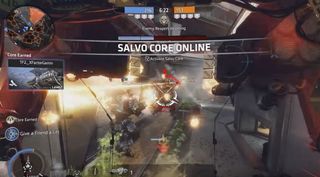 Using Titan Cores
Each Titan has a "Core" move, which is essentially an extra-powerful ability that charges up while you battle. For example, Northstar can unleash a deadly airborne missile assault, while Ion can shoot a massive laser blast. Don't just let these moves rip as soon as you get them — the best time to unleash a core is when you've encountered a big cluster of enemy Pilots or a vulnerable Titan, or when your Titan is on the verge of defeat.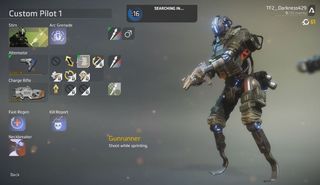 Building the Right Loadout
Creating the right loadout is key to success in Titanfall 2 multiplayer. Start by picking a Tactical ability that suits your playstyle — Grapple gives you great mobility, Pulse Blade lets you detect enemies and Stim gives you a quick health and speed boost, to name a few.
Then, try to find the right weapon to pair with your Tactical. For example, using Cloak with a sniper rifle allows you to pick off enemies from the shadows, while using a shotgun or SMG with Stim lets you rush your opponents for up-close kills. You'll also have to factor in your Ordinance (essentially your preferred grenade type) as well as your Boosts (which give you a bonus once you've scored enough) when building a loadout. Experiment and have fun!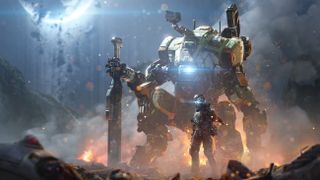 Stick With Your Weapons and Titan
Titanfall 2
Once you've found a weapon loadout and a Titan that you particularly like, stick with them. Your weapons and Titans will level up as you get more kills with them, allowing you to unlock weapon mods and new abilities as you progress. That humble assault rifle will become a harrowing tool of destruction the more often you use it.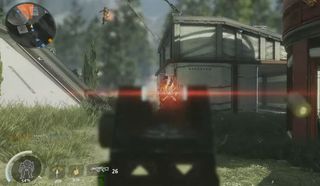 Easing into Multiplayer
If you're looking to try out Titanfall 2 multiplayer (or simply don't play many online shooters), start by playing a mode that mixes AI enemies into the human-on-human combat. Modes such as Attrition and Bounty Hunt allow you to score points by defeating computer-controlled opponents, so you can still contribute to your team even if you're getting creamed by fellow humans. If you prefer your matches AI-free, check out Capture the Flag, Amped Hardpoint and Pilots vs. Pilots.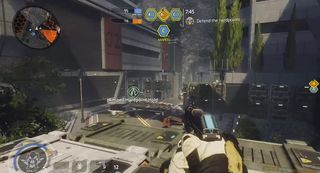 Play the Objective!
Unless you're playing deathmatch-style modes such as Attrition or Pilots vs. Pilots, you'll have to focus on the objective and not just rack up your kill count to have any real success. In Bounty Hunt, make sure you're going after the AI bounties marked on the map, and that you're depositing your cash between rounds. In Amped Hardpoint, focus on taking over control points. Playing the objective won't just help your team — it will also improve your score and allow you to access boosts and Titans faster.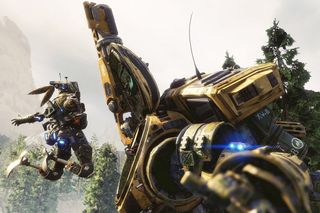 Batteries Not Included
Titanfall 2's battery system is a key part of the interplay between Pilots and Titans. As a Pilot, you can "rodeo" an enemy Titan by simply jumping or grappling toward them, which will allow you to steal that Titan's battery and make it more vulnerable. Once you've stolen a battery, you can put it inside of a friendly Titan, allowing it to stay on the battlefield longer. Just make sure to be sneaky when attempting to rodeo an enemy Titan — it can take you out pretty quickly when you're in front of it.
Titanfall 2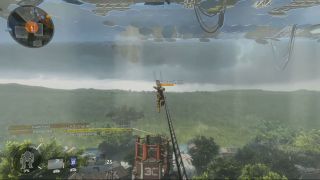 Grapple Like a Champ
Equipping the Grapple ability has the obvious benefit of letting you swing around the map like Spider-Man, but there's a lot more to this super-versatile tool. You can grapple-hook both friendly and enemy Titans, allowing you to quickly get on top of them from a distance. Even more satisfying is the ability to grapple an enemy pilot, which will pull you toward him or her for an instant melee kill.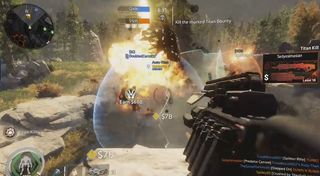 Death From Above
With the right timing, you can crush and instantly kill an enemy by dropping your Titan on it. Once you have the ability to call in your Titan, aim where you expect your foe to be in a few seconds, hit the Titanfall button, and wait for destruction.
Titanfall 2