Trump v Clinton 3: Best Memes of Final Presidential Debate
Trump v Clinton 3: Best Memes of Final Presidential Debate
Presidential nominees Donald Trump and Hilary Clinton had their final debate last night (Oct. 19), which is probably best for all of us. But while the two candidates were busy delivering the same old talking points and issuing vaguely terrifying threats, the Twittersphere was hard at work making sure there was something we could all laugh at during these tough times. Here are the most hilarious memes from the final Presidential debate.
It's the only way
How most of us felt last night, as summed up by @ColinJones.
Whoops
As @Megatron_1488 sums up with this classic Steve Carell GIF, spilling the beans on our nuclear launch times probably wasn't the wisest idea.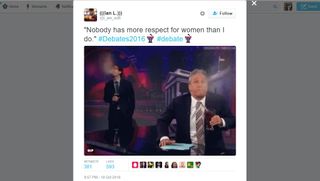 Did he really just say that?
Jon Stewart probably wasn't the only one doing a spit-take when Donald Trump said this. (via @i_am_scifi)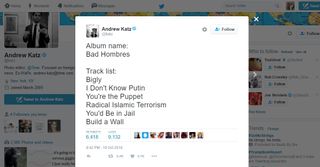 Bad Hombres: The Album
Donald Trump's now-infamous "bad hombres" line has already spawned a treasure trove of memes, but this fictional rap album by Andrew Katz is our favorite. We'd buy it.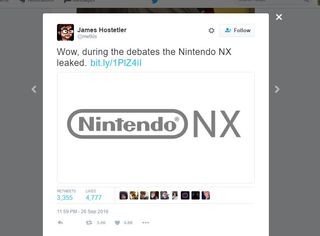 That's one way to encourage voting
The impending reveal of Nintendo's NX console stole some of the debate's thunder, so James Hostetler made sure people were paying attention to the real issue. In perhaps the most brilliant tweet of the night, Hostetler tweeted out a supposed link to a leaked Nintendo NX that actually took users to a voter registration site. Bravo, sir.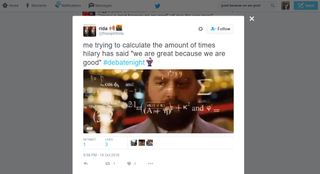 Great = Good
Not everyone is a fan of Clinton's "great because we are good" rhetoric. (via @freespiritrida)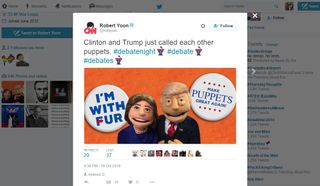 No, you're the puppet!
All of that puppet talk inspired Robert Yoon to get creative. Somehow, the election would be more bearable if both candidates were this fuzzy.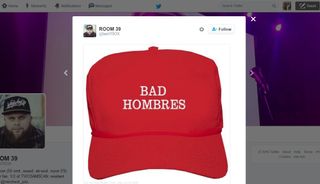 Bad Hombres, Pt. 2
Just for good measure. (via @iamTROX)
Hilary's favorite fly
Hilary's infamous guest from the second debate was suspiciously absent. (via @Smosh)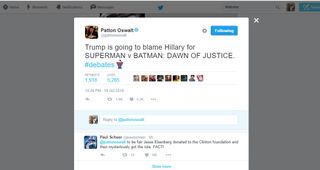 Now that would be cruel
Trump has accused Clinton of some very bad things, but this would by far be the worst. (via Patton Oswalt)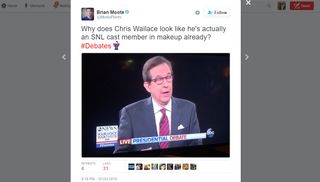 Live from New York
Chris Wallace got major props for being arguably the best moderator yet, but even he wasn't safe from the wrath of Twitter. We are very ready for the inevitable SNL skit. (via @MootePoints)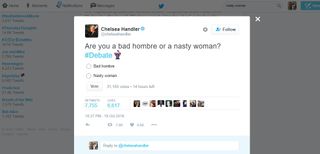 Bad or Nasty?
Much like his "bad hombres" remark, Trump's "nasty woman" statement got the internet going fast. So which one are you? (via @ChelseaHandler)
Watch out, Donald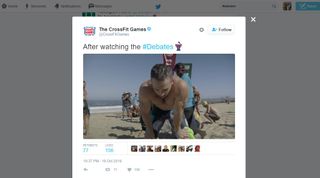 That was rough
We're right there with you, CrossFit. At least it will all be over soon.