12 Star Trek Episodes to Celebrate the 50th Anniversary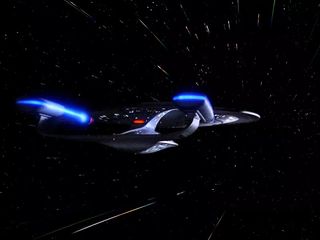 12 Star Trek Episodes to Celebrate the 50th Anniversary
From the first optimistic adventures of Captain Kirk to a full-blown intergalactic war starring Captain Sisko, Star Trek has provided hundreds of adventures for three generations of fans. Better still: You can find them all on every major streaming service, both subscription and a la carte. If you're looking to celebrate the series with some of its finest episodes, we've assembled a little something from every series to explore. Prepare to boldly go to the couch and engage your mind.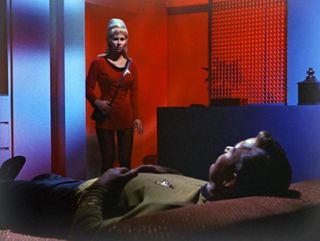 Balance of Terror (The Original Series, Season 1)
How do you handle starship combat in a series with a limited budget? By limiting the amount of time two ships spend fighting, of course. Balance of Terror pits Captain Kirk against a Romulan who commands a ship with a cloaking device. What results is an intergalactic bout of submarine warfare against an opponent who may not be so different from Kirk.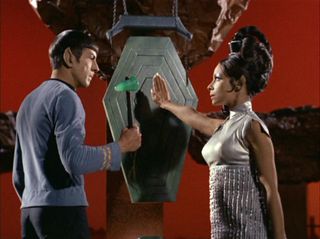 Amok Time (The Original Series, Season 2)
What could drive a wrench between the inseparable Captain Kirk and Mr. Spock? A woman, of course. When Spock undergoes the Vulcan mating cycle of pon farr, he reveals that his betrothed, T'Pring, is waiting for him back on his home world. When the Enterprise arrives, however, it seems that T'Pring has a plan of her own: a duel to the death between Spock and his captain.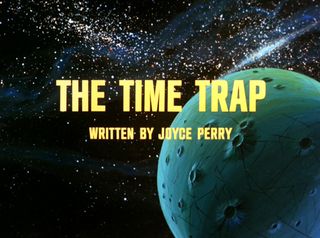 The Time Trap (The Animated Series, Season 1)
The Enterprise and a Klingon ship, the Klothos, find themselves lost in the Delta Triangle: an unstable region of space that traps starships. Representatives from more than 100 races inform them that the Delta Triangle acts as a pocket dimension where time passes incredibly slowly. To escape, Kirk must work together with Klingon Commander Kor: a tenuous alliance, at best.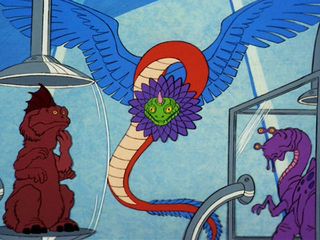 How Sharper Than a Serpent's Tooth (The Animated Series, Season 2)
Based on a line from Shakespeare's King Lear, How Sharper Than a Serpent's Tooth examines the risks and consequences of letting a civilization thrive on its own. When the Enterprise encounters an alien claiming to be the ancient Mayan god Kukulkan, Captain Kirk realizes that the serpentine creature had grand plans for humanity that never came to fruition — for good or ill.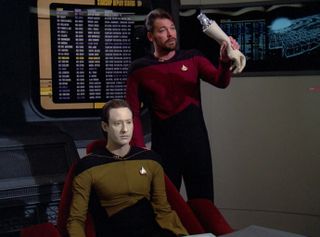 Measure of a Man (The Next Generation, Season 2)
Lt. Cmdr. Data is an android, but is he a machine, or a man? When an ambitious Federation engineer presents a plan to deconstruct Data to learn about his inner workings, Data refuses, sparking the trial of the century. Capt. Picard and Cmdr. Riker must now act as defense and prosecution, respectively, to determine the rights of their friend, and where true sapience begins.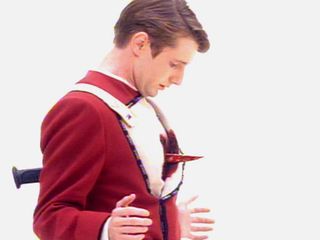 Tapestry (The Next Generation, Season 6)
There are moments in our past that we wish we could undo, but these moments may be what define us. Capt. Picard learns this hard lesson when he dies due to his artificial heart, procured years ago in a bar brawl. Omnipotent alien Q gives Picard a chance to erase the mistakes of his youth, but in so doing, Picard may destroy what's best about himself.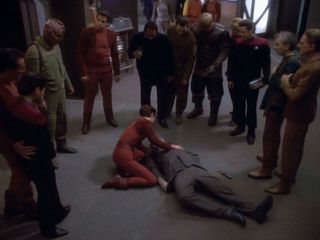 Duet (Deep Space Nine, Season 1)
Major Kira Nerys grew up with her home planet of Bajor under a brutal occupation by the imperialistic Cardassians. When a Cardassian war criminal shows up at Deep Space Nine, Captain Sisko entrusts Kira with determining his guilt. What begins as a simple investigation forces Kira to examine her own prejudices as she learns about the criminal's past and motivations.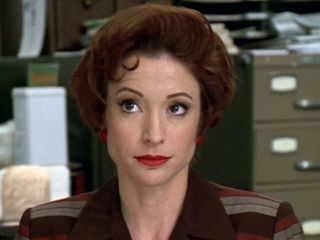 Far Beyond the Stars (Deep Space Nine, Season 6)
One of the most bizarre episodes of Star Trek is nonetheless one of the most moving. Captain Sisko finds himself shifting back in time, into the identity of Benny Russell: a black sci-fi writer in 1950s New York City. Russell's stories about a fictional space station called Deep Space Nine are riveting, but having a black captain as a protagonist starts to ruffle the wrong feathers.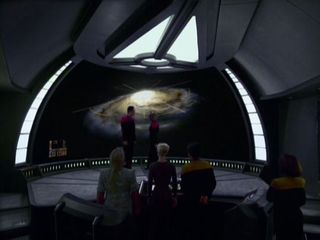 Year of Hell (Voyager, Season 4)
A Delta Quadrant warlord named Annorax changes the past in order to win an impossible war, but finds that the cost is too high. As Voyager passes through his temporally shifting territory, Captain Janeway must match wits with Annorax for an entire grueling year, as her situation becomes more and more desperate. But how will she fight an enemy who can rewrite time itself?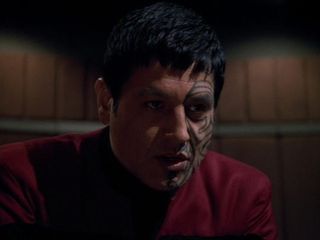 Living Witness (Voyager, Season 4)
Seven hundred years after Voyager journeyed through the Delta Quadrant, a museum curator reactivates an emergency backup of the holographic Doctor. The curator's entire civilization is based on the marauding warship Voyager, and how its cruel captain upset the balance of power. As the Doctor tells the real story, the curator learns that history really is written by the victors — and it's not always right.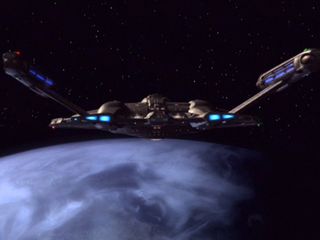 The Xindi (Enterprise, Season 3)
After a mysterious alien collective calling itself the Xindi attacks Earth, Captain Archer takes the Enterprise on a solo mission into the uncharted Delphic Expanse to stop them. Cut off from Starfleet Command and poorly equipped to navigate the inhospitable region, Archer needs a rare mineral to insulate his ship. Acquiring it will be tough, however, and the mission is only beginning.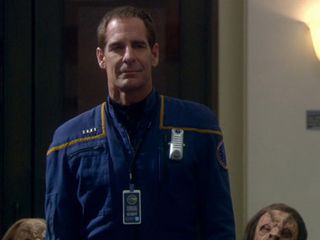 Terra Prime (Enterprise, Season 4)
This penultimate episode of Enterprise probably should have served as the series finale. The crew of the Enterprise find themselves up against John Frederick Paxton: the chairman of the xenophobic terrorist outfit Terra Prime. When Paxton captures two Enterprise officers and uses them as leverage to scuttle a pivotal diplomatic conference, Captain Archer must save both his crew and the nascent Federation's ideals.