IE8: Your Behavior Made It Better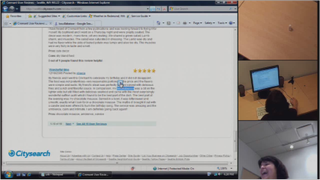 Internet Explorer 8 Features: by the Numbers
What actions do you take most frequently when using your Web browser? What buttons and options do you want in your toolbar to help you do those things? Many of these behaviors are universal, Dean Hachamovitch, general manager of Microsoft's Internet Explorer (IE) team, said.
"18 out of the top 20 commands in Internet Explorer involve navigation and tabs—the act of getting to the site you want to get to and getting to the tab that will get you there," Hachamovitch said.
Microsoft did not make any assumptions about how people use its IE browser. Instead, the team gathered information about 245 different behavioral patterns from over 1.6 million users of previous versions of IE and beta testers of IE 8. The team also observed how users interacted with the browser during a period of 170 hours in usability labs.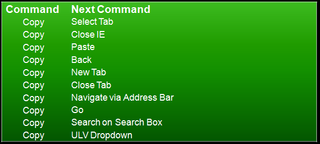 Copy and Paste: Are Accelerators Useful?
After navigation, what do people do most with the browser? Everyone thinks it's something different, Hachamovitch said. "Folks who print a lot say 'printing' and college students suggest 'delete the browsing history,'" Hachamovitch said.
In fact, the 12th most common command in IE is Copy and Paste. When Microsoft looked at what people do after they use the Copy command, those observed often used what they had copied inside the browser. They would open an existing or new tab, go to a new Website, or search for a Website, and then they would paste in what they'd just copied to find out more about it.
"The data was clear," Hachamovitch said. "People copy, new tab, navigate, paste—and they do that over and over again." This is what accelerators are for. Accelerators let you take the text you've selected to copy and paste into another Website. The text is then sent to a service that performs a number of tasks. The service translates the text, searches for it on Google, looks it up on a map, looks up a review on TripAdvisor, or puts it into an email on Gmail or Hotmail. The site has to write the accelerator code, but if it does, you get to find out more without having to copy, navigate, and paste the same text yourself by manually cutting and pasting over a dozen times in a row.

Switching Tabs the Old-Fashioned Way
The new Quick Tabs view in IE isn't popular yet—users mostly switch between tabs in the tab bar instead of opening all the tabs at once to compare in the Quick Tabs layout. That might be because users tend to have as many tabs in a browser window as they can fit onscreen, Microsoft Principal Program Manager Paul Cutsinger said. "If you keep the window maximized and you can have five or six tabs onscreen without them overflowing, then you have five to six tabs," Cutsinger said.
But behavior does change, according to the statistics Microsoft has gathered. "The more you use the product, the more tabs you have open," Cutsinger said. Power users go to a site and right-click on a lot of links to queue them up in tabs to read through at their leisure.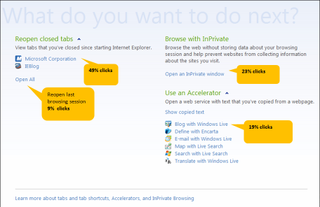 New Tab, Same as the Old Tab
Early versions of IE 8 had a very clean design on the New Tab page—you could use a Web "activity" (the original name for accelerators), start "private" browsing, or re-open recently closed tabs, but accessing these features was harder because the specific options were hidden behind drop-down menus that no-one ever ended up using, Cutsinger said. "People ignored the content—they didn't know what 'Web activity' or 'private browsing' was so they gave up and never got down to reopening closed tabs,'" Cutsinger said. That was a missed opportunity, because on the New Tab page there are only a few things people want to do—and often they do want to go back to a tab they've already closed. Now, with recent tabs listed in full at the top of the page, nearly half of all users who open the New Tab page go back to an old tab.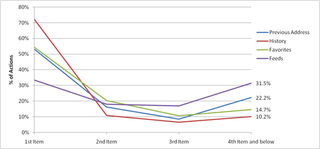 What Are You Looking For?
A few browsing statistics: 80% of the time, people want to visit a site they've already visited. In IE8, 7% of the time people choose a link from search results that they've already visited. Microsoft made sure that search results through its browser also returned hits from the browser's history. Since 70% of IE users have more than one search site set up as a search provider, Microsoft added the Quick Pick icons at the bottom of the search results to make it easier to switch to another search tool. Lots of people search by typing into the address bar rather than the search box, so Microsoft decided to show search results there as well. This has proved to be hugely popular, as a quarter of the time testers picked an item from the search list. Most of the time the first item in the list is from user history and it's the exact thing the searcher wants.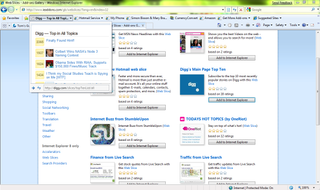 A Slice of the Web
Another of the 20 most commonly used commands in IE is "refresh." People want to make sure they have the most recent stories on a page when they've left a tab open for a while and come back to it. There are some sites that IE users return to many times over the course of a day: Webmail, social networks, auctions, news sites, etc. To save time, Microsoft came up with the idea of "Web Slices," which is a way for Websites to mark the parts of the page that get updated so that users can save them on their Favorites bar like a bookmark. There aren't that many Web Slices yet, but they're popular—a quarter of users try out Web Slices the day they install IE 8 and a third of users already have two Web Slices installed.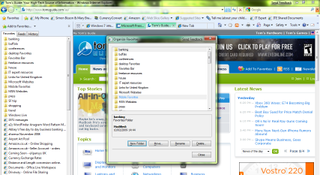 You're My Favorite
Some of the changes involving bookmarks in IE 8 were obvious, like changing the name of the Links bar to the Favorites bar to make it obvious that it was a favorites list appearing on a handy toolbar. Clicking a link from the Favorites bar turns out to be twice as fast as opening the Favorites Center by clicking on the star icon and clicking a link from there (and much faster than opening the old dialog box required for organizing favorites). Once the name was clearer, users during the testing phase started using the Favorites bar differently from the Favorites Center. They added links to sites to which they wanted quick access rather than saving links that they might want at some point in the future.

Switching on Compatibility
Microsoft claims that IE8 passes more CSS tests than other browsers do, but sites that were carefully tweaked to look good in older versions of IE can end up with menus that run vertically rather than horizontally, with the wrong font size or truncated text when viewed with IE8. The Compatibility button renders the page as if you were using IE7, but none of the testers managed to use the early version, labeled "Emulate IE 8" because it was in the wrong place. Microsoft determined that it made more sense to put the Compatibility button next to the Refresh button—this way, the button is unobtrusive, but still noticeable to people who look for a way to fix a broken layout. The first two times you refresh a page in IE8 you'll see this balloon (see photo). "[User statistics show that] once is not enough but three or four times is annoying," Cutsinger said. "After seeing it twice, the vast majority of people know what to do."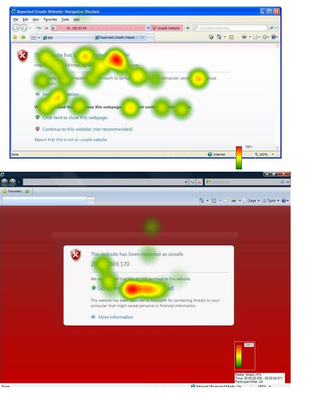 Can You Spot the Way to Safety?
The anti-phishing filter in IE7 would warn you if a site were suspected of hosting malware and would ask you whether you wanted to close the window or visit the site anyway. But the red shading in the address bar and the red shield didn't catch people's attention and neither did the option to close the page. The heat map of where people were looking showed that they didn't even see that option (the red spots are where people looked most and they're all over the page). Adding a red background and making the option to go back to your home page bigger and clearer had people looking at the safe option (highlighted by the red spots showing where they looked) and clicking on it. Hachamovitch claimed the beta 2 version of IE8 has so far protected one user in 40 from downloading malware each week.