Most Anticipated Smartwatches (and When You Can Get Them)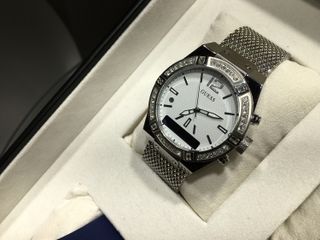 Smartwatches to Watch
BARCELONA, Spain — Smartwatches seemed to take a backseat at this year's Mobile World Congress, as smartphones and even connected devices captured most of the headlines. But a few new smartwatches and wearables on display did catch our eye, like the new bands for the Guess Connect (pictured here). These are the smartwatches and wearables coming out of this year's Mobile World Congress, and when you'll be able to grab them for yourself.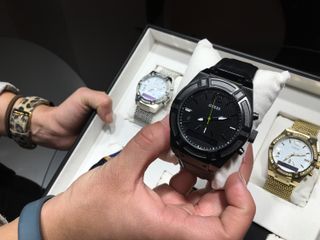 Guess Connect
Set to debut before Dec. 31, the $249 Guess Connect with VIP Notifier will flash an alert when you get message, phone call or email and will also include fitness tracking features. You'll be able to customize seven VIP alerts using different colored lights when a message comes in from a contact you've selected. The watch will offer customized vibrations to alert you when messages come in. As for fitness tracking, this Guess Connect will offer an all-day activity tracker along with sleep-tracking and calorie counting capabilities. The watch will come in a 39mm stainless steel case, offering silicon, leather, or stainless steel mech bands. Guess says the battery will last for seven days on one charge and work with iOS and Android devices.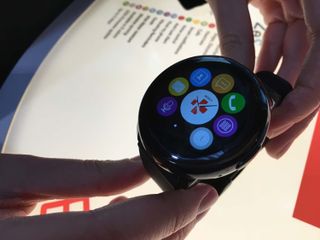 MyKronoz ZeRound
The latest addition to the portfolio of Swiss watchmaker MyKronoz includes a smartwatch aimed at people put off by square smartwatch designs. The circular ZeRound will cost around $100 when it arrives in April — MyKronoz lists the price at €99 — and feature activity and sleep tracking as well as notifications. The ZeRound also doubles as a camera remote control, which will come in hand for group shots, and includes a phone finding feature in case you've mislaid your smartphone. MyKronoz says the ZeRound will come in four finishes — black, silver, gold and pink gold — with both leather and metal options for bands.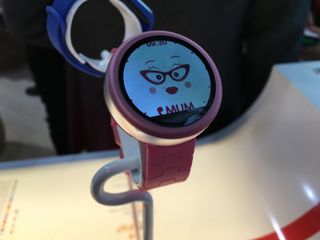 MyKronoz ZeKid
MyKronoz is also branching out into watches for kids that include built-in GPS tracking so that their parents can keep track of location. The ZeKid will also feature Wi-Fi and a SIM card, which will add a monthly service fee on top of the watch's $149 price tag when it arrives this fall. Designed for kids ages 3 to 8, the ZeKid will come in six colors and include a handful of games. Parents will be more interested in the watch's geofencing features, which can alert them when kids enter and leave a specified area, and an SOS button which lets your child reach an emergency contact.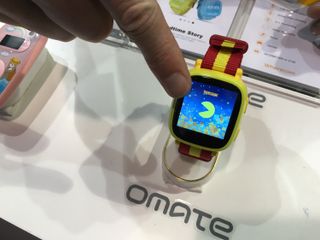 Omate Wherecom K3
Omate has a new kids' watch in the works for later this year, too. The Wherecom K3 features a 1.54-inch color touch display with an interface built on top of Android 5.1. The watch will feature games for kids — I happened to see a miniature version of Pac-Man on the kid-sized watch when I stopped by the Omate booth — as well as features aimed at parents such as GPS tracking, an SOS button and the ability to restrict calls from the watch. Omate's Wherecom will hit Asia first, making its way to the U.S. in time for the back-to-school season this fall. It will cost $129 unlocked, though an Omate rep told me the company hopes to sell a subsidized version at a reduced cost with a two-year contract for cellular service.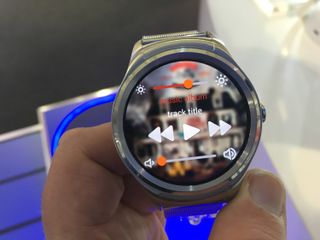 Haier Watch
It's unclear when — or even if — anyone in the U.S. will ever be able to get their hands on the new Haier Watch. The €199 watch is expected to hit France and Germany in the next three months, but a rep at the Chinese electronic firm's booth couldn't tell me whether the device will ever make it across the Atlantic. If not, it's a pity: The circular Haier Watch looks pretty slick, with a stainless steel enclosure around the 42mm watch. The Android-based watch will come with a choice of different bands including steel and leather, and software highlights include a health manager for tracking your heart rate and calories.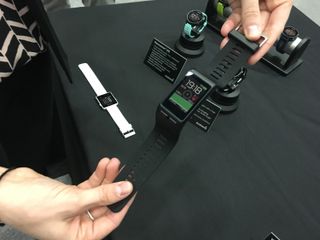 Garmin Vivoactive HR
The $249 Vivoactive HR, set to arrive in the second quarter of 2016, features a longer-looking face than its predecessor. That should please some users looking for an at-a-glance view of their performance. In addition to the MoveIQ feature found in the Vivofit fitness tracker, the Vivoactive HR can monitor several specific sports, including new additions like skiing, snowboarding, paddle boarding and rowing.