5 Coolest 3D Printers of Maker Faire 2013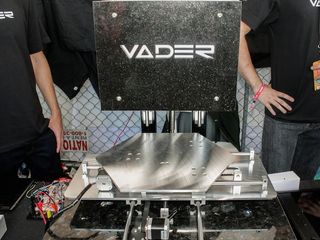 A growing variety of 3D printers
Not all 3D printers are the same, and new concepts continue to emerge. The square boxes that build up small plastic items by laying down layers of melted filament are just one of many types.
Some printers come in far bigger sizes. Some print from liquid, and one even prints with molten metal.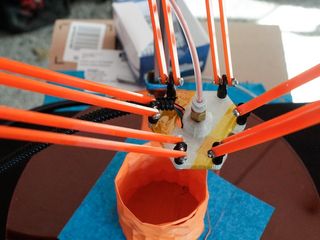 Delta 3D Printer
Standard 3D printheads slide along left-right and forwards-backwards. In contrast, the new Delta style of printers uses six arms to trace out specific shapes.
MORE: Best 3D Printers 2013
Adding taller rods or a wider base can create a build area far larger than that of most 3D printers. This model, called the Deltaprinter, was developed by college students who aim to sell it for less than $500.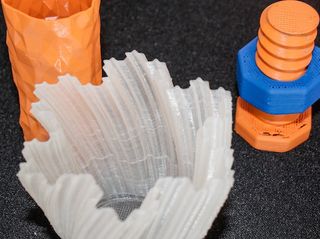 Delta-printed objects
The trio of arms in the Deltaprinter is especially good at printing out hollow, rounded items such as bowls and vases.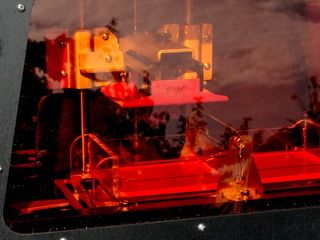 Resin printers
Instead of laying down melted plastic filament, resin printers project images onto a photosensitive liquid that changes to a solid when exposed to light.
MORE: 3D Printing Gets Boost With New Materials
Using light instead of extruded plastic, resin printers can produce smaller object and finer details. This model, the B9, sells for $5,000, fully assembled.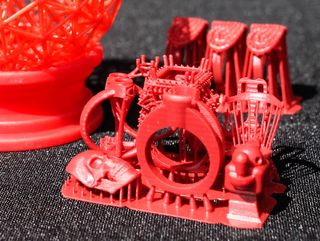 Resin-printed objects
The level detail in traditional 3D printers is limited to the size of the nozzle that extrudes the plastic. In resin printers, it's determined by the size of pixels in the printer, which allows them to print details about ten times smaller. For a sense of scale, the round frontmost item is a mold for a finger ring.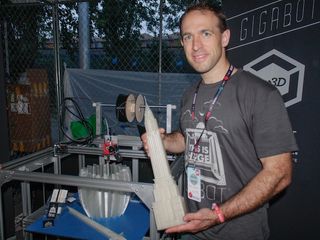 Gigabot printer
As the printer size increases, so does the tendency of its frame to vibrate and send the printhead off track. Thanks to its tight, rigid construction, the Gigabot ($5,450, assembled) can produce items up to two feet wide and two feet tall.
Its build platform, which lowers a few microns for each layer of the print, is sturdy enough for kids to stand on without damaging it.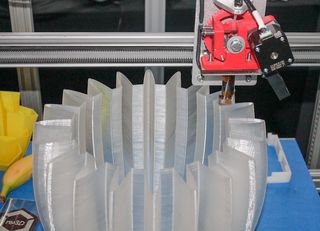 Gigabot prints
Other than its size, the Gigabot is a fairly standard 3D printer with a printhead that extrudes melted plastic. Large items like this giant bowl take about a day to make. (See the banana at the back left for a sense of scale.)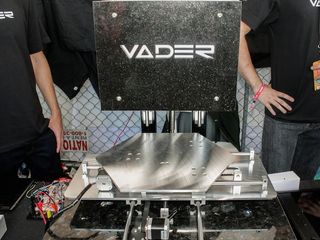 Vader liquid metal printer
Plastic and resin are just the beginning. The Vader, currently in prototype, will use drops of molten metal.
MORE: Future Home 3D Printing Includes Colors, Metals and Lasers
It's already possible to print in metal by melting layers of fine powder with a laser. But the Vader, expected to sell to factories for between $50,000 and $100,000, promises stronger objects such as machine parts.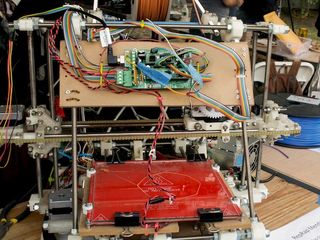 RepRap Mendel
A printer doesn't have to look fancy to be cool. RepRap is a loose association of people who contribute ideas to constantly improve several open-source printer designs.
RepRap models, like the Mendel shown here, can replicate themselves by printing many of the parts needed for a new printer. The remainder can be found cheaply at hardware stores and online. Printers cost $500 or less to build.
Follow Sean Captain @seancaptain. Follow us @tomsguide, on Facebook and on Google+.