Beyond Google Glass: 5 Unique Wearable Tech Concepts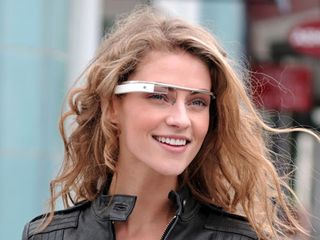 Wearable Gadgets Beyond Google Glass
When it comes to wearable tech, Google Glass usually comes to mind first. These wearable computers are worn on the head like glasses and controlled with eye tracking and voice commands as well as a touchpad on the frame.
From its blink-activated camera to its augmented reality gaming, shopping and traveling services, Google Glass makes it seem like the future is here. But when it comes to wearable tech, Glass is just the beginning.
Here are five unique wearable tech concepts that are shaking up the way people experience the digital world and their own bodies.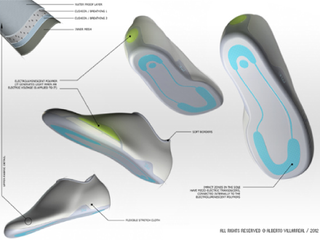 Piezoelectric Shoes
What if you could generate electricity just by walking around the block? With piezoelectric shoes, it's possible.
Piezoelectric materials generate electricity when pressure is applied. A piezoelectric generator in the heel of a shoe could produce electricity with every step . The electricity generated could power other shoe-based electronics like decorative lights, GPS or sports trackers like Nike+, a bracelet that calculates steps taken, calories burned and distance traveled. Piezoelectric shoes could also serve as a backup battery for your smartphone — or even your Google Glass.
MORE:
The concept for piezoelectric shoes has been around for several years, and Mexican designer Alberto Villarreal is currently working on bringing the idea to market with the BrightWalk shoes.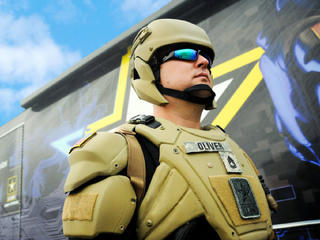 TALOS body armor
MIT researchers are working on an armored exoskeleton that would defend troops from bullets, shrapnel and other attacks. Called the Tactical Assault Light Operator Suit, or TALOS, the armor is partially made from Kevlar that has been dipped in a "soft solid," a substance that is at times liquid and at times solid. Using this method, the "liquid armor" is flexible enough to move in, but instantly hardens when struck by a projectile.
TALOS' creators compare the suit to that of the superhero Iron Man, because aside from protecting the wearer, TALOS is also being designed to enhance the wearer's strength and speed by redistributing weight away from the wearer and onto the suit's robotic components. The developers also hope to add a wearable computing interface similar to Google Glass.
A working prototype is still two or three years out, MIT professor Gareth McKinley told NPR.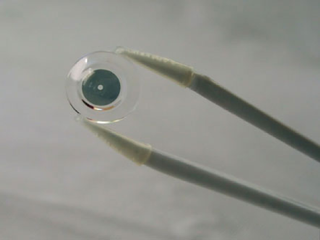 iOptik Eyewear
Many science fiction and spy films feature high-tech heads-up displays disguised as regular glasses or even contact lenses, such as in the 2012 science fiction movie "Dredd" or the television show "Torchwood." The problem with making those fictional devices a reality, however, is that the human eye has difficulty focusing on a display so close to the retina.
The iOptik concept from Innovega overcomes that particular obstacle, with a bit of a compromise: you have to wear both glasses and contact lenses. The display appears on the glasses' lens, and then the contact lens adjusts the light from that image so the eye can view it comfortably. The resulting images can be small enough to not impede users' vision, or wide enough to encompass their entire field of view.
Innovega's concepts have been used in a number of experimental devices, including telescopic contact lenses developed by researchers at the University of California, San Diego.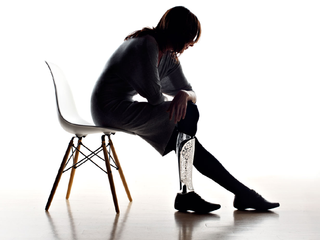 3D printed prosthetics
Most prosthetics are designed to look as much like flesh and bone as possible, even though it's usually obvious that they're not.
These 3D-printed prosthetics, however, are the exact opposite. Called Fairings, the prosthetics are designed to make a statement, not mask an absence. Because they are 3D printed directly from a digital model, Fairings can be custom-fitted to each individual user's shape and size.
MORE: 10 Great 3D-Printing Projects
Like jewelry or a tattoo, Fairings are unabashedly artificial, and quite beautiful. As creator Scott Summit of Bespoke Innovations said as he demonstrated the concept at a TED talk in January 2012: "We infuse a lot of the individual's taste and personality into it everywhere we can and we three-dimensionally print the results."
Fairings are available at Bespoke's website, where they cost between $4,000 and $6,000.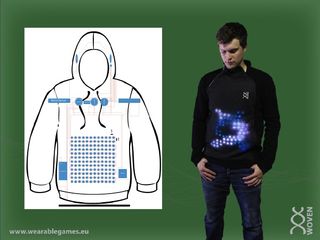 It's a gaming console! It's a stylish sweater! It's both! Woven is a wearable gaming platform that tracks users' arm and torso motions, monitors their heartbeat, lights up using LEDs on the stomach, and connects to users' smartphones.
Graduate students Christiaan Ribbens and Patrick Kersten developed a prototype of the device as part of their graduate work at Utrecht School of the Arts in the Netherlands. They also developed a game for the platform called "Spooky," in which players physically punch and dodge as they fight invisible enemies, while Woven monitors their movements to track progress.
MORE: 9 Nintendo Emulators for Desktop PCs
Ribbens' and Kersten's demo also shows them using Woven to connect to social media, change the channel on a TV, and play "Legend of Zelda: Twilight Princess," a video game for the Nintendo Wii that incorporated motion control through the console's controller, or Wiimote.
Email jscharr@techmedianetwork.com or follow her @JillScharr. Follow us @TomsGuide, on Facebook and on Google+.