Best Apps for Benchmarking Smartphones or Tablets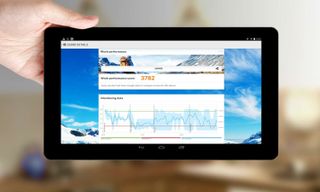 Bench It!
The proliferation of smartphones and tablets exploded growth in the field of mobile benchmarking programs. Whether you're a gearhead testing out the latest tweak to your device, or just looking to settle an argument as to whose phone or tablet is more cutting edge, you'll be able to get some mileage from these mobile benchmarking applications.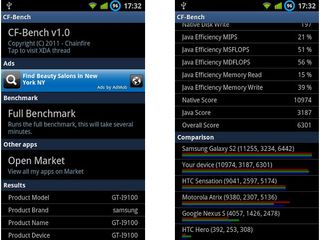 Some good benchmarking habits
If you're going to benchmark, it's best to do it right. Here are a few good habits to pick up when benchmarking.
Turn off all other apps: Start by shutting down all other apps to keep the draw on resources from other programs to a minimum. This insures that the benchmarking software is able to take a good measure of your device's full performance.
Do repeated runs: You're not just testing one-off performance. A spectacularly high or low performance mark may just be a fluke or glitch. To get a better measure of performance run a benchmark at least two or three times, to get an average of your results. If the scores become swingy, then there's something wrong with your device or with the benchmarking app.
Compare: A numerical score or average doesn't mean much if you don't have other stats to compare it to. Many of the benchmarking programs below allow you to compare results online, and even if they don't, a simple Google search should get you some comparisons fairly quickly.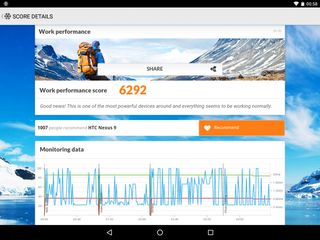 PCMark for Android (Android) (Free)
PCMark for Android is an all-in-one benchmarking tool that is designed to evaluate the relative performance and battery life of an Android device based on its performance in realistic tasks rather than artificial algorithms. The app currently includes one benchmark test package called Work, which evaluates Web performance, video playback, document writing and photo editing. Standout features include the ability to record your results and graph them over time (helpful if you're evaluating system tweaks), as well as a Best Devices scoreboard that allows you to compare your device's scores against new, popular or high-performance devices.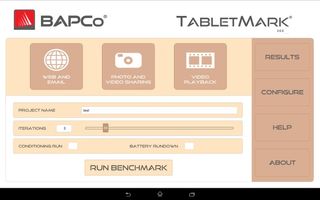 BAPCo TabletMark v3 (Android, iOS, Windows) (Free)
The Business Applications Performance Corporation might not have the same name recall as FutureMark or other benchmarking brands, but BAPCo's TabletMark v3 is a solid, cross-platform benchmarking app for tablets. The app is designed to measure a tablet's performance through a series of tests modeled after real-world Web, email, photo editing and video use. The app is available for tablets running Android, iOS and Windows 8.1 and RT.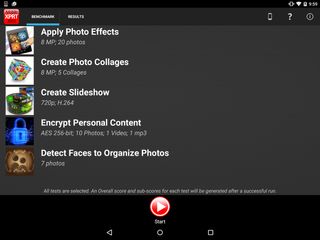 MobileXPRT (Android) (Free)
Principled Technologies' MobileXPRT 2015 is designed to benchmark smartphones and tablets running Android 4.1 or newer. It tries to simulate a variety of real-world tasks, such as photo editing, collages, slideshows, encryption and facial recognition. The company rates execution speed for each task, and it serves up a combined score, which is saved in the device.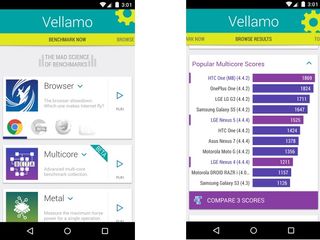 Vellamo Mobile Benchmark (Android) (Free)
Qualcomm continues to improve on its Vellamo Mobile Benchmark app, providing a host of tests for measuring your device's Web and processor performance (single and multi-core), as well as some welcome visual updates to Android Material design. HTML5 tests allow you to benchmark Web and graphics performance, while the Metal tests measure single core processor and hardware performance, and a Multicore mode allowing you to test multiple processor cores at once. While most scores are displayed as abstract points, you can click on details to look at the technical nitty gritty of the individual test results. Easy online comparison allows you to get an idea of relative performance, and extra tests allow you to take a look at video and touchscreen performance.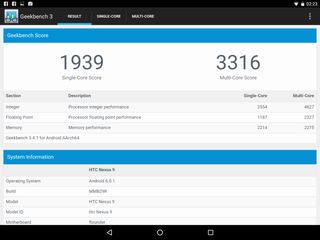 Geekbench 3 (Android, iOS) (Free / $0.99)
Primate Labs' GeekBench 3 (Android, iOS) is a cross-platform testing app that allows you to benchmark your device's performance and compare stats even across OS boundaries. Geekbench is aimed primarily at testing processor and memory performance, with the app testing both single-core and multi-core operations in benchmarks that are designed to mimic real-world workloads. Results are provided as abstract scores, accompanied by sub-score breakdowns that users can compare through the GeekBench browser. If you've always wanted to compare the latest Android flagships with Apple's offerings, GeekBench 3 allows you to do just that.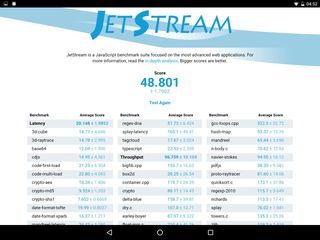 JetStream (web app)
Another useful browser benchmarking tool is JetStream, a benchmarking suite which targets your browser's JavaScript performance, a crucial aspect of browser performance. Incorporating a variety of tools from sources such as the Sunspider and Octane 2, JetStream models a variety of real-world and artificial tasks and performance problems, and then scores browser performance on a variety of parameters as well as a single score balanced on a geometric mean.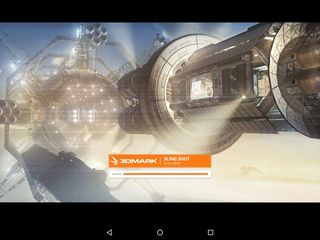 3DMark Sling Shot (Android, iOS) (Free)
FutureMark's 3DMark benchmark apps (Android, iOS) put your mobile device through its paces with a series of graphically intensive short scenes, with special effects such as mist, particles and physics effects reminiscent of the latest high performance 3D games. Abstract results are then presented, with further breakdown into graphics and physics performance, which can be graphed over time (handy if you're system tweaking) and compared to other devices. 3DMark includes two benchmark tests, Sling Shot, which tests OpenGL ES 3.0 performance, while Ice Storm tests older ES 2.0 performance.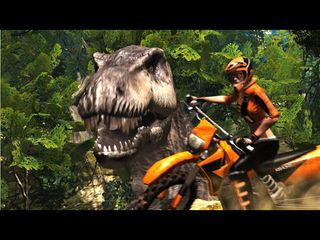 GFXBench / GLBenchmark (Android, iOS) (Free)
GFXBench aka GLBenchmark (Android, iOS) is another cross-platform mobile staple that offers graphics performance tests and comparisons across devices and platforms. The benchmark runs numerous operations to stress test your device's graphics performance, both onscreen and offscreen. It provides very detailed feedback regarding the measured frames per second and other results, as well as explaining the kinds of tests performed. Once there, it's easy enough to compare your results with other devices from within the app, fixing the only real complaint we had on older versions.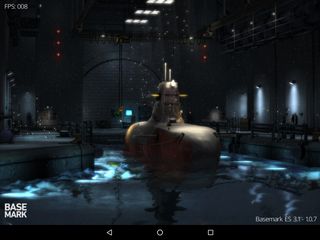 Basemark GPU Mobile (Android, iOS) (Free)
Basemark's latest mobile gaming and graphics benchmark is Basemark GPU Mobile (Android, iOS), which really puts the screws to your device, testing support for OpenGL ES 3.1 and Apple Metal. The app runs through a highly detailed scene designed to push your smartphone or tablet to the limit (single digit FPS at highest settings are not uncommon). The scene features a variety of lighting effects, SSAO, particle effects and post-processing. The free consumer version doesn't let you tweak the benchmark settings much, and simply runs the benchmark, provides you scored results, as well as a link for comparing your device's results online. A premium version ($5.99).