20 Video Game Easter Eggs and Where to Find Them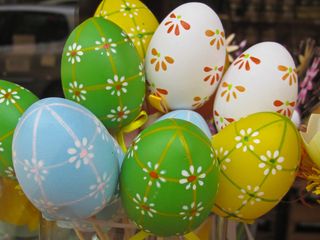 Egg Hunting
The tradition of the Easter Egg hunt where children search for decorated or candy eggs hidden throughout the house or garden has long ago made the leap from meatspace to cyberspace, with many game developers working in little "Easter Eggs" throughout their works. These include allusions to pop culture, favorite works, previews of future games, and running gags across entire series. Here are a few of our favorites, and feel free to add your own in the comments section below!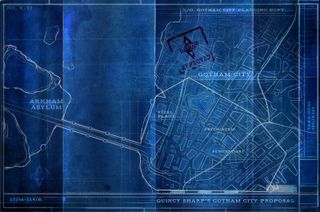 Batman: Arkham Asylum – The Warden's Secret Room
Two years before the release of Arkham City, developer Rocksteady snuck a tease of its premise into Batman: Arkham Asylum. Head to Quincy Sharp's office in Arkham Mansion. Just to the right is a wall that can't be spotted with detective vision, but can be blown with explosive gel. Your reward? Blueprints for the eponymous city prison.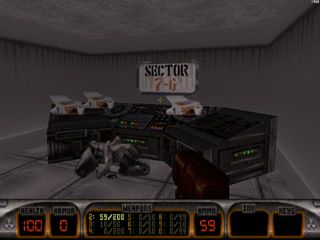 Duke Nukem 3D – Sector 7G
In the "Critical Mass" mission of this classic nineties shooter, is a pretty obvious reference to the classic animated sitcom 'The Simpsons.' Just hit the action button against one of the walls to open up a room that features Homer's workstation from the Springfield Nuclear Power Plant. Who wants donuts?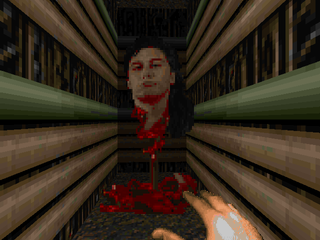 Doom II: Hell on Earth – Pay No Attention To The Man Behind The Wall
The finale to classic FPSDoom II opens with a creepy arcane chant that is actually a back-masked and distorted clip of series co-creator John Romero saying, "To win the game, you must kill me—John Romero." True enough, you can use the idclip cheat to walk through the wall to see that behind the Icon of Sin is John Romero's severed head on a stick.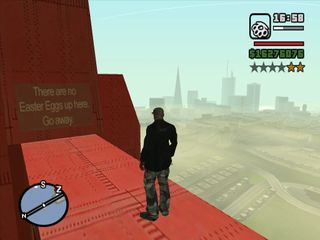 Grand Theft Auto: San Andreas – This Isn't The Easter Egg You're Looking For
The very nature of open world games means that there are literally hundreds of Easter eggs littered in the most obscure corners. However, one of the Easter eggs in this game, located on a bridge that connects San Fierro to Las Venturas, is a sign that says, "There are no Easter Eggs up here. Go away."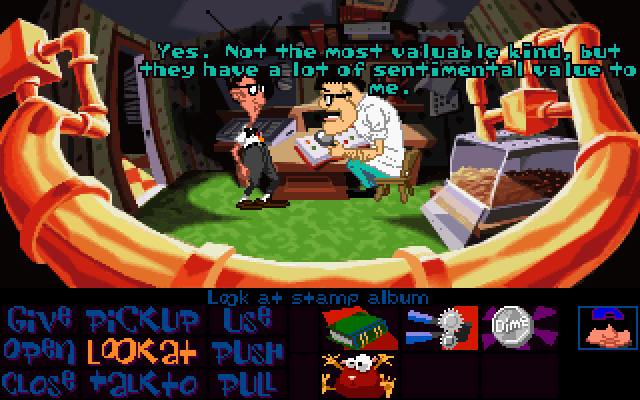 Day of the Tentacle – A Sixty Four Kilobyte Memory
The developers at LucasArts managed to sneak in a full-length game in this wacky animated comedy adventure. Okay, it's really just Maniac Mansion, which is Day of the Tentacle's predecessor from the wild Commodore 64days. Just head on up to Weird Ed's room and you can use his computer to play this classic in its entirety.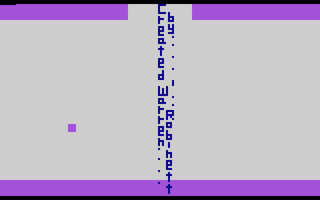 Adventure – Credit Where Credit Is Due
This Atari 2600 title featured what is arguably the first video game Easter egg. Because credits in video games were not standard practice then, Adventure's creator smuggled his name into the game itself. If you bounce your cursor to grab an invisible gray pixel and bring it to a corridor below the golden castle, you are taken to a room that simply says, "Created by Warren Robinett."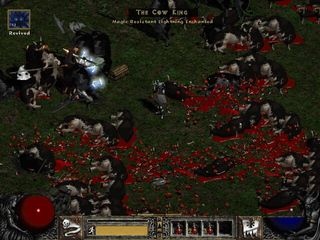 Diablo II – Where's The Beef
Rumors persisted of a secret cow level in the original Diablo. Four years later, Blizzard paid tribute to these false rumors with an actual cow level. After completing the game, head back to the rogue encampment and use the Horadric Cube to transmute Wirt's Leg and a single Town Portal! Enter to face an infernal horde of bovine.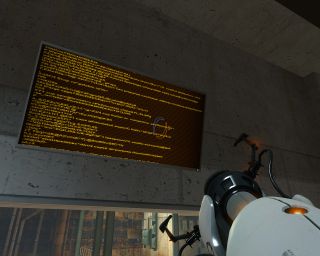 Portal – Let Them Eat Cake
This first person puzzle shooter acquired infamy on the Internet, mostly due to the passive aggressive sound bites from GLaDOS and her false promises of cake. However, after completing the final test, you can enter an office located above a toxic waste pit, where there are monitors displaying garbage code. Hidden in these lines is a recipe for cake.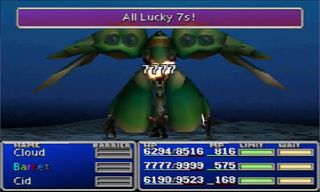 Final Fantasy VII – Lucky Seven Club.
This one's tricky: if you can manage to get one of your characters hit points down (or up) to exactly 7777, they'll go berserk and start dealing 7777 damage per attack while their name flashes like crazy. This special moment is marked by the message, "Lucky 7s!" Be warned, a similar benefit occurs when enemies are at 7777 hit points too.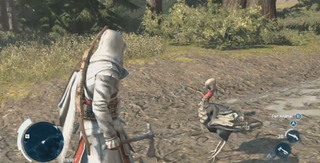 Assassin's Creed – Turkey Assassin
Head to the Davenport homestead, take cover behind a wall and whistle (circle or B) to summon your own turkey. Now enter the infamous Konami code (Up, Up, Down, Down, Left, Right, Left, Right, B, A) and your turkey will get his very own assassin hood. This Thanksgiving, the turkey is not served. The turkey serves you. Or something.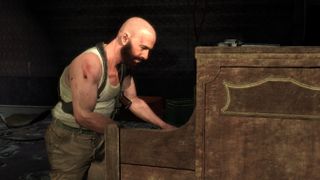 Max Payne 3 – Play It Again, Max
Over the course of Max's crazy South American adventure, he'll run into quite a few pianos. Find these pianos in Chapter 1, 8, 11 and 13. Take the time to tickle the ivories and he'll rediscover a familiar tune. It's the classic Max Payne theme (from way back in the first game) in piano form.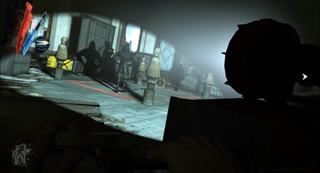 Dishonored – Steal This Tutorial
You can find this in Mission 7: The Flooded District. Sneak inside the Assassin's Hideout in Central Rudshore. You'll find a small stealth training room and hear: "For your next trial, you must remain unseen. Stay in the shadow and avoid the light." If you're a fan of stealth games, you'll recognize this homage to the training from Thief: The Dark Project, one of Dishonored's spiritual ancestors.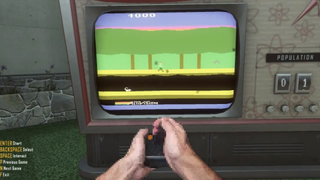 Call of Duty: Black Ops II – No Atari 2600 Required
To get this one, all you have to do is shoot the heads off all of the mannequins in the Nuketown 2025 map in under ninety seconds. Don't worry about the background mannequins, they don't count. If you succeed, you can head to the video screen in the center of the map and play old Activision games like River Raid and Pitfall!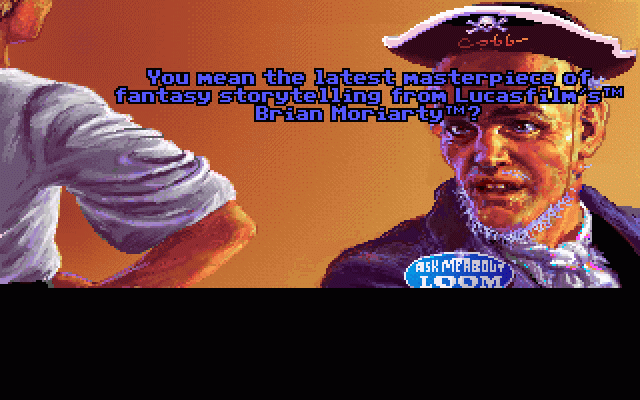 The Secret of Monkey Island – Word of Mouth Advertising
In just about every version of this adventure classic, whether the original DOS and Amiga version or the Special Edition remake for iOS and Windows, you can ask an unassuming pirate named Cobb about a thing called Loom. Cobb will promptly go into a long-winded and enthusiastic spiel about Loom, another Lucasarts game and "the latest masterpiece of fantasy storytelling by Brian Moriarty."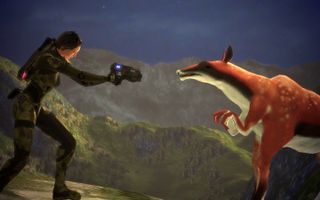 Mass Effect – Two Legs Good, Four Legs Bad
On the planet Ontarom, in the Newton system of the Kepler Verge, there is a shifty-looking Space Cow somewhere in the southwest near a gold deposit. You can 'interact' with it, but nothing happens nor does any dialogue result. However, if you turn around, it will cheat you by stealing credits from you and following you around. The cow can be fired upon, but you don't get any credits back.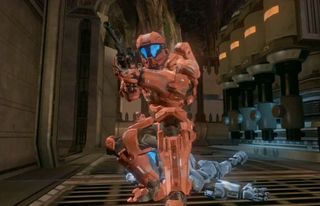 Halo 4 – Holographic Immaturity
Although 'teabagging' is a practice long considered childish by even the most infantile Halo veterans, 343 Studios has paid tribute to it in this Easter egg. Simply take out an opponent in multiplayer while wearing armor equipped with the hologram ability and deploy the hologram over their downed corpse. The holo will lower its virtual privates to humiliate him for you.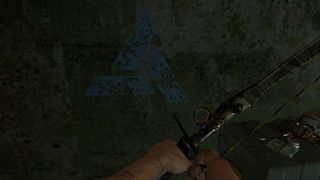 Far Cry 3: Tropical Templars
Players with access to the Lost Expeditions DLC will spot a familiar company logo from one of Ubisoft's other franchises. In the "Ignition in the Deep" mission, players will explore a Japanese World War II testing center with the corporate logo of Abstergo Industries (the Templar front company from the Assassin's Creed series) displayed in multiple locations. Additionally, the passcode to exit the facility is "122112", which could be rendered as December 21, 2012, a portentous date in the Assassin's Creed mythos.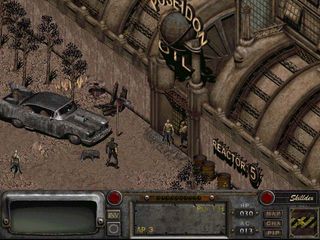 Fallout – The Most Loyal of Companions
In the original post-nuclear role-playing game, you can acquire a canine companion to follow you forever. His name is Dogmeat and he is found in Junktown. You can recruit him by giving him some iguana-on-a-stick, but you can also earn his loyalty by wearing a dark leather jacket, in reference to Max Rockatanski and Dogmeat from The Road Warrior.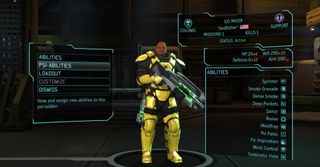 XCOM: Enemy Unknown – Superstar Soldiers
This little Easter egg will disable all your achievements and trophies, so user be warned! Simply rename any of your soldiers any of the following: 'Sid Meier,' 'Ken Levine,' 'Otto Zander,' or 'Joe Kelly.' These are the names of 2K developers, and will instantly transform your soldier with super stats!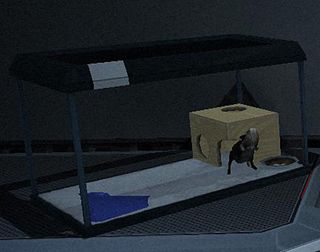 Mass Effect 2 & 3 - The Space Hamster
In Mass Effect 2, Commander Shepard can purchase a Space Hamster pet in the Citadel station. This is almost certainly a reference to Baldur's Gate, where the character Minsc keeps a pet named Boo, who he claims is a "miniature giant space hamster." This is further reinforced in the Mass Effect 3 Citadel DLC, when Shepard tells Boo to "go for the eyes," a line that Minsc screams as a battle cry.
Do you have any other favorite video game Easter eggs you'd like to share this Easter weekend? Feel free to spread the laughs in the comment sections below.