Get the Microsoft Office 2013 Preview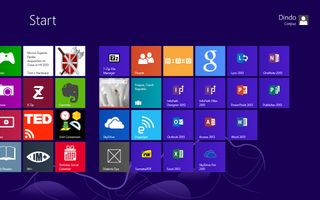 MS Office 2013 Professional Plus is Up for Preview!
Though we don't have an exact release date for Microsoft Office 2013, Microsoft recently released a trial of its Office 2013 Professional Plus productivity suite on its TechNet website, allowing users to try out the newest iteration of Microsoft's classic office productivity software package. We'll show you how to get your hands on it, how to set it up, and take a look at some of the changes to the MS Office.
The Office 2013 Professional Plus preview includes the 2013 versions of Word, Excel, Powerpoint, Outlook, Access, InfoPath Designer & Filler, Publisher, OneNote, and Lync.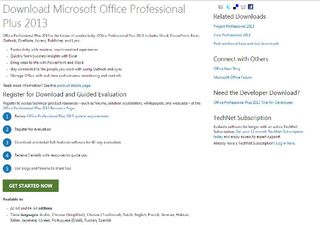 Getting the Package
The download link above will bring you to Microsoft's TechNet, where you can sign up for the Office Professional Plus preview as well as take a look at the system requirements and other resources related to Office 2013. Clicking on "Get Started Now" will prompt you to log in with your Microsoft Account. From there, you'll need to fill out a form with your email address, country, and the version of Office 2013 you'd like to download (32 bit or 64 bit). Once you've filled this out, you will be directed to a download page with a product key (save this!) and a dropdown menu listing the many possible languages that you can select for your version of Office.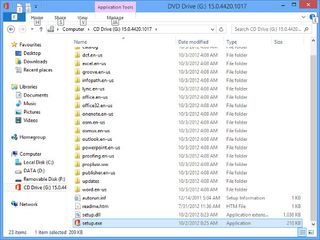 Mount & Install
The download will give you an image file that is ~770 MB for the 64-bit version or 667 for the 32-bit version. Once downloaded, you'll need to mount the image file. Windows 8 has the native capability necessary to mount an image file, but if you're using Windows 7, you'll need some sort of image mounting software, like Daemon Tools Lite, in order to mount the file. Alternatively, burn it to an optical disc. From there, run the setup, enter your trial key, and you'll have the Office 2013 Professional Plus trial version up and running in no time.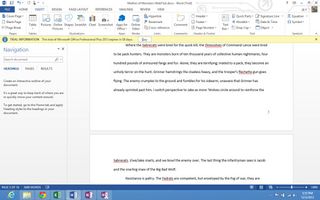 Interface Changes
Some quick impressions of the new interface? First off, rather than launching you straight into a blank document like in older versions, the Office 2013 apps now deposit you into a color-coded landing page (green for Excel, blue for Word, etc). This shows you a list of your recently openeddocuments as well as a slew of document templates and a search bar for procuring more templates online. Once you've chosen a document template or blank document, you get the traditional toolbars+document view. The Ribbon system first introduced in Office 2010 is still there, though with a harder-edged Metro look. The default interface is a stark, blinding white (though you can change the theme to a gentler grey). Toolbars blend in with the documents and only small splashes of color in the File Menu and status bar indicate which Office app you're running. Nothing fundamentally different, just further polished.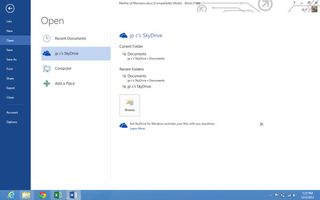 Take it to the clouds with SkyDrive & Office Web Apps
One of the central features of the new Office 2013 is a heavy integration with cloud services (and it necessitates a Microsoft account). For example, while you could still save on your computer's hard disk, your SkyDrive account is actually given pride of place above My Computer when saving or opening files in Office 2013. Saving to the cloud is near indistinguishable from saving to your computer's local drives, and opening cloud-stored files is just as smooth. From there, you can access your documents just about anywhere. You don't even need a copy of Office installed on a machine to access your documents because you can use "Office Web Apps." Office Web Apps offers stripped-down, in-browser versions of Office 2013's core apps that allow you to read and edit your documents from within your web browser.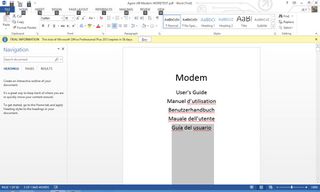 Word 2013: Edit and save PDF files
Moving on to Word 2013, this venerable word processing program has gained a great feature: the ability to open PDF files while preserving their format, edit them like you would any other document in Word, and then save back to PDF. This is a great new feature but don't dump your PDF editing software just yet. We have observed some visual distortion and filesize bloat when opening, editing, and saving a PDF. We've also experienced some failures when attempting to open extremely graphics-intensive PDFs, which can crash during conversion from a PDF to a workable form in Word. Still, it's a feature with great potential, especially if you're working with forms and more plain formatted documents, and we hope further updates will smooth out the kinks.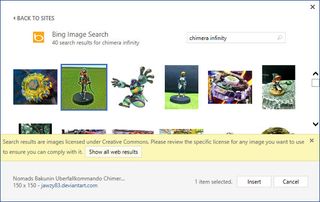 Word 2013: Embedded Media & Reader Mode
Word 2013 also includes expanded support for embedding online media. Users can insert online images without ever leaving Word's interface; search for royalty-free photos and illustrations or Creative Commons content is made possible through Bing image search. Additionally, there's a new, enhanced reading view that hides much of the Office interface and tools, and was designed with touchscreen or tablet reading in mind. This view resizes and optimizes text for easy viewing and swipe/scroll navigation but leaves some unobtrusive tools, like comments, definition lookup and translation.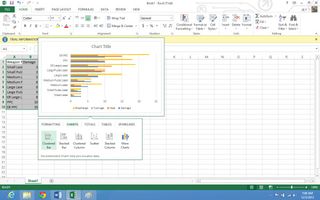 Excel 2013: Quick Charts
Excel 2013 also has some interesting new features, like the ability to quickly preview visualizations of your data. Simply select a block of data, and you'll see a little icon pop up on the bottom right corner of your selection box. Click on it, and you'll find a series of buttons that allow you to preview how your data would appear in common presentation formats, such as bar or line graphs.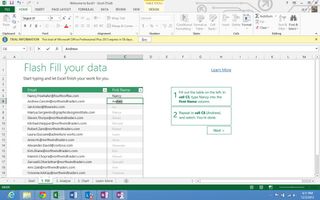 Excel 2013: Flash Fill
Another great improvement is the Flash Fill feature. Excel looks for patterns in your actions and, if it sees a particular repetitive act, attempts to find all instances of similar applicable data and autocomplete the task. The sample in the Excel tutorial included listing down the first names of people based on their email addresses. After two repetitions, Excel 2013 just blazed forward and filled the entire column based on the actions I had previously taken.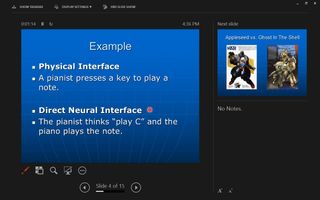 PowerPoint 2013: Presenter View tweaks
While Presenter View has been present in previous iterations of PowerPoint, the 2013 edition does add extra functionality to the Presenter View feature. Presenter View shows you the current slide on the left, your notes for the current slide on the bottom right, and a preview of the next slide on the upper right. Additional buttons allow you to use your mouse/finger/stylus like a virtual laser pointer or make annotations to the slides themselves. You can also use the slide manager button in Presenter View to jump around to selected slides without breaking out of the Slideshow being displayed to your audience.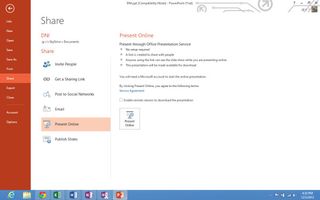 PowerPoint 2013: Online Presentations
PowerPoint 2013 also includes the ability to present your slideshows online. Go to File->Share->Present Online in order to create a link that can be sent to your audience. Viewers can then click link to see your presentation as you are deliver it, which is handy if you and your team are in different geographical locations. There is the option to allow remote viewers to download the presentation and you can also share your presentation to the social networks linked to your Microsoft account. Good stuff.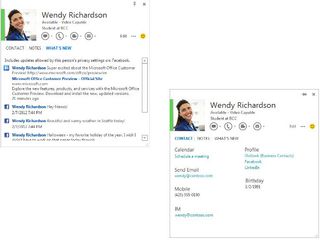 Outlook, OneNote, Lync, Access & Publisher
Office 2013 also comes with a whole host of other apps and we've barely scratched the surface of their new features. Outlook boasts an enhanced People Tab, which allows you to consolidate contact information to avoid duplication as well as check what's new with your contacts' social media posts. Outlook's calendar features have also been improved and can now be shared among others. The OneNote notekeeping app has been reforged into a cross-platform note-taking and viewing application. Draw, type, or scribble away in the freeform note app, organize your information, and view your notes on desktop, WindowsPhone, and even iOS or Android. Every app in the Office suite has received some improvement in one way or another.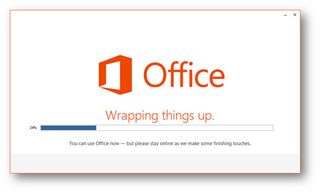 Office On Demand
One final (and interesting) feature of Office 2013 is "Office On Demand." Office On Demand allows you to stream the Office app you need at a particular time directly from Microsoft. When a user runs an Office On Demand app, the latest version of the app is streamed to the computer with priority given to features that are likely to be in immediate use. This means users can work with the Office On Demand program even when the main app (say Word or PowerPoint) hasn't finished downloading its full contents. This portable, one-off mini-installation is an interesting model, and it'll be fascinating to see how these apps run and handle in practice.
We've only barely scratched the surface of the new features in Office 2013. Do you have any thoughts about the direction that Microsoft is taking their flagship productivity suite? Any observations in the use of the earlier Consumer Preview and the new Professional Plus release? Please share them in the comments section below.