Skype Tips, Tricks, and Apps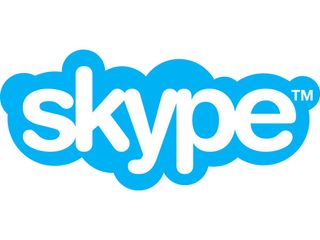 Skype
Skype is one of the most popular VoIP and IM programs out there, and its userbase should grow even more with the imminent closing of Windows Live Messenger and the migration of WLM users to Skype. Today, we'll take a look at a few simple tips, tricks, tweaks, and extensions to get more out of your your experience with this popular app.
Skype for Windows
Skype for Windows (business)
Skype for Linux
Skype for iPhone
Skype for iPad
Skype for Android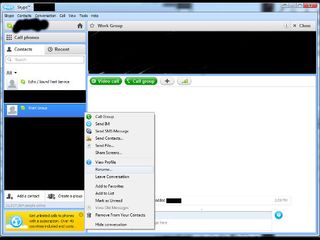 Organizing your contacts
Your contacts list will display your contacts according to their username or preferred nickname, making it easy to find Uncle Martin in a list. Still, sometimes you might forget who "DarkAngel1337haxxor" is. Fortunately, right clicking on a given contact gives you the option to sort things out by letting you rename and sort people into lists for easier reference. You can also use the "Create a group" button to set up convenient lists for sending out mass messages to groups of people.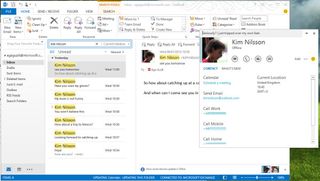 Outlook Integration
The newest iteration of Skype features a whole load of features designed to integrate more closely with Office Outlook. Consolidated profiles and contact information put your Skype and Outlook details in one place, and allow you to initiate calls to Skype, landline, or mobile phones, start Skype IM conversations from within Outlook, and keep updated with your contacts' online/offline status and mood messages.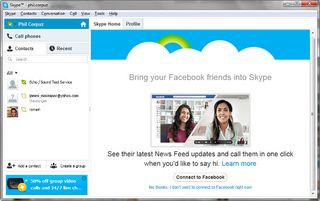 Facebook Integration
Like the soon-to-be defunct Windows Live Messenger, Skype now includes Facebook integration, allowing Skype users to view their Facebook Newsfeed, keep updated on their Facebook contacts' posts, as well as upload their own status updates through Skype. Skype now also allows you to chat with Facebook contacts through Skype.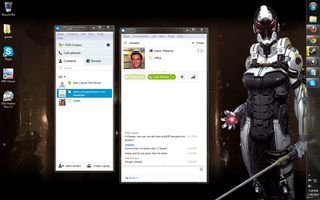 Compact View
Windows Live Messenger users undergoing adaptation shock and trying to learn a new interface, or Skype users looking for a more IM-like interface or experience can set Skype to compact mode through the View menu, which displays the Contacts and Skype Home as separate windows. With Skype Home closed, the Contacts view now mirrors a more traditional IM client view, with chat conversations showing up as new windows. This makes it a bit easier to navigate between multiple conversations (though we haven't yet found a good mirror to WLM's tabbed conversations).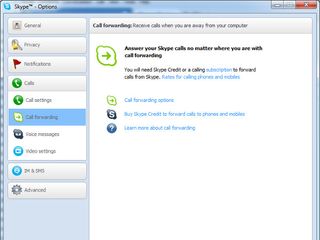 Call Forwarding
Another useful feature available is Call Forwarding, which allows you to receive Skype calls wherever you are, even if you're not near your computer. This feature requires Skype Credits, but it will allow you to reroute Skype calls to a landline or mobile phone when you're away or not signed in on your PC, tablet, or smartphone.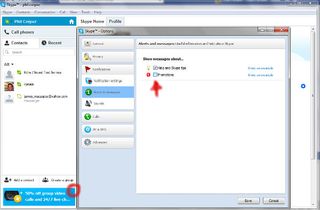 Removing Promotional Banners
Skype displays a relatively unobtrusive banner ad for promotions just below your contacts list, but if you're so ad-phobic that you can't stand the sight of it, you can turn it off. An 'x' button on the ad itself usually allows you to close the ad, or you can permanently keep Skype from displaying them again through Tools>Options>Notifications>Alerts & Messages. Uncheck the "Promotions" box, restart Skype, and voila!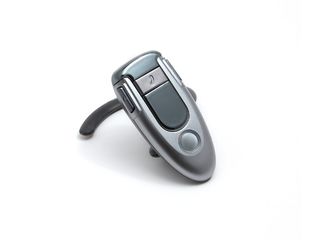 Bluetooth it!
A simple hardware addition is a Bluetooth wireless headset for your calls. This will allow you to do things like pace as well as provide a modicum of privacy (as opposed to receiving a call on open speakers) without being chained to a wired headset or mic setup. If you have a Bluetooth device paired to your computer, you can go to Tools>Options>Audio settings, and from there, select your device as the primary microphone and speaker for Skype. You might still want to set the "Ringing" option at "Ring on all devices" on the off chance that you get a call when you don't have your headset on.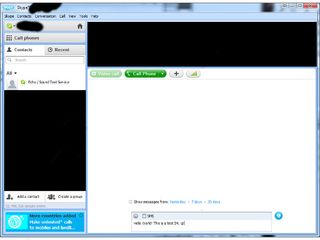 Instant Messaging
Skype also functions as a handyinstant messaging client, allowing you to send and receive IMs between yourself and your contacts. The program also compiles a history of your messages, making it easier to review a conversation, and additional plug-ins (covered later) can be used to expand on the utility of the instant messaging features of Skype.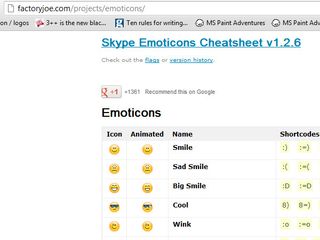 Emoticons and Fonts
Skype's IM interface supports many common emoticons. For a handy listing of standard Skype emoticons, as well as a few of the more unusual ones, check out Chris Messina's Skype Emoticon Cheat Sheet project. Of course, if emoticons just make you groan, you can also disable them in Tools>Options>IM & SMS>IM appearance (which is also where you can customize font settings).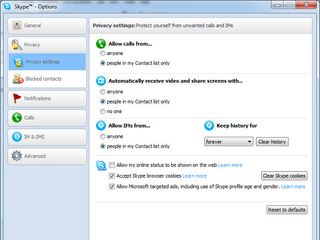 Spam & Privacy Filtering
Another important setting to visit in Skype's options menu is the Privacy tab. From here, you can tweak things to ensure you only receive calls or IMs from your trusted contacts list. It also allows you to block certain contacts from sending you anything.
Editor's Note: Be sure to check out this post for more software designed to preserve privacy.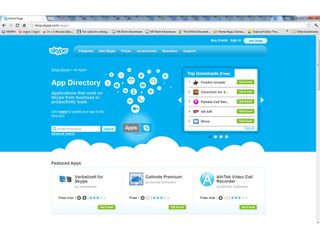 Skype Apps
Skype also supports a whole host of apps that can improve its functionality. Popular tools can provide automated text translation, call recording, desktop sharing, and more. We'll feature a list of useful add-ons next.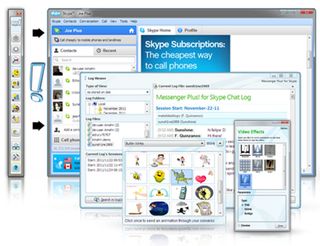 Messenger Plus for Skype
Messenger Plus for Skype is a grab bag of various customization options and utilities for Skype. Made by the same people behind the Messenger Plus plugin for Windows Live Messenger, Messenger Plus for Skype allows you to record video and calls, do voice transformations, send flash animations to your contacts, customize your ringtones, and more.
Verdict: It's an extensive set of tools for customizing Skype to your heart's content.
Score: 4.5/5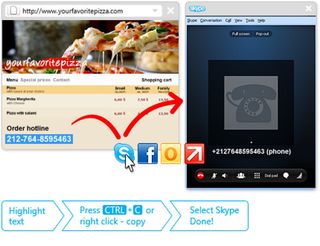 Click.To
The Click.To extension for Skype allows you to highlight a phone number from just about anywhere and quickly call via Skype. Grab numbers through webpages, documents, PDF files, even file names!
Verdict: A neat, little time-saver if you do a lot of calling through Skype.
Score: 4/5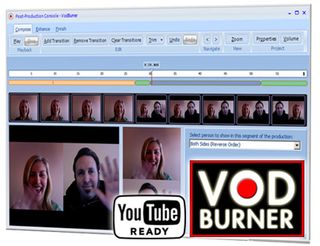 VodBurner
VodBurner is a pretty high-end video call recorder extension for Skype that includes a whole host of editing toolsfor users who may be looking to make their own little web series. While the full version will set you back a whopping $99.95, you can try it out for free for two weeks, with some functionality not working past the trial period. Something to note: video recording will still work fine past the trial period, but only if the contact you're video-calling also has VodBurner installed.
Verdict: Video recording and a host of editing tools give you a good editing suite for stuff like webseries or plain video call recording.
Score: 4.5/5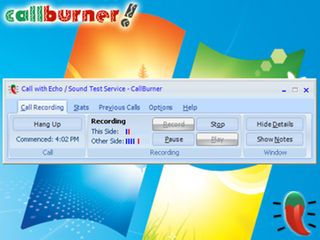 CallBurner
CallBurner, from the makers of VodBurner, is like an audio-only equivalent, recording audio and allowing you to run the audio through a series of editing tools. Record as a single track, or keep a separate file for both sides of the conversation, and more. Again, it's got a hefty $49.95 pricetag, but like VodBurner, the recording functionality still works free past the trial so long as the other party has CallBurner, too.
Verdict: Whether you're doing a podcast or just want to have an audio record of calls to friends, family, or colleagues, CallBurner is a handy plugin to have.
Score: 4/5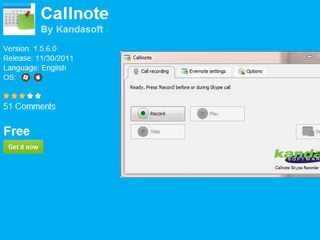 Callnote
Kandasoft's Callnote is one of a plethora of programs that can record your audio calls (the premium version includes video call recording). What we like about this little tool is its ability to automatically sync with your Evernote cloud storage -- it automatically uploads your recordings so that you can access them anywhere.
Verdict: Lots of extensions feature recording, but the Evernote integration is a sweet feature that makes Callnote stand out.
Score: 4/5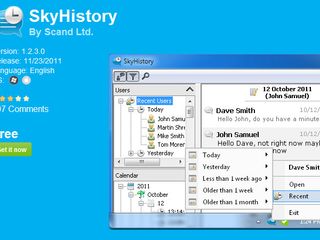 SkyHistory
SkyHistory takes the basic IM history functionality in Skype, and amps it up to 11. Track and manage your conversations, bookmark them, export your history database, and more.
Verdict: A comprehensive IM conversation history manager for Skype, great for tracking your conversations.
Score: 4/5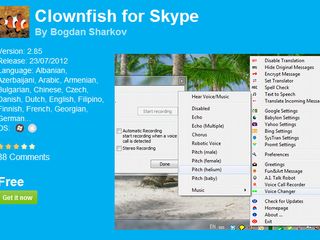 Clownfish
With support for dozens of languages and the ability to choose different translation options, Clownfish is one of the most popular translators in Skype's app directory. Clownfish grants you the ability to automatically translate the IM messages you receive, as well as automatically translate the messages you send to your contacts. The text won't be perfect, but it's usually enough to get your point across. Among the cute extra features is a little voice transformation tool that you can play with for a few laughs.
Verdict: Support for numerous languages, customizable translation settings, and cute extra features make Clownfish an excellent choice for text translation in Skype's chat.
Score: 4.5/5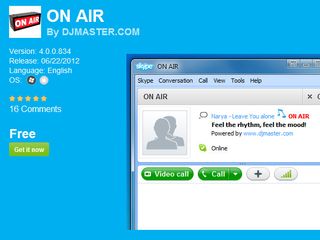 ON AIR
Users with a need to constantly show off what they're listening to will appreciate our next app. ON AIR integrates with many popular music players in order to display the music you're currently playing in your Skype status bar.
Verdict: Flaunt your musical taste (or lack thereof) to everyone in your contacts list.
Score: 3.5/5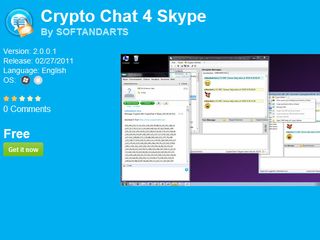 Crypto Chat 4 Skype
For the paranoid users convinced that someone out there is gunning for them, rifling through their messages and email, our next add-on is just for you. Crypto Chat 4 Skype allows you and your contact to encrypt your Skype IM chat messages, making it more difficult for the snoopers out there to read your mail. Of course, the even more conspiratorially minded will scoff given that this is freely available software. And, of course, if you truly are paranoid, you'd never be crazy enough to send anything sensitive over the internet anyway. Big Brother is watching!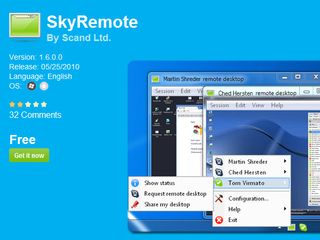 SkyRemote
The team members and telecommuting set will appreciate this next one. SkyRemote is a remote conferencing and collaboration tool that allows Skype users to share their desktop interface amongst themselves. It also includes some limited remote control authorizations, session recording, clipboard sharing, and more. Fair warning: try not to leave anything incriminating active on your desktop to avoid awkward moments when sharing screens with your contacts.
Verdict: A great tool for the collaboratively minded and those users who do a lot of work through Skype.
Score: 4/5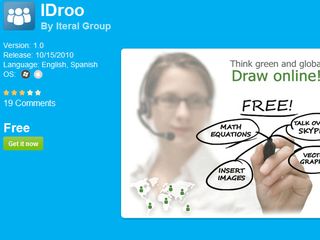 iDroo
iDroo is another simple but brilliant collaboration tool idea. At its heart, IDroo is a virtual whiteboard that you can share with your Skype contacts. Draw, leave messages,scribble something cute, or take down notes. Useful for tutoring, presentations, or simply for having fun with a friend or loved one in another part of the world, iDroo is a great little add-on for Skype.
Verdict: Easy and intuitive, iDroo is an easy to use collaboration and teaching tool.
Score: 4/5