Who Designed That? 7 Iconic Gadget Designers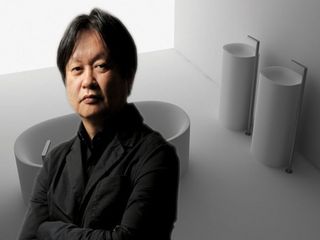 Naoto Fukasawa: Philosophy
If a word could describe Naoto Fukasawa's aesthetic, it would be sleek. He was the head of the American company IDEO's Tokyo office, and then opened up his own design office in 2003. His industrial designs have influenced a whole generation of designers. Fukasawa's style and philosophy is minimal, refined, and beautiful. Generally monochrome, his designs dip into primary shapes and simple designs.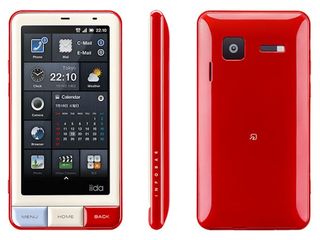 Naoto Fukasawa: Technology
Fukasawa is famous for a design he did for MUJI of a wall-mounted CD player, but this year he ventured into the world of smartphone design with this INFOBAR phone for kddi. The infobar has gone full-on smartphone, with a 3.7 inch multitouch display, 8.5 mp camera, and an innovative Android – powered user interface. Several of Fukasawa's prototype concepts were chosen for the permanent collection at New York's Museum of Modern Art. The project has since formed into a commercial venture under the brand name iida, and he INFOBAR was the company's first commercial product.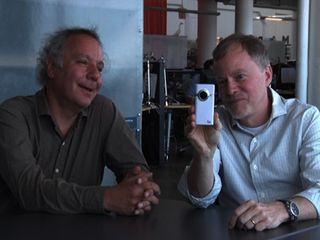 Dan Formosa and Smart Design: Philosophy
Dan Formosa & Davin Stowell from Smart Design want to make design accessible and easy. Formosa says he has always been interested in how design can improve peoples' lives , from pre-filled syringes to glassware than can go from the stovetop to the freezer. Formosa and Stowell had to push hard in the 1980s to integrate design into new products, but they succeeded in creating a new paradigm for designers.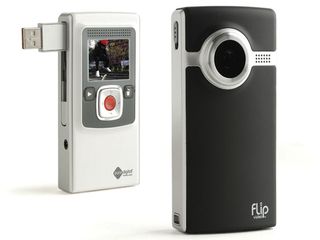 Dan Formosa and Smart Design: Technology
One of Smart Design's biggest successes was the Flip Camera. The now-gone gadget's compact design and ease of use made it a game-changer in journalism and home documentaries. Plus, priced at less that $200, the camera was one way to make video accessible to a new audience.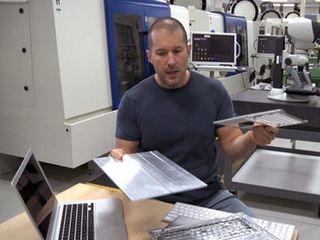 Jony Ive: Philosophy
The founding father of gadget designers is Apple's Jony Ive. The recently-knighted British designer is the mastermind behind the design of lead designer and conceptual mind behind many of Apple's products, including the MacBook Pro, iMac, MacBook Air, iPod, iPod touch, iPhone, and iPad. Ive's father built furniture, and instilled a respect for craftsmanship in his son. Ive says he has a drive to finish the "back of a drawer" when he designs – meaning putting design even into unseen elements. Ive's designs are hailed for their simplicity, but he says that's a harder thing to achieve than it appears. True simplicity, he explains, must stem from the core idea of the product — the very problem it's trying to solve.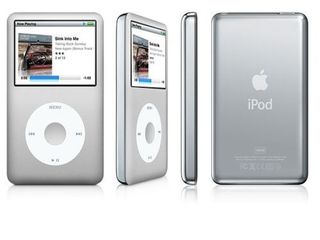 Jony Ive: Technology
From the iMac to the iPad, Ive has designed nearly all the iconic Apple products during the past 20 years. Ive and his team don't just design the products that Apple makes. The ideas are often so new that frequently they have to design the entire production process that the factories will use to make them. In his biography, Steve Jobs said that Ive had more "operational power" than anyone else at Apple, which makes us at Tom's Guide excited for the future product releases – starting with Apple TV and a redesigned iPhone this fall.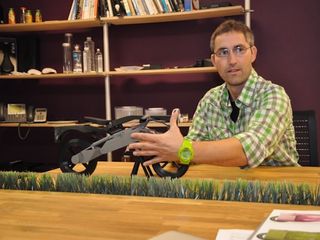 Branco Lukic and Nonobject: Philosophy
Banco Lukic created Nonobject. Non·object is an idea "that presents a story at odds with the dominant narrative in industrial design." According to Lukic, this story is simple enough: that it's possible to develop and license products that will be treasured not because of their specifications, but because they make the owner happy to own it. He told Wired: "In the 20th century, we were focused mostly on the practical, utilitarian side of design, and later we were driven by technological advancements, marketing and business plans. In the 21st century, instead of design just fulfilling the basic needs, doing certain things or resolving particular problems, people will seek deeper, greater and longer lasting product experiences. Nonobject benefits from not being constrained, as compared to design practice today, which benefits from being constrained."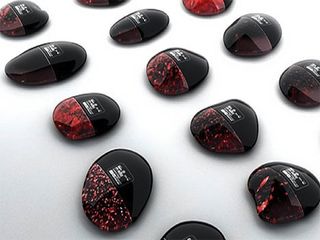 Branco Lukic and Nonobject: Technology
Nonobject has collaborated with companies on dozens of projects. One interesting piece are these pebble-like mP3 players. In his book, Lukic asks, ""What if products embodied twists and contours, and off-colored spots? What if a line of MP3 players, say, could be designed to resemble an array of pebbles scattered along an ocean's shore? Or like a basket-full of heirloom tomatoes at a farmers' market? Imagine the possibilities of mass customizing with such diversity in mind How would it change the way we interact with devices? How would it change the experience of consumption? How would it impact the human-product relationship?" Other projects that the group has worked on include Sony Bravia TV and a cell phone with wrinkles.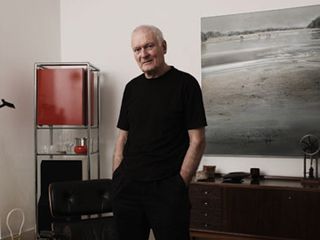 Kenneth Grange: Philosophy
To most, the name Kenneth Grange means nothing – but it would be hard to be unfamiliar with the products he designed. From typewriters to cameras, and washing machines to pens, Grange figured out what was essential to using each product and focused design around that. Altogether, his products came in parallel with a modern British society. Grange viewed product design as an opportunity for innovation rather than merely as a means to aesthetic improvement, which is why he saw it as such an important part of the manufacturing process.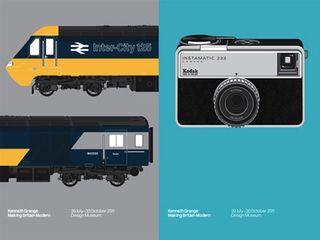 Kenneth Grange: Technology
Grange is known for his iconic tea kettles and thermoses, but he also designed the Kodak Instamatic in 1968, making the camera easier to use and more ergonomic. He designed bus shelters to be friendlier, razors to be grippier and parking meters to be … well, less prone to breaking (by putting the change in the side rather than the top).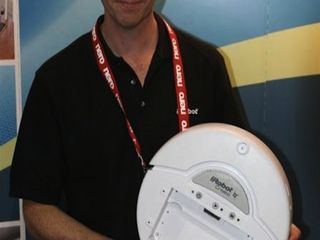 iRobot: Philosophy
When Rodney Brooks and his team looked to create domestic robots, they didn't want human traits to get involved. He has spoken of his desire to avoid what's known as the Uncanny Valley – when robots are too close to looking human and end up creeping us out. Instead, they went for a clean, circular design. Unlike other vacuum robots, the Roomba doesn't make a map of the area it's cleaning. Instead, it relies on simple algorithms to guide its movement after it bumps into walls. Brooks has said that he thinks robots should be like insects, equipped with simple control mechanisms tuned to their environments. The result is that although Roombas are effective at cleaning rooms, they take several times as long to do the job as a person would. The Roomba may cover some areas many times, and other areas only once or twice.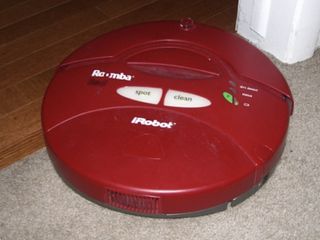 iRobot: Technology
iRobot has adopted a modular design for the Roomba so the machine can be modified and upgraded without having to ditch it for a new one. Many consumers have adopted "Pimp my Roomba" contests.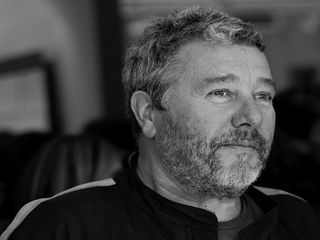 Phillipe Starck: Philosophy
Phillipe Starck has crossed many boundaries in industrial design, moving from houses to gadgets to high-concept fashion. His aesthetic is clean and stylized, from computer mouses for Microsoft to toothbrushes. Now, Starck is embarking on perhaps the biggest leap of his career: in April, the AFP reported that he is collaborating with Apple on a big product that will be out by the end of 2012. Many think it's the new Apple TV, but Starck isn't saying.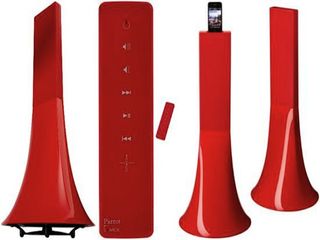 Phillipe Starck: Technology
These speakers are certainly a conversation-starter in your living room. The stunning, ultra-modern sculpted shape "incorporates advanced technology that delivers an intense and powerful sound with spectacular clarity." And if you really want a something to talk about, this Starck-designed gadget can get you intensely drunk for a short period of time. Ah, design – always solving our most pressing of human problems.