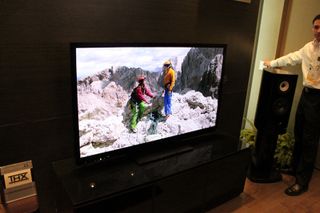 Sharp Elite, or Pioneer's Kuro Resurrected
Let's start this HDTV gallery off with a bang! Sharp, who owns 15 percent of Pioneer, has resurrected the Elite brand of HDTVs. This set is a full array, locally-dimmed LED HDTV running at a true 240 Hz. It's THX certified, too, and a lot of HDTV experts are calling it one of the best (if not the best) HDTV around.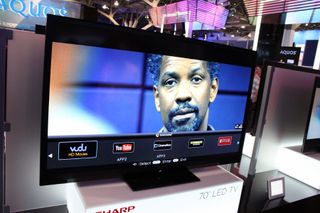 Sharp 6 Series LED
Now let's go down to the bottom of Sharp's offerings with the 6 Series. All of Sharp's 2011-2012 HDTVs are LED - no more LCD or plasma - and all models have WiFi included. The 6 Series is 120 Hz, edge-lit (so backlights are on the left and right sides of the panel), and has the most basic Internet connectivity of the lineup.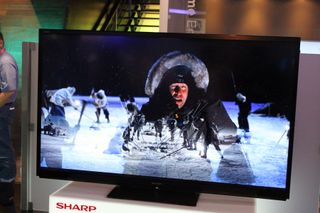 Sharp 7 Series LED
The 7 Series is a 6 Series set with 3D functionality added, a full Web browser, and a aluminum chassis.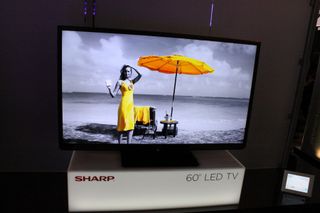 Sharp 8 Series LED
The 8 Series is the low-end Quattron set from Sharp, so it runs on an RBGY spectrum instead of RGB (hence all the yellow in the image). These sets retain the edge lighting (except the 80-inch model), but gain a 240 Hz panel.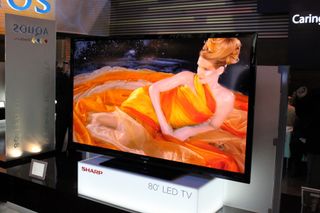 Sharp 8 Series LED (80-Inch Panel)
The 80-inch 8 Series set gets a full backlight, but keeps all the other series traits.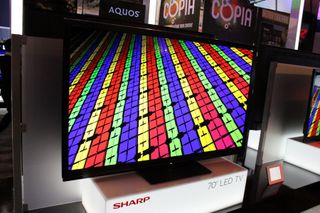 Sharp 9 Series LED
The 9 Series sits right below the Elite in Sharp's lineup, so this Quattron set has a 240 Hz panel, full backlighting, and local-dimming.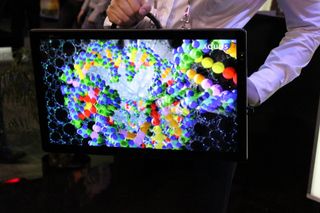 Sharp Wireless LED
A battery-powered LED TV? Now you can move your HDTV anywhere in the home or yard as this Wireless LED set connects to a base station via WiFi. The base station is where you'd plug your cable box or PS3 in, while you can watch or play out by the pool.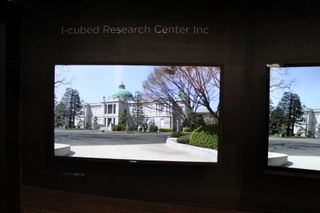 Sharp 4K LED
Most of the HDTV makers at CES are/were messing with 4K (also known as 2160p or 3840x2160 resolution) HDTVs. While you'll be hard-pressed to find true 4K content to watch on this monitor - owners of RED cameras aside - Sharp's unit can upconvert 1080p content to 2160p in real time.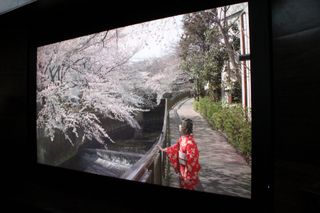 Sharp 8K LCD
If 4K isn't enough for you, then maybe this 8K LCD TV will do the trick?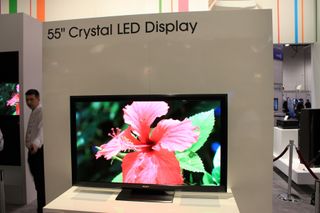 Sony Crystal LED
OLED is coming out in a big way in 2012, but Sony is skipping that trend and pushing its own new tech called Crystal LED. This 55-inch set has six million separate LEDs, with each having its own light source. That means there's no backlight, and the black levels will prove to be something spectacular.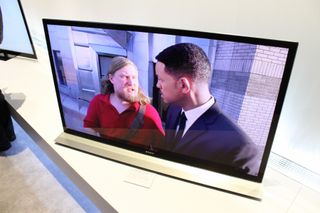 Sony HX850
The HX850 is the mid-range for Sony's new HDTV lineup, sitting right below the XBR line. Price and availability are TBA, but expect a new and improved X-Reality PRO Engine, Motionflow XR 960 (960 Hz, though it isn't true due to the flickering backlight), 3D compatibility, and a Gorilla Glass-infused Monolithic design.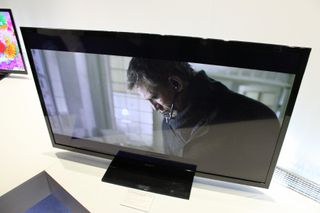 Sony HX929 XBR
The new XBR set from Sony is also known as the HX929. While the HX850 has edge backlighting, this XBR set has full-array backlighting with local dimming.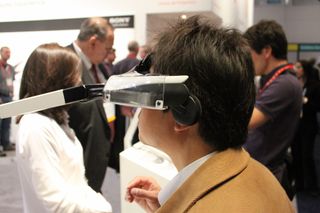 Sony Personal 3D Viewer
This "Personal 3D Viewer" is like a big ol' 70-inch 3DTV stuck on your eyes. The unit has two 1280x720 OLED displays, and is available online for about $800.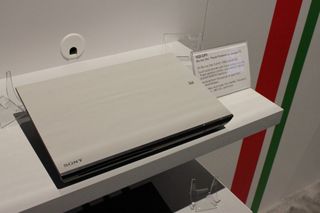 Sony Google TV Blu-ray Player
Most of the bigger TV manufacturers are doing their own sort of Smart TV take, but they're still messing around with Google TV as well. Sony elected to put Google TV in a Blu-ray player for 2012 (there are no new HDTVs with the service built in).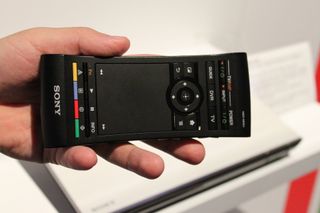 Sony Google TV Remote (Front)
The Sony Google TV remote.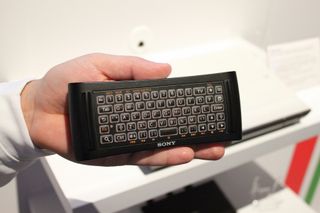 Sony Google TV Remote (Back)
...and again from the back!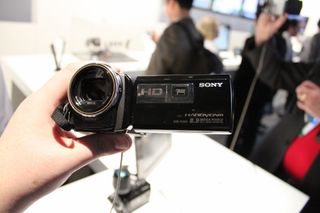 Sony Handycam HDR-PJ260V
No, it's not an HDTV, but this small Handycam can project an image onto any flat surface, while recording 1080p video.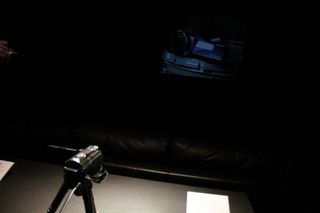 Sony Handycam HDR-PJ260V Projecting
It's hard to see, but there's the Handycam projector in action.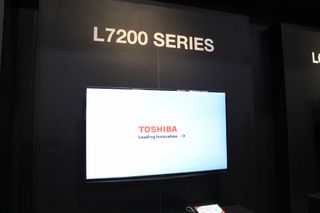 Toshiba L7200
Toshiba showed off some new LED TVs this year, including the flagship L7200 series. This new line has a 240 Hz panel, 2D-to-3D content conversion, built-in WiFi and tablet remote options (as in using your Toshiba tablet to control your TV).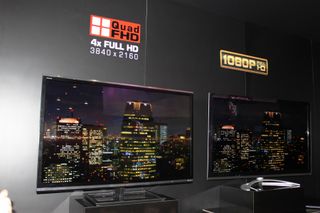 Toshiba 4K Quad FHD
Toshiba, like years past, brought some 4K panels to the show again. This time, we're being told that 4K sets should be on sale by the end of 2012.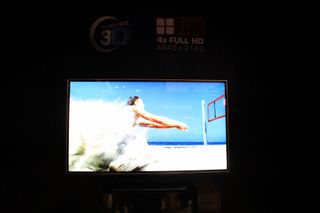 Toshiba Glasses-Free 3DTV
The 4K sets can also do glasses-free 3DTV. While the other Toshiba sets use passive glasses, this 4K set requires nothing but the naked eye.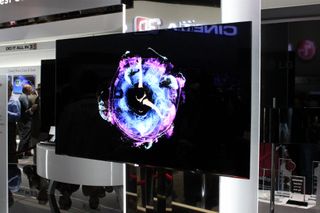 LG OLED HDTV
LG and Samsung are pushing OLED TVs in 2012, with sets supposedly available for purchase later this year.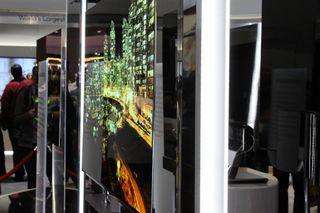 LG OLED HDTV (Side)
It's hard to see, but these sets are ridiculously thin.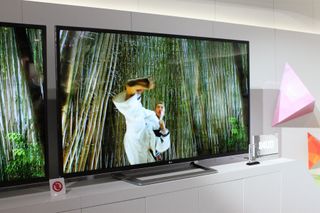 LG 84-Inch 3DTV
Another huge 4K LED set! This one is using passive glasses for 3D, hence the blurred image.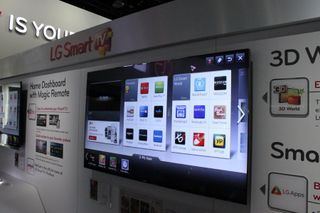 LG Smart TV
LG's Smart TV service has a pretty slick UI, and can pull content from just about anywhere.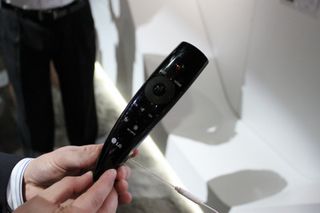 LG Smart TV Motion Remote
This Smart TV remote is similar to a Nintendo Wii controller. Simply point, move and select!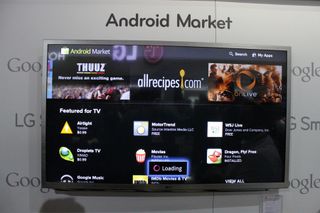 LG and Google TV
LG is pushing its own Smart TV software, but Google TV is still alive and kicking. This set has Google TV 2.0 built-in, so no external box.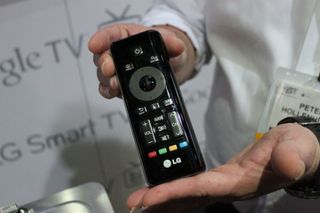 LG Google TV Remote
LG's Google TV remote.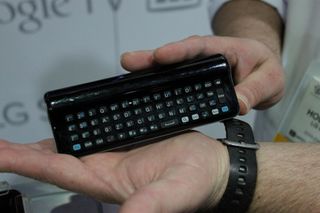 LG Google TV Remote
...and the back side as well.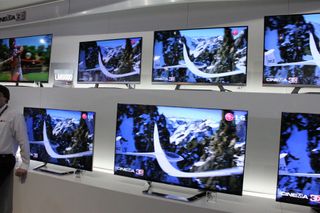 LG LM6600 LED HDTV
A lot of LG's 2012 models were not on display in the booth, but LM6600 series (a mid-range LED set) was, in varying sizes.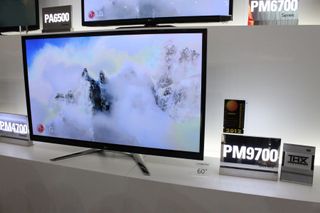 LG PM9700 Plasma HDTV
LG is still doing plasma sets as well, like this PM9700.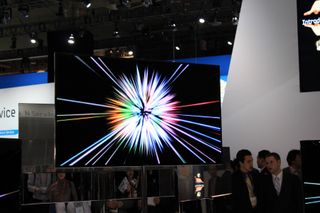 Samsung OLED TV
Samsung is also dipping its toes in the OLED HDTV water. Like LG, most of this sets' specs are TBA, but it will launch before the end of 2012, and it will probably be expensive.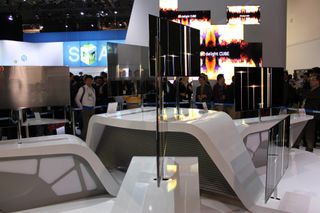 Samsung OLED TV (Side)
Again, the thickness, or lack thereof, is amazing.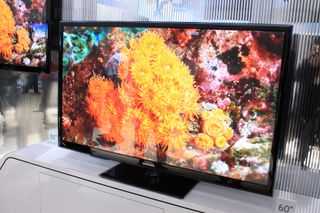 Samsung Series 5 Plasma HDTV
Samsung does Series 5, 6, 7, and 8 TVs, with each series coming in Plasma and LCD/LED. The differences are in the bezel, panel quality and extra features (WiFi, etc).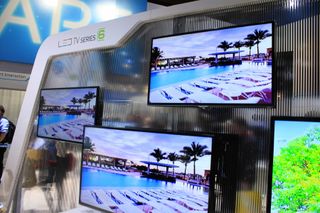 Samsung Series 6 LED HDTV
The Series 6 LED displays are the mid-range, with a thin-but-not-too-thin bezel.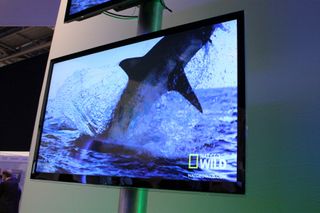 Panasonic LED HDTVs
Panasonic has always been known for their outstanding Plasma HDTVs, but they DO have a full line of LED TVs now as well. The WT, DT and ET lines are all 3D capable and have WiFi built in; while the WT and DT lines are 240 Hz, the ET series is 120 Hz. The bottom end is the E50 line, which is WiFi capable (dongle required), lacks 3D, and has a 120 Hz panel.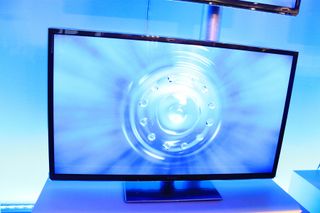 Panasonic ST50 Plasma HDTV
The mid-range ST50 comes first in the Panasonic plasma line (there is a UT line but they were not on display). With active 3D and built-in WiFi, this is where most consumers will go for a plasma set.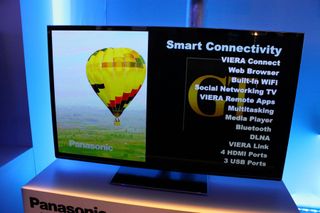 Panasonic GT50 Plasma HDTV
The GT50 steps it up a bit,with an Infinite Black Pro panel, 2D to 3D conversion, 4 HDMI ports and THX certification.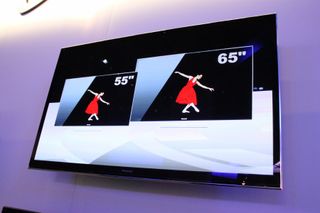 Panasonic VT50 Plasma HDTV
The VT50 is the top of the line, with an Infinite Black Ultra panel (better than a Pro panel, I guess?). Both the VT50 and the GT50 have a full web browser, VIERA connect with apps, and use active shutter 3D.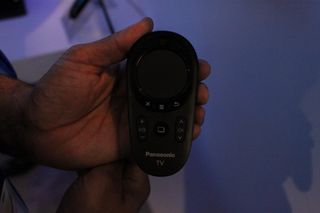 Panasonic Touchpad Remote
Panasonic has a new touchpad remote, similar to a laptop trackpad.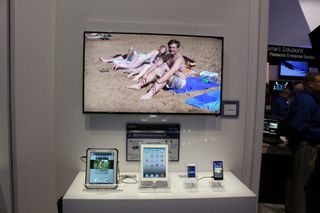 Panasonic VIERA Remote Apps
Similar to Toshiba, Panasonic has apps for iOS and Android so you can control your HDTV with your smartphone or tablet. You can even push content from the device to your TV, depending on what device you're using.
Panasonic DMP-BDT320 Blu-ray Player
The BDT320 was one of the best Blu-ray players on the CES showfloor. With FLAC audio support, iOS and Android support, and an Eco Sensor that can tell when people are in or out of the room, the BDT320 is what you want for Blu-ray playback (unless you have a PS3 already).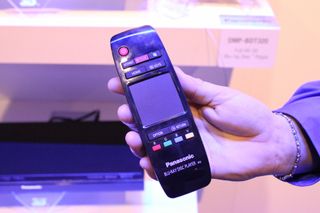 Panasonic DMP-BDT320 Remote
The BDT320 remote, complete with a touchpad.