Fashion-Forward Speakers That Sound Great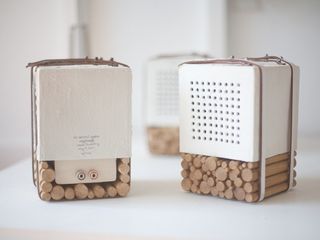 Natural Speakers: Wood, Ceramic, and Leather
These handmade desktop speakers are a creation from the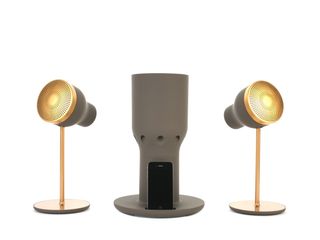 (Very) Limited Edition Wireless Speakers
Famous designer Michael Young has recently reissued an "Extremely Limited" version of a speaker system for iPhone and iPod. And when we say limited, we mean limited: there are only 60 i24RS Wireless Speaker Systems available. This system is comprised of two 40 watt wireless speakers covered with an gold-colored aluminum grating and a basic 20 watt dock. These speakers are exclusively available at Colette for around 850 Euros.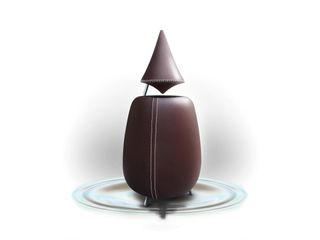 Luxury Speakers "100% Made in France"
Designed and put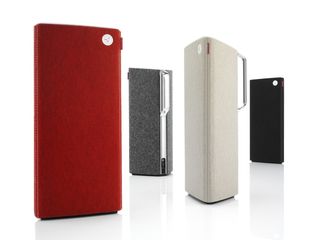 Covered in Cashmere and Compatible with AirPlay
When you first look at it, this speaker kind of resembles a kettle. In reality, it's one of the latest AirPlay-compatible speakers from the Scandinavian company Libratone. Manufactured materials specifically chosen for their acoustic properties (wood and chrome) and covered in cashmere, this system is able to transmit music from an iPhone, iPod, or iPad within 10 meters, or a PC or Mac within 30 meters with the help of a wireless USB connector. These speakers are available online for a price of around 649 Euros.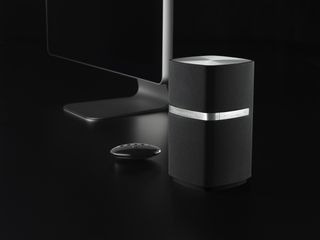 Real Value by B&W
The MM-1 model from the legendary British speaker manufacturer Bowers & Wilkins is not one of the most recent models that we reviewed, but it remains one of the best. Compromising nothing – from design to acoustic quality to care taken during manufacturing - the 2.1 system is comprised of two Hi-Fi quality speakers compatible with the iPhone, iPod, or computer, that have the ability to restore lower tones exceptionally well. The MM-1 is available at the Apple Store or FNAC for a price of about 500 Euros.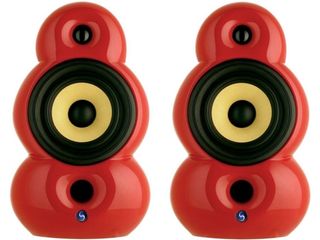 Very Active, Very Small, Speakers
Scandyna, Danish manufacturer of Hi-Fi speakers with very progressive designs, has notably improved desktop model called the SmallPod. The most recent version of these speakers have been integrated with a system of amplification that make them more autonomous, thus making them easier use with a PC, an iPhone, an iPod, etc. With 16 watts of power, they each contain a 19 mm tweeter and medium/low speaker covered with a Kevlar membrane. Available online for around 699 Euros, the SmallPod comes with a separate electrical source.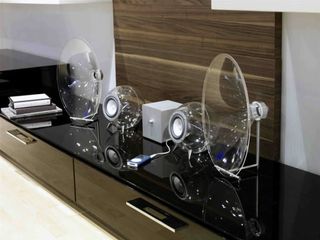 Beautiful and Ethereal
These desktop speakers totally deserve a prize for quality and design! The FH007 system, created by British company Ferguson Hill - a specialist in top-of-the-line electronics -, appeals to a wide range of consumers without compromising quality. Almost entirely made of transparent acrylic, the speakers resemble two 43 cm (in diameter) "horns", with two 20 cm spheres for the bases, and a 14 cm amplification cube, which deliver 64 watts of power and integrate two stereo-worthy amplifiers. The aesthetics and the quality do come at a price though: about 440 Euros for the basic system, and an extra 310 Euros if you want to spring for the accompanying FH008 Sub Woofer.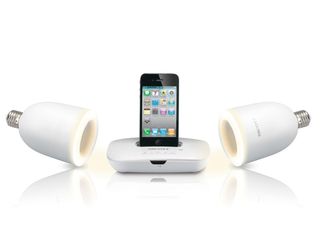 Turn on the Light, Listen to Music
The Luminor i-DXS 10 system, created by Scott, is definitely an original way of pumping sound around your house. It is comprised of a dock for an iPhone or iPod, which wirelessly transfers music to 20 watt LED lightbulb receptors (up to 7 at a range of 30 meters). The dock is made up of a USB port, a memory card drive, and a 3.5 mm audio port. The basic kit is available 180 Euros, although if you want to enhance the sound a bit, the system can be accompanied by a Bluetooth subwoofer for an additional 110 Euros.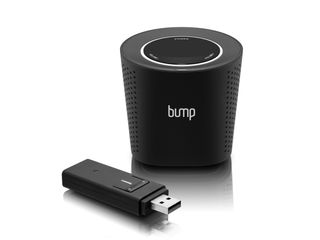 Take It Everywhere
Created by Aluratek, the Bump Wireless Speaker system is a fairly simple and efficient way to listen to music stored on your PC or Mac. It is basically a mini-speaker (about 8 cm) with a USB port that lets you create a wireless connection. Its battery lasts about 4 hours at full charge and costs around 55 Euros.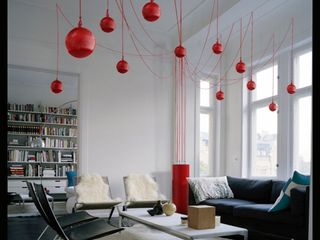 A Tree with "Haute Couture" Sound
Constantly looking for a way to combine quality sound with haut-couture design, the illustrious French manufacturerElipson entrusted the creation of a new high-end speaker system to designers Maurizio Galante, Tal Lacman, and Jean-Yves Le Porcher. The result: the Sound Tree, which was unveiled for the first time at the most recent Triennale de Milan during "Design Week". It acts as a "musical tree", composed of a "trunk", which emits the bass tones, and a system of 6 or 12 spherical speakers for medium and high tones. This unique speaker system is available only upon request for a price generally around 15,000 Euros.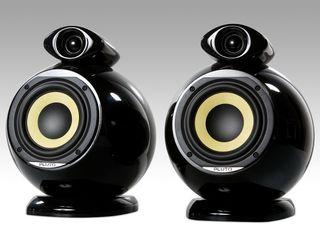 16,000 Colors to Choose From!
These Pluto speakers bring us to Bulgaria – specifically, to the design studio created in 2008 by the professional audio equipment manufacturer Everything But The Box. This system includes high quality mini speakers: molded aluminium boxes, a Kevlar woofer, and a tweeter dome made out of silk. Created for small Hi-Fi stations (including PCs, iPods, and iPhones), the basic model is available in 4 lacquered colors, but you can personalize your speakers upon request and choose from 16,000 colors or leather coverings. This personalized speaker will set you back about 1200 Euros.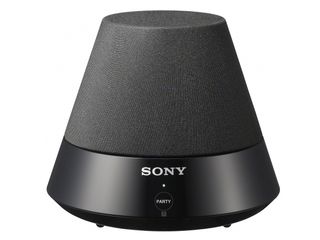 Wi-Fi and Long-Distance Controllable
The SA-N300 is a new Wifi DLNA (Digital Living Network Alliance) compatible speaker from Sony. Sound can be diffused all over the house with music blasting at 360 degrees, thanks to the conical shape. Additionally, the SA-N300 is compatible with many different kinds of equipment (PC, multimedia servers, Home Cinema, etc.), and can be controlled by an iPhone app. Available online for a price of about 150 Euros.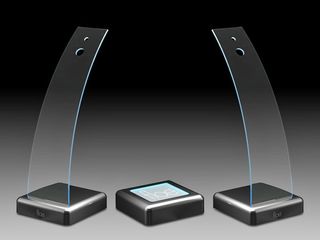 Glass and Colors
These stunning speakers - "Luno" from Greensound technology – along with the Floe Cube subwoofer, are made out of panels of glass (106.7 cm tall) and diffuse music with the help of a unique type of technology, patented by the company. An example of one stylistic option: a system with integrated multicolored lights that let you choose the ambiance you want to achieve. A wireless version should be available soon. These Luno speakers will set you back about 8000 Euros.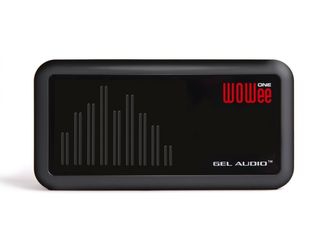 Gel Technology
Designed around a unique patent from the company Anywhere Speakers LTD, these portable speakers – called WOWee ONE – use a gel in order to better diffuse low tones and create a better sound. Ideal for obtaining a rich sound wherever you may find yourself, these speakers come in black, black and chrome, white, or pink. They these can be purchased online on the company's website for about 60 Euros.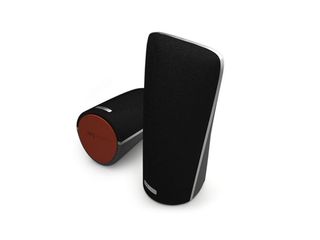 English-Style Wireless
AirPlay Smart Speaker is a portable, wireless speaker system designed by AQ Audio - a British company that has specialized in professional audio equipment for the past 20 years (and they've been awarded numerous times with the Red Hot Design Award to prove it). You'll be able to listen to your PC, iPhone, Android Smartphone (via the Double Twist app), or any one of 20,000 internet radio stations (via Internet Radio), without any sort of wire or docking station! Delivering 2 x 13 watts of power, these speakers can run wirelessly for 30 hours, or 10 hours while in AirPlay mode. Available on Amazon.co.uk for about 90 Euros.