In Pictures: Quakecon 2011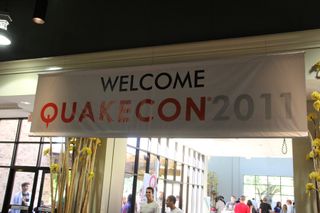 Welcome!
Now in it's 16th year, Quakecon is a must-attend for many PC gamers across North America. What started as a small, rag-tag group of Quake fans in 1996 has blossomed into a convention with over 8,500 in attendance, more than $50,000 in cash and prizes for tournaments, and a 3,000-plus seat bring-your-own-computer (BYOC) LAN.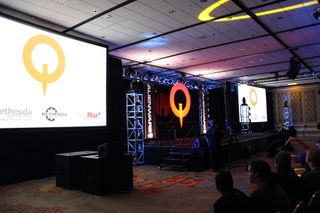 The Main Stage
It's quiet now, but the Quakecon main stage - sponsored by Alienware - is one of several focal points during the event.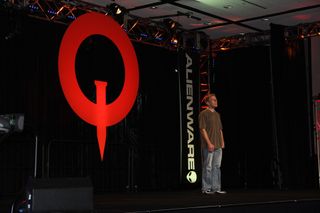 John Carmack's Keynote
A staple of every Quakecon, the John Carmack Keynote speech typically goes on for a few hours, with id Software's Technical Director using his "stream of consciousness" to wax poetic about game design and development, trends in programming and hardware, and the aerospace industry. Carmack also takes questions from the crowd, many of whom are programmers and game designers themselves.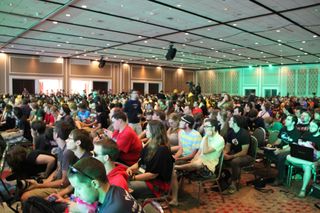 Keynote Attendance
The Grand Ballroom at the Hilton Anatole in Dallas, Texas is typically packed to the gills for the Carmack keynote, as well as other speeches and demos.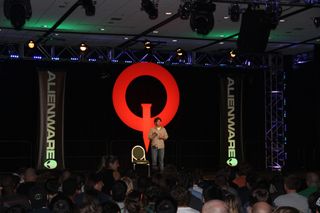 Beyond id Software
While Quakecon initially focused on games from id Software, Bethesda Softworks/Game Studios is in the mix now as well. ZeniMax Media, the parent company of Bethesda, bought id Software in 2009. Here we see Game Director Todd Howard on stage as he prepares to demo The Elder Scrolls V: Skyrim.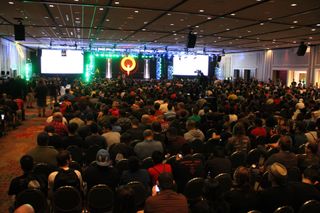 What a Crowd!
Like I said: packed to the gills.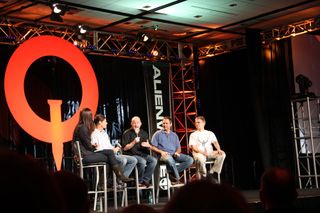 id's 20th Anniversary
My favorite panel this year was easily "20 Years of id Software," a Q&A celebrating the storied history of one PC gaming's top developers. From left: G4TV's Morgan Webb (moderator), President Todd Hollenshead, Rage Creative Director Tim Willits, Lead Artist Kevin Cloud, and Technical Director John Carmack.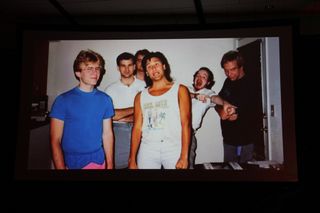 Old School id Software
John Carmack is the sentimental type, but you can't help but smile at this picture, taken during the earliest days of id Software. John Carmack and John Romero are the most notable in the forefront.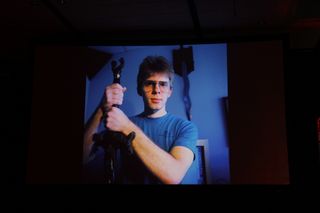 Young...
A younger John Carmack...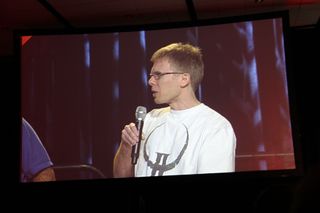 ...and Old
...doesn't look that much different from a 40 year-old Carmack (except for the glasses).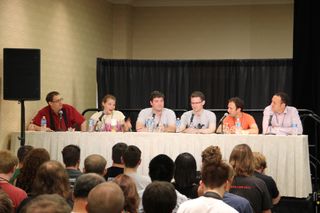 Community Management
Bethesda also put on a great Community Manager panel, which focuses on the publisher/developer employees who help connect the fans with the game. From left: id Software's Adam Pyle, Respawn's Abbie Heppe, Bethesda's Matt Grandstaff and Nick Breckon, and Marcus Smith from Insomniac Games.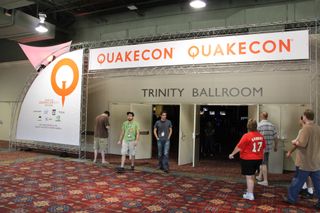 The Expo Floor
...but that's enough about panels. Let's check out the expo floor!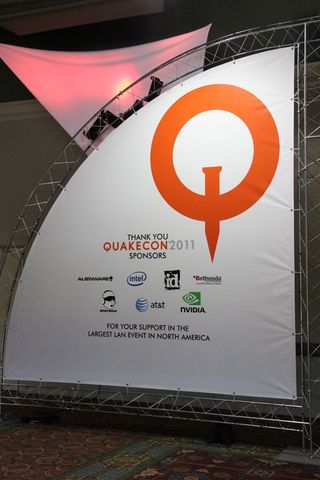 Sponsors
Quakecon couldn't happen without two groups: 1) The Volunteer Staff, and 2) Sponsors like id Software, Alienware, and Intel (among others).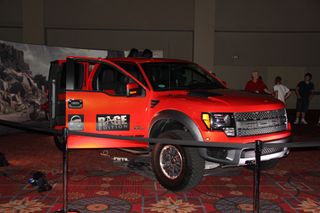 The Rage-mobile
One lucky Quakecon attendee is going home with this tricked-out Ford VelociRaptor from Hennessey Performance. Ventrilo, a voice over internet protocol (VoIP) service, supplies the prize car(s) every year.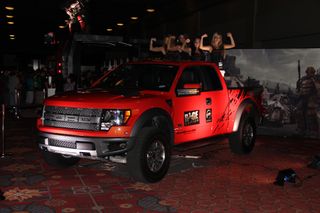 ...With Extra Features
Sadly, the Quakecon girls are not included.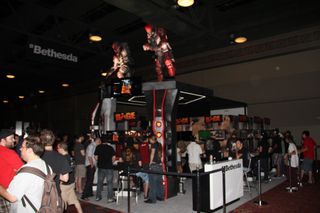 Rage Booth
Rage was playable on the expo floor, so needless to say the lines were pretty long to get in on the action. The post-apocalyptic shooter is due in October.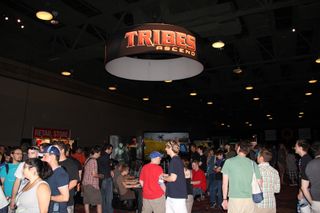 Tribes: Ascend
The latest iteration of Tribes was also playable on the floor. The heralded team-based FPS franchise will see it's latest chapter released later in 2011.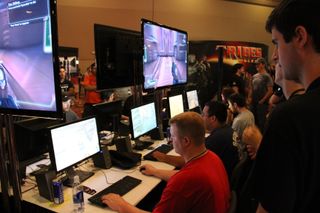 Tribes Gameplay
Tribes is synonymous with multiplayer FPS, so it's great to see an older franchise reborn...and released for free.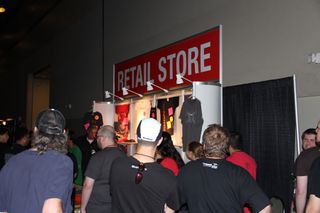 Expo Retail Store
Gameplay booths aside, the most popular stop on the expo floor is the Retail Store. Quakecon always has a few different shirts available, from official Quakecon designs to this year's hot ticket, a "BYOC" shirt featuring the Cacodemon from Doom.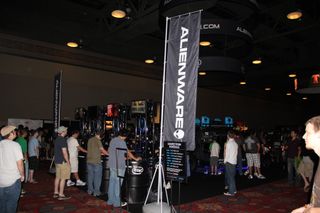 Alienware
Alienware had quite the booth this year, with several gaming stations, tournaments, and prizes including Alienware laptops.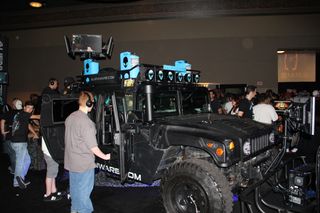 You Stole my HUMMV!
The Rage VelociRaptor is pretty cool...but a Hummer is even cooler.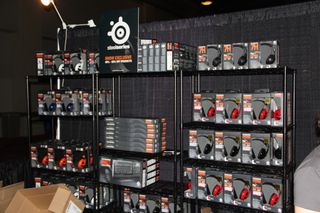 SteelSeries
SteelSeries had a booth set up on the expo floor, and the peripheral maker was offering some pretty heavy discounts on its keyboards, headsets and eyewear.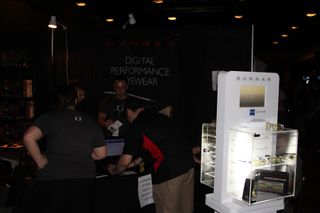 Gunnar
Speaking of eyewear, the Gunnar Optiks crew was right next door.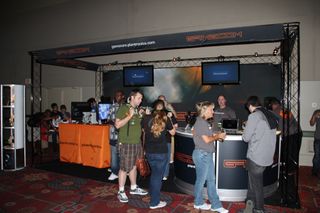 Plantronics
Plantronics, reppin' its GAMECOM line of headsets.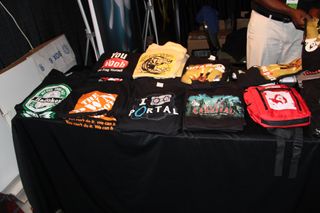 Geek-wear
There were also plenty of non-Quakecon shirts, my favorite being on the far-left (Hadoken!)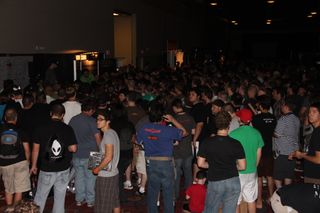 Free Stuff!
The best part of Quakecon (besides the gaming and John Carmack) is the ridiculous amount of free stuff you can get. Here we see a giveaway in front of the In-Win booth.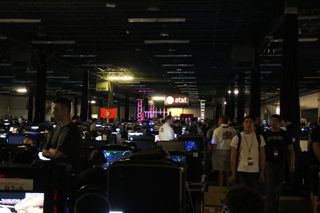 The BYOC
Now we're moving from the expo to the BYOC area, where upwards of 3,000 id Software fans are playing games ranging from Solitaire to Quake Live.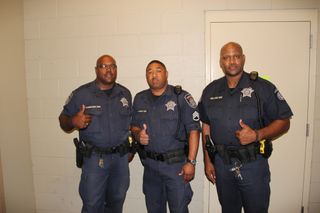 Keeping the Peace
The Quakecon Volunteer Staff runs a VERY tight ship, but that doesn't mean the Dallas Sheriff Dept. isn't making its presence known. These cops were extremely nice, but that would change pretty darn quick if I decided to steal someone's laptop.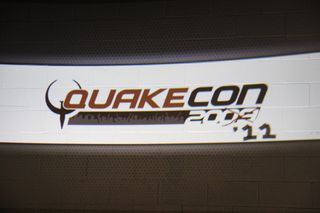 Oops!
Someone grabbed the wrong banner, methinks.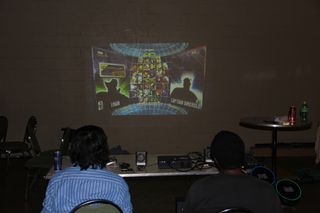 Console Love
Quakecon is PC gaming event, but that doesn't mean console gamers are left out in the cold. Besides, everyone loves playing a round or two of Marvel vs Capcom 3!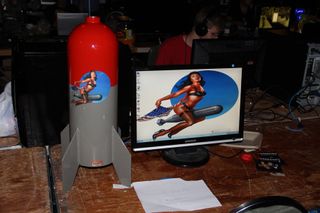 Dropping (Case) Bombs
This is one of our favorite PC case mods from Quakecon: a bomb with a World War II-era pinup girl logo.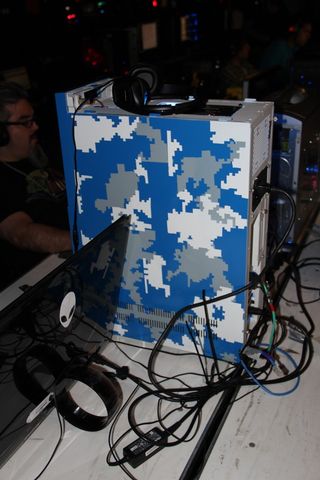 Camo Case
Fantastic paintjob!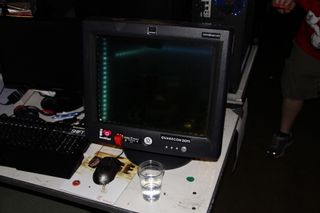 Best of Show
This looks like an ordinary CRT monitor...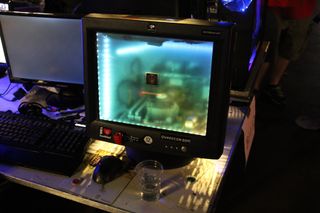 Bam!
...but it's really a gutted CRT casing with LCD screen. Said LCD has no backlight, allowing you to see through to the motherboard and hardware stored inside. The LCD still functions and acts as a secondary monitor.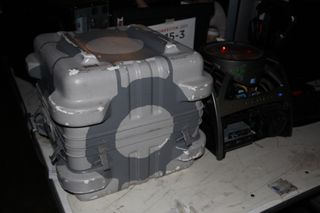 Companion Case
Well now we know what's inside a companion cube!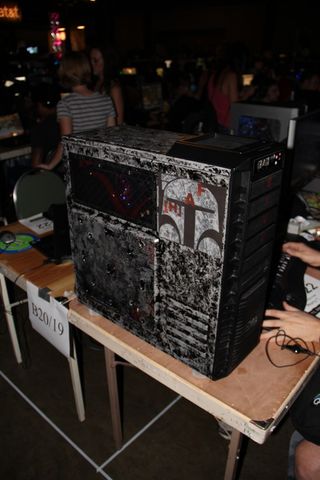 Boba Fett
"No disintegrations."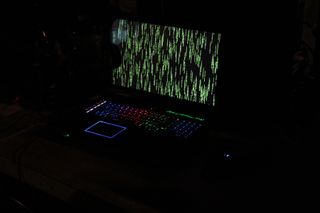 Matrix Rainbow!
Do you like colors? Do you like The Matrix? Neither do I!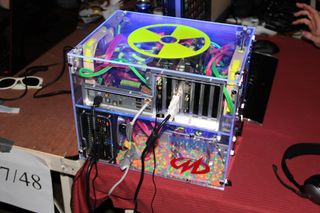 The Nuke Cube
Fantastic logo and coloring on the inside...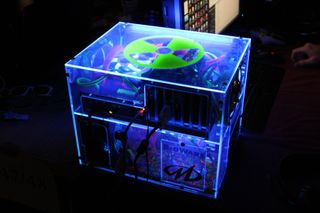 Night Vision
...and it looks crispy in the dark.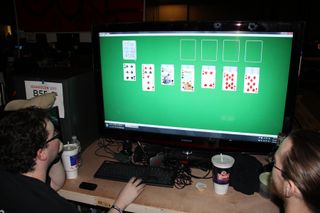 Mega Solitaire
The best use of a 52-inch LCD HDTV ever? You know it!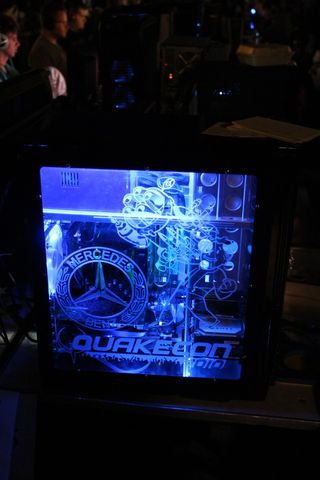 Part Merc, Part Pip-Boy
The rest of the case was pretty straightforward, but this etching is fantastic!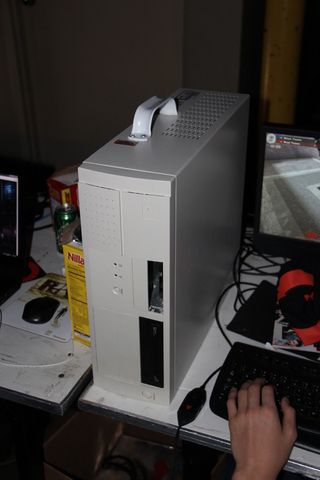 Case, Circa 1994
I bet there's $1500 worth of hardware in that box.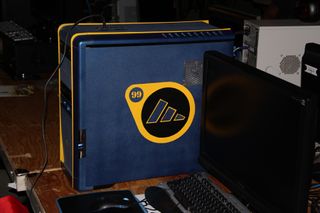 Gordon Freeman Wears Adidas
I doubt they sold Adidas in City 17, however.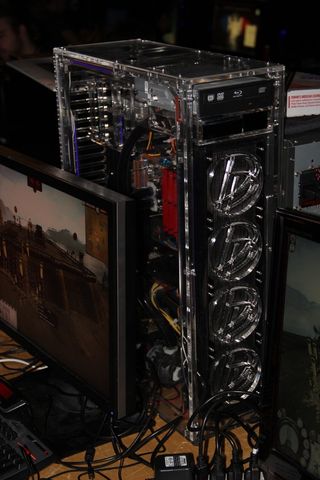 Danger Den Tower
Danger Den, makers of awesome cases and waterblocks, are to thank for this sleek clear/metallic tower.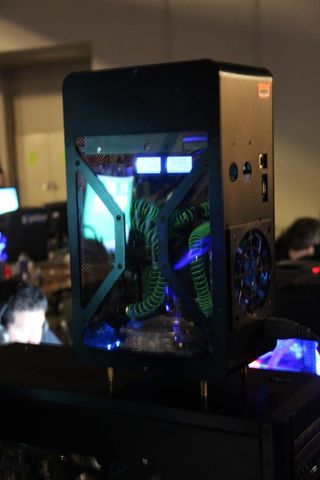 Custom Xbox?
This isn't a PC, believe it or not. It's actually an Xbox 360 stuffed into a custom mini-tower case. It's fully functional and has all of the same inputs and outputs (and probably better cooling).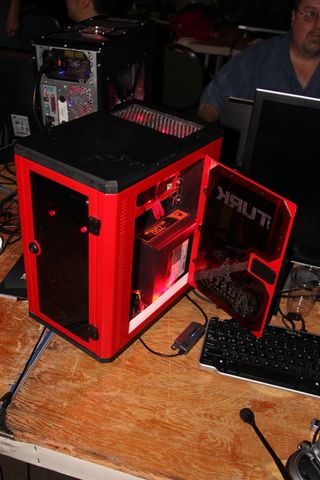 Tape Transfer Turned PC
An old tape transfer machine, gutted and converted into sexy little PC case.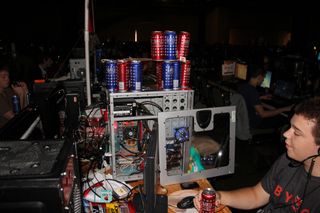 The Messiest Gamer
This was one of the messiest tables in the entire BYOC...and that's enough Bawls to turn you diabetic!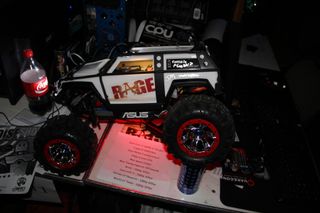 Rage R/C
This might not be a computer case, but it's still a sweet R/C car mod!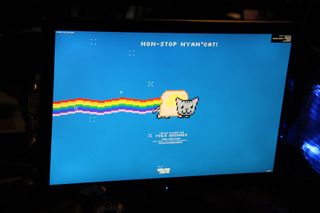 It Never Ends!
800 Seconds of Nyan-Cat!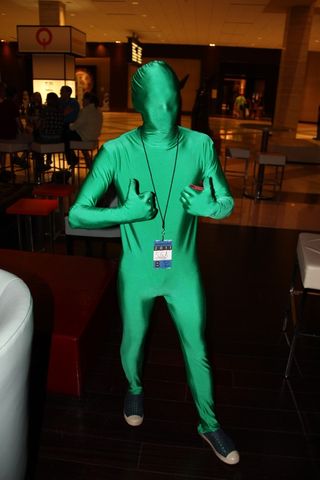 Spandex!
Vancouver sports fans might recognize this chap.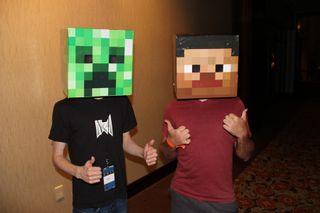 Minecrafters, IRL
Be careful or they'll hack you into little cubes!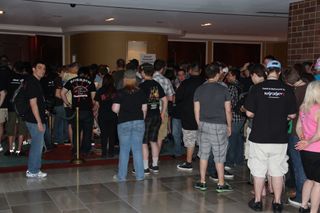 The Grand Final
The last night of Quakecon is always host to a big send-off party, with plenty of free booze and food, the tournament finals for Quake Live and Brink, and some sweet giveaways.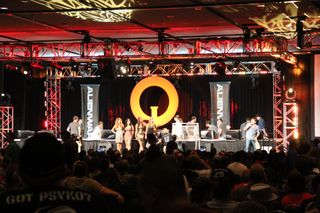 Sexy Raffle
Todd Hollenshead and the Quakecon girls are getting ready to give something away..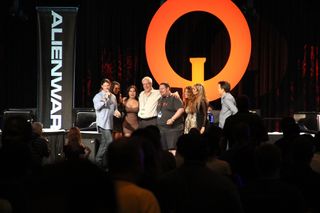 Fin
That man (fifth from left) just won himself a Ford/Hennessey VelociRaptor!
...and that's it! Quakecon was a blast, and I'm already looking forward to next year. If you think PC gaming is dead, then hopefully this convention has changed your opinion on the matter.