The Top 30 New Gmail Innovations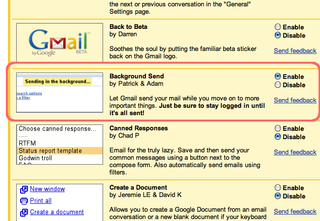 Background Send
This is a godsend for anyone on a shaky Internet connection, or who uses Gmail enough to see that little "Sending…" message and feel impatient. This Labs feature simply sends you back to your Inbox while the message continues to send in the background. Simple but needed. If there is a send error (it even happens to Gmail), the a little red bar will alert you that you need to take care of the problem; however it won't interrupt whatever message you've already started working on. You can take care of the problem at your leisure. If you're logged in to Gmail, click here to enable Background Send via Labs.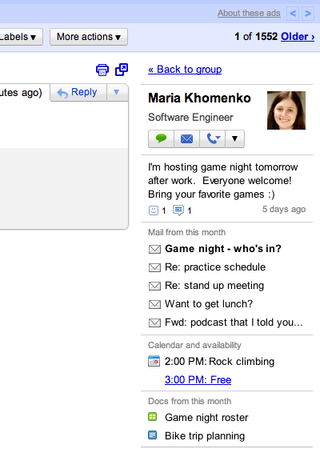 The People Widget
As of mid-June Google was claiming that this feature was still in the roll-out process, so if you don't have it yet, be patient. Located in the upper right corner, this new feature gives you easy access to emails, shared docs, chat and calendar availability for your frequent contacts or for whoever's email your reading right now. Once rolled out, this looks like it will be a very handy tool (and certainly a move in the direction of Facebook's territory).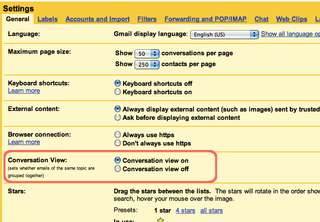 Turn Off Conversation View
This simple switch under "Settings" lets you revert back to the old days where every email came in under it's own heading; Gmail won't assemble them into a single conversation thread. Such a change is likely unappealing for long-time users but many that haven't switched to Gmail (like, perhaps, your parents?) cite this as their biggest reason: conversation view is confusing. Turning it off may help them finally kick that AOL address.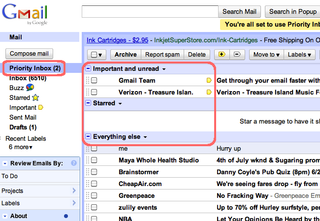 Priority Inbox
This was released last August and is perhaps one of the largest "behavior" changes Gmail has tried to induce. The reaction, based on informal polling around the office and discussion with friends, seems to be either, "Yeah, I like it—don't love it" or, "Eh…seems cool, but I had my own system for prioritizing my inbox." Still in Beta as of mid-June, the Priority Inbox is an attempt to help users parse and triage their important, casual and useless emails. Everyone had their own system prior to Priority Inbox, so adjusting to the way Gmail sees "priority" can vary. Rather than having us diagram it all out and list all the ways you could use the feature, we suggest you simply activate it under "Settings" and play around for a week or two. Give it a shot and if it doesn't work for you, just turn it off again.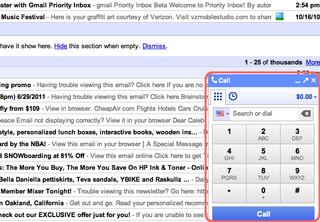 Calling Telephones
You should have noticed the little green phone in your chat box by now, but if not, Gmail now allows you to call any US telephone for free (at least until the end of this year). These are pretty decent rates for making international calls. Your Google Voice number will show up on the recipient's caller ID. If you haven't activated this feature yet, be aware that you'll likely have to install an add-on to make the feature work.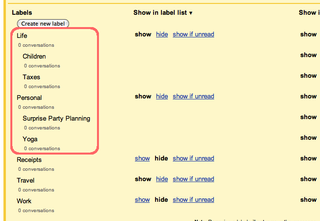 Nested Labels
Previously you could only assign labels in their own, level-less folder. With this feature in Labs, Nested Labels lets you create sub-labels within a broader label. You could have "Taxes," "PayPal statements," and "Cell phone bills" nested under your "Finances" label. To make it work: go to the Gmail Labs tab under Settings, look for "Nested Labels," enable it and click "Save." Nested Labels recently graduated from an experimental feature in Labs to an actual setting.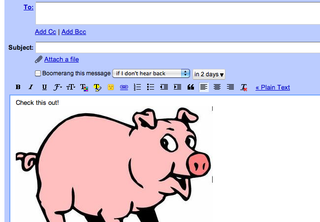 Drag and Drop Photos Into Messages
Now you don't even have to click "Add Attachment" or "Insert Image." You can literally drag the picture from your desktop or out of iPhoto and release it in the message. The same functionality works for pasting from the clipboard as well. For now, this works in the Chrome browser only.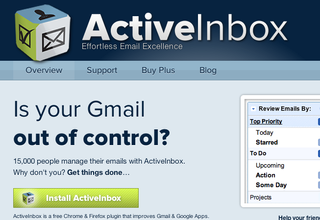 Active Inbox
This is a great add-on for those that live by the three letters G, T and D (Getting Things Done!). Active Inbox provides a great, user-friendly experience for those needing a sharper labeling and folder management system than what Gmail provides. It allows for "Projects" which is a higher-level organization for your labels. A paid version of the program allows for typing notes along side any email, setting deadlines around emails and a "Send and File" button that better files away messages. Again, this task-oriented addition is for the above-average Gmail user.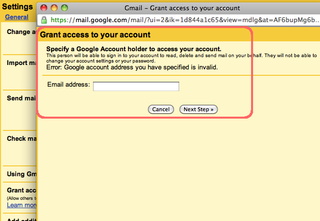 Granting Email Access
While we usually want to have sole control over our own email, oftentimes we can find use for a shared account (TheJonesFamily@gmail.com, OurSmallBusiness@Gmail.com). Under the "Accounts" tab you can now "Grant access" to additional Gmail accounts. This allows the messages sent to the primary account to show up in the secondary accounts' Inboxes. Families looking to have a family email address, in addition to their individual ones, businesses and group activities like party planners or bands will all find use for this feature.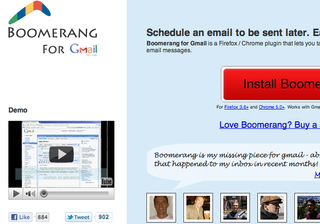 Boomerang for Gmail
We're all used to this conundrum when a message enters the inbox: "Well, I can reply right now but that'll make it seem like I'm a little over-anxious…yet I need to reply today and don't want to think about the message anymore." The Boomerang plug-in takes care of that scenario and any other where you may want to get an email out of the way but have it sent later. Approaching the problem from the other end, Boomerang allows you to tell a message to "Reappear in my inbox X hours later." This let's you unclutter the inbox and reply to that email from grandma later on that evening.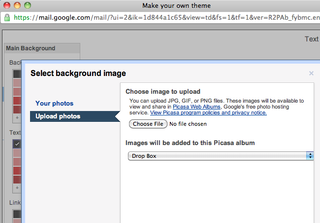 Your Own Background Image
For a very long time you were beholden to either a stock image or a set of standardized colors for your Inbox theme. Now when you go to "Themes" under "Settings" you can click "Create Your Own Theme" and upload your own background image.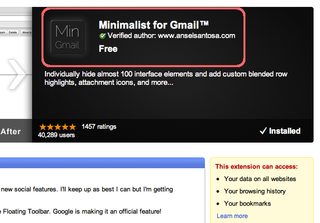 Minimalist for Gmail
This is a great installation for those that think Gmail has too much clutter. Also, Minimalist is for you if you just want better overall customization. This fine program lets you basically hide or modify every standard component of your Gmail, even allowing you to replace the "Gmail" icon with your own graphic. Even if you only use one or two of the modifications—like hiding the ads—It's well worth the free installation (Chrome browser only).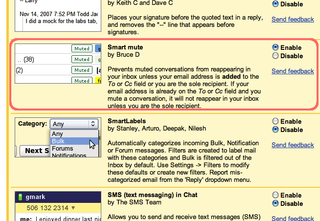 Smart Mute
We've all been on the email thread where the sender seems to have CC'ed twenty comedians, political pundits or completely clueless email users—the ones where it seems like people have lost control of the "!" key or can't turn off caps lock. We have to endure the pointless messages reappearing in our inbox, no matter how many times we archive them. Previously Gmail had had the "Mute" button, which helped, but didn't really solve the problem since the messages were still addressed to you and it let them pass back to your inbox. "Smart Mute," under "Settings," now lets you mute conversations (auto-archive) and will only allow the thread back to your inbox if a message has been addressed only to you or if someone adds you to a field. (i.e. Someone took the time to recognize that youneeded some information.) It won't keep the noise out completely, but it'll help.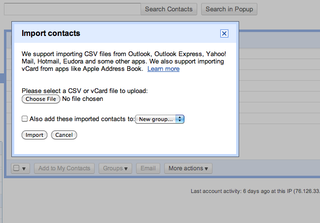 Restore Your Contacts
For anyone that's ever made that leap of faith to hit merge/import contacts from another piece of software or a document, this feature is a total relief. You can now do those integrations without worry. If you make a mistake, you can revert to any version of your contacts up to 30 days in the past. Here's how you do it.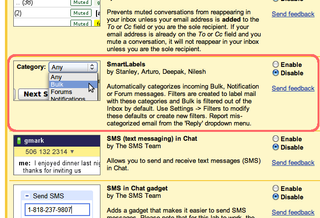 Smart Labels
This is another great Labs feature to help you sort through the daily deluge. Smart Labels will categorize your non-personal emails into "Bulk" (promos and newsletters like Groupon), "Notifications" (automatic messages sent directly to you like bank statements) and "Forums" (those sent to a distribution list). "Bulk" emails are set to automatically skip your inbox so be sure to check your "All Mail" for any missed messages; this filter isn't perfect and it archives an important or personal email now and again. Like anything you turn over to the computer's discretion: be vigilant. Here's how you set it up.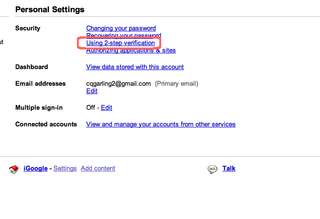 Two-Step Verification
It can be annoying to have to enter our password, and then re-enter our password and then double verify with those weird bendy letters (Captcha), and sometimes Google makes us do that for Gmail. But there's a reason: if you're going to be logging in from coffee shops a lot or traveling in foreign countries and using sketchy computers, this is a great feature to prevent someone from stealing your account. With this feature on, you'll not only need your standard username/password but will also need to enter a verification code that Gmail will send to your cell phone. Unless a hacker steals your phone, too, this should make it almost impossible for him to get into your account. (Note: if you're traveling in foreign countries, be sure you can still receive SMS messages.)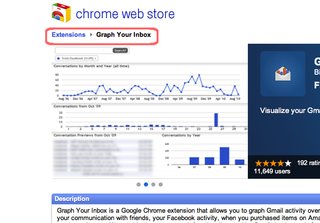 Graph Your Inbox
For the most data driven of us, this Chrome extension allows you to run just about any normal analytic on your inbox that you can think of. Want to know which of your friends or relatives sends you the most email? This is your tool. It's also pretty fun to enter the email addresses of your exes over time and watch how the graphs go up and down.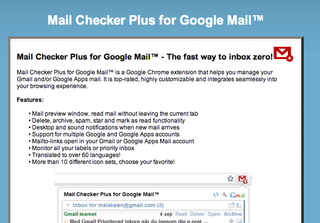 Mail Checker Plus
If you need to keep track of and respond to emails while working in other browser tabs, Mail Checker Plus will put your Gmail in the upper right corner of your Chrome browser for easy access. When a new message comes in, it'll alert you and let you respond right from there, without having to go back and check the original mail. To many this may seem neurotic, almost lazy, but such a feature is useful that spend their days working between the tabs.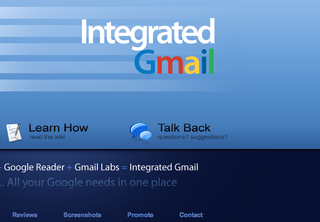 Integrated Gmail
This add-on in Firefox allows a heavy Google user to move from their Inbox to other related products like Reader, Picasa, Maps, Notebook, Calendar and Groups with the click of a button. Integrated Gmail collapses the inbox and lets you pick what service you want to utilize next, while keeping the number of unread Gmail messages displayed. The product is certainly useful (and well-reviewed) for those that want to keep all their Googling confined to one tab in the browser.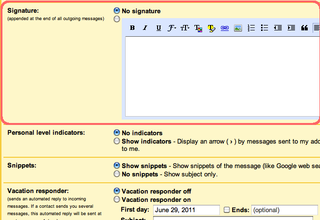 Rich Text Signatures
This is a great feature for those running small businesses off Gmail. For a very long time, Gmail, with all its color and friendliness, only allowed for boring plain text signatures. If you were one of the many that gave up waiting for improvements (or didn't care enough), you can now write a rich text signature under the "Settings" menu, complete with logo, image or colored fonts. You can also set multiple signatures if you have more than one email routed to your Gmail account. See how to do it here.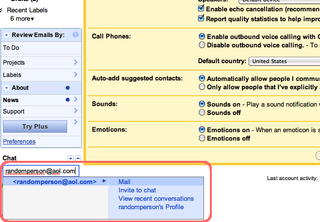 Improved AOL Instant Messenger Integration
AOL made it possible to message AIM users from Google products like iGoogle, Orkut and Google Talk on Android phones. But from the Gmail side, you'll no longer need an AIM account to add an AOL user to your chat contacts list; you can simply add them like any other Gmail contact. You don't need to login to your AIM account anymore when you chat. Bottom line: AIM and GChat are pretty much integrated products with two types of user names. (@AOL.com and @Gmail.com)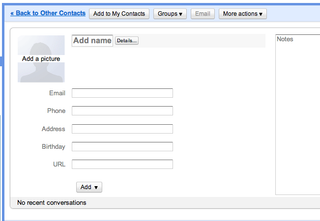 More Robust Contacts
For most people, Gmail's previous 10,000 entries in the Contacts was juuust enough. Yet enough small businesses, contractors and social butterflies (and SPAMers?) are using Gmail that Gmail got complaints and expanded the limit to 25,000 contacts. Also, a contact may now contain 128 KB of information, whereas before it was a mere 32 KB.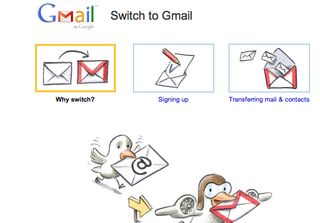 Switching Is Easier
One of the biggest reasons to avoid switching email domains, besides the cumbersome "Hey this is my new address" email that you have to blast to the world, is losing all the old emails. Gmail has never made a secret about the tools they provide to make the switch better and they are continually adding new domains that they can integrate with and lift old emails onto your new Gmail address. Check here if you've been hesitant for this reason.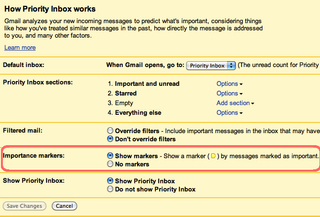 Teaching Gmail with "Importance Markers" for Priority Inbox
By now you've no doubt noted the little yellow, grey and hollow arrows on your email messages. If you don't know what they are, this is Gmail's simple way of letting you "teach" Gmail what messages are important or not for Priority Inbox. If you are continually getting forwards from "that uncle" you can mark them unimportant and they'll filter out of the Priority Inbox.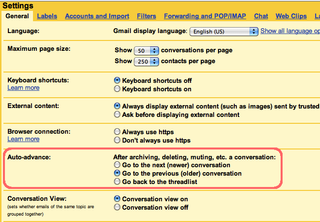 Auto-Advance Conversation
If you find that most of your email sessions consist of plowing through twenty-plus emails at a time, this could be a time saving feature. When activated in Labs, you can then advance to the next or previous conversation after deleting, archiving or muting a conversation, depending on "Settings." Basically, it keeps you from having to return to the inbox after taking action on each message and moves directly to the next. (Note: if you don't work chronologically in your email, you will not like this feature.)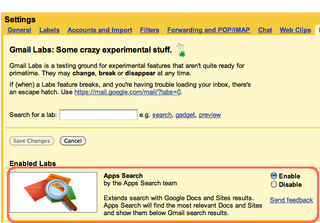 Search Mail and Doc
This Labs feature is great for heavy Google Docs users. When activated, your in-Gmail searches will not only scour your email but also attached and shared docs. For anyone that works in a blur of email, documents, excels and powerpoints via Gmail, this will save a great deal of hunting for "that doc I got a while ago."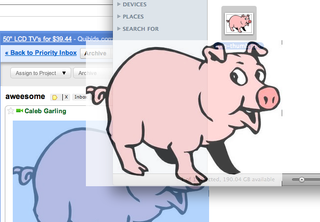 Drag Email Attachments to Their Proper Folder
While most Gmail/Docs users know that you can either "Download" an attachment or "View as Google Doc," a little known trick is that when you grab the attachment icon, you can actually drag it to the desired folder on your desktop. Depending on how you work, this can be a massive time-saver, rather than opening up the Finder with each attachment and saving it properly.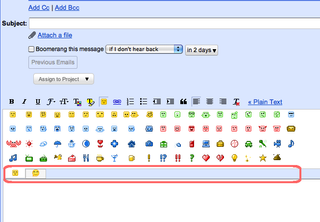 Recently Used "Emoji"
If you happen to enjoy littering emails with emoticons and continually find yourself searching for that cute pinching lobster you used last time, this is your feature. Enabled in Labs, Gmail will remember the last ten emoticons you used and store them under the formatting bar for easy use. Now you can invite someone to a baseball game and include a little baseball graphic in case your message was unclear. And if you were wondering what "Emoji" are--that's just "emoticons" in Japanese.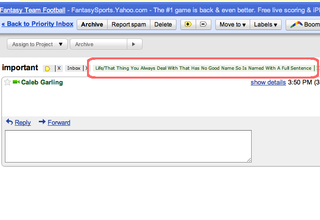 Longer Labels
Previously Gmail had limited character length of labels to 40, but have since expanded to 225. This was to make room for the Nested Labels feature and the fact you could have a few sub-labels that severely lengthen your master label.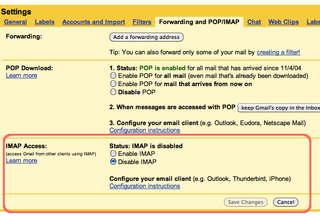 Improved IMAP Controls
If you access your Gmail via a desktop client like Outlook or Thunderbird, this is for you. This Labs feature allows you to better manage which emails are deleted, to sync up online/offline, and let's you limit folder sizes.