15 Wild Displays, Coming Your Way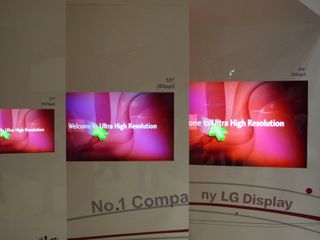 Prototype Screens
The Society for Information Displays (SID) held its annual conference in Los Angeles this past May, and display vendors from around the world showed off the latest in screen technologies.
The collection of prototypes, concept models and test products was nothing short of amazing. There were four major areas of emphasis: 1) increasing resolution at all sizes, 2) reducing the bezel that surrounds a monitor, 3) multi-touch, supporting two, four and up to 10 fingers, and 4) making 3D more tolerable either through smaller glasses or eliminating glasses all together.
One thing that was notably absent: OLED. OLED is expensive to produce and takes a long time to make. OLED was all but absent with a few exceptions. The emphasis is clearly on LCD. And oh what they have done with LCD. Here's a few great, wild, and crazy examples of what's coming to a Best Buy near you.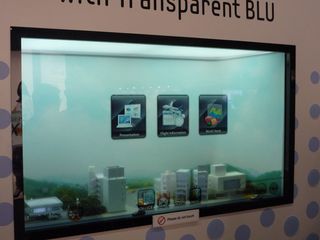 The Window/Monitor
You see them all the time on shows like CSI and NCIS: computer screens, fully touch-enabled, that are as transparent as glass. Well, Samsung (who stole the show), had just that on display. It was a 46-inch transparent LCD that was fully touch-enabled. Information was displayed on screen just like a standard PC. One of the buttons said "Shade." Tapping it brought up the image of a draw string on the right side of the screen. By drawing the knob at the end of the string down, a black shutter effect blacked out the screen, making it opaque.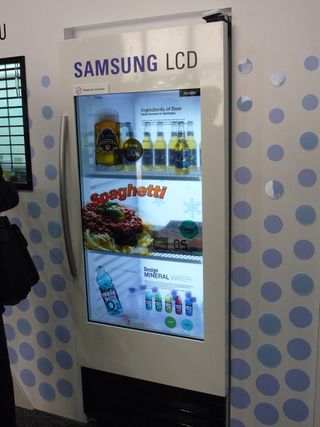 The Transparent Refrigerator
Just as cool was the refrigerator door with the transparent screen. You could see what was inside without having to open the door, and all kinds of advertising appeared on the screen. Clearly this is still in the prototype stage, as no release date was offered.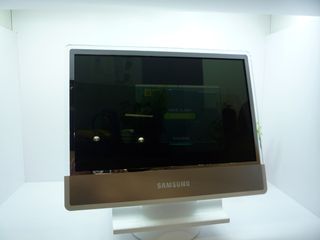 The Translucent Monitor
Samsung also showed off a 22-inch desktop monitor that was almost fully transparent. The monitor is powered by ambient light with 1680x1050 resolution and operates without a backlight. Samsung didn't give a price but it did say the screen would ship in the third quarter.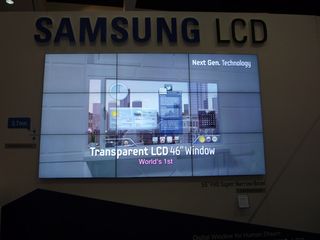 Almost No Edge
Samsung had a 55" TV with a bezel only 5.7mm thick. This allowed them to tile nine monitors with almost no break-up of the screen. This same technology is being brought to computer monitors, so you can put multiple monitors together via something like ATI's Eyefinity, without bezels breaking up the image.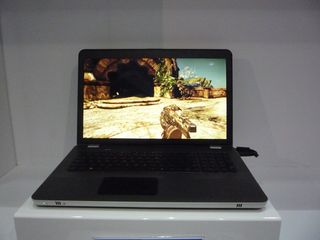 3D laptops
Another Samsung creation, this laptop was a full 120Hz display with 3D imaging in 1920x1080 resolution, the same resolution in 2D, and you can shift between the two on the fly. Brightness was 400cd/m and the contrast ratio was 1000:1.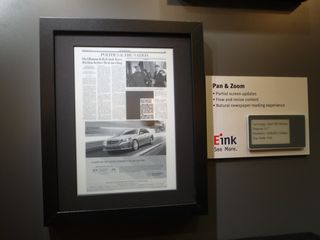 Pan & zoom E-Ink
E-Ink is the one company to get e-readers right, but the screen was pretty lacking compared to LCDs when it comes to raw performance. Well, E-Ink had a bunch of next-generation displays at the show, and one of the newest features was the ability to pan and zoom in to an image using your fingers, just like on the iPad.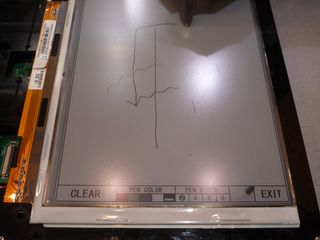 E-Ink Pen Input
The E-Ink screen has always been read-only, but the next-generation will feature pen recognition of up to 300 dpi, lines of varying thickness and colors. This was a prototype, but booth reps said it was being sampled with partners for future release.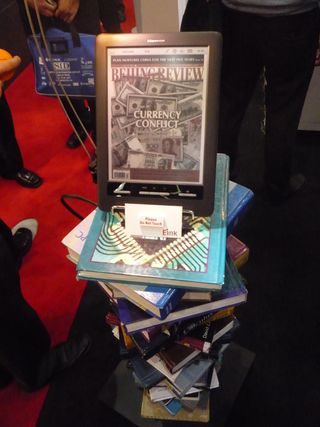 Color E-Reader
E Ink's color Triton color e-book won the Display Component of the Year from the SID voting committee, offering the same high-contrast, sunlight-readable, low-power performance as the black and white E Ink Pearl but in four colors. Along with color, E Ink Triton delivers 20 percent faster page update times compared to previous technologies. E Ink had an amusing display to poke fun at the old world of textbooks, putting its e-reader atop a pile of old textbooks.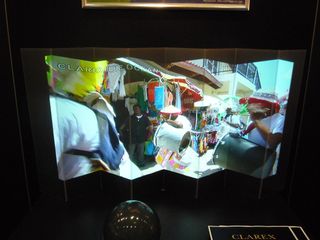 Bendable Screens
Clarex produces flat panels with special chemical components and composition to reduce reflection and glare. Its latest creation involves angled displays with no loss of image quality. This was a proof of concept and not ready for production.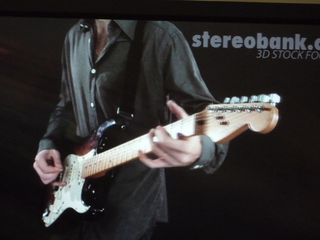 3D Without Glasses
Asian firms dominated the show, particularly Korean giants LG Electronics and Samsung, but a Germany company called Fraunhofer made a good showing as well. It showed off a large 3D screen that requires no glasses. The picture you are seeing dorecn't really convey it, but that guitar neck really did appear to come out of the screen. One oddity about the screen: you had to stand in a certain position, slightly to the left of center. But this was one of the better 3D without glasses efforts I saw.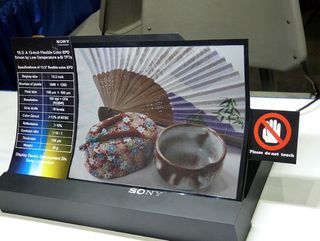 Sony's Curved OLED Screen
Very few firms were talking up OLED at this show, but Sony had a neat prototype. Its 13.3-inch flexible color electronic paper is actually thin enough that it could be
attached to the TFT substrate of an E Ink front plate, giving an e-reader incredible graphics quality. The Sony e-paper device has a contrast ratio higher than 100,000:1 and a resolution of 800 x 1200.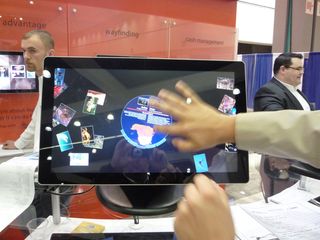 Touch-Screen Desktop Monitors
Ever want to take your finger off the mouse once in a while? Touch Revolution's upcoming set of monitors will support multi touch, starting with two finger support, expanding to four, and eventually up to 10 fingers simultaneously by next year. It has three monitors – a 15-inch, 19-inch, and 21.5-inch model – with a 32-inch model due in the fourth quarter. It works with Windows and Linux and allows you to manipulate images on a screen like pinch to zoom, drag and pan.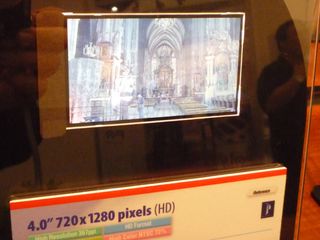 Toshiba's Eye Candy
Samsung and LG both had some beautiful displays but Toshiba represented Japan well with the stunning 4-inch screen with a pixel density of 367 pixels per inch, even more stunning than the iPhone 4's 327 ppi Retina Display. The panels sport pixel dimensions of 1280x720 for true HD content and has a contrast ratio of 1000:1. The picture really can't do it justice, this was one you had to see.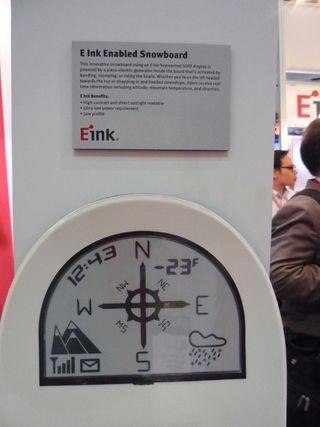 An Odometer For Your Snowboard
For those of you who like to snowboard, it's pretty much a computing-free experience, right? Well, E-Ink has something to say about that. It's got a snowboard screen that is activated by moving your foot in a certain way. It shows things like your direction, altitude and temperature (as if you need to know something more than "it's cold.")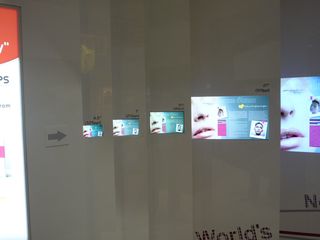 LG's Super Duper Screens
Not to be left out, LG had its own beautiful screens, all scaling up in size. The amount of DPI dropped as they scaled but color and image quality was consistent from the smallest screen to the largest, and all of them were comparable to the iPhone 4's Retina Display.