Best Sports Gadget Design Concepts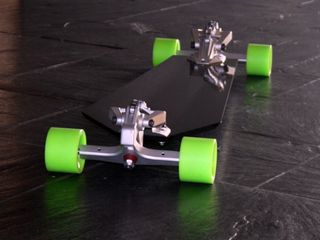 Adjustable Skate Machine
This sport looks beyond terrifying –racing downhill on a couple of flimsy wheels. The prototype is for a downhill skate machine. While longboards that can race downhill have been created before, this one has a new truck design that allows a skater to adjust the angle of the base for maximum terror. In any case, wear a helmet and have emergency services on speed-dial. Please!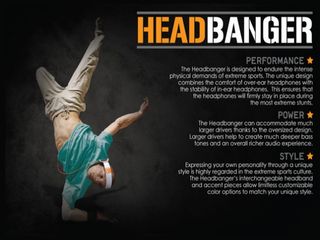 Strap-on Headphones
Headphones are great, but who wants to keep those buds in place when thrashing around doing sports? These prototype strap-on headphones can take the heat when you're upside down, sideways, or generally not able to be composed. The ear pads are leather, and the larger drivers make sure that all the bass reaches your skull – assuming you don't want to hear the screaming fans.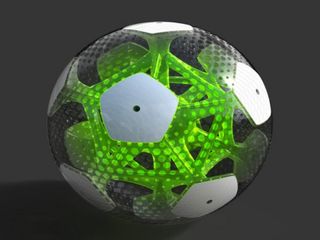 RFID soccer ball
Soccer is great, but the refs stink! That, at least, was the consensus after World Cup 2010 in South Africa. The game is rife with ref-based problems, but perhaps the most egregious is the inability to determine when the ball has crossed the goal line. That's why design firm AGENT came up with a prototype RFID-chipped GPS-enabled ball that would trigger a sensor when it crossed the line. Unlike other tech encroachments, it wouldn't interrupt the flow of play or force refs to watch multiple angles – it would just let everyone know when a goal was scored. I also dig the skeletal design.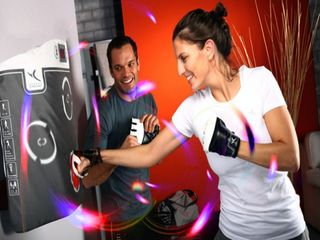 Interactive Boxing
This consumer tech interactive boxing unit could make a Rocky out of any wimp on the block. Aim for the targets as they light up and choose from 10 training programs. They come with a pair of gloves so no need to bloody your knuckles. It looks like a lot of fun, and easier than having a trainer scream uppercut! in your face. It's like a more posh Wii boxing, and you'll probably look pretty good working out this way.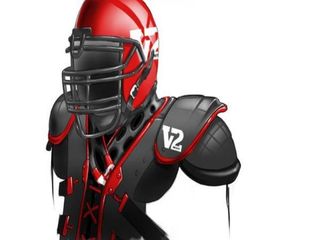 V2 Prototype
Football player have gotten bigger, stronger, and harder to knock down in the past thirty years, so it makes sense that football pads should keep up with the environment. This prototype for pads includes some neat additions like a liquid-cooled reservoir in the back pads to prevent overheating, and a one-piece attachment for the helmet and pads, which redistributes the force over more area. They say that it's been shown to reduce concussions by 42 percent, which is a very good thing for the future of football.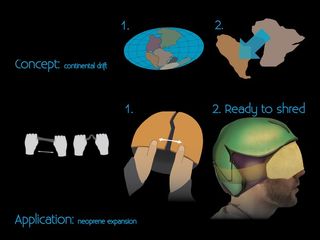 Helmet for the Fashion-Conscious
Helmets have become par for the slopes, but not everyone wants to wear a thick, ugly piece of plastic on their noggins – not to mention the fact that it makes peripheral views difficult and can mess up balance. This prototype (http://www.behance.net/gallery/Concealable-Snowboard-Helmet/1032387) is highly concealable, making it easy to blend with the non-helmet-headed natives. It has a neoprene liner and a plastic shell that expands like plate tectonics – kind of cool! The designers don't say how it measures up safety-wise with those chunky plastic brain buckets.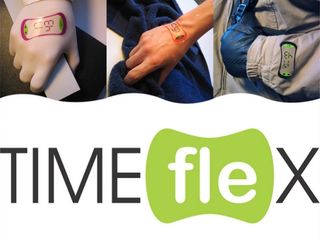 TimeFlex
Timeflex (http://www.behance.net/gallery/Timeflex/1009857) is a disposable, self-gumming timer you can stick to your hand to keep track of time in the pool, on the court, or anywhere where it's tough to wear a traditional timepiece. Swimmers are always popping up their heads to check the big pool clock, but they'd save time and energy by just glancing down at something like the timeflex. The design is bendable, foldable and rollable, making it good for all sorts of actions. Just peel it off and throw away when you're done.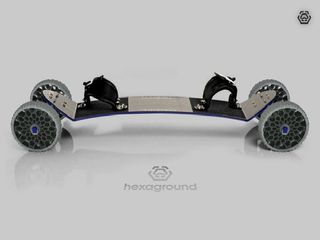 Mountainboard Wheel
If you're looking for another winter sport to break your neck doing, look no further! Here's the mountainboard wheel which looks to be a combination of skateboarding, snowboarding, and premature death! Actually, mountainboarding is a real thing but this concept design improves on the life-ending qualities of other boards by taking the air out of the wheels for faster wheeling, and adding better tread for turns. And, hopefully also the ability to stop.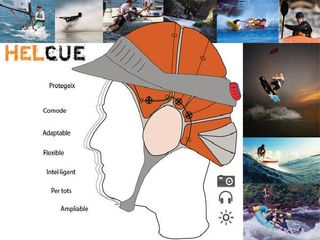 Helcue
This helmet is also a life preserver. No really – the helmet is meant to be worn during water sports and will prevent a user from drowning. The helmet's sensors detect that the person is unconscious in the water, and a neck pillow automatically inflates to keep your head above water. This could be helpful for kayakers, kite surfers, or potentially anyone who falls asleep in the bath.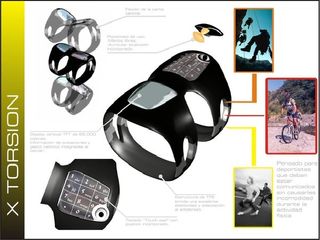 Sport Phone
This phone concept can keep up with any sporty activity. The phone was designed with sports in mind – it clasps your wrist like a bracelet and lets you wash the sweaty neoprene lining. And if you need to make a phonecall? The flexible touchpad will stand up to your dripping digits.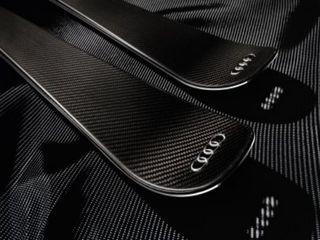 Ski Concept
Skis used to be skinny wooden sticks attached to your feet with strips of leather. Boy, are those days long gone! Now the new concept skis are made of carbon fiber, and they're slated to come out next winter. A cab of high-strength carbon fiber encloses layers of aluminum and titanium on the skis. The skis will be fifteen percent lighter than comparable models and have a length of 170cm. The company says this allows it to be maneuverable and agile, maintaining optimal stiffness while also minimizing torsion.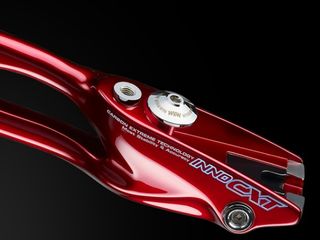 Inno CXT Bow
Oh cupid, why do you need to draw your bow at me? Especially that kind of bow … wow! The Inno CXT Bow is a fierce piece of design – made of aviation-grade carbon, it's 40% stronger and 190% more elastic than other models available. Your archery skills will soar! Just don't try anything crazy.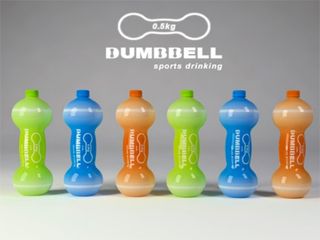 Dumbbell Water Bottle
If you need to pump some iron but you're lacking in anything but H2O, never fear – the water-filled dumbbells have arrived. Just by altering the shape of a water bottle the designers have given the plastic a new lease on life. And new muscles for you. So drink up – the one-pound weights will get lighter as you sip.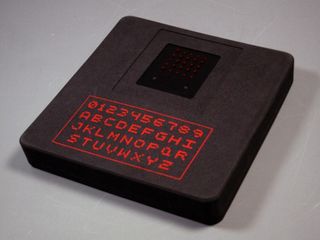 Sports Display
This fun foam display, known as Zotefoam, can take the place of those pesky signs you have to hold up at the stadium – using science! The display will present the letter of your choice, used in collaboration with people around you. It's kind of neat, but it will be a sad day when fat dudes with letters pained on their bellies go the way of the dodo.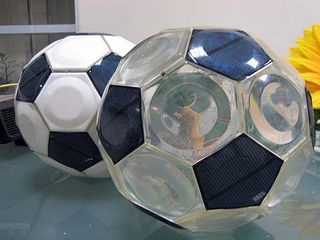 Solar Soccer Ball
Soccer balls are present in nearly every part of the globe – so what would happen if the rays they sucked in from the sun could be converted into energy to power a home? That's the idea behind the concept solar soccer ball which is made of flexible panels that can suck in energy from the sun and shoot out energy for the rest of us. Just kicking it around on a nice day can do wonders!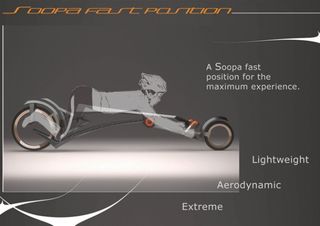 Soopa Scooter
This terrifying machine is called the Soopa Scooter – and it looks like it's soopa scary and dangerous. There's not all that much to say other than it looks like a skeleton sled – headfirst, downhill, with little control. So if that's your thing, this looks like a great new addition. But for some of us who'd like to retain teeth and/or life, it might not be the best idea.