Biomimicry: Nature-Inspired Tech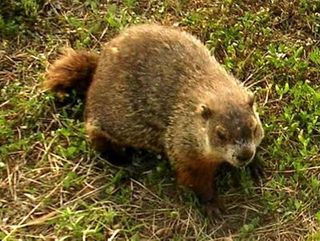 Groundhog Day: Looking At Nature
This time of year, we all turn our eyes to the natural world – even if it's only a groundhog. Inspired by our national devotion to a small prairie mammal, we at Tom's Guide rounded up the best in biomimetic design. From butterfly-wing flatscreens to planes that want to fly like birds, the natural world has a lot to offer to technology.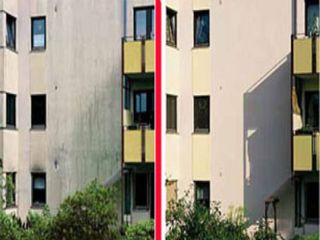 Sto Lusan Paint
Paint can always use an upgrade – it's stinky, messy and can peel off in damp conditions. Fortunately, the folks at the German company Sto Lusan used new research to create paint that beads off, sliding down the wall rather than building up. It's called the Lotus-Effect, which describes the same phenomenon of water beading on lotus leaf. The result, they say, is paint that reduces the "build-up of micro-organisms (algae, bacteria, fungus) which flourish in damp and dirty conditions." The picture above shows a façade with the special paint, and one without.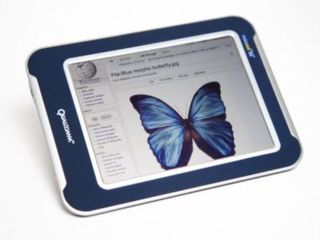 Mirasol
Qualcomm took inspiration from the tiny structures in a butterfly wing to create mirasol, a new display innovation that generates color without pigment in their handheld display technologies. Qualcomm says the new display "consists of a self-supporting deformable reflective membrane and a thin-film stack (each of which acts as one mirror of an optically resonant cavity), both residing on a transparent substrate." I'm not entirely sure what that means, but butterfly wings do have cool properties, like the ability to reflect brilliant blue colors not from pigment but from extremely small scaffolding within the scales of the butterfly's wings.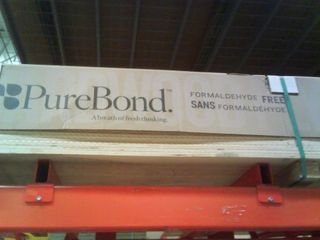 PureBond
One day, a scientist was walking on the beach in Oregon with his family. As he gazed out over the mussels clinging to the rocks, he wondered how they stayed so stuck despite the wave action washing over them. From that small question came research that led to a spin-off company, Columbia Forest Products. The researchers were able to manipulate soy proteins to behave like the byssal threads that help mussels cling to the rocks. PureBond is currently the only urea-formeldehyde (carcinogen) free plywood glue on the market. It's mostly used in making furniture.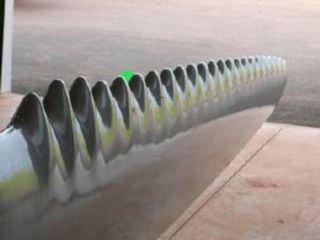 WhalePower
When you think of wind, what's the first animal to come to mind? What, not a whale? Well, one company certainly thinks that whales can take to the sky's breeze-zone at least as well as birds. WhalePower has designed wind turbine blades that mimic the tubercles (bumps) on the humpback whale fin, reducing drag and allowing the blades to spin at lower wind speeds. They say that incorporating whale-back technology, the turbines can get more power with less wind – and change the game of power from the skies.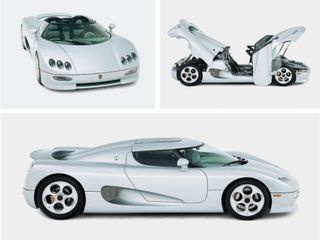 Koenigsegg Car
This Koenigsegg sports car was inspired by the aero and hydrodynamics of nature, from dolphins to hawks. It is listed as the fastest car in its category by the Guiness World Records, a record set back in 2005. The designer spent years studying the way that dolphins race through the water. After all, nature has been developing products much longer than humans; why wouldn't we want to take inspiration from what we see in the world?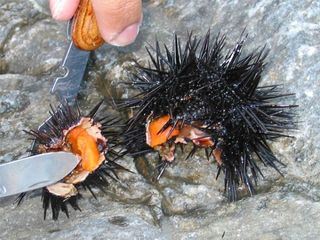 Self-Sharpening Tools
Sea urchins are known for being delicious, having spines, and colorful shells. But now they're also known for being the inspiration for the creation into self-sharpening tools. The little urchins bore through rock to carve out nooks, where they can protect themselves from waves and predators. Despite all that grinding, sea urchins are still able to keep sharp spines -- the teeth, which grow continuously, can regularly shed damaged areas to keep a well-honed edge. Researchers say they're starting to look into ways to do the same thing with human tools.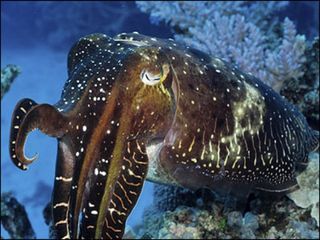 Squid Skin
Squid are the ultimate chameleons. They have an amazing ability to change the color of their skin and eyes to protect themselves from sun or other environmental hazards. Now, researchers are using funds from the Department of Defense to try to figure out what makes the skin abilities work and how to use the technology in better materials. So one day, American troops could really be covered with squid skin technology.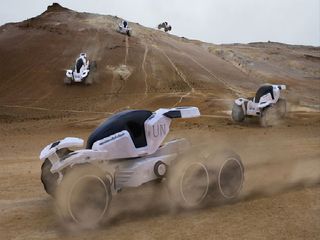 Transporter
When you need to move big heavy objects long distances, think no further than your humble ant. From that inspiration, an industrial design student won Australia's Target 2020 competition with his Aid Necessities Transporter (ANT), an emergency aid vehicle that mimics ant behavior and can handle variable terrain. ANT is designed to reach disaster victims as quickly and efficiently as possible, delivering food, water and medical supplies, returning to the base and repeating all over again, much like ant colonies behave as they gather food.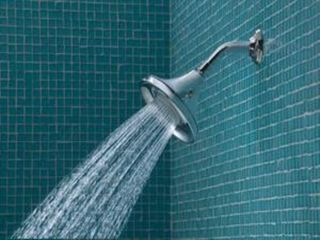 Golden Ratio Showerheads
Nope, it's not showerhead for a golden shower, but it is one that is inspired by the golden ratio. Designers at Moen have cited the golden ratio, a naturally occurring mathematic ratio found in organic designs such as plants, animals, and even galaxies, as their basis. They say that using nature's calculations, they can fit as many spray formers on the surface of the showerhead as possible for complete spray coverage. Now that's a shower I can get behind!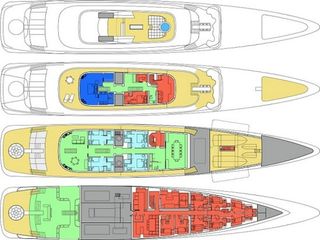 MegaYachts
Yachts aren't just for the mega-rich; they can also be for the nature-inspired folks. A new concept yacht called Breathe takes all sorts of design leads from the natural world, starting with black and white stripes from a zebra that create natural ventilation on board. These stripes create variations in air temperature just above the surface of the skin, which in turn creates an air current and natural cooling system that surrounds zebras as they swelter on the savannah. The hull also mimics the way marine mammals.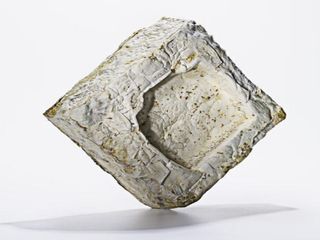 Mycobond
To infinity – and mycobond! Packing and plastics create a lot of waste – not to mention all the nasty chemicals involved in producing them. Mycobond is a composite of inedible agricultural waste and mushroom roots, and its manufacture requires just one eighth the energy and one tenth the carbon dioxide of traditional foam packing material. Sounds like a pretty cool material. If they didn't use the inedible roots of mushrooms, it could probably be stuffed with breadcrumbs and declared hors d'ouevres.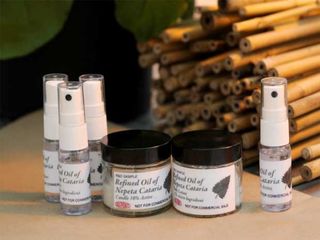 Catnip Insect Repellent
Keep the mosquitoes off your sensitive skin, but make sure the kitties don't start bugging you! Chemical giant Dupont has just registered a patent for an entirely new kind of bug repellent based on catnip. The project manager says that since catnip is a feline exciter, not an attractor, people who spray the repellent shouldn't have a problem with frisky kitties climbing them. But just in case, can't Dupont also create a feline repellent?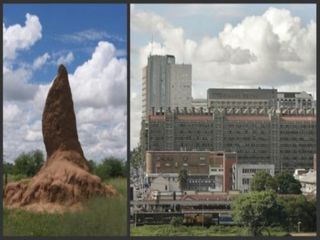 Termite Den Office Building
This building in Harare, Zimbabwe, wants you to work like a termite – in cool comfort despite the sweltering outdoor temperatures. In fact, the inside of a termite den holds steady at a comfortable 87 degrees, even while the desert-y climate outside swings between 100 and 30 degrees. That was the idea when Mick Pearce, an architect at Eastgate Centre in Harare, designed this office building. It uses 90 percent less energy to stay cool or work. The building boasts big chimneys that draw in cool air at night to cool the floor slabs. During the day, the slabs stay cool. I guess termites don't have it so bad after all.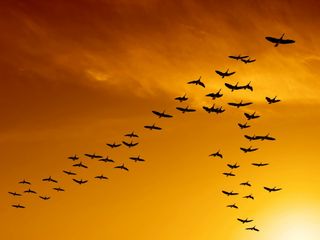 Bird-Planes
Look! Up in the sky! It's a bird … it's a plane … no, wait, it's actually a flock of planes flying like birds. Yep, as it turns out, birds save on fuel – er, energy – by flocking together in that familiar V-pattern. According to researchers at Caltech, the air flowing over a bird's wings curls upwards behind the wingtips, a phenomenon known as upwash. Other birds flying in the upwash experience reduced drag, and spend less energy propelling themselves. So 25 birds flying together can fly 71 percent further than birds flapping away by themselves.
The same goes for planes. The researchers modeled the effects of three planes flying from Los Angeles, San Francisco, and Los Angeles joining up over Utah and flying to London. They found that the planes would need 15 percent less fuel in this scenario. The downside? A lack of safety. No one wants to be so close they can read the magazine of someone in another plane. But flying in the future may mean planes of a feather flocking together.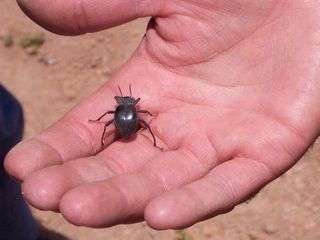 Beetle Material
Scientists at MIT recently created a new material that is alternately superhydrophobic and superhydrophilic – one that shoves water off and sucks water in – and they were inspired by the way water beads up on a beetle's back. They had read about a dime-size Stenocara beetle in the Namib Desert of Africa that had tiny superhydrophilic bumps on the back of the beetle gathered moisture out of the wisps of morning fog. The beetle then sucked the water from superhydrophic channels on its back. They say the material can be applied to all kinds of industries.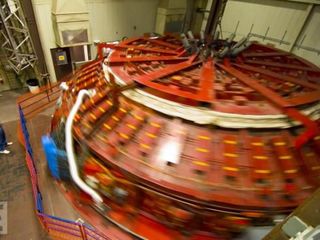 Honeycomb Mirrors
Giant projects require giant ideas. At the University of Arizona, the mammoth telescope mirrors made at the Steward Observatory Mirror Lab would be too heavy to function if they weren't built on a hexagonal substructure inspired by honeycombs and wasp nests. Each 8.5-meter mirror weighs 52,000 lbs., 85% less than solid glass, and lightweight enough to be fitted into the world's largest telescopes. The engineers say that since air can circulate through the combs, the mirrors are cooler, and thus give a crisper image.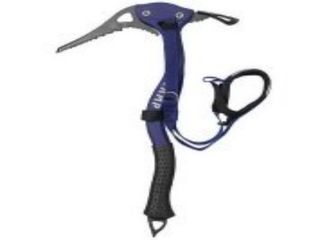 Woodpecker Ice-Ax
When you're looking for an example of something in nature with a penchant for hammering, the woodpecker is a good place to start, right? An Italian camping firm made ice axes with straight shafts for more than 100 years, until they decided on a better way. Inspired by the woodpecker, they centered the shaft under the ax head and added a slight curve to the spine. Rather than setting the new pick at a near-right angle to the shaft, it was pitched downward, like the bird's beak. The result was a more balanced swing, a more efficient blow, and a best seller for the company, CAMP.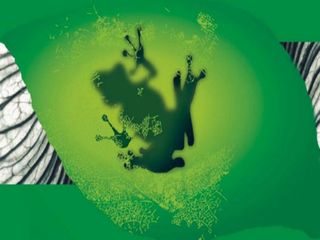 Bio-Fuel Foam
Many amphibians build a home in foam, while we humans tend to see as simply a topping on our cappucini. All this could change, though – last year an artificial foam inspired by the meringue-like nest of a South American frog has won the 2010 Earth Awards. The foam soaks up carbon dioxide from the atmosphere and generates sugars that can be converted into biofuel. The scientists plan to install the foam in the flues of coal-burning power plants, capturing carbon dioxide and converting it to sugar before it has a chance to enter the atmosphere and contribute to climate change. Due to its frothy structure, the foam can be up to five times more efficient than plants at converting carbon dioxide into sugar.