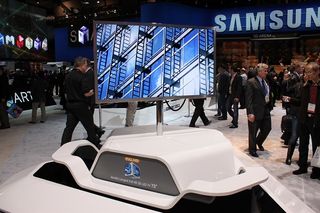 Samsung's BIG LED 3DTV
CES is bigger than ever in 2011, so we might as well start off with a suitable display. Samsung claims it has the biggest LED 3DTV with this 75-inch Goliath, and while the TV isn't currently available for purchase, one can only dream...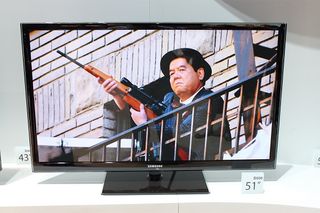 Samsung D550: The Mid-Range 3D Plasma
Plasma's have dropped off a bit in popularity, but Samsung is one of three companies that throws plenty of weight behind the display tech. This D550 represents the middle of the road for Samsung, offering 1080p 3D goodness, but not much in the way of apps like the higher models.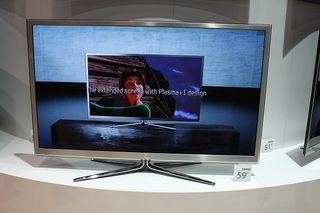 Samsung D8000: Top of the Line Plasma
The D8000 series is the crown jewel of Samsung's plasma lineup. The series features integrated WiFi, apps and Yahoo widgets, as well as a full web browser. You've probably noticed the odd screen sizes, with the D550 having a 51-inch display and this D8000 coming in at 59-inches, Thanks to the new "+1" bezel designs, this 59-inch plasma display fits into the a frame that would normally hold a 58-inch screen. The bezel's are ultra-thin from every angle.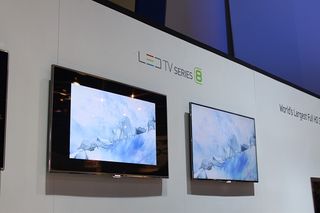 Samsung LED 3DTVs
Samsung also offers LED 3DTVs, like these Series 8 models. These silver LED TVs have all the same features as the Series 8 plasma TVs (aka the D8000), like the integrated WiFi and web browser.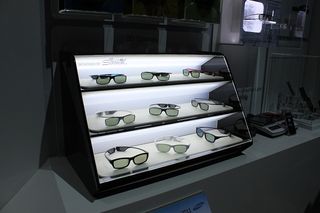 Redesigned Active Shutter Glasses
Both the LED and plasma 3DTVs from Samsung use identical active shutter glasses, which were recently redesigned. The batteries, which can be charged via USB or a special wireless hub, now sit on the back of the head, making for a more comfortable wearing/viewing experience.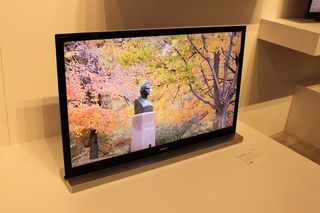 Sony's 3DTVs Go Monolithic
Sony is still pushing active shutter technology for its 3DTV lineup, but the design of its TVs is vastly different from the 2010 lineup. These new "monolith" TVs look very sharp, and have very nice displays (complete with Corning's Gorilla Glass and opti-contrast tech) to boot. This is the mid-range HX820, which will be flanked by an HX720 and the top-end XBRHX929.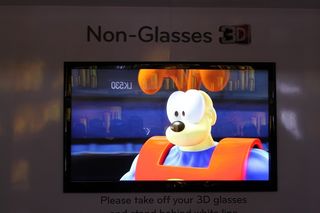 LG Tinkers with Glasses-Free 3D
While LG has no plans to release glasses-free 3DTVs in the near future, it's nice to see the company giving it the ol' college try. The popular belief is that 3DTV will not go mainstream until glasses (of any kind) are out of the equation, so the sooner this hits store shelves, the better. Based on our experience with the demo, we are still several years away from glasses-free 3DTV in the household.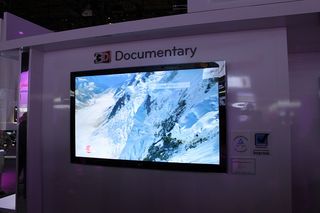 LG LW6500: Passive 3DTV for the Masses
Do we want glasses-free 3D? Of course! But passive 3DTV is a step in the right direction. While active shutter glasses go for $100-$150 per pair, passive 3D glasses (like the glasses you wear in a movie theater) cost under $1 to manufacture, and will sell for about the same price as a movie ticket (or cheaper). The LW6500 is a 240 Hz, edge-lit LED TV, complete with Smart TV (a new suite of apps and content). The best part? Each passive 3DTV that LG ships will include either four or six pairs of passive 3D glasses. If you need more, just steal some ReadD 3D glasses from your local movie theater!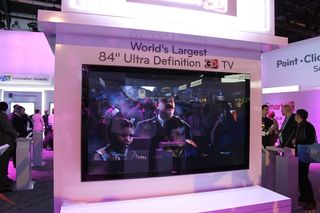 Passive 3D...with a 2160p twist...
Excluding glasses-free 3D, what's better than a 1080p passive 3DTV? a Quad HD 3DTV. This 84-inch behemoth has a 2160p resolution, or 3840x2160. For the math-challenged, that's like combining four 1080p displays, The passive 3D works very well, on here and on the LW6500, with great viewing angles form all sides.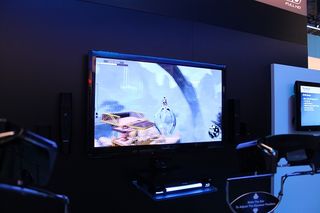 Panasonic: 3D is now the Norm
Panasonic is bringing 3D to three different plasma TV lines, and is doing away with the beloved Gxx series of displays (I just bought a P50G20, so I guess my TV is a rare bird). The replacement for the Gxx will be the ST30 line, which will come in sizes ranging from 42- to 65-inches. Viera Connect, optional Skype, and optional WiFi are also on the table.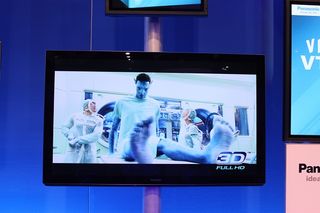 Panasonic VT30: Cream of the Crop
Skipping the mid-range GT30 3D offering, the VT30 series is Panasonic's Cadillac. I was told the panel is of Kuro quality, referring to the legendary Pioneer plasma sets of old (according to PR sources, many Pioneer engineers made their way to Panasonic after the former stopped making TVs). The VT30 comes with four HDMI ports and the ever-popular THX mode for watching movies. This model will only be available in 55- and 65-inch flavors.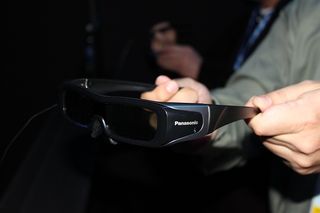 Panasonic's Revised 3D Specs
Panasonic is sticking with active shutter 3D for now, and the refreshed specs now recharge via USB. Glasses are available in three sizes and and go for $149.99.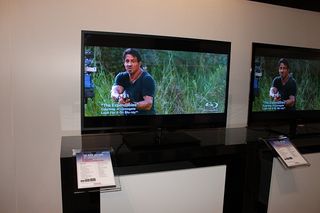 Toshiba UL610: Getting Active Shutter Right
We love passive 3DTVs, but we can still appreciate some active shutter sets, too. The new UL610 from Toshiba has a 480 Hz LED display, but more importantly, Toshiba has put a lot of effort into eliminating any cross talk between pairs of 3D glasses with its 3D Cross Talk Canceller tech. Gamer mode is also included for the settings freaks out there, as is Expert mode, which allows users an incredible amount of settings customization.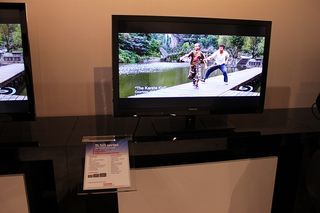 TL515: More Passive 3D Tech
Toshiba is also getting into the passive 3D game with its new TL515 line of 3DTVs. Shipping in March, the 240 Hz 3DTVs will be available in four sizes (32, 42, 46 and 55 inches) and every model comes with WiFi built-in. You can also expect Gamer mode, Expert mode, optional Skype (with support for after-market cameras) and Yahoo widgets. And like LG's offerings, nearly any pair of passive 3D glasses will work with this TV.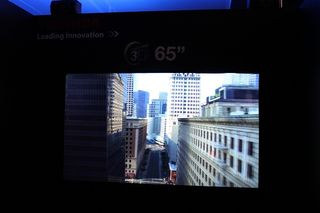 Toshiba's Glasses-Free 3D Efforts
Much like LG and Sony, Toshiba is tinkering with glasses-free TV in n effort to get the tech to market at some point this decade. And like others before it, the tech just isn't there yet. Viewing from angles is still borked, and the image just isn't smooth enough for consumers. That said, we like the effort, and are expecting great things in the 2-3 years to come.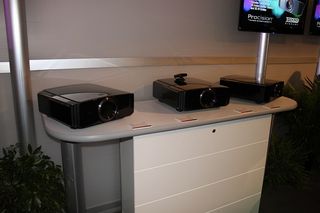 JVC's pro-sumer 3D Projectors
Got $10,000 to spend? Then take a look at the DLA-X9 from JVC. With THX certification and a native (see: NOT dynamic) contrast ratio of 100,000:1, this is as good as you can get outside of buying a movie theater-grade projector.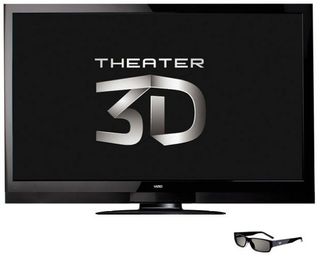 Vizio's Jump into 3D
Vizio is making a big 3DTV push, and luckily it's a passive movement. Theater 3D is similar to the Cinema 3D from LG, so any passive 3D glasses will work with these VIA-equipped displays. Sadly they are not on the show floor at CES, but we will keep you posted when more info arises.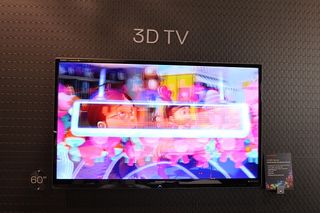 Sharp's 3D Quattron: It's SO Yellow!
Sharp's RGBY Quattron displays tend to fly under the radar, but the color reproduction is great, to say the least. There are two 3D LED Quattron lines: the LE935 and the LE835. Both are identical, except the former has a "better panel" and is only available in bigger sizes (70 and 60 inches, compared to the LE835's 60, 52, 46 and 40 inches). These are active shutter displays and will ship in the first half of 2011 with access to Vudu, Netflix and CinemaNow.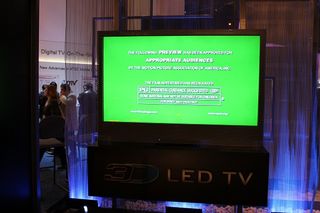 Mitsubishi Enters the LED Arena
Mitsubishi has long been known for DLP TVs, but the company is launching a new line of LED 3DTVs, too. These active shutter displays are still shrouded in mystery, but they're all 240 Hz, 1080p, and there will be three different lineups.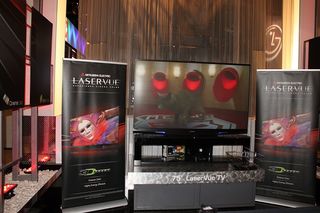 LaserVue: The Overlooked Enthusiast Champion
LaserVue TVs, while not very popular, are often hailed as being some of the best HDTVs on the planet when it comes to color reproduction. However, now that prices are coming down a bit (around $3,000 for a 65-inch set), LaserVue is poised for a major leap in popularity. Awesome colors aside, LaserVue 3DTVs, like this L75A91, peak at 128W of power consumption, and is roughly 50 percent MORE efficient than most Energy Star compliant displays of similar size.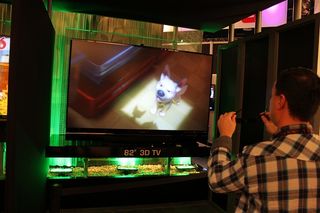 DLP: Same Tech, Bigger Size
DLP TVs, like this WD-82838, have been around for a long, long time. However it's still a great HDTV tech that can produce some great-looking video, The new DLP sets from Mitsubishi are huge (92, 82 and 73-inches) and also come with access to 3D content from Vudu.