Our 10 Favorite Designs of CES 2011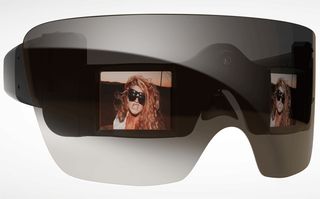 Polaroid Grey Label GL20 Sunglasses
These Polaroid sunglasses are our favorite design from CES 2011. In addition to shielding your eyes, they also take pictures and shoot video with a camera built into the piece that rests on the bridge of your nose. A flash memory chip, stored in one of the ear rests, can be removed and connected via USB to a computer, or via Bluetooth, to offload the photo and videos. Better yet, while you're wearing the glasses, you can run through a slide show of your images and recordings on a screen in front of each eye. Pop singer Lady Gaga had a hand in the development of this product, which is not yet available, and thanks Polaroid on stage at CES for allowing her to be involved "and design this s--- myself."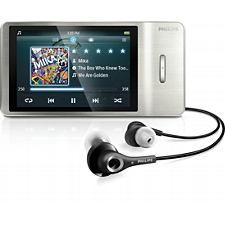 Philips GoGear Muse
This is a relatively bare-bones media player (no WiFi, for instance), but it is one of the more appealing ones we've seen in a long time. It is about the same size as an iPod Touch, but covered in brushed aluminum, and outfitted with a 3.2-inch touch screen. Very few buttons mean the device's interface can't get too complicated. In this case, we appreciate austerity.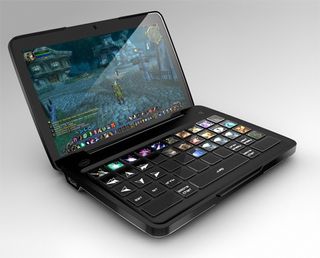 Razer Switchblade
Razer's 7-inch touch-screen Switchblade prototype could be a mobile gaming phenom. While its innards are impressive, we were most taken by the keyboard. The keys are built onto an LCD screen, but they're not the keys you'd expect. They're gaming function keys. This holds great appeal for players of massively multi-player online role-playing games. Each key glows with its own colored light, giving the device a nearly ethereal feel.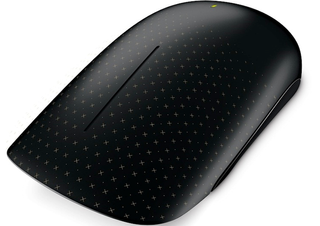 Microsoft Touch Mouse
Though this mouse can only be used with Windows 7 machines, its combination of good looks and functionality make it one we insist on testing. The surface of the mouse is covered in capacitive touch sensors that allow the user to eke out nine different gestures (such as scroll, pan, zoom and navigate). The ergonomic relief to fingers should be substantial. The mouse will be available in May for $79.95.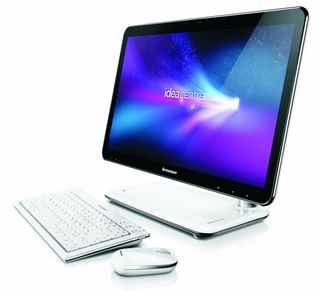 Lenovo IdeaCentre A320
The 21.5-inch screen on this All-In-One from Lenovo is .75-inches thick. That makes it one of the thinnest ever made. But we also like the black and white coloring and the asymmetrical way the base connects to the screen. Another thoughtful design touch? The way the screen brightness adjusts depending on how bright the light in the room is. Lenovo hasn't yet announced a release date, but this model will start at $699.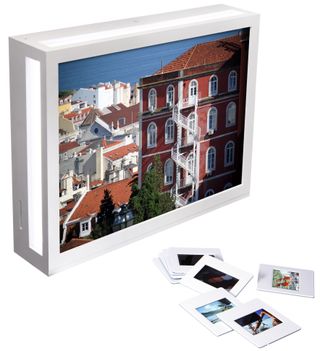 Parrot Dia Frame
We've never seen a more beautiful digital photo frame--and trust us, we've seen a lot of attractive photo frames. Aside from containing all of the wireless connectivity and ports you'd want (and intuitive access to photo storage sites), this frame simply sits as an art object in your living room. It looks like a light box, or museum display. Parrot has included slides in this image because the way the photos light up from within on this frame reminds you of the way a slide is illuminated through a projector. Parrot offers owners of this frame an iPhone app that allows you to virtually flick slide-like images from your phone, directly to the frame, with a touch-gesture. We also enjoyed the line drawing screen savers that appear, optionally, across the screen. We look forward to reviewing this one later in the year. The Dia will sell for $500.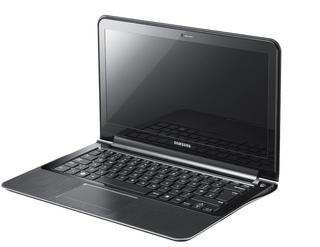 Samsung 9 Series Laptop
Not all MacBook Air competitors are created equal. This one is the most appealing we've seen. The 13.3-inch laptop from Samsung sports black brushed metal and a very curvy edge where the chassis meets the screen hinge. Though Samsung hasn't divulged the exact thickness of this machine--though it weighs 2.86 pounds--we think it might be a hair thinner than Apple's ultra-thin notebook. The 9 Series will start at $1,599.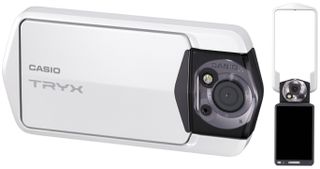 Casio Tryx Camera
Its tough to innovate on camera design. Casio managed it with the Tryx--a transformer of a camera that has a 3-inch screen that rotates and twists away from a bezel-turned-handle. That means the lens can move away from the body, and the screen or bezel can serve as a tripod for the lens. This contorting camera is just .59-inches thick when closed. Available for purchase in spring for $249.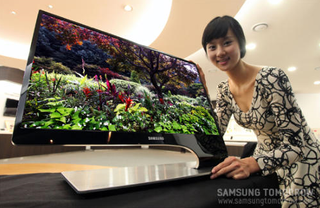 Samsung 9 Series 3D HDTV
Not many specs are available for this LED-back-lit 3DTV, but all you really need to know you can see in the picture: check out that asymmetrical base, which would surely make a statement in a design-conscious living room.

Nike SportWatch GPS
Sports gadgets have a tendency towards heft and excess. This watch has a full GPS from TomTom built inside but its slimmer than many watches we've seen. The touch screen interface helps runners to easily keep track of their timed progress (data is uploaded to a computer via USB, and the watch also communicates with a chip in the shoe). The two-tone coloring and visually appealing font on the screen make this watch a device some less-than-enthusiastic athletes might consider. It will be available in April for between $200-$300.