How To: Get Deals On Social Shopping Sites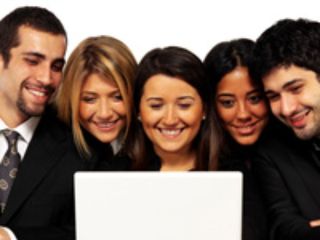 Why Social Shopping Works
"Get it now! Your friends are all doing it!" That's the message that many social shopping sites scream – and the message works. Social shopping is changing the way businesses view themselves, and the way that people interact around shopping.
Usually, a retailer has to spend lots of money getting their message out, says Utpal Dholakia, associate professor of management at Rice University. "But with social networking, those retailers no longer have to spend money and time – they just let the networks do that for them." He says that people always have the desire to tell their friends about interesting things – and what better to share with them than deals or things to do together.
Dholakia warns the deal-makers, though, to be careful. He studied different Groupon offers , and found that a significant number of offers ended up not working well for the company. "Deals work best when two things happen: you get new customers AND those customers return again." For the consumers, the best experiences happen when they get good service and a deal, but small stores can get overwhelmed by an onslaught of a thousand new people.
Other retailers are also trying the social shopping game – even Walmart has a facebook fan page where you can sign up for deals and swap tips with other shoppers. Social shopping is here to stay, so here are some of our favorite sites!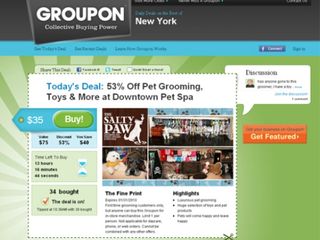 Groupon
Launched: November 2008
Subscribers: 18 million; 12 million Groupons sold
Typical Hot Item: $25 for Three Classes at Barry's Bootcamp ($65 Value)
Why we like it:
Groupon offers one deal per day per city via its daily email, smartphone app, or website. Each deal is "ON" when a specific number of people have bought in. Just click away and give your credit card info; Groupon issues you a gift certificate for the deal that you redeem at the company. It's great for urban explorers – get a two-for-one to a museum one day, and a whale-watching tour at a big price cut the next. Groupon is one of the biggest social shopping sites, and mostly addresses the small-business niche that may find it difficult to get the word out about new products or services. Consumers get deep discounts on restaurants, spas and retailers, and companies get a risk-free and low cost advertising campaign. Just be careful of what my friends call "Groupon-finger" where you start buying everything on Groupon because it's a good deal.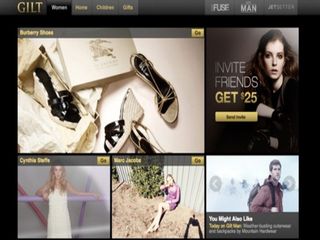 Gilt
Launched: November 2007
Subscribers: Unknown
Typical Hot Item: Paige premium denim
For fashion plates, there's no better place than Gilt. The site offers deep discounts – 70 percent – on a small selection of designer clothes and accessories. Sales last only 36 hours, and most of the highly-desirable stuff sells out within the first hour or so. Gilt recently acquired a similar site, Ruelala.com, and some experts speculate that they may be making a move into designing a line of clothes themselves. Gilt also owns travel deal site Jetsetter.
Gilt members can get access to private flash sales, short time-sensitive brand-name deals at high discounts. Shoppers are also encouraged to invite friends for a discount and to check back often because the deals are always changing.
Gilt works the deals by negotiating with fashion houses, large and small, to buy undersold merchandise and offering it up to their members. They are also considering starting a deal-of-the-day purely for fashion.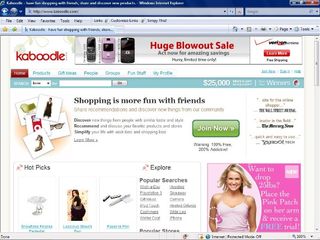 Kaboodle
www.kaboodle.com
Launched: 2005
Subscribers: 900,000 registered users have added 10 million products to the site
Kaboodle is a social network based on shopping and can put you in touch with other shoppers who have similar interests in products – think Facebook for shopping. It's a shopping site that doesn't actually sell anything. Instead, Kaboodle allows you to surf the web and mark products, articles, pictures, or anything on the web with a Kaboodle button, adding that thing to your personal collection of things. Create a list on any topic, from fuscia hotpants to waterbeds to Tahitian vacations, and share with friends. Kaboodle also features product reviews, and as you grow to know the community, the product reviews become more relevant since you'll recognize some of the reviewers. A handy bookmark allows you to recommend your own products as you browse the web.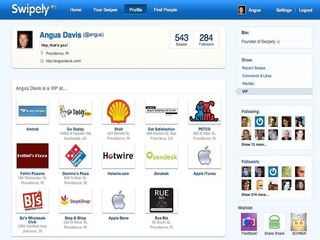 Swipely
www.swipely.com
Launched: August 2010
Subscribers: Unknown
Swipely chipperly tells you that it turns purchases into conversations. Basically, you register your credit card with them and it broadcasts your purchases – be it a J. Crew sweater or tickets to a concert – on your profile. It's like letting everyone know where you're putting your spending power (amounts are not broadcast, so it's not about how much coin you lay down). Why woud anyone want to do this, you may ask? The founder says that people are already sharing their thoughts, photos and whereabouts, so why not their purchases? The payoff is in giving and getting personal recommendations for products and places, saving money and having more fun – and businesses can reach out directly to consumers and reward loyal customers. Swipely is brand-new, so watch for it in the future.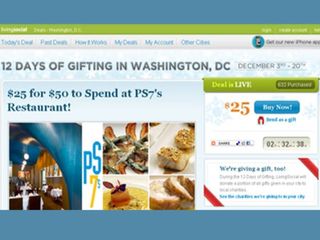 LivingSocial Deals
Livingsocialdeals.com
Launched: 2008
Subscribers: 10 million in 100 cities
Typical Hot Item: Healing Hands Wellness Center 75-Minute Massage for $35
LivingSocial has a deal-a-day email, website and app. Adding to the local-business-love, you can use a unique button to share the deal with friends. If three friends sign up for the same deal (say, dinner at a fun restaurant), the person who shared the deal gets it for free. LivingSocial also just bought a 'social adventure' firm, so they may be getting into the business of offering discounted trips themselves soon. Most of the deals LivingSocial offers are around $20, so hopefully the yoga retreats and single-barrel scotch tastings will be deeply discounted as well.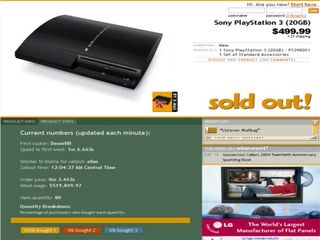 Woot!
www.woot.com
Launched: 2004
Subscribers: Unknown, but at least 3 million unique visitors per month
Typical Hot Item: Pure Digital Flip MinoHD 2 Hour Digital
Woot offers one product per day – a little bit like Groupon, but without the restaurants and services. It focuses mostly on technology products and can be a great place to pick up game systems or hardware. The item goes on sale at midnight central time and the sale continues until its completely sold out. Other woot sites include winewoot and shirtwoot. They also offer deals on a limited selection of merchandise, starting at midnight and selling until everything is gone. Because there is such a limited selection of stuff, if something is defective, you'll only get a refund instead of a replacement. Plus: Woot pioneered the one-deal-per-day model.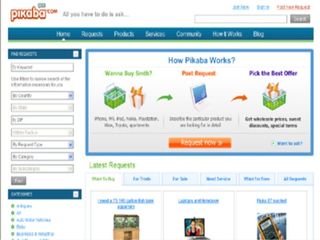 Pikaba
Launched: 2008
Subscribers:
Pikaba.com is a social shopping site with a couple different goals – it can be a regular internet marketplace where you can search for goods or services offered by different sellers. But after you get recommendations, find what you want and post a request, a reverse auction takes place, where the sellers decrease their price and bid for your business. The sellers get lots of information about their audience, and the buyers get great deals. Again, a win-win!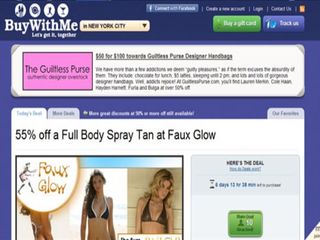 BuyWithMe
Launched: May 2009
Typical Hot Item: $349 for a Two-night getaway with a couples massage or
Subscribers: Unknown
Group shopping deals work on the value of scarcity – there's only a few of these and they're only available for a day so hurry! Buywithme.com tries a slightly different approach. Its deals are offered for a week instead of the typical 24 hours. They do offer a new deal each day, meaning there's an overlapping framework of deals – say, a spa and a car detailing service and a new coffeeshop – available for the same city at the same time. The intent, says the company, is to prevent any buyer's remorse stemming from impulse purchases – something that could potentially turn people away from the site.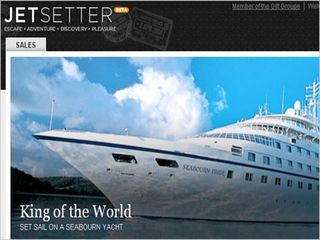 Jetsetter
Launched: April 2010
Typical Hot Item: Night at L'Auberge
Subscribers: Unknown
Jetsetter is an online community for travel deals. As a member of Gilt Groupe, Jetsetter provides invitation-only access to coveted travel destinations and experiences at prices unavailable to the general public. When you request an invite, the site typically makes you wait a few days, adding to the feeling of exclusivity (but in reality, they let pretty much everyone in). You can book discounted luxury hotel rooms in Dubai (I actually did this!) or someplace closer to home. Usually a sale lasts two days (though some last for weeks, depending on inventory) and features properties around a theme, brand, or destination. Jetsetter lets you upgrade your membership to have more access for changing reservations or getting concierge service.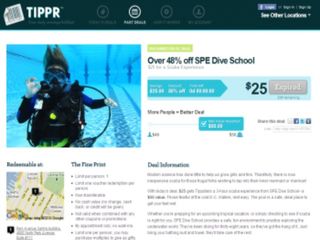 Tippr
Launched: February 2010.
Subscribers: Unknown
Typical Hot Item: $70 for $285
Tippr is another deal-a-day site, but with a few tweaks. It calls itself "the new wave in collective buying" and says its base technology is better, so it can serve you better. The company has invested in many e-commerce patents. Tippr seems to care more about its merchants, trying to keep them happy with the onslaught of new customers. They actually send out people to try all the deals, from shopping to dog grooming, before they're offered on the site. In addition, the deals never expire and they're always on, so there's no minimum number of people who need to buy before the sale is valid. The expiration dates at competing deal-a-day sites can be kind of annoying (for example, you buy a manicure deal, but there are so many people that you can't get an appointment before the expiration date), so Tippr is definitely a step in the right direction. Tippr allows for "accelerated deals," in which the value of the offering goes up as more people participate.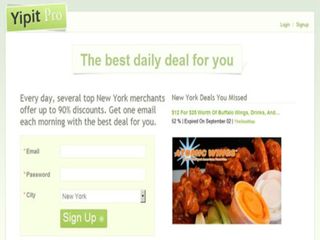 Yipit
Year founded: 2010 Subscribers: 60,000 views per month
Are you overwhelmed by all these deal-a-day websites? If so, Yipit might be the perfect solution. It's a daily deal aggregator. Just enter your geographical coordinates and the type of deals you're interested in, and Yipit will send you the best offers for you – from about 130 different sites. Another site, 8coupons.com, is doing a similar service. It's a way to get deals near you without having to read emails from a dozen different places. There's even a map function so you can see what's available on your block.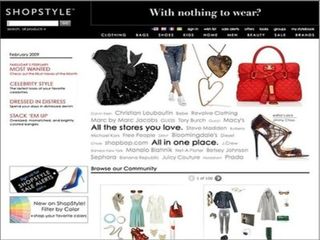 ShopStyle
ShopStyle.com
Launched: September 2008
Typical Hot Item: Guitar Cecil Dress by Motel from Topshop for $50
Shopstyle is a search engine devoted to fashion. It's focused on boutiques – so you can shop the world's finest and get discounts in your living room. Results from Shopstyle can be sorted by designer, style, store, color or price point. You can put together your own Stylebook and share it with friends, as well as browse Stylebooks from others. Joining different groups on ShopStyle means you can exchange ideas with people who have similar interests.