5 Places You Didn't Expect To See Flash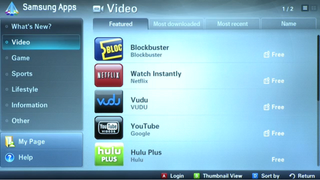 In Your HDTV and Blu-ray Player
Google TV makes use of the Chrome browser – but it also has Flash built-in. Having Flash in the browser means you can stream a show from the Amazon Web site on Google TV, but because Google TV is also getting the AIR run-time, it's going to be able to run standalone apps like games. Samsung is also building Flash and AIR into all its 2010 Blu-ray players, Blu-ray home theater systems, and big-screen TVs (it will be in most Samsung TVs that are 40 inches and larger this year). Samsung is only the first manufacturer to launch this, and it has its own on-TV app store so you can have more than the 25 apps that come pre-installed. Cable channel Epix is building an app for TVs with AIR that will let you see the kind of extras you'd get on a DVD like trailers and deleted scenes or start watching a movie on the big screen – and move it onto your phone when it's time to leave the house, so you can carry on exactly where you paused it.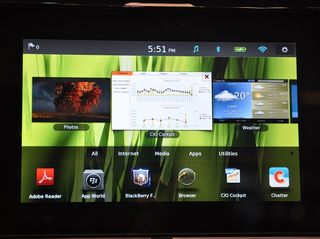 Inside the BlackBerry PlayBook Interface
We've known all along that the PlayBook will have Flash 10.1 in the browser and that it will run AIR apps as well as OpenGL games and BlackBerry apps – and you can forget worries that Flash might be slow on the PlayBook too. It's so fast that RIM has decided to write the whole PlayBook user interface in AIR, so when you launch a new app or flick through all the apps you have running at once or pick a specific app to run full-screen, you do it in AIR. We've seen this running on prototype hardware (rather than just the video demo RIM was showing in September) and it's fast and smooth.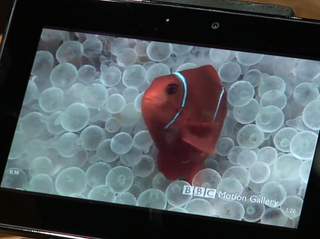 Inside BlackBerry PlayBook Photo and Video Apps
One of the reasons video looks good on the PlayBook is that the video and photo apps themselves are both AIR applications; here we're watching an HD video with Flash overlaying the elapsed time and length on the video; touch the screen to get the media controls. Video carries on playing in the background if you go to another app – and when you look at thumbnails of all your running apps, the video is playing in the thumbnail. It also uses the new 'staged video' hardware acceleration in Flash. At this point the interface of the PlayBook video app is basic (video icons don't use video frames for their thumbnails for example), but remember you'll be able to replace the built-in video app with a third party one if you like it better.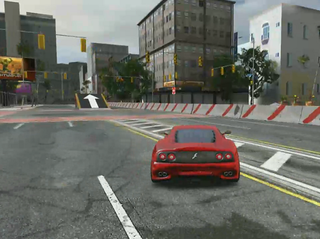 In 3D Games
Flash dominates casual gaming online – especially on Facebook – but soon Flash games will look a lot more serious with 60fps HD 3D images with millions of triangles (think driving games like this one rather than video you need glasses for). They'll get fully hardware accelerated GPU rendering in both OpenGL and DirectX so they won't thrash the CPU (or use up battery life on your notebook). And you'll be able to play Flash games using USB-connected games controllers, like the Logitech steering wheel and pedals powering us around this 3D Flash version of downtown Los Angeles.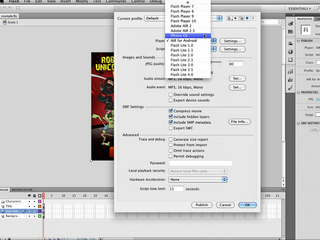 Flash is back on iPhone (Sort Of)
Apple backed down on banning apps that were originally made in Flash and AIR (and other cross-platform tools) and compiled to iOS, so developers using the Flash Professional software (and soon Flash Builder) will be able to take most AIR 2.0 apps and turn them into iPhone apps – support for the new AIR 2.5 version is on the way. It's not perfect – not everything you can do in AIR will translate onto the iPhone – so it's really intended as a quick way to get Flash apps onto iPhone without rebuilding them from scratch.