In Pictures: New MacBook Air, OSX Lion, iLife '11

MacBook Air: Two New Models
The newly-redesigned MacBook Air will be available in two sizes: 13.3-inches and 11.6-inches.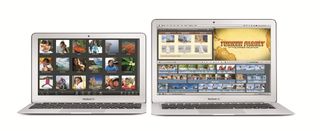 Side By Side
Side-by-side, you can definitely see the size difference.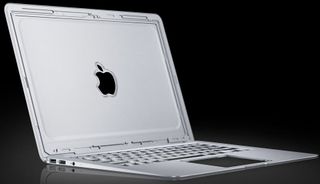 Unibody Aluminum
Apple is sticking with that ever-popular aluminum unibody frame, which gives Macbooks style, durability and plenty of jealous looks from other laptops.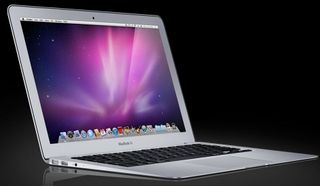 The Finished Product
Here it is again with the innards all in place. If you thought the previous Air was thin, the new model has a maximum thickness of 0.68-inches, which goes all the way down to 0.11-inches. The display on the 13.3-inch model is 1440x900 while the 11.6-inch version is 1366x768. Both are LED-backlit LCDs.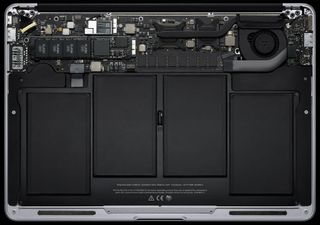 Insides and Specs
Most of the body cavity is taken up by the battery (those four large rectangles). The rest: 64-256 GB of flash storage (varies on the model), 2 GB of DDR3 memory, an Intel Core 2 Duo processor (varies from 1.4 GHz to 2.13 GHz) and Nvidia GeForce 320M graphics (with 256 MB of dedicated memory).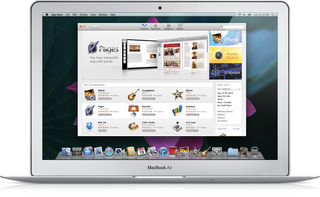 Mac App Store
It wasn't all about hardware at the presentation today, however. Apple also showed off it's new Mac App Store. Now Mac users can download apps, much like the App Store already in place for the iPhone, iPod Touch and iPad. Purchased apps will sync in real-time and will save your work whenever they're closed or minimized.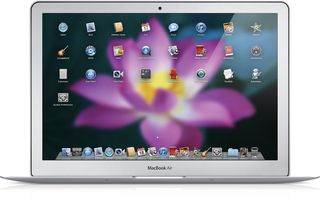 Mac Launchpad
OS X will have a Launchpad similar to that found in iOS. Simply click the icon and all of your Mac App Store programs come up in a tile array.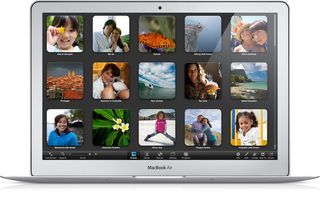 Full Screen Mac Apps
All of the apps for the Mac App Store are fullscreen, so no tiny window sitting in the middle of your desktop. Apple CEO Steve Jobs says the Mac App Store will launch within the next 90 days, probably by the end of 2010.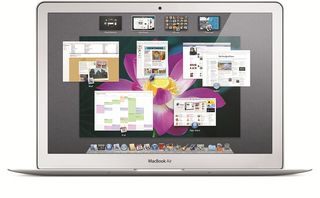 OS X 10.7 (Lion): Mission Control
The Mac App Store will launch on OS X 10.6 (Snow Leopard) but Apple also showed of OS X 10.7, dubbed "Lion". Here we see Mission Control, a new part of the interface that brings all of your opened applications and software up at once. Snow Leopard will launch in 2011.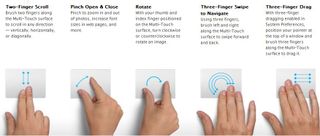 Gestures
Apple is multitouch- and gesture-crazy, so some new gestures are being added for Lion. Some of the above are already in use for Snow Leopard, too.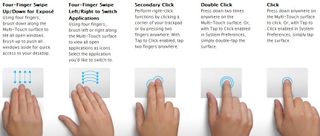 More Gestures!
More gestures!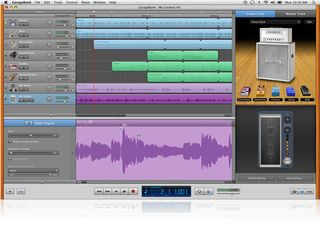 GarageBand
Apple also showed off iLife '11, which will ship on all new Macs, and will be available as an upgrade for $49 (full retail price is $79). If you bought a Mac after October 1st, the upgrade is free - just pay $6.99 shipping. Here we see the revamped GarageBand, which adds "Groove Matching" allowing you to "improve the rhythm and feel of your recordings."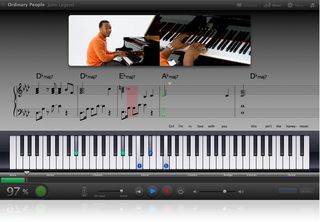 You're Doing It Wrong...
GarageBand '11 also has a "How Did I Play" feature, where you play along with a song and the software critiques your performance.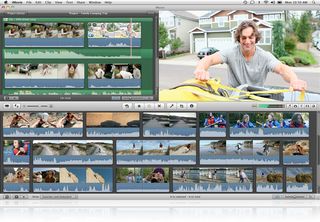 iMovie: Audio Editing
iMovie also got a facelift, and includes audio editing along with video editing. It's still no Final Cut Pro, but being able to look at audio in longwave form should make editing that much easier.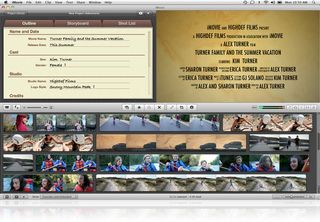 iMovie: Trailers
Need a trailer for that new family vacation footage? iMovie '11 has fifteen different trailer templates to help you build anticipation for that Grand Canyon footage.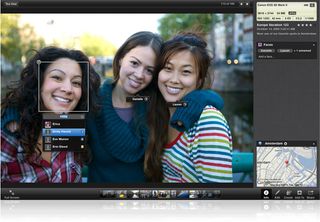 iPhoto and Facebook
iPhoto now has Facebook integration. You can tag photos, post pics to your wall, and create albums, all without ever leaving iPhoto.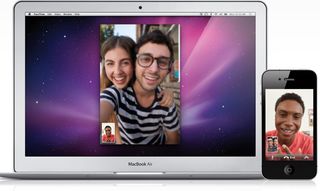 FaceTime on OS X
FaceTime is also on the Mac, allowing users to video chat with any other FaceTime user, regardless if they're on the iPhone or iPod Touch.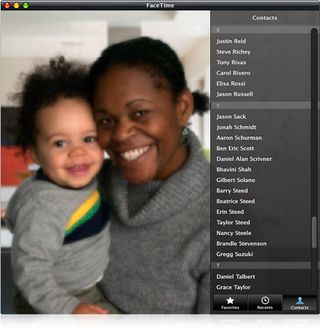 FaceTime Contacts
The software is currently in open beta (download here), and is pretty straightforward.