Hands On: Top 10 Products At CTIA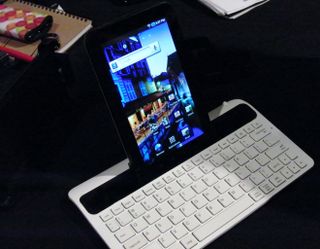 The Samsung Galaxy Tab Android Tablet In Action
The first thing we noticed about the $399 Samsung Galaxy Tab was that it looked thick and slightly chunky for a 7" tablet, although when you pick it up it's well balanced and – at 13 ounces - doesn't feel heavy in the hand. The second thing we noticed is the odd angled slice taken out of the underside along one edge; we're assuming that's to keep the weight down because it's the wrong edge to fit into the full-size keyboard dock, which has a set of app shortcuts and media control buttons instead of function keys. It has GPS and Samsung also showed us the mother of all suction mounts (seen to the left in our photo) for using the Tab in the car (or more likely, a truck).
You can rotate the Tab sideways to watch videos or get the large on-screen keyboard, but most of the time you'll use it in portrait mode – like a phone. And a large Android phone is what it feels like. The screen quality is good, but not outstanding. The micro SD and SIM card slot on the side are convenient, and the front facing camera for video conferencing is welcome, although you'll have to hold the Tab in both hands to be comfortable taking a photo with the main camera. The Tab has a 1GHz processor and runs Android 2.2 with Flash 10.1 pre-installed and most apps scale up to use the full screen, although some run with a large border around them. The prototype model we got our hands on seemed to be running a stock Android image with the standard five home screens, Android Marketplace (because it's a phone) with Samsung's own widgets, media hub, ebook reader software and the Swype 'finger writing' input – but even with that, while the iPad feels like a real tablet OS, so far the Tab still just feels like a big Android phone.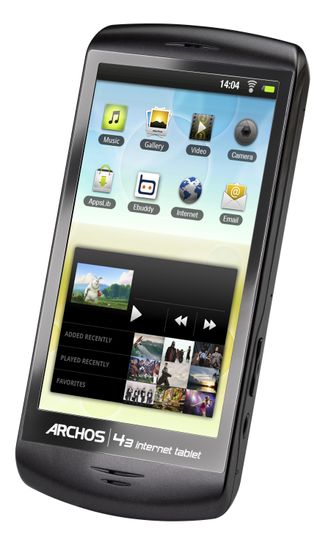 Archos Tablets Show Media Heritage
If the Tab feels like a phone, the range of Archos tablets feel like media devices.
Archos will have an Android tablet next month in just about any size you could want, ranging from the $99 2.5" model (which Archos points out is the first sub $100 Android tablet), through the $249 4.3" tablet with an HDMI connection so you can plug it into your TV and Bluetooth so you can tether it to your phone to surf the Web (none of the Archos models have phone connectivity) to the $299 7" and $349 10" tablets, which both have HDMI ports and forward-facing Webcams. The widescreen 10" model handles HD video and Archos claims it will play 8 hours of HD video, 12 hours of Web surfing or 36 hours of audio (with similar battery life from the 7" model – the battery is smaller but so is the screen). The tablets show the Archos media heritage with a media player that can handle most DRM and "almost any kind of codec," according to Archos – and the widescreen aspect ratio is nice for watching movies.
Both the 7" and 10" units are exceptionally thin and light, perhaps because they don't have to fit in the phone radio, and they felt as if they'd be comfortable to hold while you're reading ebooks or watching movies – but you don't have to, with the fold-out kickstand on the back.
No phone means they don't have Android Marketplace but Archos has had an online media store for several years and it's expanded this with over 9,000 Android apps, most of them free to download. The tablets come with Android 2.2 and Flash 10.1 and there will be upgrades to the tablet-centric Gingerbread release (probably as a firmware update).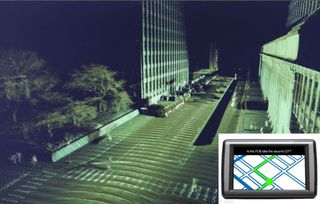 Navteq Natural Guidance
Do you know what 500 yards looks like? How about when you're driving at 50 miles an hour? Street names in GPS navigation are useful, assuming you can read the street sign in time to get into the right turn lane, but the directions you get from friends that say 'turn right at the second traffic signal then turn left before the railroad tracks and it's just after the Starbucks' are easier to follow. At CES map provider NAVTEQ talked up the way it's using multiple cameras and 360-degree LIDAR to capture more detail, and at CTIA it announced that it's turning that detail into more useful directions. It sounds obvious, but you have to take in account whether the Starbucks the database says is on the corner will actually be visible from the road or whether it's tucked away at the back of a strip mall, whether the time of year means trees might make it hard to spot a landmark and so on.
It may be some months before it shows up in your GPS navigation software but what NAVTEQ is calling Natural Guidance is available to developers now and CoPilot has already told us they're keen to add extra information to their driving instructions. We got a demo of what it might sound like and it's definitely clearer. NAVTEQ says 34% of the people who don't have a GPS put that down to not being able to understand the directions, and they think this will help.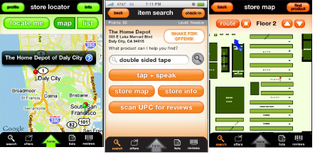 Aisle411 In-Store Shopping App
Your GPS can get you to the mall, but once you go inside you're on your own – and you can waste a lot of time trying to find what you need (or a sales assistant who know what you're talking about and whether they sell it, let alone what aisle it's in). Look in the free Aisle411 app and it looks up a list of stores at your location then lets you search for products inside the shop, comes back with a list of brands and where they should be, and it gives you a map of the store layout to help you find them. The Nuance voice search works well if you'd rather not type, although you only get that on the iPhone app (BlackBerry and Android versions next year) or the interactive 877 number you can call, not on the mobile Web version that works on most phones. We're not sure if anyone will want to check in, get an Aisle411 badge for visiting Home Depot or tweet that they found the right paint but Foursquare integration is coming too – and you can scan barcodes with your phone to look up Amazon reviews. Aisle 411 says it can find products in store 98% of the time if the retailer gives them the stock details (Shop 'n' Save is the first store to sign up), but even working from public information they can get a result 90% of the time – which should make your next trip to Home Depot less painful.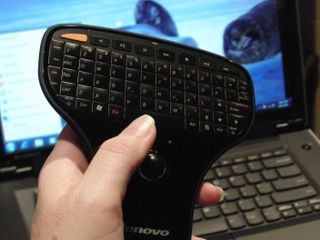 Lenovo Multimedia Remote
You don't have to buy Google TV to be entertained by your PC – but if you want to sit on the couch you need a remote that works with your PC. The odd-looking and simply-named Lenovo Multimedia Remote has everything you need; a full QWERTY keyboard so you can type in URLs (with keys that are big enough to type on comfortably), a trackball that sits neatly under your thumb as you grip the handle and two mouse buttons (though we did find we wanted to click the trackball itself, after so many years of using trackpads on smartphones). It's nicely balanced in your hand, and the row of media keys at the top control music and video; that's Windows Media Center in the background, controlled by the remote. You don't need to worry about infrared or RF interference; it uses wireless USB and has a teeny wireless USB adapter for the many PCs that don't have it built in. And at $60 it won't break the bank.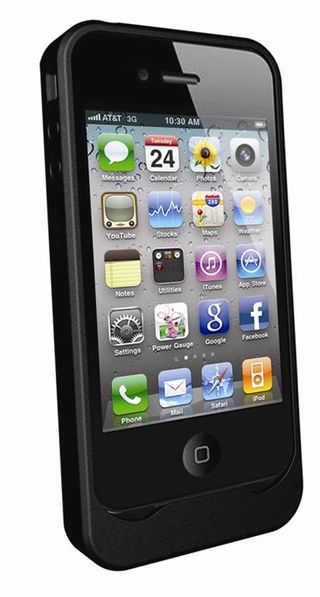 Energizer Silicon Rubber iPhone 4 Charging Case
Energizer is claiming to have the first silicon rubber iPhone 4 charging case with green credentials (it's made from recycled rubber); it's not as heavy as a hard case, but still gives you extra protection. The silicon rubber made it easy to slip on and off our iPhone, and if you're concerned about the rumors of the iPhone 4 glass back getting scratched, this should avoid that too.
At the bottom is a 1500mAh battery that you can use to power your iPhone or to recharge it (and it pumps out power at 1 amp so your phone will fast charge in about 45 minutes rather than the usual 90, Energizer told us). Equally convenient is the fact that the case charges via micro USB and you can charge your iPhone inside it overnight, so you don't need to carry two chargers on the road with you.

Qualcomm Mirasol Screen Improvements
Every time we see Qualcomm's new Mirasol screen technology it looks better than ever. It's a very low power display that works by moving tiny mirrors up and down to reflect different colors; unlike e-ink, it does need some power to keep the image on screen – but that's far less power than LCD or LED screens and also unlike e-ink it gives you a beautiful, vivid color image that you can still read in bright sunlight, and it can play video. The preproduction ereader unit we saw at CTIA was running video at 15 frames per second and looked stunning, with crisp text, detailed images and clear, colorful photos – and without the intrusive e-ink refresh as you turn pages. Mirasol screens won't gradually wear out the way e-ink can; "Each pixel has a support post and the glass is just flexing up and down; we never go past a certain angle so we can flex literally for ever," Qualcomm's Jesse Burst told us.
He also says Qualcomm is shipping screens to the ebook manufacturers now and units with 5.7" screens should be on sale in the first quarter next year.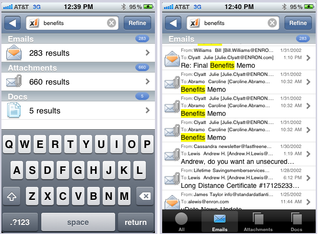 X1 Desktop Search from iPhone
You might have a months' worth of email with you on your phone and if the file you need is an attachment to one of those emails you can find it easily enough, but all of your files and email are on your PC. If you've been using the excellent X1 desktop search, you can now take it with you on your iPhone – and search email, attachments and files remotely over a secure connection (although only on PCs, not Macs). Our search ran quickly, even with the busy wireless network at the event and found the files we were expecting.
X1's file viewers let you view your file and even edit some formats locally if you have an app like Documents To Go; you can also forward them in email, but if you want a copy you can just mark the file as a favourite and X1 copies it to your iPhone so you have it even if you're not online. The iPhone version will be available as soon as it gets through the App Store approval process; Android and BlackBerry versions will come later.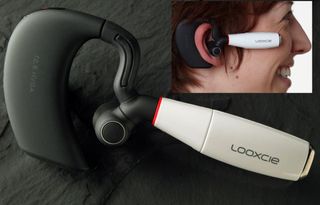 Looxcie Wearable Camcorder
We like the idea of recording photos and video automatically just by looking at them, but while you might be happy to wear a Webcam for skydiving and bungie jumping,they're a bit too bulky and obvious for everyday use. Looxcie (say it out loud to get the point) is a 'wearable' camcorder that looks like a slightly over-sized Bluetooth headset and fits over your ear in the same way. It's surprisingly light and well balanced given that the camcorder part sticks out so it can see past your cheek. Pair it to your Android phone (an iPhone version is coming soon) and you can check that it's not taking a photo of your face or the ground, then leave it running to get four to five hours of recordings you can edit down later. If you see something really interesting, you can press a button on the headset to make a clip of the last 30 seconds (and it's easier to know something is interesting right after you've seen it). And if you get a phone call, you can still use Looxcie as a voice headset…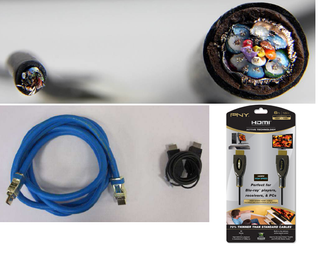 RedMere's Skinny SmartCable
If you buy a ultra-thin LCD TV, the HDMI cable that goes in the back is almost as thick as the TV itself; they're so thick they're hard to bend, impossible to hide – and that much copper makes the cables expensive. RedMere's impressive SmartCable technology puts a chip inside the connector on a much thinner cable (only 20% of the copper and 5% of the plastic to wrap around it); with less copper in the cable you'd usually lose too much information but the chip acts as an equalizer and amplifies the frequencies that the data travels on (much like DSL). Not only can the cable be thinner, it can also be longer. RedMere showed us a 40m HDMI cable that was thinner than USB cable – easier to carry, easier to run along the wall if you're fitting it permanently and much longer than a standard HDMI cable. Monster Cable, PNY and Vizio will be selling SmartCable products this year, with another ten brands offering it next year.
RedMere couldn't tell us the price you'll pay in store, but they do claim to be reducing the cost of making cables; because of the chip, you can test cables much more quickly and cheaply and they have just patented a new system that will make manufacturing even cheaper. "We deliberately mess up the impedance of the cable to allow for lower manufacturing tolerances," RedMere CEO Peter Smythe told us; "we have lousy dynamic impedance on purpose." Manufacturing one of their 'active' cables today costs around $12; by next year that will be down to the same $3 cost as a normal (thicker, shorter) cable despite the cost of the chip. Of course, whether prices drop is up to the companies selling these cables… but we want to be carrying these thinner, lighter cables on the road soon.