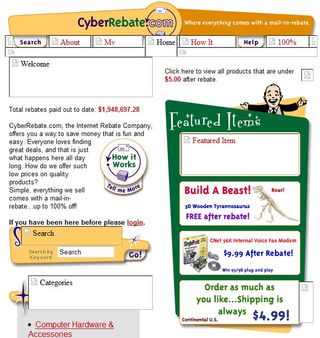 We Hardly Knew Ye...
Let's face it: As both consumers and citizens in the 21st century, the Internet is a big part of our day to day routine. Whether we're staying in touch with friends and family, connected to our workplace, or browsing through the selection of one of a million different online retailers, we are netizens. For each everyday web site like Amazon, Facebook or Google, there are plenty of older web sites that once tasted success but either collapsed in the Dot Com Bubble or just simply failed to live up to the hype. We've compiled a list of 21 such web sites. These destinations had their 15 minutes of fame, but eventually burned up in the limelight. What failed Web hit makes you nostalgic?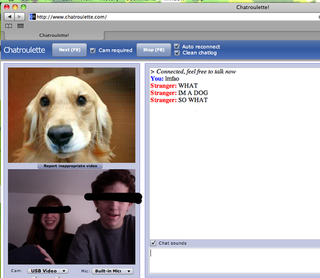 ChatRoulette
There are a few websites on our list that didn't bust or disappear because of money, but instead because their gimmicks became overplayed. ChatRoulette, a site that randomly pairs two webcam-toting users, was the inspiration behind this article, as the site is either at the point of "no returning visitors" already or rapidly approaching it. Launched in November 2009, ChatRoulette quickly jumped into Alexa's (a company that rates websites based on traffic) global top 1,500. While there is no dooming news out about the video chat service, it's only a matter of time before this site completely fades into obscurity. The media frenzy and pop culture buzz surrounding the service is all but gone.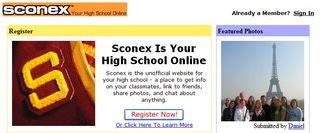 Sconex
While Facebook started out as a college-oriented social network, Sconex, founded in 2004, was for high school students only. Using a team of real-life moderators to make sure content stayed PG-13, Sconex was supposed to be the number one destination for high school students everywhere. While things started out ok, Sconex soon fell victim to Facebook when the site from college co-ed to global. Sconex shut down in mid-2008.
Today's alternative: Facebook, of course! Facebook was already very popular as a college student-only networking service, but when the site went all-access back in 2006...well, you know the rest.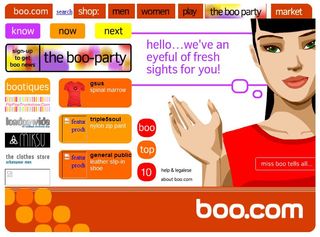 Boo.com
Boo.com was supposed to be ultimate stop for fashionistas online. Founded in 1998, Boo suffered from poor management and a terribly slow website (very Flash and JavaScript heavy, which was murder in the dial-up days), and went through over $150 million in cash before shutting down two years after its doors were opened.
Today's alternative: Clothing still strikes us as something people want to buy in person (sizing, comfort, etc.) However, Amazon has an extensive selection of clothing to buy online.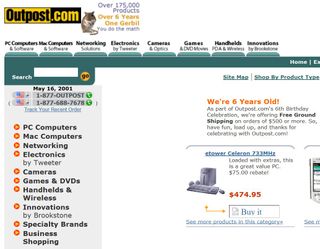 Cyberian Outpost
Cyberian Outpost was one of the first websites online that sold PC and Mac hardware, software and peripherals. Founded in 1994, the site went public with an PO in 1998. Unfortunately, CO was a victim of the dot-com bubble in 2000, and eventually went belly-up. Fry's Electronics bought its remaining assets in 2001, and used outpost.com as its own online shopping destination until only recently, when they switched to Frys.com.
Today's alternative: There are a few popular sites for buying computer hardware, but our favorite is Newegg, by far. It's always hard to beat the great prices/great customer service combo.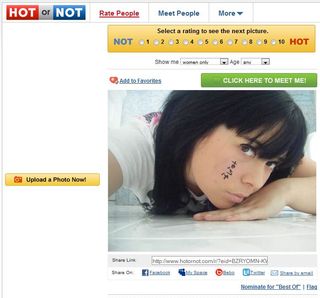 HotOrNot.com
HotOrNot.com has a very simple premise: Look at photos of men and women, and rate them on a scale of 1 (not) to 10 (hot). Started in 2000, the site quickly became one of the most legendary time-killers of all time, making appearances in cubicles and school computer labs across the world. The site still exists, and you can still rate photos, but the luster wore off long before Bush started his second term.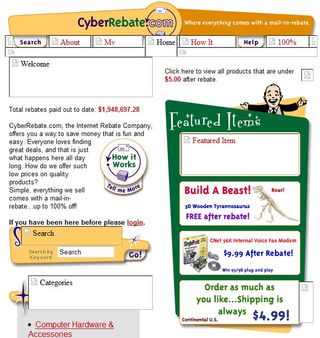 Cyber Rebates
Imagine a website where you could choose from a wide variety of products, and in the end pay nothing for them! That was the idea behind Cyber Rebates, which sold products that came with mail-in rebates, many of which netted the buyer all of their money back. Unfortunately, this business model never generated a lot of money for investors, and the site went bankrupt in 2002, leaving customers with over $85 million in unfulfilled rebates.
Today's alternative: While there isn't any rebate site to speak of, the modern equivalent is definitely bargain sites, like FatWallet, Woot, and LogicBuy.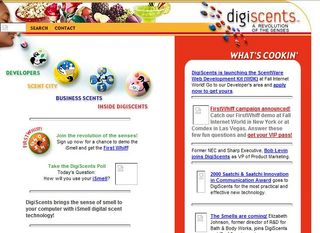 digiscents
While 3D is the newest sensory craze, digiscents wanted users to be able to smell whatever webpages they were visiting. The idea never fully got off the ground because of funding issues, but digiscents had contracts lined up with fragrance and flavor companies. It would definitely be an interesting take on the World Wide Web, but needing an extra device (some small USB-powered box, perhaps) in order to smell something that doesn't rely on that sense at all, and we understand why the idea went bust.
Today's alternative: None really, although 3D isn't too far off...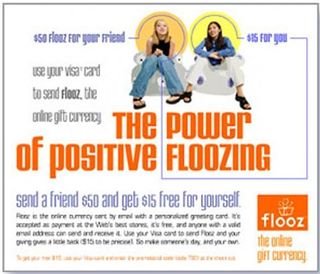 flooz
Flooz.com was the first major attempt at creating an Internet-only currency. Founded in 1999 amid much fanfare (including TV spots featuring Whoopi Goldberg), Flooz was a form of money that could only be used at participating online retailers. Members could buy currency with a credit card, or earn it through purchases and referrals. Flooz went under in 2001, and was considered the first of many high-profile companies to collapse in the dot-com bubble. Flooz reportedly burned through at least $35 million in funding.
Today's alternative: Gift cards would probably be the closest substitute, but there isn't any popular option that merits comparison.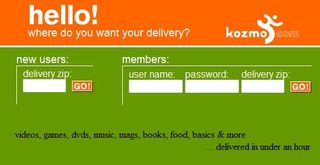 kozmo
Kozmo was an online serivce that promised to deliver nearly anything you wanted within 60 minutes of an order being placed. From DVDs and magazines to ice cream and games, Kozmo opened its doors in 1998 and raised about $250 million by the end of 2000. Another dot com bubble victim, Kozmo eventually closed its doors in 2001 and laid of over 1,100 workers.
Today's alternatve: When it comes to food, PeaPod by Stop & Shop is very popular, but most food delivery services (that aren't attached to specific restaurants) are locally-based and not national chains.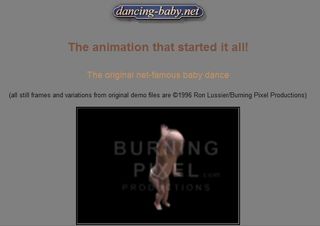 Dancing Baby
The Dancing Baby is one of earliest example of an "Internet meme," starting way back in 1996. The animation was very simple, being a short, three-second looped animation of a baby dancing in place. The origins of the animation go back to a studio called Character Studio, and the model eventually found its way to LucasArts where it polished up. The Dancing Baby found serious fame when it was featured in the TV show Ally McBeal, where it represented Ally' expiring biological clock. The Baby was also featured in a episode of The Simpsons. The original Dancing Baby website now links to a company called Burning Pixel Productions, but the site still has the baby dancing away.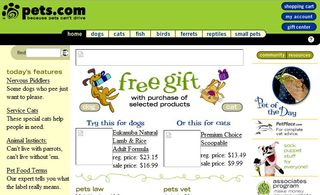 pets.com
Pets.com was the first noteworthy destination for buying pet food, toys and supplies online. Most famous for its sock puppet mascot played by Michael Ian Black, Pets.com lasted for barely one year (1999-2000) because of its complete lack of revenue. Nearly everything on the site was sold at a loss, and the company spent over $11 million in advertising while pulling in under $700,000 in its first fiscal year.
Today's alternative: The Pets.com domain is now owned by PetSmart, which uses the former as a community blog. PetSmart and Petco are the two big kahunas in the pet supply world now, and both run websites where you can buy anything from dog collars to kitty litter.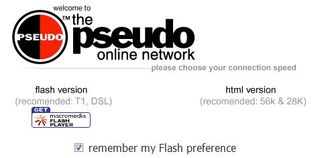 Pseudo
Founded in 1994, Pseudo was definitely ahead of its time. The website was a portal for audio and video streaming, back when most people were still rocking 28.8 kbps modems. Throughout the mid 90s (the site started gaining traction in 1996), pseudo had a number of different "channels" on its site that covered everything form music to games to movies. All of the content was created at pseudo's studio in Manhattan. Like most of the other sites on our list, pseudo went under in 2000 due to a lack of investors, and its assets were bought by INTV.
Today's alternative: YouTube for video and iTunes for audio (podcasts).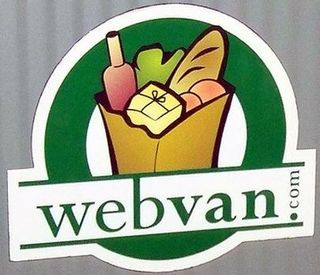 webvan
Webvan was the first direct to consumer online grocery service, founded in 1999. In just 18 months, Webvan managed to raise over $375 million dollars in its IPO, and was eventually valued at $1.2 billion. Having expanded from San Francisco to eight other major cities, it seemed like Webvan was on top of the world. Unfortunately, because of super thin profit margins and excess spending ($1 billion on warehouses alone), Webvan eventually folded in 2001.
Today's alternative: Again, Stop & Shops Peapod service is the closest, but because food delivery is largely regional, we doubt anything will reach the magnitude of Webvan ever again.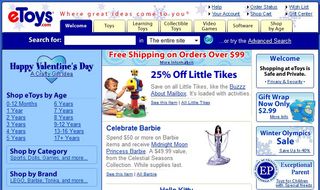 etoys.com
Along with the dot com bubble, the turn of the century was also home to a lot of Internet "firsts," including the first large-scale online toy store. After gaining $148 million in a 1999 IPO, eToys suffered the same fate as Pets.com. While the site was popular, it spent way too much on advertising. The stock price went from an $84 high to a nine cent low in under two years. eToys assets were later bought by KayBee Toys.
Today's alternative: eToys is back! While it doesn't have the same kind of following (yet), eToys is up and running, offering a myriad of new toys at great prices.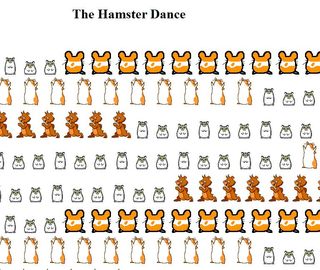 Hamsterdance.com
Yet another excellent time-killing webpage of the 20th century, Hamsterdance.com, proved to be a very simple website. Once you navigated to the page, you were greeted by a giant mess of Flash-based dancing hamsters, grooving to a sped-up version of "Whistle Stop" by Roger Miller. The site was started in 1998 as part of a competition between founder Deidre LaCarte and a friend to see whose website could grab the most traffic. The URL is now owned by Abatis International, and features several different kinds of hamster dancing, but that site has never achieved the level of success of the original.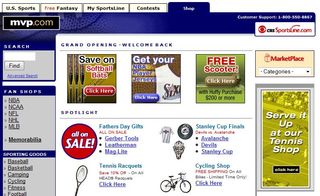 mvp.com
Initially supported by the likes of John Elway and Michael Jordan, MVP.com was supposed to be the online destination for sports memorabilia. At its peak, MVP.com raised $85 million and signed an equity stake agreement with CBS Sports. However, the deal went sour a year later, and MVP.com was forced to declare bankruptcy. SportsLine eventually bought the domain, and the site is now an official CBS Sports Store.
Today's alternative: There isn't any one popular destination for sports memorabilia, unless you count an auction site like eBay. For now, you're either bidding or pestering athletes for their autographs.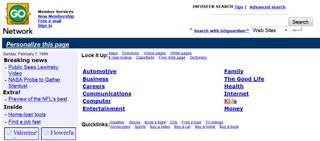 go.com
Much like Yahoo! or Lycos before it, Go was Disney's version of the all-inclusive Internet destination. Founded in 1998, Disney paired Go with Infoseek, another search tool they had acquired earlier, but the portal never really took off. By the time Go was shut down in 2001, the site had lost over $750 million. Go now acts as a planning portal for Disney vacations.
Today's alternative: Yahoo! still exists, and competitors like MSN offer many of the same services as well.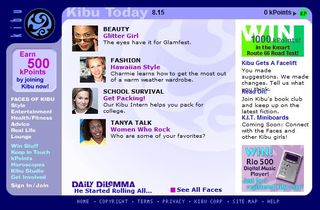 kibu.com
Kibu.com was an early social networking site that had girls in mind. Founded in 1999, kibu raised $22 million in funding, only to close less than two months after its launch party in 2000. While the company had not yet run out of money, the management foresaw what many other sites did not (the dot com bubble bursting), and decided to cut things short.
Today's alternative: Facebook, since there is no current "girls only" social network online (that we know of).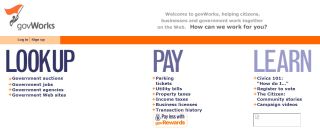 govworks.com
Perhaps the most famous of all the busts on our list, thanks to its appearance in the documentary startup.com, govworks.com wanted to bring its users closer to all levels of government, and in a good way! From simplifying paying parking tickets to keeping users in touch with politics to listing open government jobs, govworks.com had the makings of a star. However, due to infighting and lackluster software, govworks soon went the way of the dodo.
Today's alternative: Thankfully, most cities and many towns allow you to pay parking tickets online through some sort of local government site.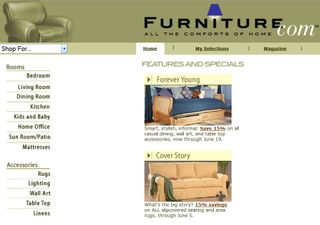 furniture.com
Furniture.com...the name says it all! Like with any other online retailer, furniture.com sought to cut out the middle man and ship furniture directly to you from its salesman-less online store. Thanks to a canceled IPO, ridiculous shipping costs and a lack of funding, Furniture.com went bankrupt in 2000 after only two years online.
Today's alternative: Furniture.com actually came back in late 2002 with new management and a new business strategy. In cooperation with local furniture warehouses, the site can now deliver without charging gobs of money for shipping and handling. And hey...there's always IKEA!!!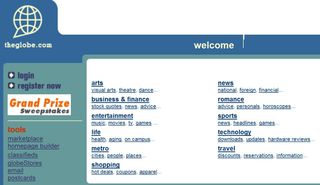 theglobe.com
Theglobe.com is considered by many to be the first social networking site ever created. As a place where members could share common interests, theglobe became famous when its IPO posted the largest single-day gain in the history of the stock market. Founders Stephan Paternot and Todd Krizelman were both worth roughly $100 million each at the time, but less than a year later, the stock dropped form $97 to less than ten cents per share.
Today's alternative: Where else can you turn but Facebook, So many social networking sites have come and gone since the globe, but you must give credit where credit is due. the globe was also a publisher of several gaming magazines, including Computer Games and MMO Games.