Private Tour Of Samsung's Gadget Collection
Enter the Samsung Imaginarium
In May of this year, Samsung offered to fly a handful of tech press and analysts to tour its LCD manufacturing facilities outside of Seoul, South Korea. I was one of the five who ultimately attended. Soon, you'll see the this LCD tour over on Tom's Hardware. But our group hit a few other sites of interest, as well, including the d'light tech showcase in Seoul and the DigitalCity (an odd name for a tech museum) in Suwon. After taking in both of these sites, I had many impressions, but above all else I was stunned by the breadth of Samsung's innovation and coverage within the consumer electronics space. It really is a microcosm of the entire market. Within this view, one can see where we've been, where we are, and perhaps get a glimpse of where we're going. I'm going to try and show you what I saw as I saw it, starting with this view of the d'light facility's three-storey exterior, which feeds (appropriately enough) into a large, very urban shopping mall.
Lest any sceptics think otherwise, no, neither Tom's Guide nor I were paid in any way for this article. We decided to do this photo story because we love gadgets and tech history and because, after all, how often do you get the chance to travel half way around the world to see stuff like this? Beforehand, I wondered if Samsung would give its small band of guests any cameras, displays, phones, or anything else from the galaxy of products you're about to see. Know that, aside from the insanely delicious hotel buffet, Samsung made no effort to positively bias me in any way. I went home with nothing more than a set of cuff links and a tie clip showing off (presumably faulty) Samsung flash memory chips. Now, if the cuff links had used actual working flash storage, like 4GB on each arm, that would have been cool.
Say Cheese...20 Feet of Cheese
As you enter d'light from the street (see a video clip of the look-around here), the first thing you encounter is a counter featuring a shiny black slab featuring an on-screen keyboard and a point-and-shoot digital camera for a hood ornament. The charming attendant volunteered to take our photos and tap in a bit of information about us. This was relayed up to a wall plastered with LCD panels and displayed (after a bit of image filtering) as part of an ever-rotating mural. For companies that want to make an impression with digital signage, this is pretty slick.
What? No Disco Ball?
As a kid, I always wanted a house with an entertainment room, including a dance floor. The floor didn't have to be exactly like the one in Saturday Night Fever but I wanted something similar. Now that I'm all grown up and hopelessly addicted to information, this floor, made out of digital signage and controlled by a little notebook, is so much cooler than anything I ever imagined while growing up. Can you imagine if your hallway floor was a 24x7 RSS feed or social media display? I need my meds just thinking about it....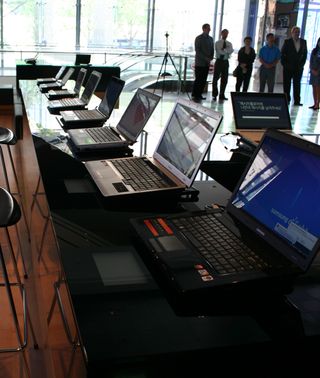 Ordinarily Portable
While the rest of the tour group continued to gaze in awe at the signage floor, I grabbed a shot of this row of Samsung notebooks. You don't hear much about Samsung portable PCs in the U.S. currently, and I could see why. There were a lot of models spread around the building, but nothing jumped out at me. It would be foolish of Samsung not to have an end-to-end line of notebooks for markets, such as Korea, where it's presence is stronger. I found a similar row of netbooks one floor down. And while all of the models looked attractive and capable, nothing struck me as unique, almost like the entire notebook category was just another way for Samsung to sell more screens.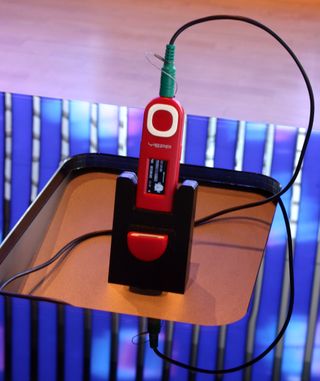 Yepp...Or Nope?
Apparently, Samsung's Yepp series of MP3 players remains alive and well. I haven't heard much buzz about this line in the last few years, especially with Apple and others pushing the dedicated player space into the smartphone realm. Samsung's inclusion of the lonely device here seems almost like an afterthought, saying, "Hey, I was important! And I'm not dead...yet!"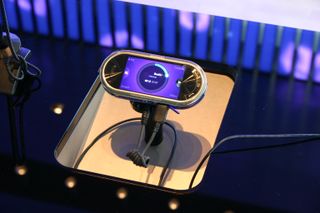 Beat It
Samsung knows that one of the best ways to find dominance in the consumer phone market is through kids. Thus we have the Samsung M7600 Beat DJ, a slick little AMOLED touchscreen phone with rear-firing stereo speakers. The speakers use Bang & Olufsen ICEPower (ICE stands for Intelligence, Compactness, and Efficiency; see here), which aims for maximum quality sound output with extremely little heat and power draw. The idea is that users can mix and scratch tunes, add effects, and let their musical imaginations go buck wild. You can check out a little video clip of the Beat DJ in action here. The phone seems never to have caught traction in the U.S., but it's an interesting implementation of a feature phone based on music creation rather than consumption.
Blinded With Display Science
Almost as cool as the info-floor was what I called "Godzilla's display blinds," even though I wasn't in Tokyo. Imagine 20-foot tall vertical window blinds that cover an entire wall, and each slat is part of a giant LED display covering the wall. The entire display is controlled from a netbook-sized touchscreen system embedded in the counter standing near the wall. The interface lets you select which icons to show on the wall. At this scale, you'd expect that the image would be projected from across the room, but it's not. Each plastic slat is its own display, albeit a fairly low resolution one. As both resolution and the controlling interface improve, imagine where such displays might someday be used. I just wanted to play Space Invaders on it.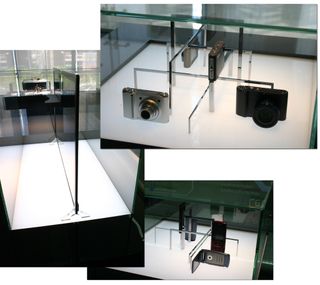 Famous Firsts
Up the escalator awaits a small but interesting collection of recent but notable Samsung gadgets. One glass case held four of Samsung's hottest point-and-shoot cameras. Another held cell phones (the only one of which I recognized was the Blackjack). Perhaps the biggest standout was Samsung's first LED flat panel TV, which gained fame for its incredible thinness.
The Proto-Tablet
Long before this year's obsession with the iPad, 2006 saw the birth of Samsung's Q1 ultra-mobile PC (UMPC) family. The device arrived bearing Windows XP Tablet edition, which might have partly explained the ensuing lackluster sales. The version you see here looks to be 2008's Ultra Premium variant, which continued Samsung's move away from reliance on an on-screen and instead put half of a QWERTY keyboard under each thumb. The slogan by the Q1's showcase reads, "Paving the Way Toward the Future." Well, the future seems to be heading back to on-screen text entry, and I saw no modern, consumer-slanted tablets in any of Samsung's showrooms. We already know that Google's Android OS will run on a Q1. Perhaps whatever tablet Samsung devises next will, too.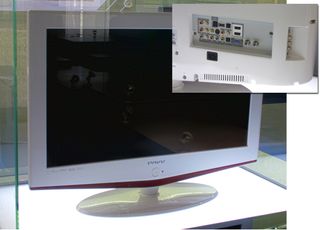 Is White the New Black?
I remember when the first black PC cases started to appear on the consumer market. At the time, it was a pretty huge aesthetic step. Similarly, it took a lot of guts for Samsung to market the first LCD television with a white bezel. Moreover, Samsung even added that broad V-shaped red accent along the bottom, perhaps setting the precedent for the company's present line of red-tinged home theater gear. I have to give kudos to Samsung for not just being bold in its electronics designs but for jumping out in front of the entire market, even if those risks don't always take hold.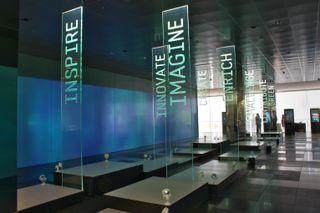 Leaves of Glass
Normally, I'm not a big fan of marketing and catchy buzzwords. Still, I have to pause and offer a glimpse of this glass-pillared walkway joining the two halves of d'light's top floor. I did my best to capture the scene here with a six-exposure HDR photo, but it's far more striking in person, really capturing the essence of "inspire" and "imagine," a striking blend of art and advertising. Now that I think about it, maybe these are the blades of "grass" alluded to earlier. If so...nah, I still don't get it.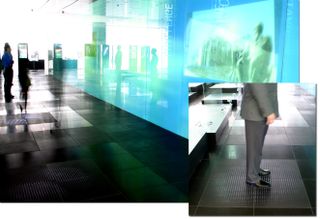 The Spiral Marks the Spot
You can walk down a hallway on either side of the glass pillars, and at various points on the floor, there are large tiles with spirals illuminated by pulsing LEDs. When you stand on them , the spiral pattern pulses, and a moment later a large section of the wall in front of you comes alive with video. For instance, one such video was an advertisement for a Samsung digital camcorder. We're not quite to the point of Minority Report, where such hallways can scan you and instantly craft in-wall advertising tailored to your consumer history as you walk past...but this little passage struck me as an early harbinger. Between you and me, I'd rather see this technology employed in zoos and museums in an informative capacity. Of course, you could just shrink the pressure sensors, make the display interactive, and have Dance Dance Revolution embedded in your family room. Interestingly, the opposite wall display wall was covered by a constantly cascading sheet of water. You can check the video clip of it here.
Touch Me, Tasty
Just beyond the glass pillars are a half-dozen or so black monoliths standing six to seven feet tall. In a slight homage to Arthur C. Clarke, I privately termed these "eduliths," as several of them seemed to be meant for educational use. They're essentially touchscreen signage systems in different packaging. One appeared to be some sort of brain exercise on shapes and spatial intelligence, like an SAT quiz. Another, shown in this video clip, seemed to be a half-baked tutorial on pasta. I suspect the demo was meant to convey a potential concept, not a working app. The photo shows an animation of Samsung's "one card solution," in which a single piece of biometrically-locked plastic could hold access to all of your credit and debit accounts—essentially a one-card-fits-all solution.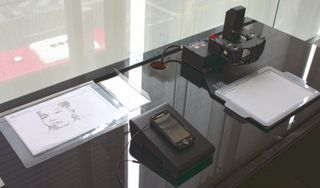 Sketchers
I confess, I have no idea what this is. Our group didn't pause for it, and there wasn't enough English posted nearby to give me clues. But apparently, the setup gives the ability to output from a cell phone, presumably after some photo editing and filtering, straight to a drawing printer. I'd guess that the printer could be loaded with a range of pen types, perhaps even pencils, crayons, or chalks. If anybody has details on this, please post them.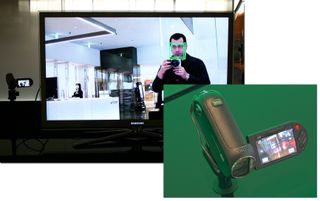 A New Degree With HD
And back down the escalator, twice. The ground floor, which opens into the mall, seems to be where most of d'light's traffic gravitates, including an endless supply of kids crowding the gaming consoles. (No, Samsung doesn't make consoles, only the displays to which they attach.) To make the point again about how Samsung thinks differently in design, here you can see last year's R10 camcorder capturing the face of yours truly as a dynamic focal point. I believe the R10 was Samsung's first handheld consumer camcorder able to capture in full 1080p. The company has it tagged as being the world's smallest camcorder with full HD capability. But the R10 is also noteworthy for its physical design. When you hold a camcorder, you normally have to crank your wrist in order to get the camera, and thus its lens, oriented parallel to the ground. Samsung solves this ergonomic snafu by orienting the lens on the top-front corner of the camcorder at a 25-degree angle, so as you hold the device naturally and have your wrist straight, the lens points straight ahead.
Cell Phones in Series
There's no question that Samsung values the cell phone market—the devices were all over the d'light facility. This line only shows a few of the many Samsung phone options, and I suspect most of them are meant to spotlight Samsung's cutting edge use of OLED display technology. Strangely, though, most if not all of the models remain married to Windows Mobile, which has so far been a train wreck for Microsoft in the handheld market. (Informal sources tell me Windows Phone 7 will put Redmond back in the race. We'll see.) I couldn't help but wonder if Samsung's admittedly deserved obsession with display technology is diverting it from attention to other areas that might yield even greater success.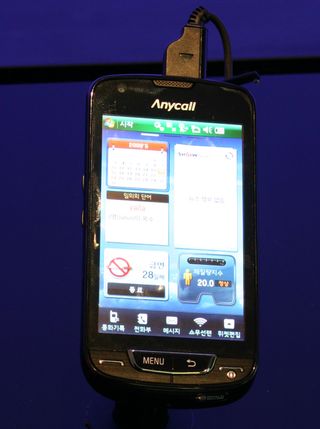 Yo, Bro
I don't mean to say that Samsung isn't keeping pace with the smartphone market. It is. In some ways, it's even leapfrogging a lot of the competition. For example, take the Omnia II "Show" phone pictured here. Never mind the 3.7" AMOLED touchscreen and 5MP+VGA dual-camera setup. This phone's headline feature is that it's the "world's first 3W smartphone." 3W stands for WiFi, WCDMA (HSPA), and WiBro. WiBro is the South Korean spin on 802.16e, better known as mobile WiMAX. The first South Korean telecoms with WiBro launched their 4G services in 2006. How backwards do you feel now?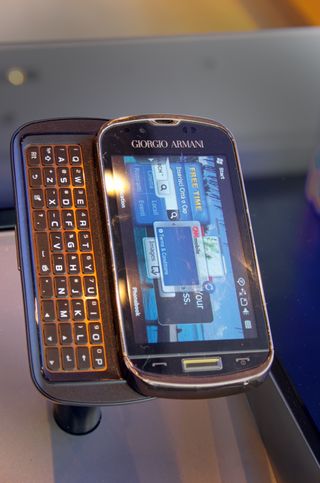 Put Some Bling in Your Ring
Back in 2007, cell phone vendors seemed determined to cultivate premium phone models with elite brand tie-ins. LG had its Prada phone. Samsung countered with the Georgio Armani, much less glamorously known as the SGH-P520. Priced at over $550 at the time, the Armani had a 2.6" 240x320 display. Today, Samsung has updated the phone as the Armani II B7620, with a 3.5" AMOLED display (800x480), 3G and WiFi connectivity, and a 5MP camera. Perhaps with a nod to Nokia, the Armani phone's screen tilts up a bit for better video viewing, although Samsung wasn't showing the screen this way in the showroom. You can grab an unlocked Armani II on Amazon for $813.84. Hey, why not? Get two. Just know that this Armani might go out of style faster than the suit.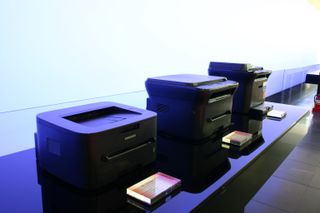 And Printers, Too
Samsung generally isn't considered one of the top laser printer brands here in America, which is unfortunate. I've gone through two HP printers in the time that my Samsung ML-1450 has been chugging along as my primary laser workhorse. The company has plenty of models, and a few were on display here, although I'm not sure that our guide even paused for them. Pity. Give them a look if you get a chance.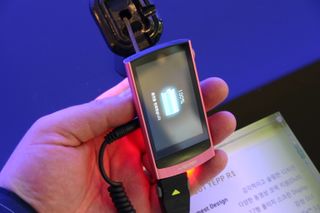 The Portable Media Player Survives
Almost buried behind Samsung's avalanche of cell phones was this little gem, the Yepp R1. I know, I was just dissing on the Yepp MP3 player. And if all I told you was that the R1 had a 2.7-inch touchscreen, Bluetooth, up to four hours of video playback, and up to 50 hours of audio, you'd probably shrug. If I reminded you that the iPod nano, which is nearly the same size, only had a 2.0-inch screen, you might be more interested. And perhaps the inclusion of Beat DJ, mentioned as a phone app earlier, might rouse you further. For me, the inclusion of in-canal headphones instead of the ubiquitous and awful ear buds is a huge point, and then there's the fact that it's so wispy, thin, and lightweight in the hand. Again, I think smartphones will swallow this product segment, but the R1, which just arrives recently in the U.S., proves that portable players still have some playtime left.

Getting Connected
Last year, Samsung beat Google to the Internet TV punch with its line of high-end, Internet-connected LCD televisions. The sets made headlines with a range of live widgets, including for eBay, Twitter, Flickr, TV Guide, several Yahoo! feeds, and on-demand videos from Blockbuster and Amazon. Perhaps it was Samsung that lit the fire under Google TV. All I could see was that the models were wicked thin and gorgeous to look at. I mean the screens.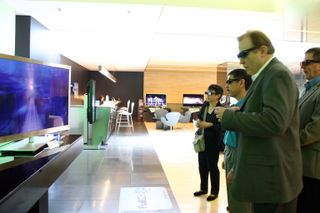 3D for 6K
Allow me to demonstrate that Samsung didn't pay me off for this article: I may be proven wrong later, but I still maintain that 3D displays for mainstream TV and PC applications are dumb. I've been dazzled by technical briefings, impressed with demos, and, yes, I've watched Avatar in 3D. But no, I still don't get it. When the hype settles, you're still dealing with freaky glasses, keeping your head in one exact spot, and/or impairing the visual quality of the original image, all for the privilege of paying (as in the case of this Samsung 9 Series 46" for $5,999) a steep price premium. If 3D actually added any new information to the image, I might be impressed, but it doesn't. Yet Samsung, NVIDIA, Hollywood, and many others are betting big that consumers around the world will view 3D as the next must-have feature. I hope the category will continue to mature and improve to the point that I'm forced to change my mind.

One Room, Many Screens
In the middle of the basement sits this comfortable showroom-in-a-showroom meant to illustrate Samsung's technology for streaming content from any of several devices out to your big screen. Curiously, there was no live demo of this capability running while we were there, at least not that I could tell. But the idea was clear enough: We now bring a wide range of devices into our living spaces, most of which have cross compatible media files although not necessarily cross compatible sharing methods. Samsung is trying to solve that sharing bottleneck.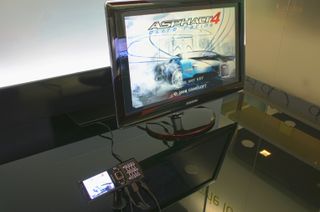 Why Phones Need Screamin' GPUs
I twiddled with this little demo for a few moments, just long enough to make two observations: 1) Being able to output a racing game from the phone in your pocket to the full-size monitor on your desk is freaking cool. 2) Until phones have better GPUs able to handle enough high-frame rate resolution to such monitors, the results will look terrible. I won't say the game ran on the monitor. It walked. It was passable. But the pixelation was fearsome to behold. When we get this output concept with better scaling and no wires, that will be a beautiful day.
Appliances!
After all of that touring, who's thirsty? It just didn't seem right to leave d'light without mentioning the world of Samsung appliances. While it's obvious that this showcase emphasizes Samsung's display technologies, I was still impressed by some of the whizbang appliances Samsung had scattered about. You can keep the dedicated kimchi freezer, thanks, but I'll definitely take one of those built-in espresso machines. And I've never seen such high-end, decorative refrigerators before in my life.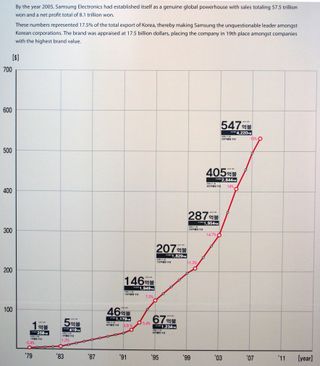 Country Within a Country
I'll detail this a bit more in my Tom's Hardware LCD story, but suffice it to say that within the country of South Korea, Samsung is massive on a scale that simply doesn't exist in the U.S. One of the presentations I saw stated that Samsung accounted for 13% of South Korea's Gross Domestic Product (GDP). This placard viewed in the SuwonDigitalCity shows that Samsung now accounts for 17.5% of all South Korean exports. This sort of exponential rise in revenues is obviously unsustainable over the long-term. But I sure didn't see any signs of slackening in my travels.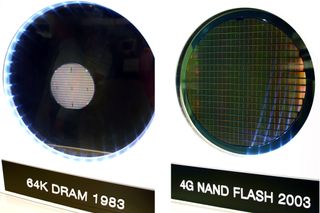 Thanks for the Memories
We've barely touched on the memory side of Samsung, but the company is actually one of the top suppliers of DRAM and NAND flash modules (the type used in flash drives and SSDs) in the world. This shot gives you some glimmer of what 20 years in the memory business can accomplish. Samsung went from making 64 kilobit modules in 1983 to roughly 4,000,000 kilobit (4 gigabit) modules in 2003, and that was with a dramatic increase in wafer sizes so each wafer would yield far more chips.
Early Kitchen Convergence
The writing was already on Samsung's wall back in 1983 with the arrival of the RE-555CTV microwave oven. This model returned no hits for me in Google, so I'm not sure if it ever actually went to market. More likely, this integration of kitchen cooker and 5" television was a concept device, but it clearly showed Samsung's early understanding of consumers' desire for convergence and everyday convenience in new device formats.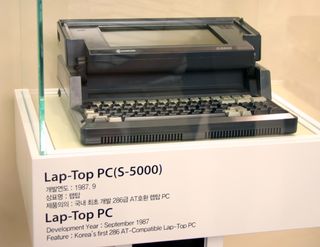 286 Ounces, Perhaps
I remember dedicated word processors from the late '80s that looked a lot like this, but apparently Samsung's S-5000 was the company's first portable computer. Aside from the given September 1987 launch date and the fact that the beast ran a 286 processor, I have no other info on this unit, which is too bad. I'd love to know what that thing weighs. It's no Compaq luggable, but it has to be close.
Samsung's First Cellular
The following year, Samsung delivered its first cell phone. Reputedly weighing in around 700 grams (just over 1 pound 8 ounces), the SH-100 was sometimes known as the "Fridge Phone." That was for its size, of course, not its cool temps and power savings. I don't know what the fuss was about. My first cell phone was a 1991 model that corded to an antenna-toting battery cradle, was about the size of a small hardback, and was heavy enough to require a strong handle. In comparison, the SH-100 from three years prior was a marvel of compact, wireless simplicity.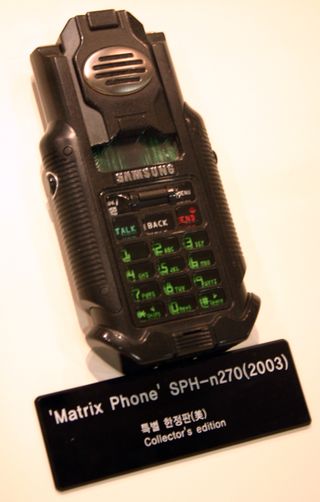 Enter the Cellular Matrix
When I think "cell phone and the Matrix," I think of that slick Nokia unit that got dropped in a trash can during the first movie. However, Samsung nabbed mindshare with the second movie and its SPH-N270 "Matrix phone" in 2003. Most notable for its "digital rain" background and snap-up earpiece, the phone also had assisted GPS and voice dialing capabilities for a 300-person contacts list. Officially, only 10,000 Matrix phones were ever made, and it only worked on the Sprint PCS network, which, back then, was only marginally better than the Matrix Reloaded movie. I can't think of another movie-related cell phone that's appeared since this one. That's probably a good thing.
Sharing the Wealth
I'm a big believer in charitable giving to worthy, constructive causes. If I ever thought I could find a readership for the story, I'd try to do some sort of "best of" profile of the top 10 philanthropic organizations within the PC industry. One time, I interviewed the top marketing executive at an enterprise networking vendor (not one of the bigger names) in order to do a profile story on the company. I asked him about their charitable work, either globally or within the community. They didn't do any, ever—not at any time in their 12-year history—and the exec's practical incomprehension at my question left me vexed and depressed.
While the Suwon Samsung museum doesn't go out of its way to tell people about the company's philanthropic efforts, I did find this one photo in a glass case. What you can see in the picture is that this $800,000 donation was given to an overseas cause, specifically for poor children and families. However, what you don't see, and what our tour guide mentioned in passing, was that the money went to America for education.
And More Apps
I've shown a few of the Suwon location's chief curiosities. For sure, there were plenty of others—everything from Roomba clones to the first Samsung desktop PC. I saw a six-monitor LCD stand made for AMD's Eyefinity technology, washers, dryers, Blu-ray players, air conditioners, more kimchi freezers, but it's telling that one of the larger display areas in the building is dedicated to Samsung's Ethernet-enabled LCD TVs and their ability to run applications. We saw this earlier in d'light, and Samsung reinforces it here. The days of smart set-top boxes are numbered. Soon, your TV will be just another display node on your home network, and IP-based TV will be just one of several content forms you pull from the Internet. Whether and how the current cable and satellite services survive this transition will be interesting to watch.
Back to the Future
Samsung's success, and South Korea's along with it, is not accidental. While we Americans often think that a five-year time plan is unimaginably long, Asian companies often plan in 10- and sometimes 20-year increments. These people know that education matters, and young learners need future-looking tools to not only compete but excel on a global playing field. This fact struck me hard when watching a demonstration of what I can only call a digital chalkboard. The brilliance of a 30-year-old technical innovator starts in the classroom when he or she is 10 and learns with devices like these. Better tools can yield better results. For me, this was the real message behind all of Samsung's digital wonders. New technologies are most valuable when they can help improve lives and make the world genuinely better. In between all of the digital player and 3D creampuffery, I saw that Samsung recognizes this and is taking human welfare into consideration alongside human entertainment. And if the products that come from those innovations look like dazzling pieces of futuristic artwork, well, so much the better.