Best New Features in IE9 Browser Demo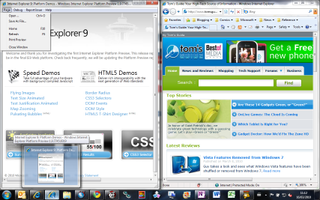 You Can Try It Now
Microsoft isn't talking about a date for when Internet Explorer 9 (IE9) will officially launch, but you can try out the first version by downloading it for free.
What you get isn't a full browser interface while IE General Manager Dean Hachamovitch promised that the team will do "heavy lifting in the user interface and experience" for the final release. "A lot of things we're planning are deliberately not in the preview," Hachamovitch said. The plan is for the IE team to get the browser engine out quickly and update it every eight weeks. There's no back button, address bar, favorites, or malware protection, but you can use the Page menu to open any site you want to try out in IE9 and you can run it side by side with IE8. What you do get is the page rendering, the new JavaScript engine, the HTML 5 support, and the hardware acceleration.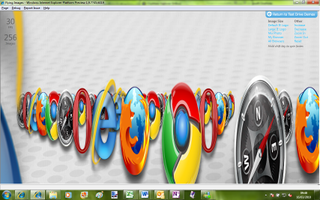 Really Fast, On Most PCs
This is the IE9 preview running on a Centrino 2 Netbook with Windows 7 and Intel's integrated graphics, which certainly does not offer the most powerful processing and graphics power. As the mouse is moved across the screen in this test, 256 spinning icon images follow the arrow at a rate of 30 frames per second (FPS). That means even budget PCs get the benefit of hardware acceleration. Try this in other browsers like Chrome and Firefox and the FPS value for images is lower.
IE9 is fast because it uses DirectX to hand the image processing over to the GPU, which is better at graphics (and moving large amounts of data around fast). It also leaves the main processor to handle the rest of the page or whatever else you're doing. "There are two big pieces where Websites spend a lot of time: one is JavaScript and the other is rendering," Hachamovitch said. "I just want to get this stuff on the page and on the screen. It turns out GPUs are really, really good at this."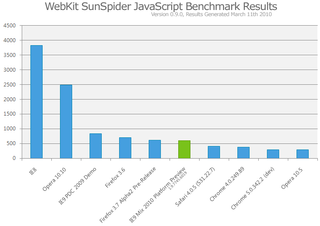 Faster JavaScript, 2 Ways
IE9 has a completely new JavaScript engine that gets a much better score on the SunSpider benchmark compared to the performance of IE8 or the demonstration of IE9 that Microsoft gave last year. That's not because IE9 is tuned to run SunSpider well but because of the way IE9 handles JavaScript.
"There's a new JavaScript engine in IE9, "Hachamovitch said. "And the thing that is really cool is that in addition to having a faster interpreter, it has this alter ego in which it is a compiler. Unlike other things you experience on the Web today, it operates in the background [so you] get all the benefits of the compiler but you don't have to wait for it."
Compiled code is faster, but not if you have to wait for it to get compiled before the page can load. IE9 sends the JavaScript to the second core on dual-core PCs so the compiling happens in the background and takes over from the slower interpreter as soon as it's ready. Even in the preview version, "we're speeding up the real Web today," said Jason Weber, the principal IE program manager. "We believe we've sped up everything by 10% or 11%," Weber said.
JavaScript Performance In IE9.png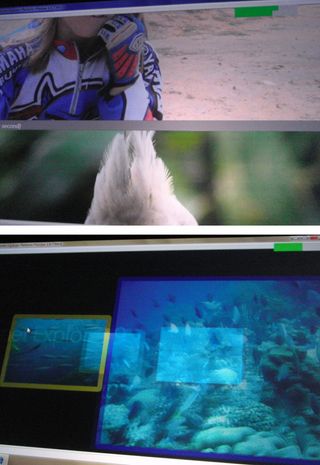 Built-In Audio, Fast HD Video to Come
HTML 5 has tags for audio and video so they get played by the browser, without you having to install any plugins like Flash or Silverlight. It doesn't mean that Flash is going away anytime soon, since for one thing, the group defining what will become the standard for HTML 5 couldn't decide on what video and audio codecs to specify. It's thus left up to browser vendors, which may not all pick the same codecs. IE9 will support MP3 and AAC right in the browser for sound and MPEG-4 and H.264 for video. The audio tag is in the IE9 preview, while the video support isn't in the preview release. However, Microsoft showed us the YouTube HTML 5 video site running in an updated version of the preview, which will be available in one of the eight weekly updates.
The IE team also showed a page with two HD video streams playing side by side. Because of the GPU acceleration, this runs at 60 FPS in the IE9 preview, without stuttering or lag, while the green bar in the top right corner shows how busy the processor is. In Chrome, the same page runs one video, very slowly, stopping and starting frequently and the CPU usage is at 100%.
The second video demonstration here is a carousel of multiple videos composited together on the page, animating as you use your mouse with transparency, so as they rotate, the videos fade in and fade out. Again, this runs better and faster in the IE9 preview because of the hardware acceleration and the Website doesn't have to do anything different to get this. "Your site doesn't have to change," Hachamovitch said. "It just gets faster on Windows with hardware acceleration."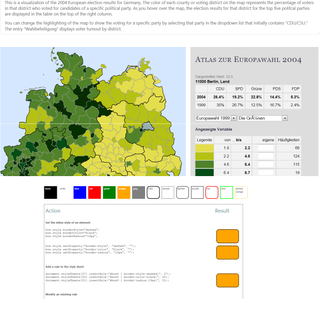 Interactive Sites, Without Slowing Down
With HTML 5, CSS 3, and SVG, you can build Web apps that are much more powerful than what you can create with Ajax and JavaScript. These tests from the IE9 Test Drive page show an interactive map of the German elections and the way a feature called DOM Style lets you change colors and effects on a Web page. The changes happen without the page having to refresh or reload data from the server and it feels like using an app rather than a Web page. What the IE team has been thinking about is the kind of apps people will be able to build with HTML 5 and how to make those fast, which is why so many things in IE9 use the GPU. "We had the opportunity to look through HTML 5 and think 'how will this go? how will it stress these systems? How is it going to stress the Internet?'" Hachamovitch said. The conclusion? "This stuff is really going to need the hardware in ways HTML apps and Ajax apps don't. The next generation of things is going to be way richer and much more demanding," Hachamovitch said.
To get an idea of what HTML 5 apps might do, the IE team worked with Bing to look at how maps could be faster as you zoom and pan and it built a prototype mail app with the Outlook team that previews images from email with rounded corners and shadows and animated maps that show you how to get to your meeting.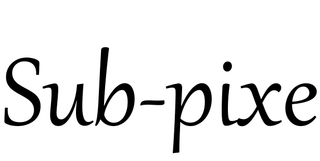 Great Font Rendering
Like the version of IE9 that Microsoft showed last year, the IE9 preview uses the Direct2D and DirectWrite features in Windows Vista and Windows 7 that use both vertical and horizontal sub-pixel rendering to smooth the edges of fonts, so you can zoom right in and the text still looks beautiful. That applies to SVG as well, so you can zoom in and read the tiny print on a poster or a floor plan in the way you can't with an image. With browsers that don't use Direct2D, you'll start to see jagged edges in SVG at extreme zoom. Direct2D and DirectWrite use the GPU for acceleration so displaying the fonts on screen is fast too.
Because the font technologies in Windows make text smooth and fast, IE9 isn't supporting the SVG font feature to display an image of a letter, which wouldn't have those same clear edges.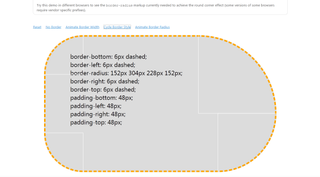 Websites Won't Look Different
While the HTML 5 and CSS3 standards are still being discussed, it's hard to implement them. Browsers that offer HTML 5 features today, like rounded corners on boxes, often do it with specific commands that only work in that one browser. Although IE has had a bad reputation for not getting the standards right in the past, the commitment for IE9 is to have the same HTML look the same in different browsers if it follows the HTML 5 standard. Hachamovitch said that while IE has been criticized, other browsers have similar problems. "There are great examples of where the same HTML markup does radically, painfully different things, not just between IE and other browsers, but between other browsers and even between different versions of Webkit," Hachamovitch said. "We just want the same markup to work."
Rounded corners and different-order styles are a popular feature that's surprisingly difficult to code. "It's like the poster child, if not the centerfold, [since] developers want the same thing to just work," Hachamovitch said. To deal with the problem, not only is the IE team working hard so that IE9 makes corners sharper and have dashes line up to the corners more neatly, they're also publishing their tests based on the HTML 5 and CSS3 standards. This way, users can compare what different browsers do and to make it easier for other browser vendors to do similar tests.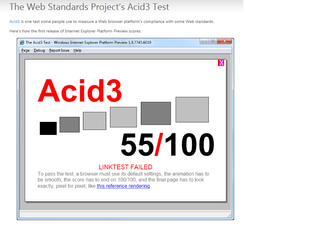 Performs Well with the Acid 3 Test
IE8 and the version of IE9 demonstrated last year both have low scores on the popular Acid 3 test. IE9's score improves to 55 out of a hundred and it will get better, but not because the IE team is trying to improve their Acid 3 score specifically. "As we support more of the markup that everyone is really trying to use on the Web, our Acid 3 score will go up," Hachamovitch said.
But he's also not afraid to criticize the Acid 3 test for not being comprehensive and not reflecting what's in use on Websites. "The Acid 3 test is a proxy that many people use for standards compliance. Acid has 100 tests of features, some of which were under construction when it was written, some of which went back into construction afterwards," Hachamovitch said. "You can have a score of 100 on Acid and completely mess up these borders that I'd want to use on my page… If I can score 100 and the same markup fails, maybe there's a problem in the test."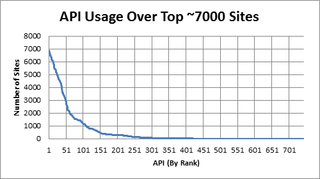 Handles Most Popular Website Features
To make sure the IE9 handles the features that are on Websites now, Microsoft has done a lot of research to find what those features actually are. It has written a tool to capture the JavaScript used by 7,000 of the most popular Websites and used this information to determine which APIs to implement in IE9. The IE team is using this data to prioritize the APIs it is adding to IE9. While most of the popular APIs are already in IE, some omissions have already been added to IE9, including at least one of the 20 most popular ones.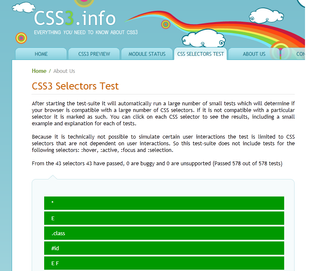 It Gets CSS 3 Right
CSS style sheets let Web designers build a site by defining styles rather than formatting every single page element by hand. CSS 3 is an important piece of the HTML 5 future, and one that Microsoft has been working hard to deliver with IE9. One of the most useful features in CSS 3 is its selectors, which allow you to simply define complex rules for page layouts, so you can style pages that change depending on what you do on the page more effectively. You can see just how well IE9 supports these and other CSS 3 features using the independent tests on the CCS3.info Website. With over 500 tests for CSS selectors alone, it's a site that'll give any modern browser quite the workout.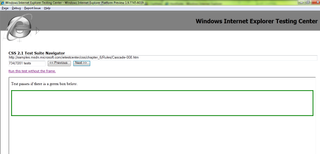 Meets Future Web Standards
Microsoft has donated the series of CSS tests it used to build the IE9 preview to the World Wide Web Consortium, the standards body behind HTML and CSS. You can try out IE9 using these tests using Microsoft's own Internet Explorer Testing site in any browser. There are over 7,000 tests, each linked to the relevant section of the CSS specification, and if you want to get technical, you can use the IE Developer Tools to drill down into the source code to see just how a page's CSS rules have produced the effect they have.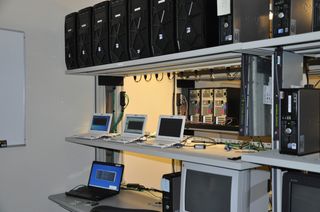 Was Tested on Every Version of Windows On Real PCs
How do you test four different generations of a browser on three different processor types using six different operating systems with 146 English versions and another 631 for different languages? You'll need a whole lab full of machines running automated tests on everything from netbooks to laptops to desktops to servers. The IE testing lab in Redmond is always at work, ensuring upgrades and new releases are fit for purpose and ready for the world. With racks full of machines and regularly updated images, it runs a complex test suite over every version, using a mix of real world sites and test Web pages.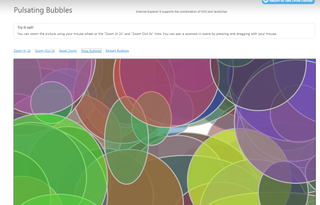 Fast Animation
Using Windows' DirectX APIs gives IE9 a significant speed boost when animating large amounts of SVG data. The bubble animation test on the IE9 site shows off just how easy it is to display many different objects in a window, using JavaScript to smoothly move them around at high speed, while still applying opacity effects; this is the faster JavaScript at work. Zooming in and out shows just how well IE9's SVG rendering tools take advantage of the GPU, with smooth animation and curve drawing even at the deepest zoom levels. Other browsers render the animation jerkily, with different animation speeds at different levels.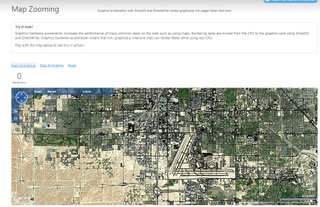 Maps Zooming is Fast
Zooming in and out of maps in any of the current generation of browsers isn't as smooth as in GPU-accelerated applications like Google Earth. IE9 brings the same smooth zoom to maps, from satellite to aerial views. Using the Direct2D and DirectWrite APIs, map tiles are handed over to the GPU as soon as they are downloaded, making pan and zoom much faster because the GPU is designed to do exactly this kind of thing. That makes online maps clearer, faster, and easier to use. The same techniques will work with any Web map site, and with any other large images you'll find online.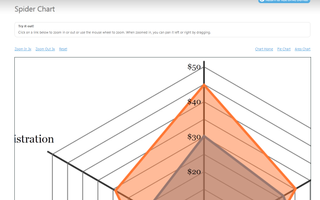 Charts Are Easy To Read
SVG is a very powerful tool for charting. Complex graphs like this spider chart can be generated on a server, inserted in a Web page, and delivered using very little bandwidth. One advantage of SVG is that only one sixth of the background grid has had to be generated, while the rest of it is just redrawing the same object at different rotations, so it downloads much faster than the equivalent image does. And because it's a vector, you can zoom in and everything is still smooth and clear. There's no need for sophisticated graphics software on the server to create the image, as all the work is done by the browser. The same "define and reuse" technique can be used for much more complex shapes (and is being considered as a replacement for SVG Fonts in SVG 2.0).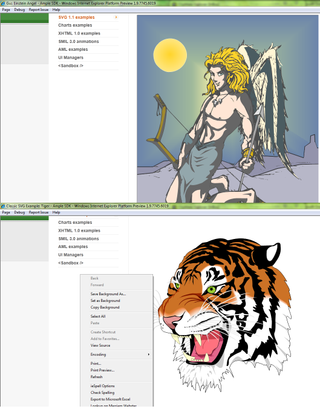 Fancy Images Load Fast
Vector graphics don't have to be simple charts since tools like Adobe Illustrator let you draw complex artwork, but SVG means it doesn't take ages to load the way an image file would. You can draw or convert the picture you want to use in your favorite vector editing tool, export or convert to SVG, and then just embed the SVG in your Web pages. The images will scale with the pages and look good when you zoom in. IE9 won't do everything in the SVG spec and the preview doesn't do everything that will be in the final version. The three SVG features IE9 won't support are either very complex, not widely used, or done better by other features in Windows. "You can use SVG fonts to draw a picture of a font, but if you look at what the OS does for presenting fonts, it's not clear if SVG fonts are deeply useful or just a neat trick," Hachamovitch said. "Do we really need another pipeline trying to draw fonts on the screen? Do you know how many years have gone into things like font hinting?"
The tiger is a common SVG test image and IE9 displays it correctly. Right click on the image and we can see there's no SVG plugin doing the work. The image also cannot be copied or saved since the SVG spec doesn't actually include copying or saving the image, but Microsoft plans to add ways to do that in the final version of IE9, perhaps turning it into a bitmap file for you.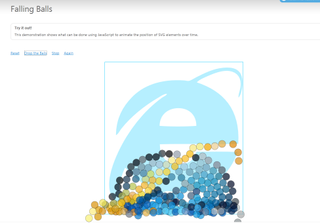 SVG Can Interact with the HTML Page
Mix IE9's SVG support with an off-the-shelf JavaScript physics engine and you've got a powerful animation tool that can give Flash a run for its money. However, there are still a few issues to be sorted out before SVG animation becomes mainstream, as the same dropped-ball animation behaves very differently in Firefox and there's no agreement on just how CSS and SVG interact. For IE9, Microsoft has chosen to let SVG work with the rest of the page, so the balls run out of the box and down to the bottom of the page (which could be a widget on the page that you could drag to resize when you wanted to see more information and then shrunk back to a thumbnail when you're finished). Technically, it means you can use SVG in HTML pages, not just XHTML pages (a much stricter way of building Web pages that few sites use). This is one place where IE9 is ahead of the standards, although Microsoft is asking the working group to include this as an option in the standard so other browsers can do it.