8 Smartphones That Caught Our Eye at CES 2018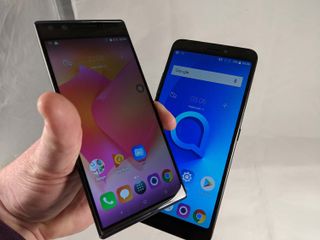 Midrange Phones In the Spotlight
LAS VEGAS — There's no sugarcoating the fact that CES typically isn't that big of a show for smartphone news, not with the smartphone-centric Mobile World Congress show just a month away. But you can still find new phones at the massive Las Vegas trade show, as device makers roll out midtier and budget models that might otherwise get lost amid all the flagships on display in Barcelona next month.That's certainly been the case with CES 2018, with Huawei using the show to announce U.S. availability for previously unveiled phones, Sony boosting the cameras and reducing the bezels on some of its midrange models and a Chinese phone maker unveiling a feature that's eluded both the iPhone and Galaxy up to this point. Here's a roundup of all the smartphone news coming out of CES this week.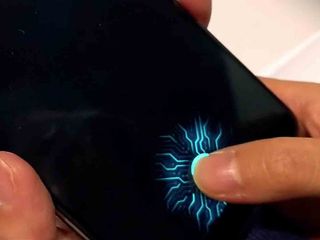 Vivo Phone
There's no name for this 6-inch phone that Vivo was showing off at CES this week or even a release date. (Vivo says it's a production-ready phone that will appear in 2018, though it's unclear if release plans include the U.S.) So why is it our favorite phone at CES? Behold the fingerprint sensor, which is neatly tucked under the Vivo phone's full-screen display. When you need to unlock your phone or confirm a mobile payment, a fingerprint icon appears, cluing you in on where to press to activate the Synaptics-developed sensor. But once the phone unlocks, the icon vanishes, leaving you to enjoy the phone in all its full-screen glory. It's a really slick-looking implementation that we're hoping to see in more mainstream models.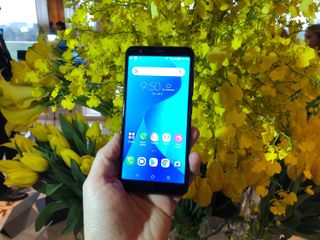 Asus ZenFone Max Plus (M1)
Asus has a history of delivering long-lasting phones, and we're fully expecting the ZenFone Max Plus (M1) to continue that tradition when it arrives in February. The $229 phone runs on a 4,130 mAh battery, and power optimization technologies should further help you go a long time in between charges. Expect a full-screen display, dual rear cameras and a fingerprint sensor to try and make the case that there's more to the ZenFone Max Plus than just a big battery.
Editors' Note: The price on this phone, which was based on information Asus provided us, has been corrected to reflect the announced price.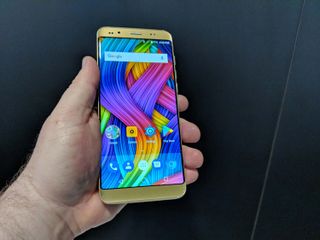 Nuu Mobile G3
Nuu Mobile's not exactly a household name among many U.S. phone users, but the maker of unlocked Android devices hopes to catch the attention of bargain hunters with its G3 phone, scheduled to ship in mid-February. The phone costs $250 (though as of this writing, Nuu is offering a discount for pre-orders). You'll get features you wouldn't normally associate with phones in that price range including a full glass body with rear fingerprint sensor, dual rear cameras (a 13-megapixel shooter paired with a 5-MP lens) and an 18:9 aspect ratio on the 5.7-inch screen.
You'll make some tradeoffs — that display's resolution tops out at 780p. But holding the G3 in our hands on the CES show floor, it looked nothing like a budget device.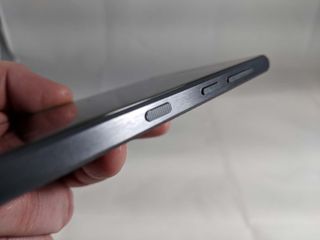 BlackBerry Motion
Physical keyboard enthusiasts, look away: the BlackBerry Motion arrives this week, and it's a touchscreen-powered device. In some ways, though, the $449 Motion boasts features that will make owners of the keyboard-equipped BlackBerry KeyOne envious. The new phone has a 4,000 mAh battery, the biggest power pack ever put inside a BlackBerry device, and the Convenience Key (pictured here) can adopt its shortcuts depending on if you're at home, in the car or in a meeting.
If you'd still prefer your BlackBerrys to come with a physical keyboard, don't worry. TCL, which now handles the BlackBerry brand, says that two more phones with keyboards will come out this year.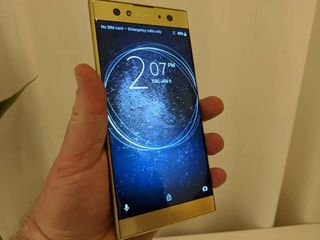 Xperia XA2 and Xperia XA2 Ultra
Sony trimmed down on the bezels, added a bit of a curve, added Snapdragon CPUs and even bumped up the batteries for its midrange Xperia XA phones. But we can't stop focusing on the changes to the cameras. The rear camera on both the 5.2-inch Xperia XA2 and the 6-inch Xperia XA2 Ultra has been upgraded to a 23-megapixel shooter with 12800 ISO for improved low-light performance.
The Xperia X2 Ultra (pictured here) is the real winner when it comes to camera improvements, though, with two front-facing cameras — a 16-MP lens that uses a flash to capture detailed selfies even in the dark and an 8-MP wide-angle lens to squeeze more people into your selfies. We tried out both cameras and liked what we saw, even if some of the facial smoothing looked a little unnatural.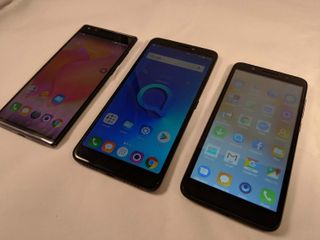 Alcatel Phones
Alcatel plans to unveil more details about its 2018 phone lineup at Mobile World Congress next month, but it's at least ready to take the wraps off one detail. All the phones it's introducing in 2018 — whether it's in the sub-$300 5 series or the sub-$100 1 series — will have 18:9 aspect ratios and full-screen displays. Expect other features to vary by model, but some of the early devices we saw at CES 2018 included a 5 series phone with two front cameras and a 3 series phone with dual rear shooters.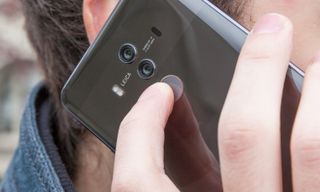 Huawei Mate 10 Pro
All right, so Huawei showed off its new flagship phone back in late 2017. But up until CES, we didn't have a ship date or a price for this 5.9-inch phone with its own built-in neural processor for snappier AI calculations. Now we do: the Mate 10 Pro begins preorders on Feb. 4 for $799. It will be sold as an unlocked phone, with Huawei consumer head CEO Richard Yu offering some choice words for carriers like AT&T, which reportedly backed out of talks to carry the Mate 10 in the U.S.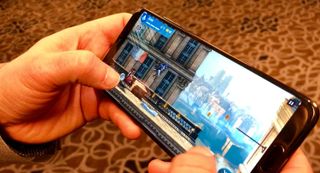 Honor View 10
Huawei's Honor brand wasn't as definitive about the ship date for its new phone, the Honor View 10. But we do know the handset will hit the U.S. before the end of March, most likely priced for less than $500. Because it uses the same Kirin 970 processor as the Mate 10 Pro, the Honor View 10 can pull off the same AI-powered image recognition tricks when taking photos. We also learned about new features slated for the Honor View 10, like facial unlock and the ability to hide notifications when someone else looks at your phone