In Pictures: USC's 3D Lab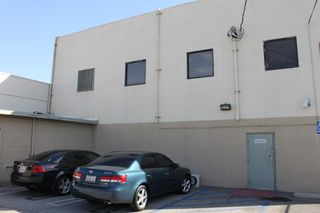 Introduction
If CES showed us anything, it's that 3D is coming in full force by 2010. USC's Entertainment Technology Center (ETC) is a place where all facets of the emerging technology come together in one place. Sponsored by major Hollywood studios, several television manufacturers and even a few car companies (Audi and Volkswagen), ETC is a lab dedicated to the understanding, standardizing and furthering of 3D in the home. The lab is involved in everything from focus groups, to panels that put Hollywood execs face to face with students, to 3D health studies.
...of course, none of this is relevant if you can't find the building. Located off-campus in downtown L.A., the lab is tucked away very discreetly on a side street, between an alley and a Burger King.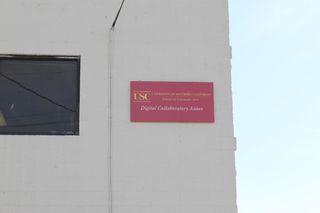 Target Spotted!
The only signage linking the nondescript building to USC is a small sign in the corner.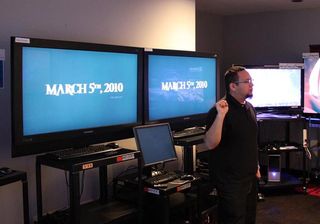 What's Inside?
Once you get inside the ETC, you might think you wandered inside a Best Buy or Fry's. Bryan Gonzalez, a Technical Project Specialist and our guide for the day, is showing off a room chock full of 3D televisions.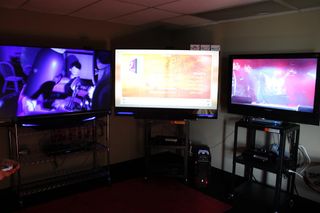 It's All Coming Together...
This particular room in the ETC is showing off three different aspects of 3D for the home: DLP checkerboard, multi-format content and polarized.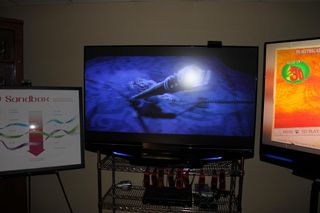 Mitsubishi LaserVue
Mitsubishi's DLP-based LaserVue TVs have been out since last year, and if you're interested in buying one, they're 3D ready just like all other DLP HDTVs released within the last few years. The EXXR emitter on the top of the TV is connected to a RealD content converter (see next page).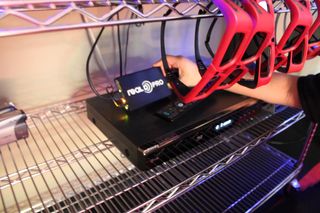 RealD Pro Converter Box
DLP TVs like the LaserVue don't do stereoscopic 3D. Instead, they utilize a checkerboard 3D format. Since stereoscopic 3D is quickly becoming the favorite on many manufacturers, RealD offers a RealD Pro converter box that converts stereoscopic 3D content into an appropriate checkerboard format that DLP TVs can use. The downside: the glasses used with this system currently cost over $450 per set.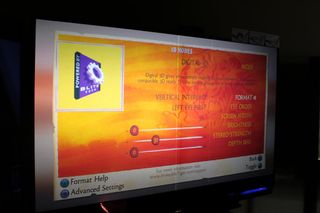 Invincible Tiger: Multi-format 3D Gaming
Polarized, checkerboard, stereoscopic...there are a few different ways to view 3D content. Converter boxes can get pricey, so why not just make the content multi-3D format? Invincible Tiger, a downloadable PS3/Xbox 360 game from Namco Bandai, has several different "3D modes", so you can play the game on any 3D capable TV. The game itself isn't too impressive, but the 3D technology behind it something all the major game studios should be looking into.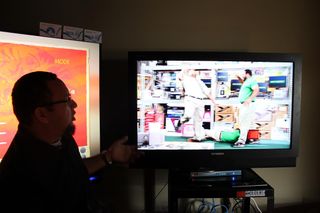 Polarized 3D in the Home
If you saw Avatar in theaters recently, chances are you saw it in 3D. If you saw it in 3D, you were wearing polarized glasses, which take two stuttered images and puts them together to give the content a sense of depth (objects "coming out of the screen"). This Hyundai TV is a polarized 3D set, which is the most similar to what you'll find in your local cinema. Bryan is showing us a range of different content, in this case a clip from the show Chuck. The best aspect of polarized 3D TV is the glasses, or rather how very inexpensive they are. While active shutter and RealD Pro glasses can cost hundreds of dollars, polarized 3D eyewear would cost as much a DVD or Blu-ray movie to buy, and that's assuming a very high markup.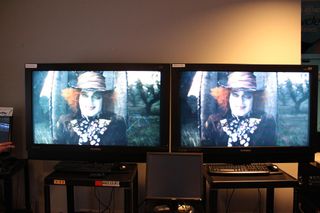 Two Types of Polarized 3D
There are two major kinds of polarized (or split image resolution) 3D formats: over/under and side by side. The former takes two images that are on top of one another and combines them, while the latter takes a left image and a right image and combines the two. This is self explanatory, and the comparison is hard to draw through a DSLR...and even in real life. We couldn't tell a difference, but it's fun to see the USC lab test and compare every possible solution.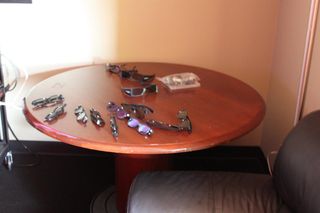 Polarized 3D Eyewear
While there was plenty of 3D eyewear at the ETC, polarized 3D glasses were everywhere, mainly because theyre cheap and easy to buy. With no batteries or moving parts, polarized 3D glasses are typically the least expensive type of 3D eyewear you can buy.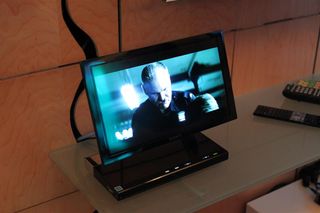 OLED Spotted!
Well, if it isn't our little 11-inch OLED friend from Sony! While all has been quiet regarding OLED from Sony as of late, this kind of display is also 3D friendly. While Sony may be mum on OLED, expect some noise regarding it from LG and Samsung throughout the year.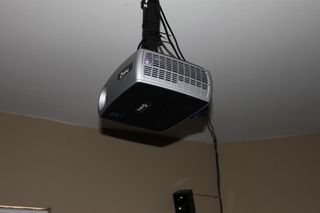 3D Projectors
Since projectors are a favorite amongst the home theater buffs, and DLP TVs can support 3D, its no wonder that projectors are also getting some three-dimensional love. DepthQ is one of primary companies behind 3D DLP projectors,with the above model displaying a 1080p 3D image at 120 Hz.
[Ed. Note: The DepthQ projector is 720p, not 1080p.]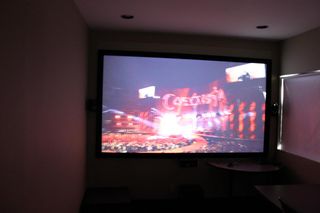 Projected 3D Image
It's hard to tell from the above image, but this 3D video from a recent U2 concert looks just as good as the 3D you'll find on any TV. Plus, you can throw it onto a 80-inch plus screen.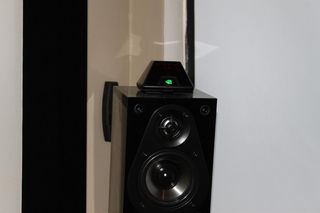 I Spy Nvidia 3D Vision...
What's that on the right speaker next to the projector screen? A 3D Vision IR Emitter from Nvidia. The 3D video from the DepthQ projector is coming from a PC in the back of the room, and the IR emitter communicates with the active shutter glasses you wear when looking at the screen.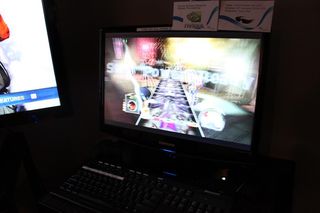 More on Nvidia's 3D Vision
3D Vision from Nvidia is the only available 3D solution for PCs right now, and its very similar, in fact identical to the kind of stereoscopic 3D tech you'll find in many of the new TVs coming out this year. The batery-powered active shutter glasses you wear communicate with an IR emitter attached to your PC via USB. You need a 120 Hz LCD monitor in order to see a 3D image, because each lens on your pair of glasses flckers 60 times per second. Basically, you're getting 60 Hz per eye. Here, you can see a blurry picture of Guitar Hero in 3D.
White Frame 3D with DLP TVs
As previously mentioned, DLP TVs use a checkerboard format to display 3D images. However, there is another experimental way to view 3D on a DLP set. White frame 3D uses a special set of 3D glasses with a small circular receiver on the bridge. This sensor receives pertinent data from a white frame that is displayed underneath the image on the set every few seconds. This image is so fast that you can't see it with the human eye, butit is an entirely new way for 3D content to be viewed.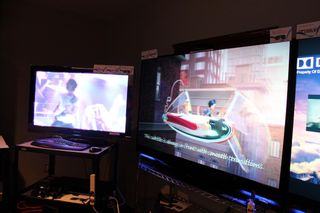 3D Subtitles
Subtitles are common in movies, whether they're available the deaf or to help new audiences see foreign films. Now, with 3D content, you can expect 3D subtitles. Sounds strange, but 3D text a subtle way to tell the reader/watcher when something is especially important during a 3D scene or feature.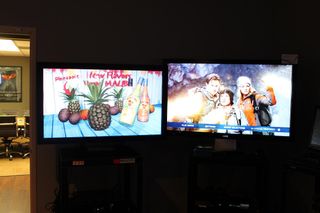 3D Without Glasses
The set on the right is a standard Vizio LCD, but the left display is an example of glasses-free 3D TV. This is still in the experimental phase for many companies, including Philips and Samsung, and according to Bryan, the technology is still at least ten years out. the viewing angles are tricky (you need to be directly in front of the screen in most cases), and a weird shimmer can come off the screen depending on where you sit/stand. Glasses can be annoying, but it's a small price to pay for a (typically) error-free 3D experience.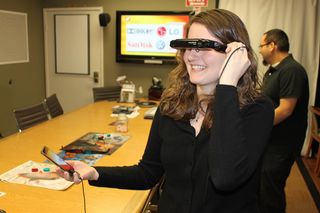 Vuzix: 3D on the Go!
Vuzix, the video eyewear company, has been around for a few years, and now its bringing 3D to a airplane ride near you. While it's still a bit crude, the Vuzix headgear being demoed above by Rachel is taking a movie trailer from an iPod and displaying it in 3D. Since each eye is seeing a different screen with the hardware, its easy to display two stuttered images and have the 3D illusion created by the human eye.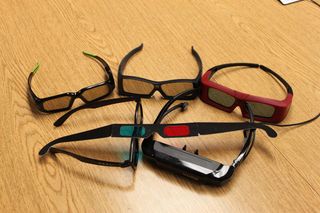 Three Decades of 3D on One Table
Over the last several decades, 3D has gone from cheesy 1980s gimmick to legitimate cinema experience to the future of in-home entertainment. It's interesting to see how far 3D has come in that time, starting with anaglyph (red and blue), gaining momentum with polarized, and breaking through with active shutter goggles. 2010 will be a banner year for 3D, and don't be surprised if you end up with a "3D Ready" TV in your home at some point in the near future.