CES: New Gear We Want NOW!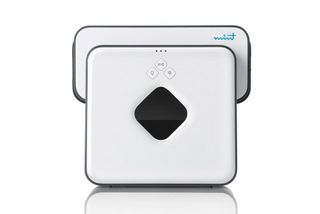 Evolution Robotics Mint Robotic Vacuum
Today is my birthday. Every year I spend it at CES, walking the show floor in search of the next great gadget. Yesterday I took notes on the choicest bits of gear that caught my eye--from the quirky to the cool--and I've written it all up in this list. We could call it a wish list, I suppose. Here's my birthday wish: that every gadget on this list becomes available in the next year, and doesn't turn into puffs of vaporware over night. Odds are, though, that something on this list won't make it. More on CES 2010
I'll start with this vacuum, which, believe it or not, isn't simply a Roomba knockoff (or a Scooba knockoff). The 4-lb Mint vacuum uses Swiffer wet and dry pads to clean the floor. Roomba and Scooba wander aimlessly around your house for a set period of time, hoping to catch most of your mess. But Mint tracks where it has already cleaned, which actually means it finishes the job faster. Here's how: the Mint uses its ARM processor to control infrared sensors on the outside. Those sensors sense light emitted from a projector unit that is attached to your ceiling (the Mint turns on this ceiling projector for you). The projector's lights tell the robot where it has already been, and where the furniture is. The Mint goes back and forth over the floor, using a scrubbing motion to keep the tile or wood spotless. The fact that Mint is cheaper than any Roomba ($250), and is supposed to do a better job around corners and near walls because of its square shape--has me sold. But, it isn't supposed to be available until "late 2010."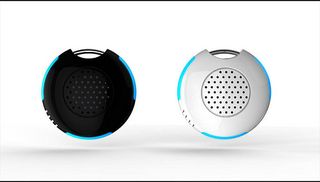 Zomm
Since I arrived in Las Vegas yesterday, I've already almost lost my cell phone three times. If I had a Zomm, I wouldn't worry. This keychain device connects via Bluetooth to a phone, and acts as a notifier if the phone goes out of Bluetooth range. It will make noise if you leave your phone behind. Another benefit: If you keep your phone in a bag, like most women do, your keychain device will beep if you get a phone call (sometimes we don't hear our phones when they're in our purses). Then, you can press a button to answer, hang up, or send calls to voicemail (yes, the Zomm is also a speakerphone). Additionally, you can dial 911 with the push of a button directly from the device. I want to put it on my keychain today, but the $79.99 Zomm won't be available until the summer.

Samsung BD-C7500 Blu-ray Player
Samsung knows how to make an attractive Blu-ray player. We liked last year's 4600 model so much we put it in our holiday gift guide. Perhaps later this year we'll be doing a similar photo shoot with the BD-C7500, if Samsung ever announces a release date. The company says this player was inspired by nature: we guess that refers to the wood grain pattern. It is only 1.1-inches thick, and ultra glossy, which means it will look great mounted on the wall next to your ultra thin LED TV. 1080p, with a 24 per second frame rate, no price has been announced, yet. We're guessing at least $300.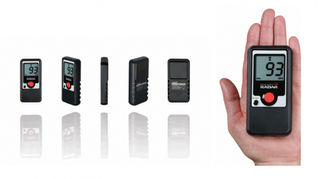 Pocket Radar Personal Radar Gun
I feel an irrational surge of jealousy (mixed with terror) every time I see a cop whip out a radar gun to see how fast a car on the road is speeding by. But come March, I'll be able to buy my very own miniature radar gun! I'll use it on cops, to see how fast they're going when they tear through intersections and run red lights just because they're impatient. I'll also clock my husband's speed on our residential street, so I have proof that my nagging isn't in vain. The Personal Radar Gun is 4x7x2.3 inches, and is accurate within one mile per hour, ranging from 7 mph to 375 mph. Are these totally useless speed clocking scenarios worth $199? You betcha. How do you put a price on Doppler?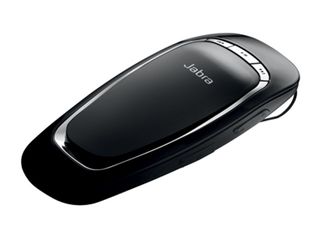 Jabra Cruiser Speakerphone
Here's a niche product we've been hunting for a while: A Bluetooth speakerphone with multipoint--which means it can pair with two phones at the same time. When you're on a road trip, the device can pair with every driver's phone. If you carry one phone for work and one for personal use, this speakerphone can receive calls from either line. It is a tough feature set to find, but we knew a company like Jabra would come through for us eventually. This one's actually available this month ($99.99), and we plan to make it our own as soon as we get home.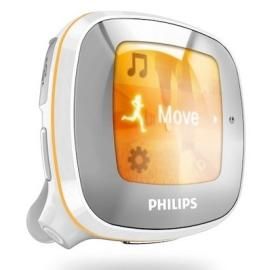 Philips Activa
I told myself that my new year resolutions didn't really start until I returned from Las Vegas after CES. That's when I'd hit the gym, hard, or so I told myself. The truth is that I always need more motivation. Philips' new Mp3 player could provide it, but not until April. The Activa is a tiny, Shuffle-like Mp3 player with all the typical bells and whistles, but it comes with the addition of a personal-trainer voice that senses what you are doing and provides appropriate feedback, and encouragement. It also analyzes the songs in your library for tempo and picks uptempo songs depending on the pace of your work out, and slower ones for cool-down periods. Philips hasn't announced the storage capacity of the Activa, but it will cost $130.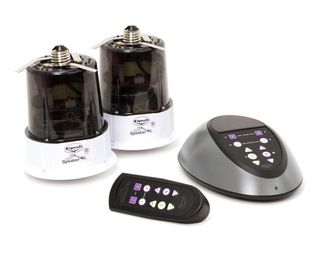 Klipsch LightSpeaker
Music...coming from the lamp? Yes, please. I wouldn't want these in my living room, but they could be perfect in a reading nook, an office, or even a bedroom. The Klipch LightSpeaker is an LED light bulb that fits into dimming light fixtures in place of a standard bulb. But the LED light bulb is also a speaker with a 20 watt amplifier and 2.5 inch driver. The music streams to the speaker wirelessly via a 2.4 GHz transmitter connected to the music source. You can have up to eight LightSpeakers attached to one transmitter. The basic package includes two LightSpeakers and the transmitter, as well as remote control, RCA adapter cable, "lenses and trim" for $599. Klipsch says the LightSpeaker is coming in March.
Dane-Elec MyDitto NAS
I'm a firm believer in "the cloud." But online storage is expensive. Network-attached storage is good, but unless you invest in fancy enterprise-level software, it typically only works within your home network. Dane-Elec's MyDitto gives you a terabyte NAS, and a USB key that connects to it from any Internet-connected computer. When the product launches in March, we'll see how it compares to offerings from competitors like Western Digital. But it sure seems like Dane-Elec's $249 product is easier to use than most. Not to mention, I won't worry that some fly-by-night online storage company will lose all my data: the "cloud" is safe in my home office.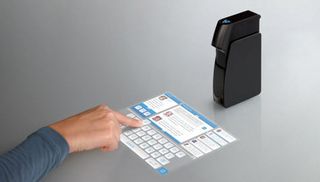 Light Blue Optics Light Touch Projector
This is the stuff of sci-fi: a tiny computer-turned-projector that beams a touch screen onto any surface. The Light Touch projector uses holographic laser tracking to create the 10.1-inch screen. Use your hand on the flat surface to point, click, scroll, and drag. The tiny PC itself comes equipped with Wi-Fi, Bluetooth, 2GB internal storage, a MicroSD slot, and a battery that lasts for two hours. Light Blue Optics has not given any pricing information or release date information, but we hope that by next year the company shows off a demo involving touchable projected holograms into midair, rather than onto a surface.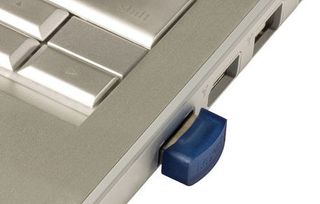 Lexar Echo ZE Keys
Adding a 32GB Lexar Echo ZE Key to your laptop's USB port is sort of like installing an SSD hard drive, except you don't have to install the drive (and it is cheaper--$140). This flash storage is so tiny--0.8x0.6-inches--you won't even notice its there (except for the fact that it uses up one of your ports). Perhaps the best part is that its so much harder to lose when it is never removed from your computer. It also comes with back up software. According to Lexar, the Echo ZE will be available next month.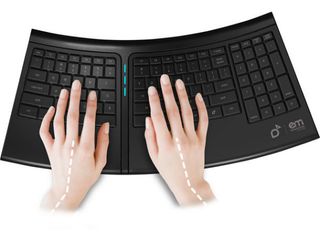 Smartfish ErgoMotion Keyboard
There's no telling a geek to cut back on his or her computer use. So, with 12 hours a day in front of the screen a given, we look for ways to make the desk-oriented lifestyle less painful. Smartfish and Hitachi have designed a motorized ergonomic keyboard--a new twist on ergonomic design. A motor housed in the keyboard actually sense when you've been typing too long in a certain position, and it revs up to change the angle at which the keyboard sits on the desk to make things easier on the wrists and hands. The ErgoMotion keyboard will launch in March, and sell for $150.

Microsoft Arc Keyboard
Microsoft's Arc keyboard may not have a motor inside, but it makes for nice desk candy. It is also less expensive at $59.95. The Arc design matches that of the Arc mouse, released more than a year ago. A tiny USB receiver tucks into the back of the keyboard when its not plugged into your computer. Microsoft says it will start selling this keyboard on February 21st.