10 Reasons to Play South Park: The Fractured But Whole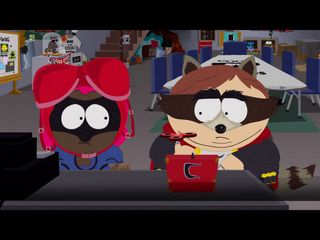 Time to Play
Finally, the long-awaited sequel to Ubisoft's 2014 hit South Park: The Stick of Truth has arrived, and it was well worth the wait. South Park: The Fractured But Whole takes gamers back to South Park, Colorado, with all the characters they've come to know and love from the television show. But this time, instead of grand wizards and gender-swapped princesses, you're playing superheroes on an epic quest: to get a Netflix movie franchise. Crammed full of farts, microaggressions and Morgan Freeman, Fractured But Whole is a must-play title. Don't believe me? Here are the 10 top reasons to play South Park: The Fractured But Whole.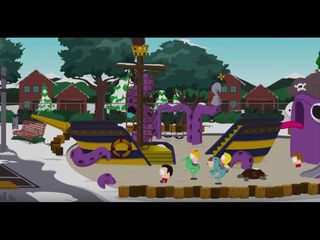 The Graphics
South Park the TV show has never been known for killer graphics, and Fractured But Whole won't be known for that either — that's the point. Like its predecessor, the sequel makes it look like you're playing through an actual episode of South Park, which is part and parcel of the game's visual appeal.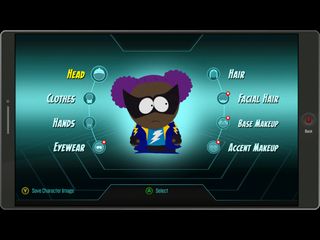 So Many Costumes
Prepare to unleash your inner cosplayer. During your quest to become a powerful hero and get yourself a Netflix comic book franchise, you're going to need the perfect costume. Luckily, throughout the course of the game, you'll discover or craft many costumes and accessories that you can mix and match. You can also change the color scheme.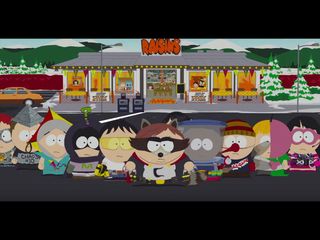 An Homage to All Things Superheroes
The superhero characters you get to play start with Eric Cartman's non-PC Coon and Friends. But just because this is a South Park game, don't think you can't dress up as some of your favorite DC and Marvel heroes. So far, I've dressed up as Wonder Woman, Static Shock, Harley Quinn, Brainiac, Batman, Moon Knight and Black Panther.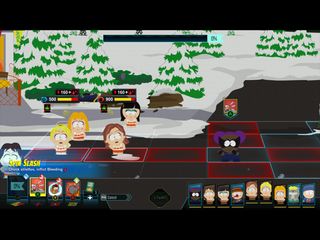 Improved Turn-Based Gameplay
Fractured But Whole introduces some real-time, grid-based strategy elements to South Park's turn-based RPG structure. And instead of having only one assisting character fighting with you at a time, you get three. In a battle, every hero and enemy can move only according to his or her respective grid and move set. The trick is to position your heroes so that they can cause maximum damage while minimizing the effect of blows from your foes. It makes for more nuanced gameplay, so you'll have to think a lot of times before you leap.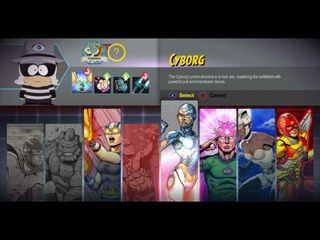 Class Warfare
Classes are back in Fractured But Whole and are greatly expanded, from four in the previous title to 10 choices, each with its own specific powers. Best of all, you're not limited to using one class per play through; in fact, by the end of the game, you can be a four-class hero. That means you can pick and choose which powers from each class you want to wield, including your finisher. And if you get bored with your current load out, go and see Cartman or Timmy to swap. It's a rather elegant system for building your own unique hero and getting a crazy origin story.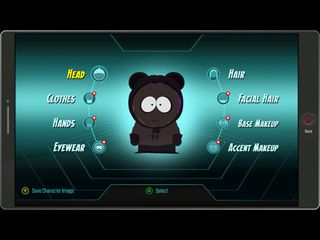 Prepare to be Triggered
Black lives matter, feminism and gender politics. If dealing with any of these topics bothers you, then this isn't the game for you. Fractured But Whole continues the tradition of poking fun at everyone and everything, including racists, sexists and social justice warriors. Don't believe me? I played as a black character and donned the Black Panther costume. It has blackface. In the words of Spike Lee's Bamboozled, I was essentially "black … in even blacker face." So yeah, you've been warned.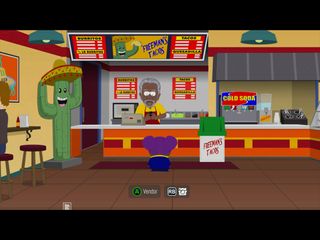 A Ridiculous Amount of Fan Service
Similar to Stick of Truth, Fractured But Whole is bursting at the seams with fan service. From the music to all the characters (PC Principal, member berries, but sadly no Cthulhu), Fractured But Whole is a love letter to the fans of South Park. As you explore the town, be prepared to find some fun nods to show in between hoarding snot rags and chicken bones for crafting.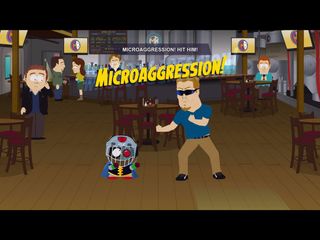 I Learned Something Today
Somewhere, Kyle Broflovski must be smiling. Despite all the over-the-top antics that take place in Fractured But Whole, the game does have something to say about the social ills plaguing our society today, especially regarding racism, police brutality and sexual identity. Sure, the message is delivered a bit ham-fistedlely, but better to say something than nothing.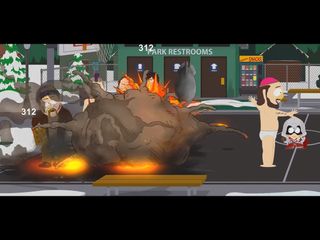 Power Moves and Summons
It wouldn't be a good RPG without devastating power moves and jaw-dropping summons. Just like it does with everything else, South Park turns these concepts on their ears, to great comedic effect. Cartman's special shows him on the cover of a multitude of entertainment magazines before he unleashes a Wolverine-esque berserker barrage attack, while Craig and Tweek's attack is an unabashed celebration of gay love. Meanwhile, on the summons side, you have Moses, who heals everyone in your party; Gerald Broflovski, who delivers some heavy metal-inspired attacks from the Major Boobage episode; and Classi, who does an intentional hit and run on your enemies, just to name a few.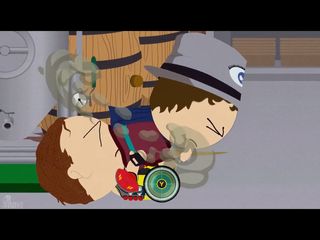 The Power of Flatulence
Your character is still a mute protagonist. But while you might not be a cunning linguist, when it comes to your butt, you're a master debater. In addition to whatever classes you choose for your character, you also gain access, over time, to a whole new slew of fart-based powers. From stopping, rewinding and skipping forward in time to ripping one so bad that it makes the enemy lose a turn, your farts are your most powerful weapons. They're also used during exploration to solve team-based puzzles. Ever wondered about the majesty of Fartkour or what would happen if you put a sandblaster hose up your arse? Here's your chance to find out.