First Preview: Internet Explorer 9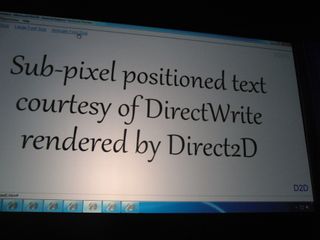 Better, Faster, Stronger?
Despite the
There are no new features in this test version, just improvements to the rendering engine. To show that it's a test version rather than a full new browser, the icon is a greyed-out version of the familiar IE logo.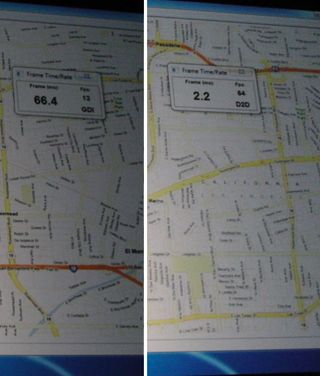 GDI vs DirectX
IE9 will feature a new version of the same rendering engine in IE 8, which is called
In this example, the map scrolls quickly as you move across the screen – at a rate of over 60 frames per second. The CPU load is much lower because the graphics card is doing the work. Web sites don't need to make any changes in order for IE9 to work in this way.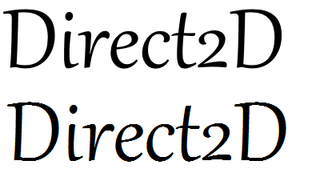 Smoother Text
Using DirectX means that IE can use the Direct2D and DirectWrite system introduced with Windows 7 to position text precisely on sub-pixels on screen. That means that the text you see will be smoother and easier to read. Again, you won't need to change anything on your Web site to get the smoother, crisper text rendering; it's all done by the browser. Microsoft isn't ready to say whether this will work on versions of Windows prior to 7 and Vista SP2 that don't include DirectWrite.

Readability
The smoother text is very obvious when you zoom in close, but it also changes the look of standard size text. "There have been many readability studies over the years," says Microsoft IE team general manager Dean Hachamovitch. "If you have a really long blog post, I won't mind reading it as much because of the font smoothing."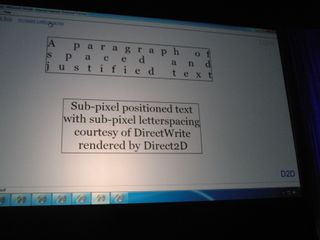 Adjusting Character Space
DirectX makes text move smoothly rather than jerkily when you resize a browser window. There may be some subtle changes to layouts in IE9 compared to other browsers, Hachamovitch admits. "Right now there is no pixel perfect positioning across browsers," he says. "I'm finding there's a more natural layout; there are words that, when I look at them in other browsers now, they are all spread out. This tightens up the letters and makes them easier to read."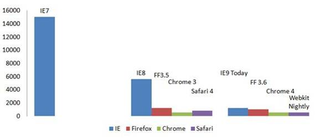 JavaScript Speeds
Internet Explorer has been criticized for performance, and especially for how it handles JavaScript.
According to Hachamovitch, the test version IE9 scores far better on the SunSpider JavaScript test than IE 7 or IE 8 and much closer to the current pre-release versions of Firefox, Chrome and the Webkit engine Safari is built on. He predicts the final version will score even better and faster.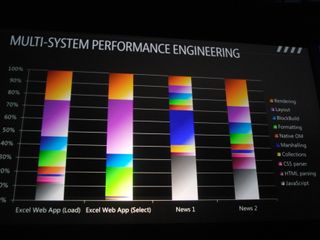 Busy Browser
But Hachamovitch also says that while JavaScript is an important part of browser performance, it's not the only thing that matters. This chart shows what proportion of the load time the browser spends doing when it loads two popular news sites and the new Excel Web App on Windows Live. It makes clear that some sites have a lot of script, others have much less and other tasks always take more time than JavaScript tasks. What will affect browser performance varies from site to site, depending on how a page is built.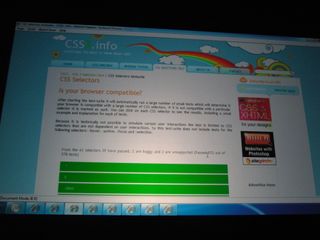 Testing IE9 For CSS3 Support
IE 9's score of 32 is better than the 20 that IE 8 scores on the ACID 3 test, but neither score is good enough to pass the test. Hachamovitch believes that the standards that are actually used on Web sites aren't reflected in this test. Although the IE team will continue to work on improving IE 9's ACID score, he says "the point is how we deliver on interoperable standards that developers use and want," and points to results like this CSS 3 test. CSS is a programming language used to build the look and feel of a site. "The different versions of CSS are widely regarded as the most applicable to the widest set of sites," says Hachamovitch.

IE9 CSS Support
One very specific CSS standard IE 9 supports is rounded corners on boxes, a style that's currently popular but that takes what Hachamovitch calls "extraordinary acts" for a browser to achieve. He demonstrated IE 9's ability to render a range of different rounded corners, switching quickly and accurately between various border styles using straightforward CSS commands. Like DirectX rendering and better performance, CSS rendering is only an example of what Microsoft has planned for the next version of IE 9. Microsoft wants IE 9 to be the best browser for web site developers. That will be quite an accomplishment given how idiosyncratic IE has felt for Web site developers in the past.