After Glow: 15 Shows and Movies to Watch Next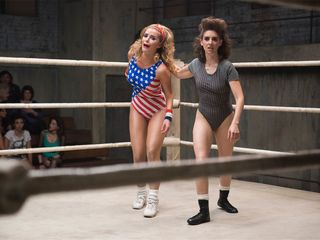 After the last bell rings
With ten short episodes that you can binge your way through in a single evening, you might finish Netflix's GLOW faster than it takes Alison Brie to transform into Zoya the Destroyer. Fortunately for you, we've got found than a dozen TV shows and movies to recommend, including funny sitcoms and deeply informative documentaries, as well as an Oscar-nominated film and a riveting wrestling program where women fight side-by-side their male counterparts.
Credit: Netflix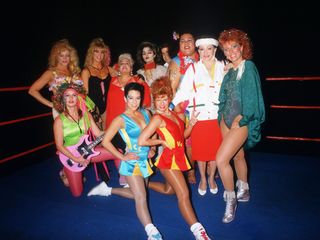 GLOW: The Story of the Gorgeous Ladies of Wrestling
While GLOW: Gorgeous Ladies of Wrestling was a real show, the Netflix series that shares its name isn't based on the real-life stories that went on behind the scenes. For the real dirt on what went on behind the curtain, you'll need to check out this documentary, which features interviews with talent from the promotion, including Emily Dole. (She played Mountain Fiji, "the Samoan giant with a heart of gold," who seems to be the inspiration for the character Machu Picchu on the new GLOW series.)
Credit: Laura Luongo/Liaison/Getty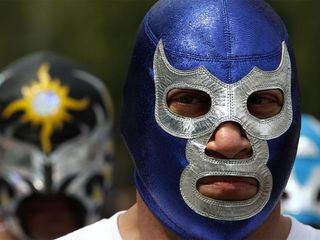 Lucha Mexico
Pro wrestling is relatively popular in America, but it's a cultural institution in Mexico, where it's known as Lucha Libre. This documentary tells the stories of the masked luchadores (Lucha translates to fight) and luchadoras such as Blue Demon Jr (who was born into the business), Sexy Star (who has also seen success in the states) and El Hijo Del Perro Aguayo, whose career came to a shockingly early conclusion.
Credit: Lucha Mexico Film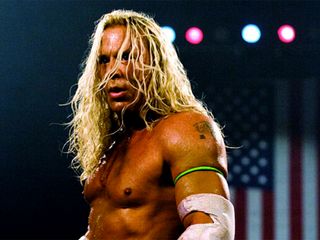 The Wrestler
While GLOW focused on the young talent filling the ring for the first time, the world of pro wrestling also includes a dark side, filled with talent pushing their creaking, broken bodies to the limit. You don't have to venture to your local veterans hall to see that side of things: just turn on Academy Award-nominee The Wrestler. Starring a haggard Mickey Rourke as Randy 'The Ram' Robinson, the film earned adoration from critics and professional wrestlers alike.
Credit: Fox Searchlight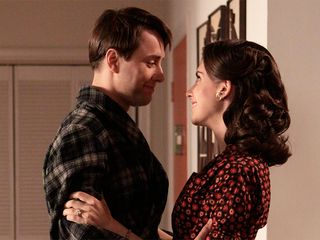 Mad Men
Before she was sleeping with her best friend's husband on GLOW, Alison Brie was on the other end of the affairs on Mad Men. There, she got her big breakout role as Trudy Campbell, married to the unfaithful Pete Campbell. For her funnier side, you'll have to look a little further down her career path.
Credit: AMC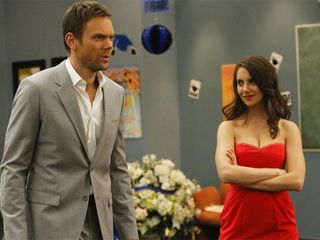 Community
Now that you've seen Alison Brie spend episodes as Ruth Wilder trying to find the right pro wrestling persona, it's time to watch her dabble in an even wilder environment. As Annie Edison on Community, she spent six seasons dealing with the living nightmare that was Greendale Community College. If you thought Sam Sylvia was rough around the edges when it came to living around women, I'd like to introduce you to The Living Lothario himself: Jeff Winger.
Credit: NBC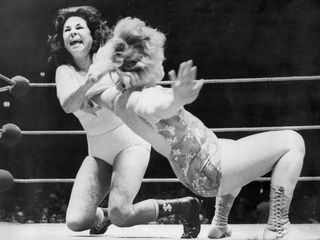 Lipstick & Dynamite
The Gorgeous Ladies of Wrestling may have been the first female-only wrestling program, but women have been facing off in the squared circle since the 1940s. This documentary interviews industry titans such as The Fabulous Moolah and Mae Young, who explain what it was like to break the taboo of women's wrestling.
Credit: William N. Jacobellis/New York Post via Getty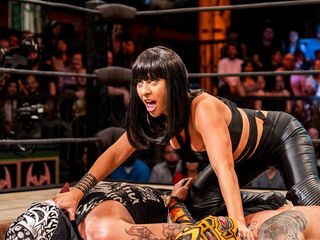 Lucha Underground
Curious about modern-day pro wrestling? Lucha Underground, currently streaming on Netflix, applies a pulpy, grindhouse-movie style twist on the athletics and soap opera storylines. Also, the women of Lucha Underground are so strong that they don't just wrestle each other, but grapple with their male counterparts, as the show only features one championship that all fight for.
Credit: El Rey Network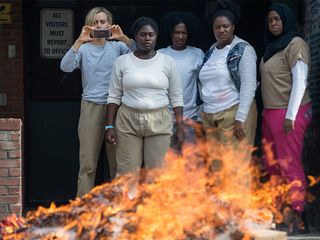 Orange Is The New Black
If you loved GLOW for the strong female cast and depictions of complicated friendships, then we'd be surprised if you haven't taken a trip to Litchfield Penitentiary yet. One of the most popular Netflix Originals, Orange Is The New Black tells the tales of more than a dozen women who wound up on the wrong side of visitation rights.
Credit: Netflix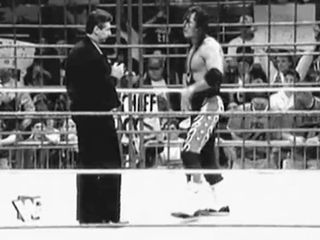 Hitman Hart: Wrestling with Shadows
Pro wrestling reaches some of its most interesting moments when the wrestlers have true reason to hate each other, as GLOW showed us with the Debbie/Mark/Ruth love triangle. Wrestling with Shadows is a documentary tells a similar story, when then-WWF Champ Bret "The Hitman" Hart experienced a blurring of his own realities in the ring as promoter Vince McMahon flipped the script on him.
Credit: Larmore/YouTube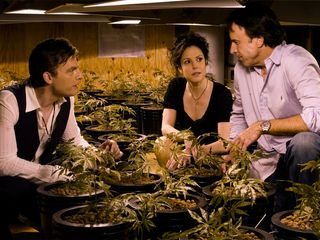 Weeds
Breaking into a male-driven industry is tough for the aspirational pro wrestlers in GLOW, but even harder for wannabe weed-dealer Nancy Botwin. Created by GLOW executive producer Jenji Kohan, Weeds will remind some of the tensions between Sam Sylvia (played by Marc Maron) and Justine (Britt Baron), the daughter he doesn't know he has.
Credit: Showtime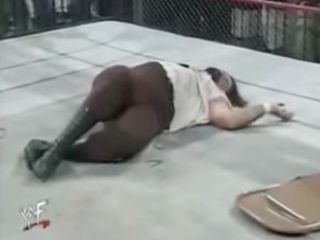 Beyond the Mat
As you learned when talent saw the stars next to their names, wrestling matches feature predetermined endings. But documentary Beyond The Mat shows us that the matches still leave injuries, and that the industry is far from fake. The film follows the lives of three grizzled veterans — Terry Funk, Mick Foley (aka Mankind) and Jake "The Snake" Roberts" — and one relative newcomer: Darren "Droz" Drozdov. Foley takes shots to the head with a steel chair, Funk needs knee surgery and Roberts battles addiction. Drozdov's story, somehow, turns out to be the saddest.
Credit: ProWrestlingStation/YouTube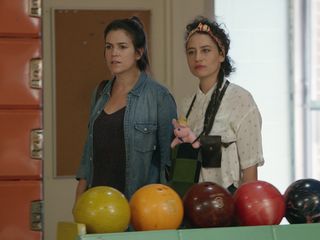 Broad City
The friendships made in the fleabag Dusty Spur motel on GLOW are awkward, but they have nothing on the way-too-intimate connection of Abbi and Ilana. Sure, Arthie (aka Beirut) helped Justine (aka Scab) talk to the pizza boy, but that's nothing compared to the time Ilana gave Abbi a post-surgery milkshake that was so chock-full-of-drugs that she wound up breaking stuff in a Whole Foods.
Credit: Comedy Central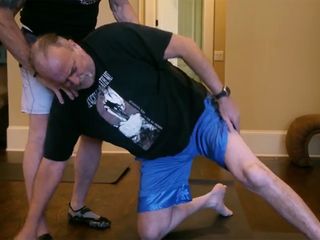 The Resurrection of Jake the Snake
After seeing Jake Roberts during his low point in Beyond the Mat, it's time to watch him get the win over his personal demons. Features a who's who-level list of the biggest names in professional wrestling, including "Stone Cold" Steve Austin, "The Million Dollar Man" Ted DiBiase, Adam "Edge" Copeland and "Hacksaw" Jim Duggan.
Credit: YouTubeMovies/YouTube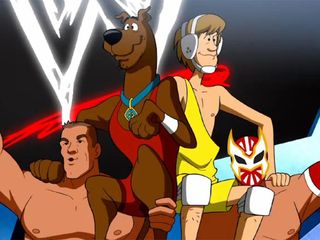 Scooby-Doo! WrestleMania Mystery
If you're looking for something more family-friendly to watch, this quirky animated romp might do the trick. By combining Scooby and the gang with modern WWE wrestlers such as John Cena and The Miz, you've got something for the kids that will also appeal to those with nostalgia for the vintage Hanna-Barbera series. If you're curious, the story finds the detectives driving the Mystery Machine van to a fictitious WWE City after winning a prize by beating the promotion's latest video game. And they would have gotten away with it, if it hadn't of been for those meddling kids.
Credit: Warner Bros.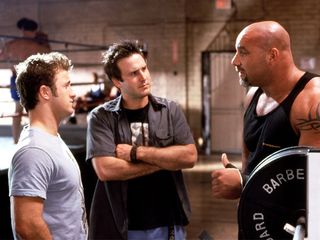 Ready to Rumble
Pro wrestling can often times live in the realm of farce, and there's no greater depiction of that than the David Arquette and Scott Caan-vehicle Ready to Rumble. Sure, it also features such legitimate actors as Oliver Platt and Martin Landau, but this ramshackle comedy mostly lives in that so-bad-it's-OK territory.
Credit: Everett Collection