Prey: 14 Tips for Surviving the Spooky Space Station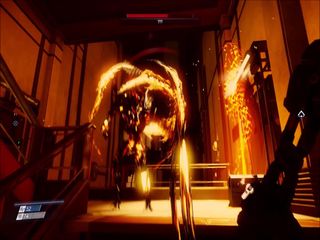 Prey: 14 Tips for Surviving the Spooky Space Station
The reviews are out, and one thing's for sure: You should definitely give Prey a try. Essentially BioShock in space, Prey sets you loose in a massive space station that's begging to be explored, with plenty of mysteries to be solved along the way.
But there's a horde of aliens between you and the end of the game, with even more jump scares and untimely deaths on the way. After spending 20 hours in the Prey universe and unlocking plenty of abilities and Typhon-based powers, I can help you stave off some of those deaths with the following tips.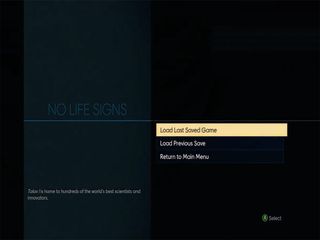 Be prepared to die ... often.
Yeah, I know what I said earlier. But let's be clear: When you start Prey, you're barely able to defend yourself against Mimics, the weakest enemies in the game. And if you run across three or four of them charging your position, you can forget about it. Even at your most powerful, you can still catch an early date with your maker. Accept it now, so you don't rage quit.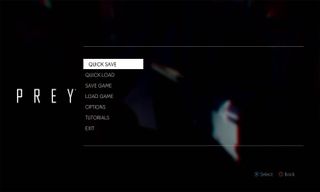 Quick Save is your friend.
Since you're going to be biting it a lot, use the Quick Save as much as possible. I'd hate for you to find an awesome stash of recyclables and ammo, only to lose it to an errant Typhon or human who got the drop on you.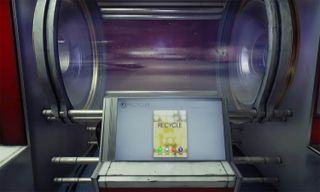 Recycle and fabricate.
As you're making your way through Talos I, you're going to pick up a bunch of bric-a-brac, including seemingly inane items, like banana peels, burnt-out circuit boards, frayed cables and random tumors from your inventory. Transform this garbage into treasure using the Recycler, which turns junk into usable materials. From there, dump the newly created materials into the Fabricator, and create more useful items, like Medkits, ammo, Neuromods and even weapons.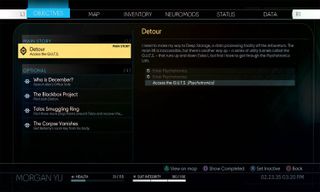 Go off the beaten path.
Yeah, you could just follow the main objectives, but where's the fun in that? Don't be afraid to wander around the station on your own or check out some secondary objectives. You can also set markers to find deceased crewmembers throughout Talos 1, many of whom are carrying valuable resources. In a lot of cases, this is how you'll find fabrication licenses, which are vital to making important items in the Fabricator.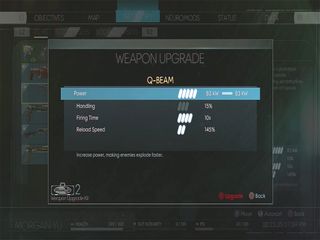 Upgrade the armory.
You're going to find quite a few guns in Prey. Some, like the Huntress Boltcaster, are solely for distraction or tool use. But others, like the Q-Beam and the Shotgun, will save your life. However, each gun is only as effective as your upgrade. That's why you need to access the Gunsmith skill — so you can use the Weapon Upgrade Tool on several stats on your gun, including Damage, Handling and Stability.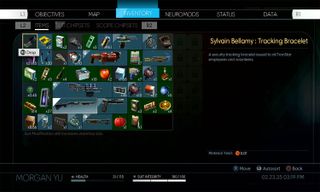 Increase your inventory.
Your inventory is both very important and limited. Before you know it, you'll be looking for the nearest Recycler to offload some of the flotsam. If you're a pack rat like I am, you're going to want to unlock the Suit Modification skill ASAP. For even more space, go for Suit Modification II.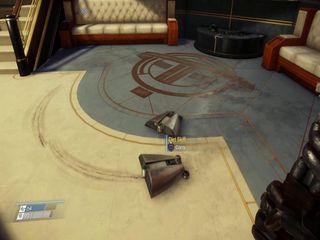 Look out for double trouble.
Talos I is literally crawling with hostile Typhon, but Mimics are by far the most common. When every mug, chair or inanimate object can turn into a spidery black blob, your head tends to be on a swivel. To tamp down some of that tension, try to be on the lookout for two of the same object in the same vicinity. For instance, if you see a pair of coffee mugs lying around, chances are, one of them is an inky-black terror waiting to leap at your face.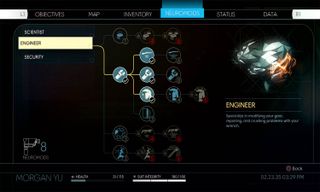 Choose your powers wisely.
There are a number of skills and abilities waiting to be unlocked as you explore the world of Prey. However, Neuromods are limited, so you won't be able to unlock every skill in a single playthrough. As such, you'll have to choose which skills to unlock based on your play style. If you're a stealth player, you'll definitely want to invest in all of the Sneak skills. As with the frontal approach, go for Toughness, Mobility and Combat Focus.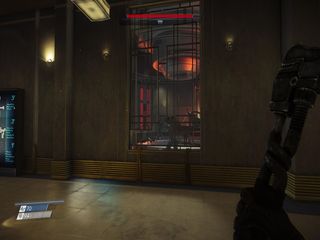 Get stealthy.
Fools rush in — especially into a room full of Typhon. A lot of the time in Prey, discretion is the better part of valor. Instead of going in guns blazing, try and sneak past some of the tougher enemies to avoid the fight and conserve precious ammo. Or, you can try to get a sneak attack in, which does more damage than a regular hit.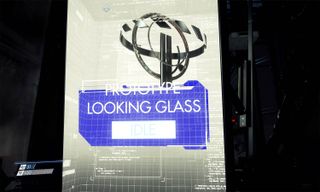 Go beyond the Looking Glass.
When you're watching the Looking Glass videos in the game, be sure to move the camera around. You might find clues to a secret in the room, like a safe code or a maintenance hatch. When you're done watching the videos, don't be afraid to smash the glass — you'll be surprised by what you'll find.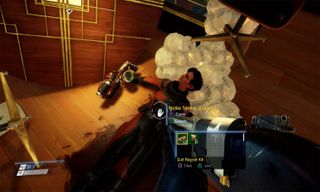 Loot all the corpses.
It's a bit morbid, but if you see a dead crewmember on your travels, don't be afraid to loot them. Oftentimes, you'll find some ammo, a key card or something valuable. Don't be afraid to loot fallen Typhon for organs. If you want to make the most of the Typhon harvesting, unlock the Necropsy skill.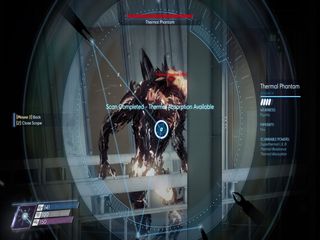 Become your enemies through scanning.
Once you get the Psychoscope, it's time to start scanning Typhon. Scanning the alien scum is the key to unlocking Typhon powers, so scan soon and often.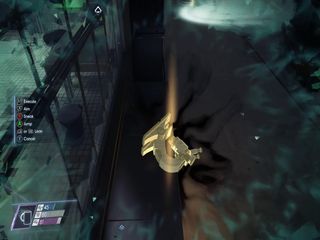 Master the art of mimicry.
In addition to human abilities, you can add some Typhon abilities to your arsenal as soon as you find the Psychoscope. Once you do, it's time to start chucking lightning balls, mind-controlling hapless humans or teleporting around the room. The most useful skill by far is Morph, which lets you transform into inanimate objects like those godforsaken Mimics. Be warned, though: Once you start adding Typhon skills, those once-friendly Turrets and Operators will attack if they sense too much Typhon DNA in you.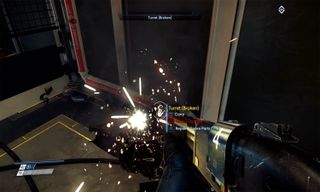 Tinker away.
Throughout Talos 1, you'll find plenty of Operators and Turrets that you can use to your advantage. Medical and Engineering Operators will restore your health and suit integrity, while Turrets will blast enemies to smithereens — or at least create a distraction. If you want to be a master of machines, be sure to unlock the Repair and Hacking skills to get some mechanized backup.