10 Essential Horizon Zero Dawn Tips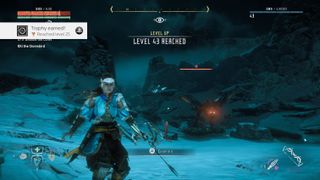 10 Essential Horizon Zero Dawn Tips
If you have a PlayStation 4 or a PlayStation 4 Pro, you've probably been reading scores of reviews, hands-ons and first impressions about Horizon Zero Dawn. And while the game has a few flaws, I highly recommend trying it, especially if you have a PS4 Pro. After spending more than 40 hours battling evil cultists, slaying a menagerie of robotic beasts and unlocking all but five skills, I've compiled a few tips to help you along your way.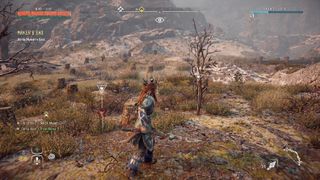 Forage and Scavenge Like Your Life Depends on It
Once you get past the first mission, it's time to start building your stockpile. There's raw material everywhere you look in the world of Horizon Zero Dawn. If you see a white icon with two leaves hovering over something, it's ripe for the picking. The same goes for the flesh-and-bone animals as well as the mechanical beasts; if you see a white, green, blue or purple box floating over it, tha gives you carte blanche to get your scavenge on. All that hunting and gathering will pay off in the long run as those random odds and ends can be sold to merchants, made into ammo or used to enhance your arsenal.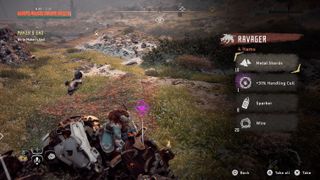 Color-Coded Swag
As you fight your way through the wilds of Horizon Zero Dawn, you'll notice that enemies will sport different-colored loot icons by their carcasses. The colors represent the rarity of your loot, which corresponds to the price at the merchants or the potency in a potential weapon. The system also covers weapons and armor. White corresponds to your run-of-the-mill items, while green is for uncommon items, like lenses. Blue is rare, and purple is very rare.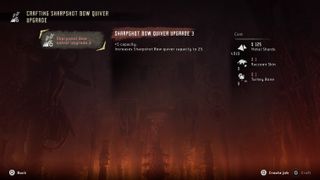 Upgrade Soon and Often
Once you've dispatched a few machines, hunted a few actual animals and gathered some of the native flora, take a look at the Crafting tab in your menu. If you're lucky, you can start upgrading your pouches, mixing potions or crafting ammo and traps -- all of which can give you a big edge in some of the tougher battles. Who's going to say no to more ammo to take down the rampaging robotic hyena charging toward you? No one, that's who.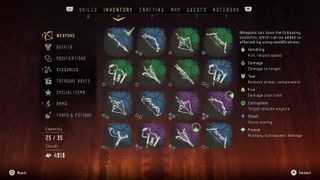 Don't Be Afraid to Spluge
Horizon Zero Dawn has a small but varied arsenal to assist you in the hunt for the evil cult looking to raise an army of machines. Be it bows, slings, trap or rope launchers, as you progress through the game and accumulate more exotic swag, these can be used to acquire more powerful versions of your basic weapons. In addition to being more powerful, many times you'll also get access to new types of ammo that can help raise the odds of success in your favor.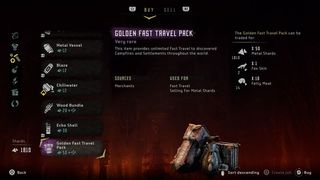 Fast Travel in Style
One thing you'll quickly learn is that unlike other open-world games, fast travel is a conditional proposition in Horizon Zero Dawn. To fast travel to a previous location, you'll need a travel pack, which can be found on the corpses of your human enemies or at a merchant for a small fee. But instead of rationing out those packs, just spring for the golden travel pack, which allows for unlimited fast travel.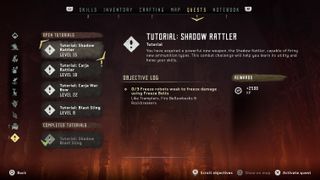 Do the Tutorials
Every time you get a new weapon in the game, it unlocks a tutorial quest. DO THE QUESTS! You can get at least 5,000 experience points for something as simple as killing three machines with the designated weapon. Two or three tutorials can add up to another level, which translates into another skill point.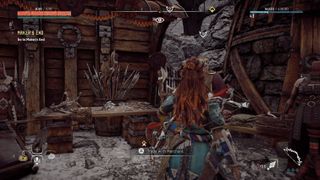 Sell, Sell, Sell
There's so much stuff to be looted in Horizon Zero Dawn that after awhile your various pouches will be full. When that happens, it's time to offload the excess stuff at a merchant. After spending nearly 40 hours playing, I've found that selling off spare modifications and scrap makes for a tidy sum of metal shards, the in-game currency. A routine purge of extraneous stuff helps keep my huntress' coffers nice and full, while giving me room to loot more stuff.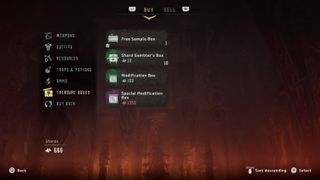 Free Treasure Boxes
If it's your first time visiting a new merchant, make sure to check under the Treasure Box tab. More often than not, they'll have a free sample box waiting for you. The box's contents may vary, but typically you'll get some shards and some extra components to help craft ammo or potions.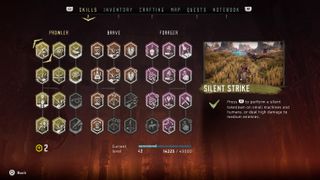 The Giving Tree
No matter how powerful your weapons are, you still need the skills to wield them effectively. That's why the skill tree is invaluable. I'm currently at Level 43 and have unlocked all but five available skills. I'd recommend unlocking some of the stealth-based skills in the Prowler branch of the tree first, including Strike from Above and Stealth Sprint.
If you're a might-might-makes-right kind of player, you might want to focus on the Brave branch, which offers double- and triple-shot arrows and more powerful spear strikes. But whatever you do, make sure to nurture the Forager branch, which enhances your health, foraging and scavenging acumen.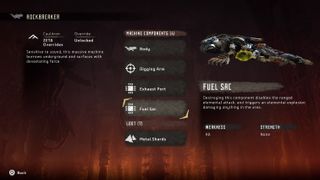 Take Copious Notes
Every time you encounter a new machine, it gets an entry in your notebook. Don't forget to check them out. It's here you'll learn about each mechanical beast's weakness and strengths, which you can exploit to your advantage. The entries also reveal what kind of loot the mechanized terror can potentially drop.