The Hottest Tech Toys from Toy Fair 2017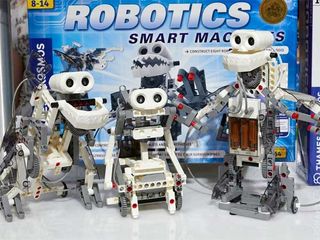 Drones, Robots, Holograms and More
These days, the toy industry is all about technology. So even, though the 2017 New York Toy Fair had its fair share of plush animals and plastic action figures, the halls were teaming with kid-friendly gadgets. Many companies showed off robot kits designed to teach children about programming and circuitry, but other toys, such as drones and personal assistants were all about fun. These are our favorite tech toys from the show.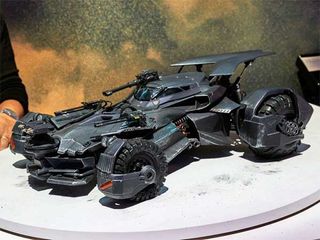 Justice League Ultimate Batmobile
The tank-like Batmobile was one of the few truly awesome parts of Batman vs. Superman: Dawn of Justice. For $249, you'll be able to get an incredibly life-like replica, complete with smoke that comes out of the exhaust and a 6-inch batman figure that actually moves the steering wheel inside as dashboard lights flare.You can control the Ultimate Batmobile with your mobile device and watch as an on-board camera shows you exactly what Batman sees. You can also control the headlights and fire the rockets and guns.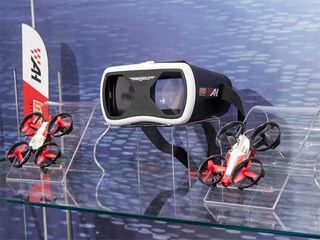 Air Hogs DR1 FPV Drone with Headset
If you've ever wondered what it feels like to be a drone, the DR1 FPV has your answer. Due out later this year, the $99 micro drone comes with both a controller and a VR headset, which is powered by your phone. As you fly the quadcopter around at blazing speeds -- this is designed for racing -- its camera sends a live video feed back to the headset so you can see what it sees in real-time. There's also an identical kit with a car instead of a copter.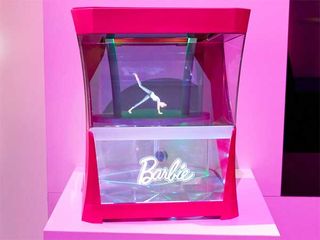 Hello Barbie Hologram
Help me, Barbie! You're my only hope. Looking a lot like Princess Leia's holographic projection from Star Wars, Hello Barbie Hologram is a 3D digital assistant and virtual friend for girls ages 6 and up. Kids can ask Barbie for the weather, tell her to remember a birthday or just watch her dance to music. With a simple command, girls will also be able to change Barbie's ethnicity and clothing.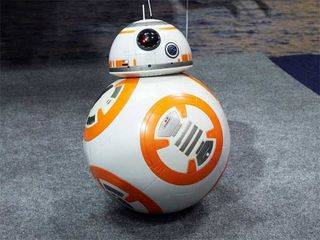 Hero Droid BB-8
Who doesn't love BB-8, the ball-shaped droid from Star Wars: The Force Awakens. Other companies have come out with their own BB-8 robots, but Spin Master's upcoming Hero Droid BB-8 stands out from the crowd by responding to a series of voice commands, using sensors to follow you around and looking so much like the real thing.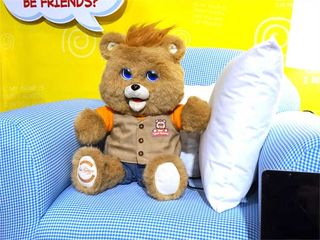 Teddy Ruxpin
He's back and better than ever! Everyone's favorite talking teddy bear is getting a reboot for the Internet age. The new Teddy Ruxpin connects to your phone or tablet to download fresh stories it can tell with its moving mouth and expressive LED eyes. Kids can follow along with the story on their tablets or just listen as Teddy spins a tale. Teddy will be available this fall for $99 and come preloaded with three stories. Parents will then be able to pay for additional content via the app.
MORE: Teddy Ruxpin Is Back and More Techy (and Cuddly) Than Ever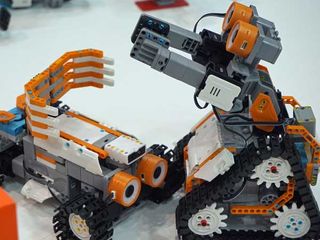 UBTech AstroBot
Part of UBTech's Jimu line of educational robot kits, the $199 AstroBot kit can be put together as three different kinds of robots: a vehicle with wheels, an anthropomorphic unit with feet and a Walle like bot with treads. After kids put it together, they can control the robot using a block-based programming language or dive directly into code. An infrared sensor keeps AstroBot from bumping into objects. LED lights in its eyes and a built-in speaker make it extremely customizable and fun to play with. It can even lift small objects with its hands.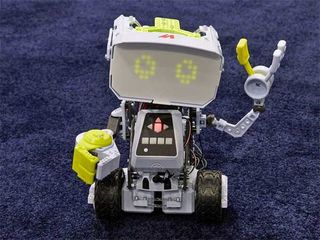 Meccano M.A.X. Robot
This adorable robot can roll around on its treads, pick up rather large objects with its hands and avoid bumping into objects thanks to an infrared sensor. Kids can program M.A.X., either with the onboard keypad or from a mobile device. When it comes out this fall for $149, the robot will also have a rich app with built-in gaming platform.
MORE: Best Robot Kits for Kids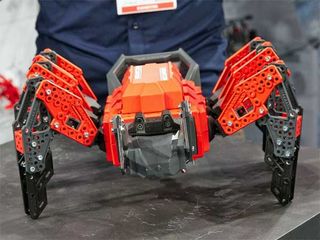 Meccano MeccaSpider
This bright red robot is large and in charge, with six powerful legs and an onboard computer with built-in games. MeccaSpider will be a very reasonable $99 when it ships this fall.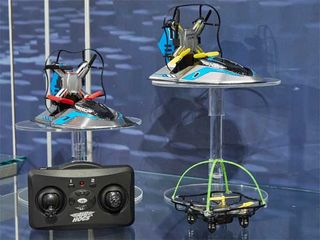 Air Hogs Drift Drone
We've seen quadcopter drones that fly and some car drones that race on the ground, but how about a hovercraft drone that can do both. The $39 Drift Drone floats just above the floor as it races, but as soon as it crashes, a copter pops out and starts flying. The drone is meant to be durable so you can crash it again and again.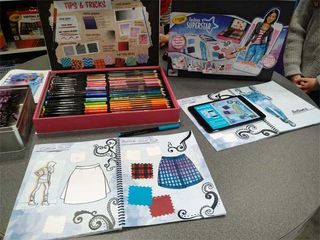 Crayola Fashion Superstar
At first glance, this $19.99 kit comes with a huge set of colorful pencils and super tip markers, a fashion sketchbook and a powerful app which lets you take the design experience online. With the Fashion Superstar software installed on a tablet or phone, kids can create up to 1,000 different design combinations and unlock different challenges.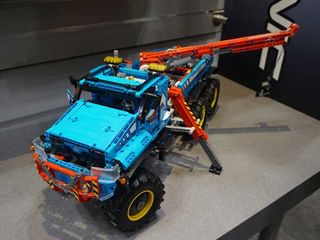 Lego Technic 6x6 All Terrian Tow Truck
Lego showed off over a dozen new vehicles in its motorized Technic line, but this huge blue tow truck really stood out. Available in August for a pricey $289, the truck has 6 giant wheels, a crane and remote control for driving it. Because it's made from Legos, you can add any of your existing bricks to the design.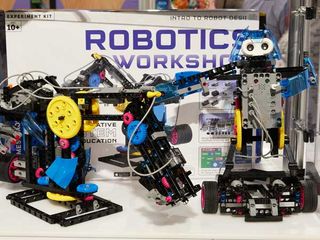 Thames and Kosmos Robotics Workshop
This $249 robot kit comes with a series of sensors, motors and several hundred snap together pieces. The instructions teach you how to create a series of increasingly complex robots, including a drawing robot, an ultrasound robot and a crawling robot. Kids can use a mobile app to program their creations using Google Blockly language or move them manually.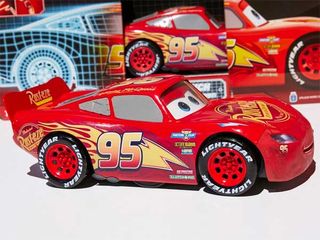 Tech Touch Lightning McQueen
You may have seen both Cars movies, played the Cars video games and tried the myriad of other Cars toys, but you've never seen Lightning McQueen quite like this. Due out May 1st, Tech Touch Lightning McQueen has a touch screen UI on the back you can use to program him to race custom track patterns in your living room or replay the Piston Cup on your bedroom rug.
Tech Touch Lightning McQueen also has moving eyes and over 100 different spoken phrases which were recorded by Owen Wilson, the actor who provides the character's voice in the movies. The device has a USB port on the back which you can use to install downloadable content, which Mattel will make available in the fall.