Google Home Setup: Settings to Enable and Disable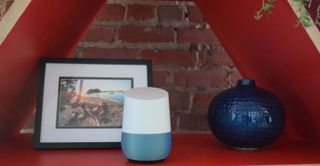 Google Home Setup: Settings to Enable and Disable
Setting up Google Home is pretty straightforward; it's mostly just a matter of following the instructions in the Home app on your iOS or Android device. But after you've got the voice-based assistant up and running, you should still tweak a handful of other features to make sure you're taking full advantage of the device. This means everything from customizing what news you hear to choosing how the Google Home should address you.
To access these settings, you'll need to open the Home app on iOS or Android and tap the Menu button in the top left corner. On the slide-out pane, you can choose exactly which settings you'd like to access.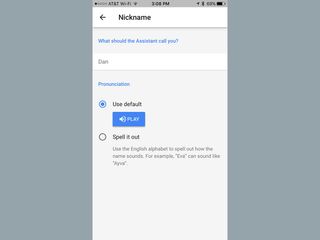 Change your nickname
Sometimes you wanna go where your voice-based intelligent assistant knows your name. You can set your Google Home to refer to you by whatever name or title you'd like by going to the Personal Info section of Settings and then choosing Nickname. And if the Google Assistant doesn't quite pronounce your name right, you can even spell out a phonetic representation to help the assistant out.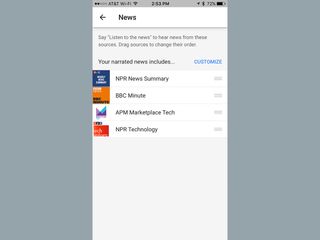 Customize your news briefing
If you rely on your Google Home to fill you in on all the news that's fit to, well, speak, then you'll want to make sure you've tailored the service's news sources to your liking. Go to the News Settings and tap Customize to pick and choose from dozens of sources, everything from general news headlines on NPR and CNN to stories about specific topic areas like sports, science, entertainment and politics. You can even choose what order you hear the sources in, just in case you like to finish up with something on the lighter side.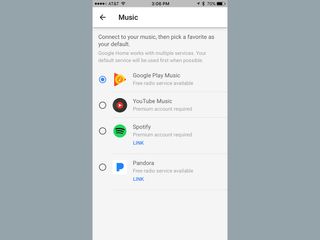 Choose your music services
Of course, the Google Home's built-in speaker isn't there just to respond to your questions; it can also bust out some tunes for work or play. You just need to choose which music services you want to use. From the Music settings, you can connect to Google Play Music, YouTube Music, Spotify and Pandora; then, select which one you'd like to use as your default. Google Home will try the default service first, then fall back on another if it needs to.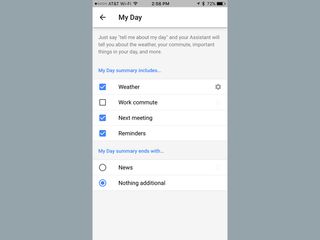 Customize My Day
A good assistant knows what you have on the docket for the day, and Google Home is no exception. If you ask the assistant what's coming up, it can run down the current weather, the traffic on your commute, when your next appointment is and even any reminders. If you don't need or want some of those alerts, no problem; in the My Day portion of Settings, you can choose the information you want to hear. You can even optionally have your summary conclude with the day's news.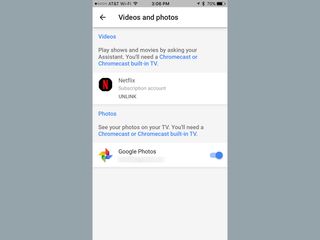 Link your Netflix account
Music's not the only medium that your Google Home can handle. Under the Videos and Photos section of the settings, you can link your Netflix account to your Google Home, giving you the ability to call up videos on the service by voice. That way, there's no need to fumble for your remote. You can just tell Google Home to cue up The Big Short or the latest episode of Unbreakable Kimmy Schmidt on your Chromecast or Chromecast-compatible TV.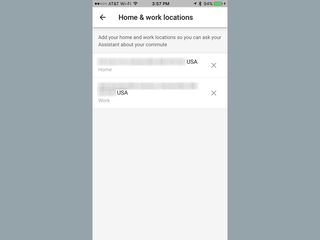 Set your home and work locations
In order for Google Home to perform some of its functions, such as telling you your local weather or determining your commute, you need to give it a little bit of information: your home and work addresses or the location of your Google Home. The Home can get some of this information from the Google account you've linked with it. But in case you need to make some additions or changes, go to the Personal Info portion of settings, and then tap Home & Work Locations to enter your addresses. You can also change the reported location of the Google Home from the main Settings menu by tapping Device Address and entering your location.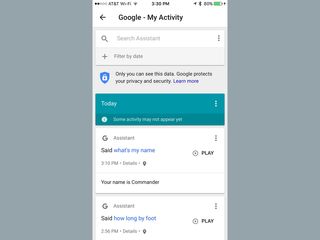 Manage your search history
Though Google promises to keep all of your information private, there are still understandably times when you'd rather the device didn't retain the history of every query you've made. You can use the Home app to manage your search history, including deleting any and all of the entries. Go to the My Activity section of Settings to view, search and delete entries from your search history.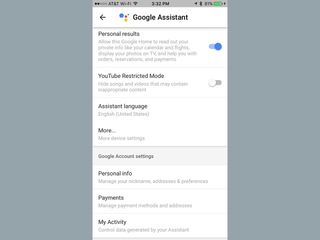 Disable personal results
At its best, Google Home can tap into your Google account to serve you up the details that are most relevant to you, telling you about your upcoming events, displaying your photos on a Chromecast and handling online transactions. Of course, you might not want *everybody* who sets foot in your house to know or have access to those pertinent details. To turn them off, you can disable the Personal Results feature in Settings, and when you're ready to reactivate them, just flip the switch on again.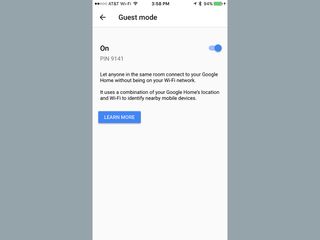 Enable guest mode
On the flip side, when you have guests in the house and you'd like them to get the most out of Google Home, you can enable the device's Guest Mode by selecting Devices, tapping the three vertical dots in the top right corner of the card representing your Home and then selecting Guest Mode. The Google Home will create a four-digit PIN that it can even zap directly to the phones of any guest running the Google Home app, via audio tones that the human ear can't hear. Those guests can then to take full advantage of the virtual assistant and the Home app.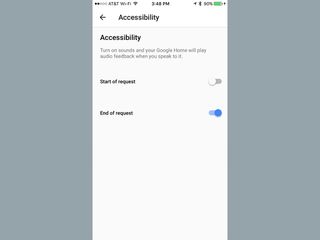 Enable audio feedback for start/end of requests
It can be handy to know when Google Home hears you and when it's stopped listening (would that you could get as much from a recalcitrant teenager). Though the lights on the device can help signal that information, sometimes you may be out of the room, and, of course, some users may be visually impaired. To that end, you can turn on audio signals to alert you when Google Home has heard the wake word, as well as when the assistant has detected that you've finished speaking. Under the device settings for Google Home, tap Accessibility and flip the switches for the "Start of request sound," "End of request sound" or both.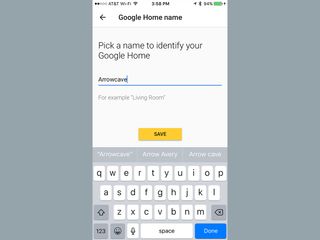 Rename your Google Home
If you have more than one Google Home device, renaming them based on the rooms in which they're located will eliminate some confusion. You can name your Google Home something like "Office" or "Living Room," but feel free to spice things up a bit. "Command Center" has a nice ring to it. Note that this doesn't change what you call the device; you'll still have to wake it with "OK, Google" or "Hey, Google."