Google Glass may be the most buzzworthy heads-up display at the moment, but it's far from being the only device of its kind. The Optinvent ORA performs the same functions as Google Glass but promises a brighter, larger and crisper display for a cheaper price.
The company has yet to disclose a consumer price point, but developers can order the device for $950, which is less expensive than the $1,500 Explorer Edition of Google Glass. Like most wearable displays, the Optinvent offers Bluetooth and Wi-Fi connectivity and a front facing camera. It also features a microUSB slot for charging, so you won't have to worry about using a proprietary charger.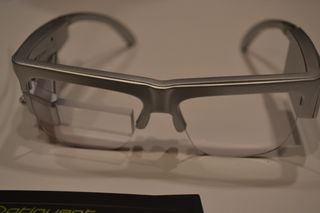 MORE: Google Glass: What It Is and How It Works

The Android-based device is capable of delivering social notifications, texts, emails, calls and other alerts to your face, but the ORA differs from Glass in a few crucial ways. The most noteworthy discrepancy is in its display. When wearing the ORA, we were extremely impressed with the level of detail and clarity while watching a trailer of "Rango."
The display was both colorful and vibrant enough to watch a full movie, if you wanted to. However, since the display is so bright and close to your eye, we don't feel that would be a comfortable experience. We could see this being more useful for watching trailers or videos on YouTube. The display is also placed in the center of your field of vision, unlike Glass' which is just above your eye. Brightness is said to be 3,000 nits and the Optinvent claims the display size is three times that of Google Glass. ORA wearers do have the option of flipping the display down below their face too avoid distractions.
While this technology has been announced in the past, this is the first time a design prototype that looks like the final build is being shown. The device sports the same arm and glass prism as Google Glass, but Optinvent's wearable display is slightly camouflaged to look like a standard pair of glasses. We also noticed that the prism is about twice as large as that of Google Glass.
The developer edition will begin shipping in March, but Optinvent hasn't mentioned when this will hit the consumer market.