If you're one of the many people waiting on a delayed Oculus Rift pre-order, prepare to get a little more frustrated. Oculus willl demo the retail Oculus Rift at 48 Best Buy stores on May 7 — while also selling it to customers at brick and mortar locations. It's bound to be a slap in the face to loyal backers who have been waiting for a return on their deposit since the Rift's March 28 launch.
A limited number of the VR headsets will also be available on Amazon and Microsoft's online store starting on May 6 at 9 a.m. PST.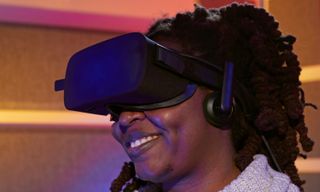 "We know that many pre-order customers are still waiting for their Rifts, so we're offering those customers a chance to purchase Rift from retail instead — while keeping their pre-order benefits, like the EVE: Valkyrie Founder's Pack and priority status for Touch pre-orders," the company wrote on its blog. "If you're interested, simply go to your order status and let us know you've purchased a Rift at retail, and we'll cancel your pre-order. Your EVE: Valkyrie entitlement will appear in your order history."
MORE: Oculus Rift Review: Worth the Hype
Though the Rift started shipping at the end of March, some customers who pre-ordered the product have yet to get their headset. Oculus has blamed a component shortage for the delay in shipping some orders.
You can find a list of live demos on the Oculus website; just enter your zip code to find a Best Buy location near you that's showing off the Rift. Of course, there will likely be lines at Best Buy's stores, as supplies will be withheld so that Oculus can meet pre-order demand. Oculus told Polygon that the number of Rifts being sold at Best Buy, Amazon and Microsoft is "a very small amount right now while we focus on shipping pre-orders."
Are you waiting on an Oculus Rift pre-order? Will you wait in line outside of a local Best Buy? Let us know in the comments the below.