It was no longer a secret since the biggest leak of the year back in April, but the new iPhone is officially announced by Apple, and it's called the iPhone 4.
If you've seen the pictures and the teardowns, they were all largely accurate, but today we learn the full details of what the hardware can do.
First of all, Apple now boasts that the iPhone 4 is the slimmest smartphone in the world. At 9.3 mm thick, it's 24 percent thinner than the iPhone 3GS.
The front and back of the device are glass, which should go a long way to mitigating the scratches that current iPhones get on their plastic backs. The two glass outer sides are held together with a stainless steel band in the middle.
While the design of it is nice, the real advancement is that the stainless steel band isn't just there for aesthetics. The entire metal band will act as an antenna in two halves. The larger half will be dedicated to UTMS and 3G signals, while the smaller side is for Bluetooh, Wi-Fi and GPS.
Image 1 of 3
Image 2 of 3
Image 3 of 3
Contrary to earlier speculation that the iPhone would follow the Android phones into OLED technology, Apple has stuck with LED backlit IPS technology. Steve Jobs said that its IPS technology is "Quite a bit better than OLED."
Apple is marketing new display on the iPhone 4 as "Retina Display," which refers to the display ultra-high pixel density of 326 pixels per inch. Apple listed a slide that says 300 pixels per inch is the limit of the retina, hence the marketing name.
Steve Jobs demonstrated blown up images of what text and images look like on the old iPhone/3G/3GS display and compared it to the new 960 x 640 display in the same 3.5 inch size, which contains 78 percent of the pixels of the iPad screen. Predictably, the higher resolution makes things look a lot sharper.
Beyond just resolution, the new screen also has an 800:1 contrast ratio, which is four times better than the 3GS.
Image 1 of 3
Image 2 of 3
Image 3 of 3
Inside, the iPhone 4 is powered by the same A4 chip that's inside the iPad. It's a package-on-package ARM-based SoC. It's so tightly packed inside that Jobs said that going with a Micro SIM rather than a regular SIM was a necessity.
With the combination of a more efficient chip and a bigger battery, life is now stretched to 7 hours on 3G talk, 6 hours 3G browsing, 10 hours Wi-Fi browsing, 10 hours video, 40 hours music and 300 hours standby.
Also new in this generation is the addition of a second mic, which we presume works like it does in the Nexus one for noise cancellation during calls.
Image 1 of 3
Image 2 of 3
Image 3 of 3
In addition to the accelerometer, there is also a three-axis gyro to measure angular velocity in pitch, roll and yaw movements. This will give game makers a whole new way to interpret movement input. Of course, this means that developers will be targeting just the iPhone 4, and leaving out all three previous generations. Jobs demonstrated a virtual game of Jenga.
Upgraded again this time around is the main camera on the back, which is now at 5 megapixels. There are 8 megapixel cameras from Android and other competing devices, but Steve Jobs says that the 5 megapixels on the iPhone 4 is special because of the backside illuminated sensor and the ability to capture better photos in low-light conditions. It also has an LED flash.
Below are untouched images taken by Apple's employee testers. They're obviously cherry picked to be the best of the bunch, but it's quite impressive from a phone camera. Click through a couple of times to get the full-sized, 5 megapixel image.
Image 1 of 3
Image 2 of 3
Image 3 of 3
Image 1 of 3
Image 2 of 3
Image 3 of 3
The camera can also record HD video at 720p. Making those videos better this time around is the addition of a $4.99 iMovie App that extends editing functions right on the device itself. We wish Apple had avoided the cash grab on this one and made iMovie a built-in app for all iPhone 4.
Image 1 of 3
Image 2 of 3
Image 3 of 3
The final feature that Jobs showed on stage for the new hardware was the video calling thanks to the front facing camera. This was a feature available on smartphones years ago, but Apple is taking it and trying to make it cool and new again. What we did think was cool was that it can switch between the front and back cameras, so that one can take remote video while being able to see the image on screen.
Steve Jobs made a call to Jony Ive with a feature Apple calls FaceTime. It'll only work between iPhone 4 devices and only on Wi-Fi this year (the strain on 3G networks would probably make AT&T crumble).
Image 1 of 3
Image 2 of 3
Image 3 of 3
Jobs also revealed that the iPhone OS is renamed the iOS, and the new version iOS 4 has hit gold master. iOS 4 will bring new features such as multitasking, iBooks, and folders to older devices (though anything older than the 3GS won't multitask).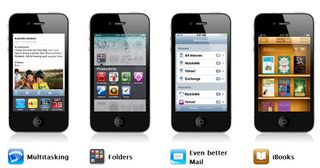 Finally, those on AT&T with contracts expiring this year will be eligible for an upgrade up to six months early, as they'll be able to upgrade when the iPhone 4 hits on June 24. Preorders open on June 15. Pricing will be both at $199 and $299 on contract for the 16GB and 32GB versions, respectively.
Want to see how it's all put together? Check out these pictures from the manufacturing line:
Image 1 of 3
Image 2 of 3
Image 3 of 3
Image 1 of 3
Image 2 of 3
Image 3 of 3
Image 1 of 3
Image 2 of 3
Image 3 of 3
Image 1 of 3
Image 2 of 3
Image 3 of 3
Image 1 of 3
Image 2 of 3
Image 3 of 3