BARCELONA — From the first moment I experienced virtual reality on HTC's Vive, I wanted to know everything about it. And little by little, HTC has trickled out details about its forthcoming VR headset. Still, one very important aspect has always gone unmentioned — the price. That finally changed at Mobile World Congress 2016 where HTC said its Vive headset will cost $799 when it starts taking pre-orders Feb. 29.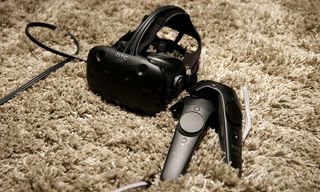 At first glance, that price seems pretty high. It's $200 more than the Oculus Rift's $599 price tag, and with HTC hoping to start shipping its headset in early April, the Vive will be at least week a behind the Rift, which is due out March 28.
But when you take a closer look at what's in the box, the Vive's premium starts to make some sense. For $799 you'll get:
One Vive headset
Two Vive motion controllers
Two Wireless Base Stations, for measuring spatial data
One Link Box, which connects the headset to your PC
Vive ear buds
Two bundled games: Job Simulator: The 2050 Archives and Fantastic Contraption
All the related hard wires you could ever want.
That makes for an interesting comparison with what ships alongside the Oculus Rift. The Rift includes a remote control for navigating through VR experiences, a sensor and an XBox One controller. Oculus is also including the Lucky's Tale VR platformer game along with access to multiplayer shooter Eve: Valkyrie. Oculus is working on its own motion controller, but that won't be ready for the the Rift's March 28 ship date. The Rift also lacks the space-sensing technology featured in the Vive.
Remember that because of the high demands VR places on your system, not just any PC can power the Vive. At a minimum, the Vive requires an Nvidia GeForce 970 graphics card or an AMD 290 GPU. Both cards currently go for about $350, so you may need to tack on another expense before you can get this all running.
For those still on the fence between the Oculus Rift and the HTC Vive, HTC Vice President Dan O'Brien has one more message to convince you. "There is nothing else out there that can do what the Vive does," he told the press at MWC. How's that for confidence?