Steve Ballmer has said and done some nutty things in the past (developers, developers, developers, anyone?) and his latest comments about the iPhone are definitely raising a few eyebrows.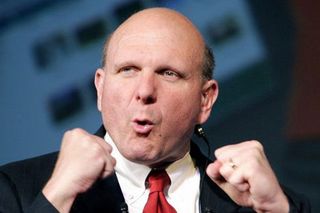 PCWorld reports that at a recent midyear update in New York, Steve Ballmer told analysts that the iPhone does not have the same market potential as handsets running other, more open operating systems. "The real market momentum with operators and the real market momentum with device manufacturers seems to primarily be with Windows Mobile and Android," explained Ballmer. According to PCW, while the Microsoft CEO acknowledged that Apple's iPhone has "consumer market mojo," he suggested that it does not have the same market potential as the mobile platforms controlled by Microsoft and Google.

With Windows Mobile 7 coming out next year, it's natural that Ballmer would want to talk up his own product. However, what surprises us (okay, not really) is he seems to just be damning the iPhone. Not only does he claim phones running WinMo have more potential but Android too. We think that's a little unfair. The iPhone is definitely popular and with rumors that the next iPhone will be out this summer, it's anyone's guess as to what Apple will come out with next. What do you think? Do WinMo and Android have anything on the iPhone or is Ballmer just full of hot air?