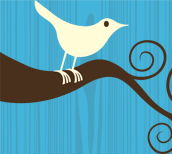 Justin Bieber, a Canadian-born teen star who was apparently discovered on YouTube, was scheduled to appear in Roosevelt Field mall in Long Island, New York this past weekend. Unfortunately, Justin's people weren't quite prepared for the massive crowd of screaming teenage girls that descended on the mall.
Things got a little on the crazy side (teenage girls cannot handle Justin Bieber and Twilight in the same weekend) and police asked James Roppo, a Senior VP at Justin's label, Island Def Jam records, to hop onto twitter and tell the hundreds of waiting fans to clear off because the show had been canceled.
The police claim that Roppo failed to do so:
"We asked for his help in getting the crowd to go away by sending out a Twitter message," said Nassau County Police Det. Lt. Kevin Smith, according to the AP. "By not cooperating with us, we feel he put lives in danger and the public at risk."
However, tweets from Justin's profile show the 15-year-old R&B singer tried to send people home on two occasions.
A report on NY Daily News complicates thing even further. The site says Roppo tweeted that Bieber was actually signing autographs while police tried to disperse the crowd. Police say he could face charges including reckless endangerment, criminal nuisance, obstruction of governmental administration and endangering the welfare of children